Podcast: Play in new window | Download
Subscribe: Apple Podcasts | Android | Email | RSS
Fall Gear Guide – Part Two
On this week's show I continue my Fall Gear Guide. Last week we covered all of the things having to do with Food Fun. This week we are moving on to cover all the other gear relating to camping and glamping.  I'm going to start with a few glamping items.
Victorian Trading Company – makes a whole set of floral glamping gear that every serious Glamper will love. If you are part of the Shabby Chic club or have a Nostalgia driven decorating style you will really love these. They offer a glamping gazebo with optional bug netting, a glampers sleeping bag and two different styles of chairs all available in a pretty yellow background with red and mauve colored cabbage roses and pretty greens all over it.
The Glamping Gazebo is a great dining room for camping. It comes assembled in a wheeled bag that is easy to pull around. It also has handles. It  has a locking system that allows you to put it up alone although it goes up quicker with two people. It's really easy to take down. We set it up at the Country Living Fair and it will hold 8 chairs beneath it. It's waterproof and has bug netting available with it. It costs $199.00 and the bug netting is an additional $79.00.
The Chintz Chair – single or duo. Your basic Camp Chair with great fabric on it. Cup holders in arms and cute carrying bag to boot. The single chair is $29.95 and the dual "tete a tete" is $49.95.
The Glamping Sleeping Bag – A great common use bag for tent camping, grandkid sleepovers or as a body sleeve while sitting around the campfire. This bag is nylon on the inside so if you are wearing flannel jammies you are free to twist and turn. It's a heavy cotton on the outside so if you have another blanket on top of it, it will not slip off. The glamping bag costs $39.95.
Geek Air Hand Held Fan –  There are two versions of this. One is hand held and one has a stand and a detachable battery pack that allows you to use it in a pinch to charge your phone or something else. It's an America's Choice product on Amazon and they sell for $19.99 or $24.99. I have both but if you are only buying one, I'd go with the stand model which allows you to position it to blow on you at your desk, picnic table or tent. It takes 3-4 hours to recharge it and it lasts 3-12 hours depending on which setting you have it on.  It also has a strap to hang it up and a LED light to indicate fan speed and remaining battery life.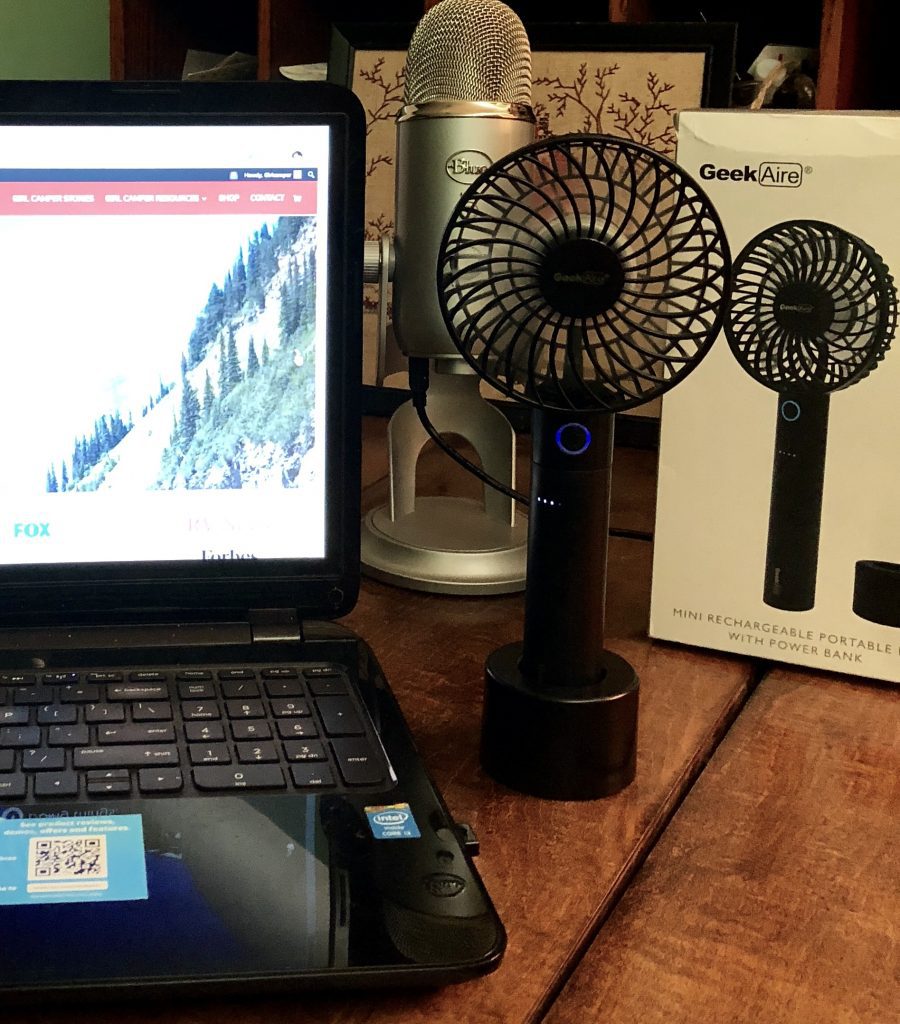 Motion Activated LED Security Light – This light is a great way to add additional security to your campsite. I liked the idea that it's battery operated and can be put on a trailers tongue jack, tree or campground post for lanterns to set off a light if anyone approaches your campsite. I spent a restless anxiety filled hour when I heard something moving around the outside of my trailer while camping last spring. I didn't want to open the shades and risk being seen and I toyed with the idea of setting off the alarm on my car. Eventually the noise ended and an hour or two later I was finally comfortable that no one was out there. It turned out to be an animal as evidenced by the garbage strewn about the campsite. I think that a bright light would have scared animal and human away. Thsi light is battery operated with 4 "C" batteries that will last a year depending on what setting you have the light on. It has a 30′ range and a 140 degree coverage angle. It has two lights that are able to be panned in different directions. It cost $29.95
Absorbits – This is a new item in my emergency kit. I am grateful that I have not had to use it yet but I'm happy to have it in case my phone goes overboard off of my Scout boat. This gadget works a little like the bowl of rice idea but with silica instead.  If you drop your phone in a pool, toilet or hot tub you can yank it out, remove the case and battery and dry off what you can with a dry soft towel. You then put the phone and the battery in this Absorbits case and fold the flap over it. You check it every six hours to see if it will turn on. When I read the reviews online for this I decided that the $8.98 price tag was well worth it as an emergency plan. When you are camping you may find yourself in the middle of nowhere and not be able to just go to the Verizon store and replace it. I hope I never need this but I am glad I have it.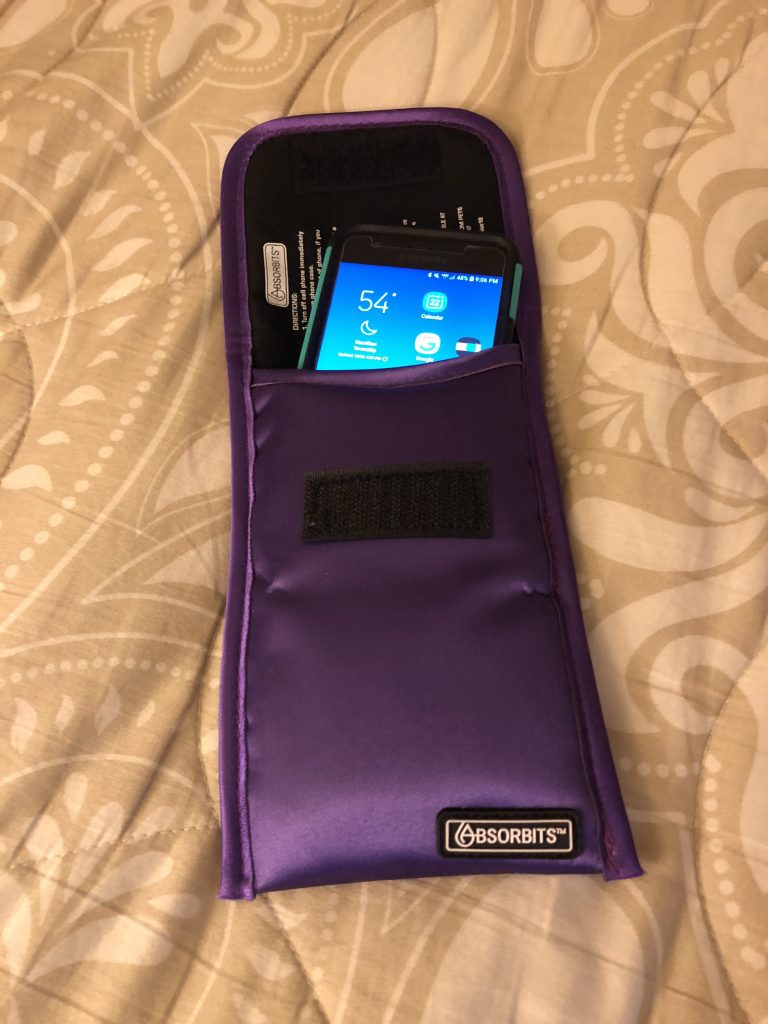 Kavu Rope Sling Bag – The Kavu Rope Sling Bag was an answered prayer for me. Last year I really searched for a day hiking bag and never found anything I really loved. When I was at the Outdoor Retailers Show in Denver last year I came across these bags and instantly liked the look of them. That is superficial though and a hiking bag has to perform well first and foremost. I discovered when using this bag that I actually prefer the cross body sling over design as opposed to the two straps over the shoulder version of a pack. This bag has great construction and is sized right, not too big and not too small. It measures 20 x 11 and 3″ thick. The sling strap is a series of ropes sewn together that are really comfortable on your shoulder. The designs are seasonal and once a pattern is sold out it will not be repeated. There are tons of cute designs to choose from. The bags come in two sizes and cost between $34 and $47. I have actually been using mine as a purse when I am not camping and I gave one to my sister in law as a birthday gift. She can't use backpacks because of a disc injury and is loving this too.
Mommy and Baby Bag from Land – I found out about this when a mommy blogger did a unboxing video on it. I was searching for baby gifts because that's what I do now. Buy shower, wedding and baby gifts. As the blogger was going through all of the features all I was thinking was, "Wow, this would make such a great shower caddy at a campground!" Even though I have a trailer with a shower I often use the campground bathroom and shower and it's been a trial and error process trying to find the right gear to haul all of my products with me. I've had dorm caddies and buckets like a college student and big canvas LL Bean style bags but they all failed to meet all the marks until I stumbled onto the Mommy and Baby Bag. It's got lots of great pouches inside because babies have wipes and formula and bottles and toys and blankets. That gives me lots of separate slots for shampoo, conditioner, lotion, mousse, towels, shower flip flops, razor, hair dryer, curling irons etc….The whole bag is plastic lined so there's no mold and mildew issues. It wipes clean. It has a freat hook at the top which allows me to hang it from the shower hook and it stays dry. The well of the bag is where I keep two rolled up towels. I use the oldest most thread bare towels around because the dry fast and are super absorbent. They also take up less room. The outside of this bag is my favorite thing though. It has a zippered pouch that holds my products. I can reach them from the shower without having to dig through the bag searching and dumping stuff all over in the process. This bag is a total winner!! In addition to all of the storage it is actually a backpack so I can carry it and my hands are free! Caddies and canvas bags be gone! I have finally found the perfect shower tote!! It sells for anywhere between $29 and $34 from various different Amazon sellers and after one whole season of use, it is still looking good!
Tear Drop Shop Toiletry Bags – While we're chatting about toiletry supplies the Teardrop Shop has the coolest new toiletry bags shaped like vintage campers. They have a teardrop, a red vintage canned ham and an Airstream one that I think is big enough to use as a pocketbook. It has a great handle on top. They are designed to carry your goodies to the bathroom at the campground but they can be used for so many things. Makeup, essential oils storage, first aid supplies and anything you carry in your camper that needs corralling. I also think they make great gifts! They start at $19.99. They have matching change purses sold separately which would make sweet little gift exchange items for the Girl Camper in your life. That costs $8.99! I'm thinking these things will make there way to a few friends at the holidays.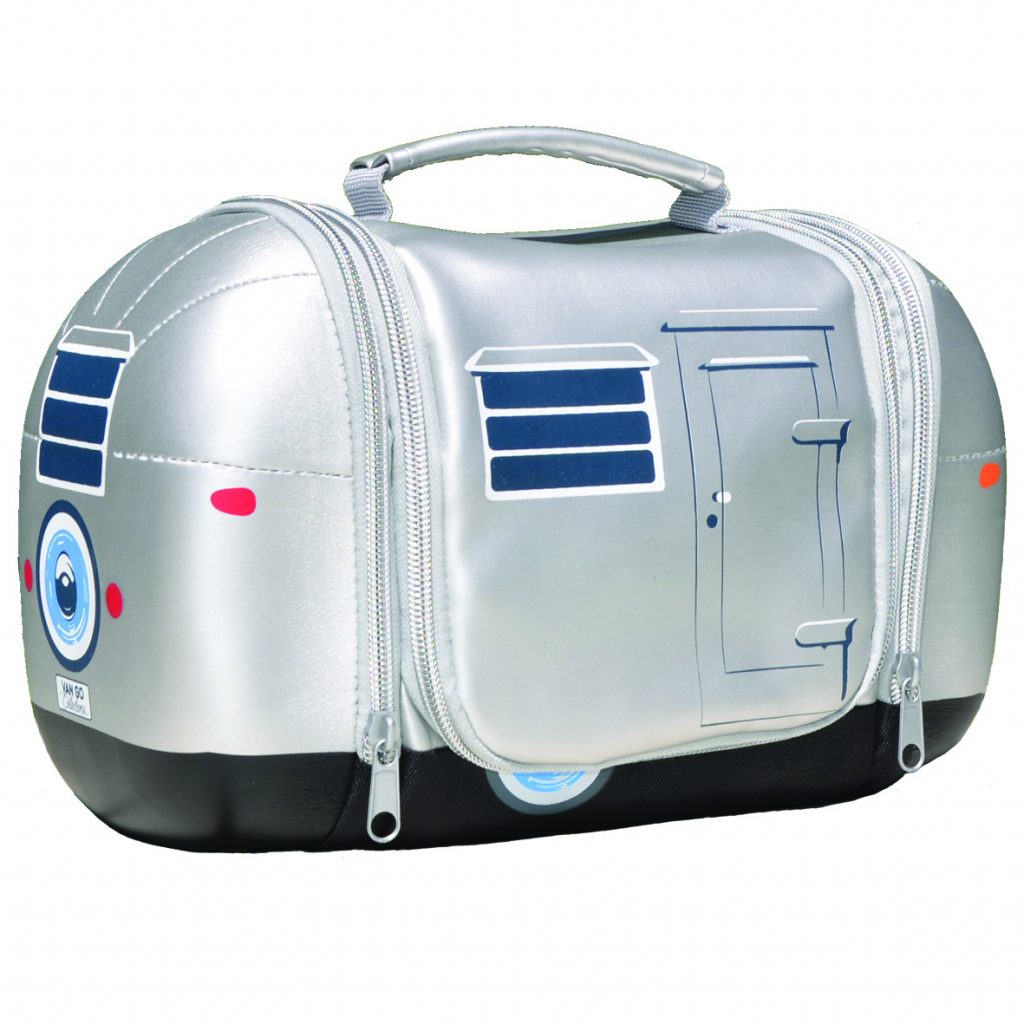 Throw Blanket – I think the best deal in camper themed throw blankets or Sherpas is this one from the Teardrop Shop. This bright red or bright blue blanket has camper themed white lined trailers, mountains, arrows and other outdoor related images on a bright red or blue fabric with the reverse side being a cozy fleece fabric for warmth and comfort. This blanket is just cheerful. I ordered one for my almost one year old grand niece because it's never too soon to start encouraging them to camp. They cost $16.99 which is a bargain in the throw blanket world. If you can't afford one of the fancy kitten soft camping blankets, don't feel bad. This is so cheerful, soft, and has a great price point.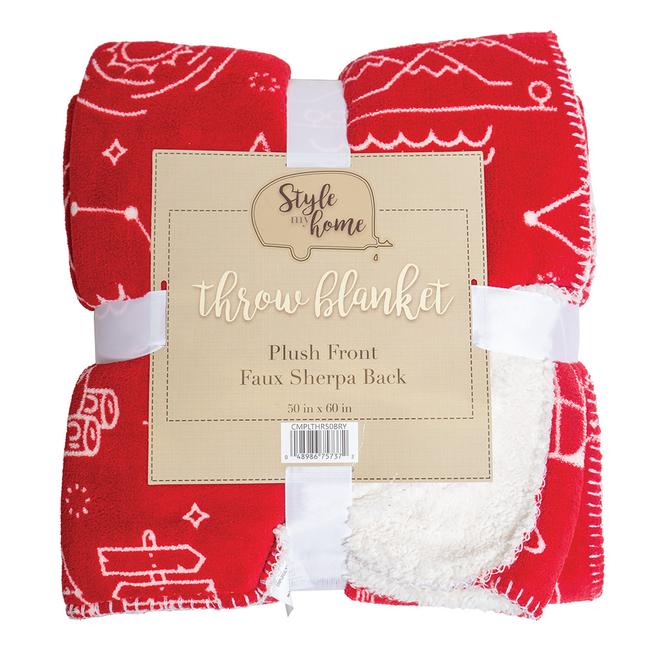 All Terrain Sound  All Terrain Sound  is a rugged, waterproof bluetooth speaker for the outdoors. You can hang this thing from a hook on your backpack, hook it on your belt loop while grilling or suction cup it to the outside of your trailer while you're chilling around the campsite. It has a 14 hour batter life and can be hooked to your cell phone for important calls. It has a built in microphone for that.  It's been a great camping item but honestly, I am using it at home way more than the campground. I think it's a great alternative for people who don't want earbuds in all the time, There is a carabiner style hook on the top of it that lets you hook it to a belt loop. I have been using mine outside in the yard and in my she shed while catching up on podcasts. I used to keep my phone on in my back pocket while playing music or listening to podcasts but I kept dialing people by mistake. I like being able to just move about the house and yard with this clipped on my belt loop. It's very lightweight, has a nice sound quality and really holds a charge. Disclaimer here – A PR company sent me this to test out and I did test it and I did love it! You won't be hearing about the things I tested that were just okay but I have to give credit where credit is due. This speaker has become part of my routine. It is made by a company called FresheTech and sells for $49.95.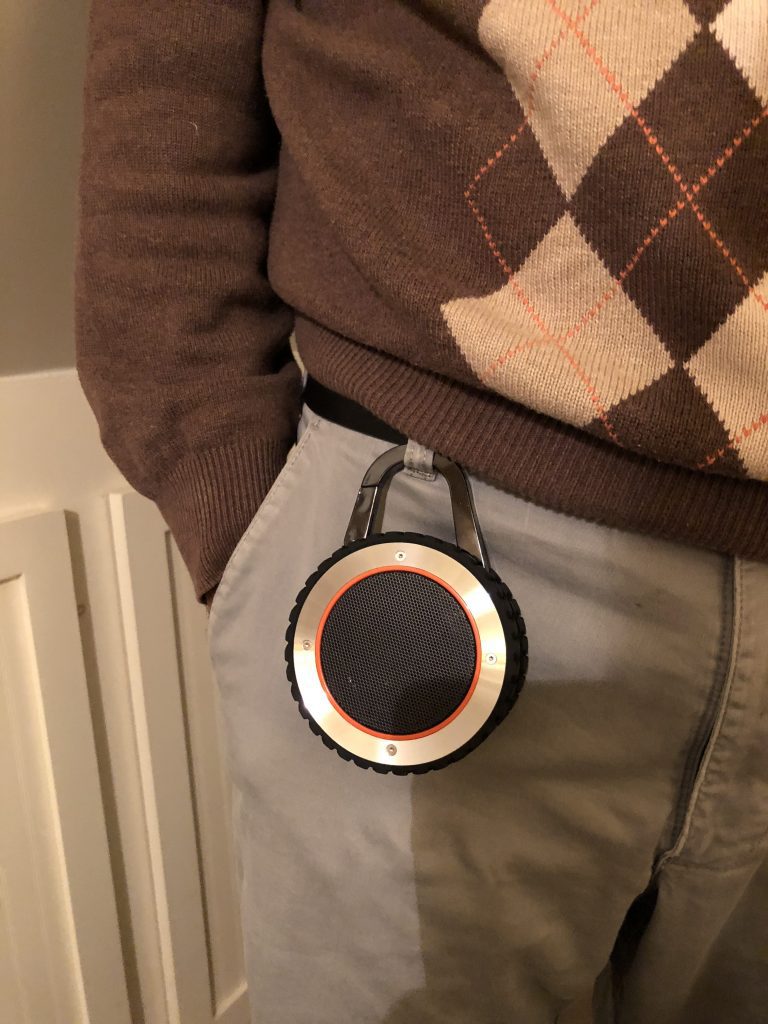 Pepper Spray and Gel Sabre's Red Pepper Spray has maximum power and is a great option for the solo woman traveler. I like the way the handle is designed with grooves for your fingers. It allows the user to activate the device with the flick of a thumb and prevents you from accidentally spraying yourself. The spray bottle also releases a UV marking spray dye that will help identify an assailant. The company has donated over 1.6 million dollars to the National Breast Cancer Foundation so far. The bottle has a quick release key chain and sells on Amazon for 9.99.
Sabre Personal Alarm and Emergency Beacon – Sabre also manufactures a personal alarm and emergency clip that is essential to a solo woman traveler and hiker. In the event of a fall or if you became lost on a trail it could send out an alarm as well as give off an emergency light. The light is a great option to use just on a walk or run in your neighborhood and allows cars to see you on dark nights. I suggest clipping it to your jacket instead of a backpack so that if you fell or were injured it could be more easily reached. It sells for $12.99 making it an inexpensive safety net to have in your emergency kit.
Camco Tote Tank– Camco has taken the Tote Tank up a notch with their new 15, 21, 28 and 36 gallon waste removal tanks. Camco is not only a manufacturer but a product developer with a large research and development department. They take a look at products on the market, read the reviews and see where they can be improved and set about making a better mouse trap. That is what they have done for RV tote tanks. They come all assembled and ready to use out of the box and include all of the attachments needed to use it. They are made out of durable UV stabilized blown molded material that wont leak or deteriorate in the sun. They come with a two year warranty. I have the 15 gallon model which allows me to boondock longer and not worry so much about limiting my water use. The tank costs $137.99 and is available at Amazon and other outlets.