Podcast: Play in new window | Download
Subscribe: Apple Podcasts | Android | Email | RSS
It's finally here!! All the details on our third annual Wonderful Women In Waxahachie event!!  April 25-28, 2019. Registration is now open!
To listen to the podcast with ALL the details, click the arrow and your phone or laptop media player will play it for you!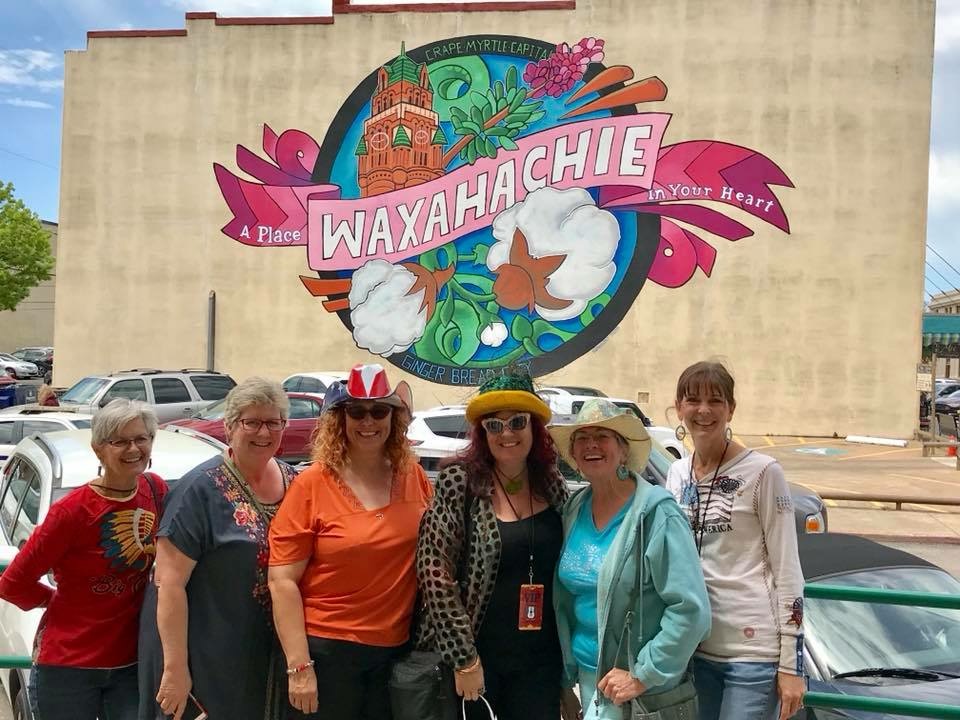 We are going to circle our wagons once again in the best little town in Texas, Waxahachie! The site will be their beautiful Getzendaner Park where any Girl Camper is welcome to join us. You do not have to be a Girl Camper already, you do not need a tricked out vintage trailer, you don't need to know what you are doing!! Wanna be's and those figuring it out are not only welcomed but encouraged to come and join us. It's a great opportunity to meet women who are already doing it, to see their set ups; trailers, tents, motor homes, cars and vans styled to delight, to learn what it's all about from those doing it and to just have a great weekend with girlfriends old and new!
Here's the weekend itinerary.
Thursday  Arrival day. Arrive any time and someone will be there to greet you and show you to your site. Set up quickly if you want and get into town to check out the shops and restaurants or take your time greeting all of the arrivals and getting to know your neighbors. On Thursday evening we will have a group dinner in the VIP tent for the Film Festival. All of the Film Festival activities are included in your ticket. Campfire and S'Mores after dinner in the park.
Friday You'll have a lot of choices on Friday. Take in the shows at the Film Festival. Grab a cup of coffee and meet us in the morning around our campfire for a talk by one of our Guest Speakers. Use the day to explore the City of Waxahachie, their shops, their restaurants, and  their famous Gingerbread homes. Sign up for  our Camper College RV Workshop at the Park, the details are below. You can also take a ride in the country and see the beautiful Texas Blue Bonnets in bloom. Before dinner Kate Dunbar, guest chef, will be demonstrating Cast Iron cooking techniques behind her trailer. There's bound to be food and libations there.  In the evening we will gather again at the VIP tent and enjoy dinner, cocktails, fellowship and friends. Campfire and S'More bar afterwards at the Park. 
Saturday Another day to explore all the offerings of Friday but the Park will be open for touring. It's not necessary to man your site but if you're around to chat, the locals are always interested in learning what we are all about. Start the day with coffee at the Gazebo and a Continental breakfast with our Guest Speaker of the day and head out to explore. At 4 PM we will gather at the Gazebo for cocktails and to draw the winners of our tricky tray fundraiser for HoldYou Foundation. We will then commence our own walking tour of the Girl Camper set ups. We will have a final nights group dinner in the park followed by the Campfire and S'Mores bar.
Sunday Our event draws to a close. There will be a departure Brunch for the Film Festival attendees for those who can linger a little and coffee in the gazebo for those who have to pack up early and  hit the road. Our City of Waxahachie hosts will be on hand to help move everyone out safely as we wrap up another fun event.
Details 
The Film Festival – The Crossroads of Texas Film and Music Festival is an annual event in Waxahachie celebrating the historic nature of this Texas town which has been the setting for so many films. Over 30 motion pictures have been filmed in Waxahachie, three of which were Academy Award Winners including Places in the Heart. Every attendee of WWW3 will receive a VIP pass to the event which gives them access to fulm screenings, concerts, food, fun and so much more. It's a big hit every year.
City of Waxahachie – Waxahachie is full of history and so proud of their heritage. They have five National Historic Districts and over 2K properties eligeble for listing on the National Register of Historic Places. The  Ellis County Courthouse (featured in Places in the Heart) is the most photographed courthouse in Texas, The downtown area is a photographers dream. The downtown square is full of one of a kind boutiques, creative places and antiques shops for endless exploring. The restaurant scene is a good one too with burgers so good that Texas Highway Magazine has written about them and BBQ that has been featured in Texas Monthly's Top 50 BBQ restaurants list. There are also quaint pubs and patios to take in a cocktail or sweet tea.
Guest Speakers – This year we are adding a panel of Guest Speakers for Campfire Chats with morning coffee.
Mary Ellen Arndorfer is a, former River Guide on the Grand Canyon and Girl Camper will share her adventures leaving corporate America to pursue her dream of living and working in a National Park. There is much inspiration in Mary Ellen's story of leaving the secure life to pursue something she knew little about at the time. She is the artist behind Camper Groove on Instagram and will launch Camper Groove the website in January.
Gail Bable is the Camp Host at Beaver Creek State Park as well as a certified Naturalist. I love camping with people who know what kind of bird we are hearing. Gail's job as a Camp Host gives her the opportunity to live at the Park each summer on a Camp Host site in exchange for assigned duties around the campground. She will be sharing the up and downs of Camp Host life and giving those considering it a realistic picture of what is really involved. She will also share her extensive knowledge of our natural habitat with us along with some tips on how we can be responsible guests.
Vicki Hill is an extraordinary and experienced car camper. She has traveled thousands of miles sleeping in her small SUV and keeping her travels as carefree and simple as possible. She is an expert in stealth camping, food management, hiking safety and staying warm without electric or generators. I've long admired her adventurous spirit and am thrilled to have her on our panel.
Camper College 2.0 – Since the inception of  this event I have had a long term plan in my head that included creating an educational component. I realize from the mail I get and from the women I meet that once you own a trailer and leave a dealership after a walk through the real learning curve begins. As I travel more and more in my own Liberty Outdoors Max I have questions about why I can't get the fridge to switch over to propane or if I can get my refrigerator colder faster on electric or propane. I wanted to create a beefed up Camper College that is more in depth than our RV dealership events. I invited Stephanie Henson from the National RV Training Academy to create a curriculum that would help not only those still in the process of considering an RV purchase but those of us who already have one and still need help maximizing its features. There will be four stations running simultaneously at the park. Each station will begin anew at the top of the hour so you will have time to visit each one, At the end of the four hour session there will be an "Ask an Expert" Q and A with the staff from the National Recreation Vehicle Training Session. We are so lucky to be near their home base in Texas where they train and certify RV Inspectors. This is the only portion of the event with a separate fee that will allow us to pay for our instructors.
Cost: Our cost will be $45/pp with a minimum of 50 registered.
What's Included?
1 full 'Ask an Expert' session at the end of the training day to include 4 instructors available for 1 hour to answer any questions asked by your audience.
4 total training stations which will rotate. I believe an hour is plenty of time to cover each of these topics plus Q&A during that session.
Hitching Up and Hitting the Road! This segment will focus on how to safety hitch your camper up to your car or truck and how to use a checklist to be sure you're all set before you hit the road for camping. We will also share how to safely unhook, level and set up your camper. Due to the amount of time it would take for each lady to drive the unit around the parking lot, we are going to only 'pull away' once per session and can promote a session for the fall conference that allows ladies to individually sign up for a personal tow experience. We will also cover tire pressure, date codes, and the importance of checking tires BEFORE you travel.
Hooking Up and Dumping! You're at the campground ready to have a good time. You need electricity, water and sewer but you're not sure how to get all those 'things' set up! This segment will focus on how to properly connect/disconnect your camper to and from electricity, water and sewer. We will provide recommendations on the types of connections/hoses to use as well as accessories that can make things safe and easier!
My RV Kitchen with Lady E Cooper! Ladies, we already know how to cook our favorite meals, so this is not about prepping food or making a new recipe. This segment will focus on how to utilize your kitchen space the best way to accommodate your favorite appliances, kitchen gadgets and more. Lady E will explain how the camper electrical system affects how you cook in your kitchen and how to set your kitchen up successfully to make all your favorite drinks and goodies during your camping trip. You don't need to be an electrical engineer to understand your kitchen limitations and how to be savvy chef at the campground!
Boondocking, yet Power Hungry: Generators vs. Batteries! Your camper is designed to use power to function, whether that is an overhead light, an AC, a furnace, a slide out, and SO MUCH more! If you're into camping off the grid or need to have electricity without a standard 30/50-amp connection, you do have other resources available to you that you can use! This segment will focus on how to properly use a generator in conjunction with your camper batteries to still camp in style without sacrificing your morning coffee, air conditioning or heat! We will explain why your batteries are not designed to support your camper for long periods of time without a boost up!
Demo Days – Kate Dunbar will be our Guest Chef doing demonstrations on Camp Cooking – Dutch oven, cast iron, cedar plank!! You name it this former restaurateur, cook book author and Podcast Correspondent on the Campground of the Week Podcast  as well as frequent guest on the Girl Camper Podcast, knows her way around the kitchen. She just published, The Campground Gourmet: Simple, Delicious Recipes for Dining in the Great Outdoors. Don't let the title fool you, this book is great for dining anywhere and I am thrilled to welcome Kate back to WWW3 in a professional manner!
HoldYou Foundation Donations – Just like last year we are having fun and raising funds for HoldYou, the official charity of the Girl Camper Podcast. We're keeping it simple by setting aside a space to display donated items for a giveaway. If you have something gently used that you would like to add to the stock, please bring it along. If you have a special talent and would like to make something to donate, we'd be thrilled to accept it! If you are one of those people who is good at making themed baskets for charity and would like to make one and bring it with you, we're ever so grateful. Every dime goes to HoldYou and we will choose the winners at our cocktail party on Saturday evening so the winners can collect their goods and take them home!!!
More Details 
Trailers – We have space for 80 trailers. This year we will be parking our rigs on the blacktop surrounding the park. Each registration gets you two spaces, one for your rig and one to set up shop with your chairs and awning. Tow vehicles have to be parked around the corner to leave more room. We have limited space for bigger rigs (over 21′) so if you are bringing something larger, please register right away. We are going to do our best to fit everyone in. When you register you will need to tell us if you have a slide out and how long your rig is.
Tents – You have to whole park to choose from. Since our big rain last year, we can advise you where the higher ground is!! Grab your tenting friends and form a circle or set up shop behind a girlfriend with a trailer there. There's no wrong way to Camp Like a Girl.
Car and Van Campers – You will be up on the black top with the travel trailers and motor homes. You will also have two spots to make it your home away from home for the weekend. We want everyone to express themselves at their site and let your inner campsite designer come out. Have fun with it.
Hotels and B and B's – There will be a block of rooms saved at the local Hampton Inn. There are a lot of things happening that weekend including a Renaissance Fair nearby so be sure to book your room early. Waxahachie is a happening place. There are two really beautiful B and B's right in town if you'd like to spoil yourself a little. I have stayed at both of them and love them both. The Chaska House is owned by Linda and Louis Brown, renowned for their kindness, generosity and impeccable taste. The English Merchants Inn is directly across the street and if you are an Anglophile you will not want to miss this one. The Inn is owned and operated by Mary Baskin, Interior designer and  founder of the The Vagabond Traveler, a travel company that provides guided antiquing tours of France and England. The Inn is resplendent with Mary's finds and so inviting you won't want to leave. Both Inn's have at least one guest room that will accommodate three girlfriends but you have to book early.
FAQ's from past years.
Included in your ticket purchase are all of the events pertaining to the Film Festival. Meals for Thursday, Friday and Saturday evenings including cocktails are part of the Film Festival ticket.
A Continental breakfast on Friday, Saturday and Sunday morning in the park at the Gazebo is included.
There is no additional fee for camping at the Park.
A temperature controlled portable shower will be available for attendees in the park. There are plenty of bathrooms on site.
Generators will be allowed at scheduled times allowing you to recharge your appliances.
You are on your own for lunches.
Firewood will be provided for the Camp Fire ring but please bring an extra chair so you don't have to cart one back and forth.
You can request sites together by contacting Laurie Mosley who will be doing the site assignments based on trailer length.
There is a Event listing for this on the Visit Waxahachie Texas Facebook Page
There is another Facebook Page for those attending called Wonderful Women in Waxahachie, If you are signed up you can request membership and join the anticipatory chatter.
HOW DO I SIGN UP? 
You can sign up for  this event HERE!!