Podcast: Play in new window | Download
Are you ready to shake off winter and get that camper ready to roll? Mark Polk is here today to talk about projects you can do yourself to get the camper ready for this season's camping adventures. Mark is the founder of RV Education 101 and an industry expert on safety, maintenance and RV repairs. There are a lot of RV maintenance projects you can do and Mark provides great tutorials and videos to encourage and instruct us.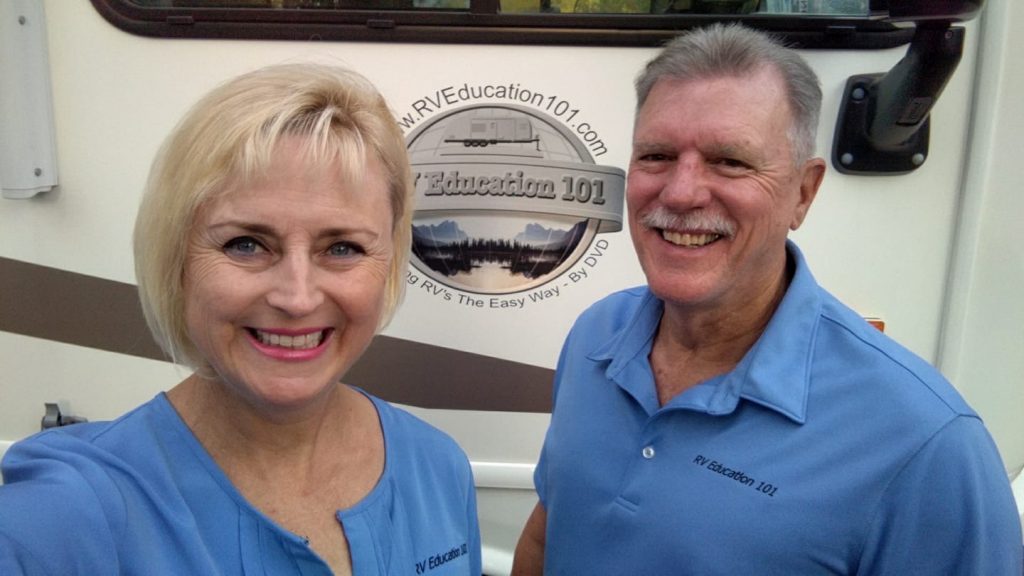 I asked Mark about five things that I normally do myself and he gave me his tips on doing them correctly. Mark has more Spring Checks below so be sure to check them out.
Five Spring Rv checks to do before your first trip.
Battery – Assuming that you properly stored your battery at the end of the season these tips will help you make it ready for the coming season. If you left it over the winter without a trickle charge on it and it dropped below fifty percent, it may need to be replaced. Be sure to watch Marks whole video on battery maintenance in the at the bottom of the page.
Check to make sure it's charged.
Recharge it to capacity if you didn't do so over the winter.
Add water if necessary. Mark has a video for that below.
Check all of the connections to make sure they're secure and don't have corrosion.
Clean up any corrosion or dirt on the battery.
When working around batteries be sure to wear safety gloves and goggles.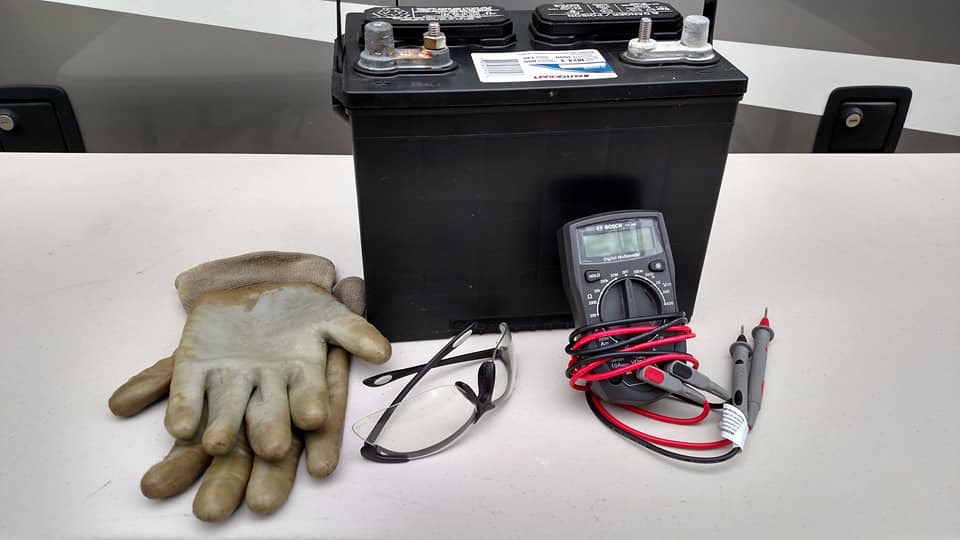 Tires – Your tires are arguably the most important part of your RV. They carry you and your possessions safely to where you are going. If they are over or under inflated, have excessive wear or are not rated to carry the weight of your trailer you could cause a serious accident and injure yourself and others. Beheck for loss of air over the storage period. They could lose 3-10 percent per month.
Check the tire pressure with an accurate gauge. Tires can lose air at a rate of 3-10 percent per month.
Add air to the manufacturers specifications.
Check the tire tread.
Don't forget the spare tire.
Check the lug nuts.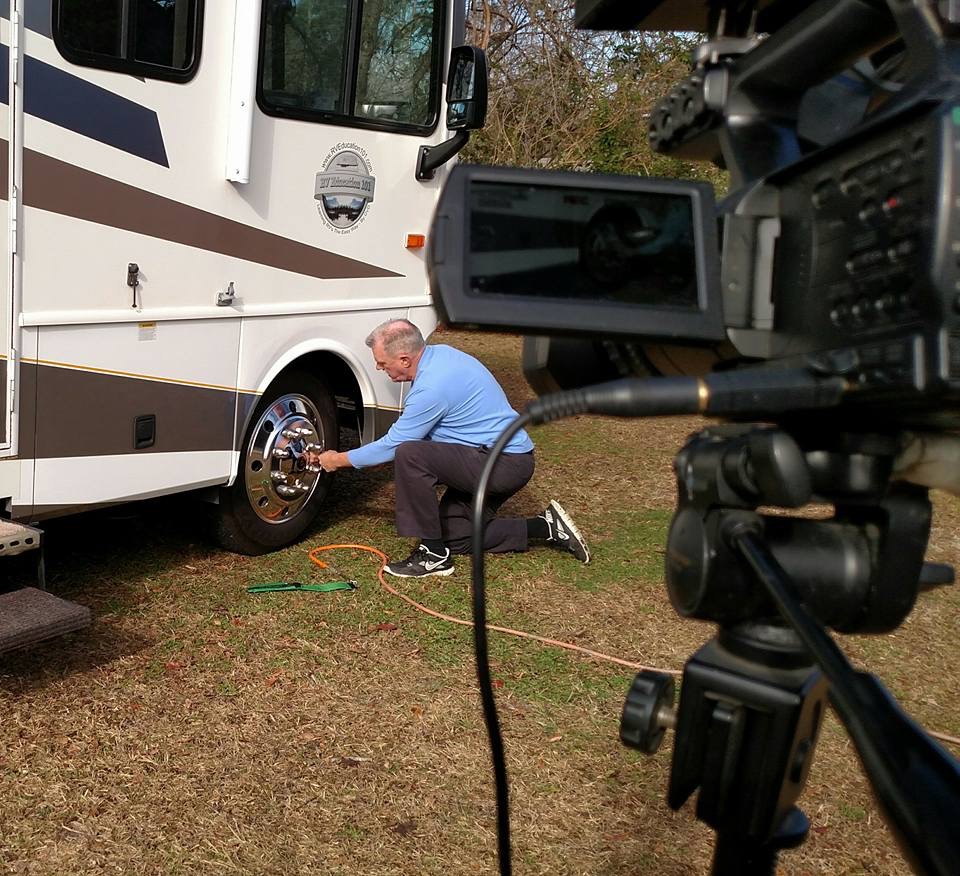 Vents – Be sure to check the appliance vents on the outside of your RV. Bugs are drawn to the odor of propane exhaust and sneak in the vent areas to build nests.
Check the latches on your vents to make sure they are all working. Replace or repair as necessary.
Remove any nesting or bugs you find inside by thoroughly vacuuming the area.
Replace any broken panel covers.
Some RVers suggest placing a pet flea and tick collar in the vent area to discourage bugs.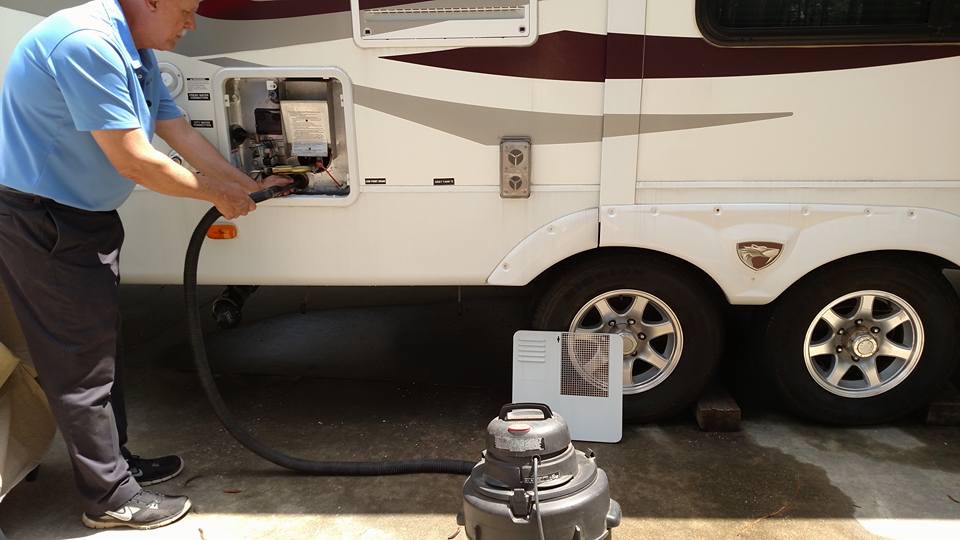 RV Water System – After you have dewinterized your RV, there is a simple way to sanitize the tanks for the coming season.
Check for leaks. Mark has some simple tips in his video for making sure your RV lines are not leaking.
Sanitize the system with lots of fresh water and everyday bleach.
Mark recommends a formula of 1/4 cup for every 15 gallons the tank holds. After the bleach is placed in the tanks, run the water until you smell bleach coming from each faucet including the shower, bathroom sink and outdoor faucet. Let the solution sit for at least 12 hours.
Drain the bleach water and replace it with fresh water. Run all of the faucets again until you don't smell bleach.
Replace all of the water filters.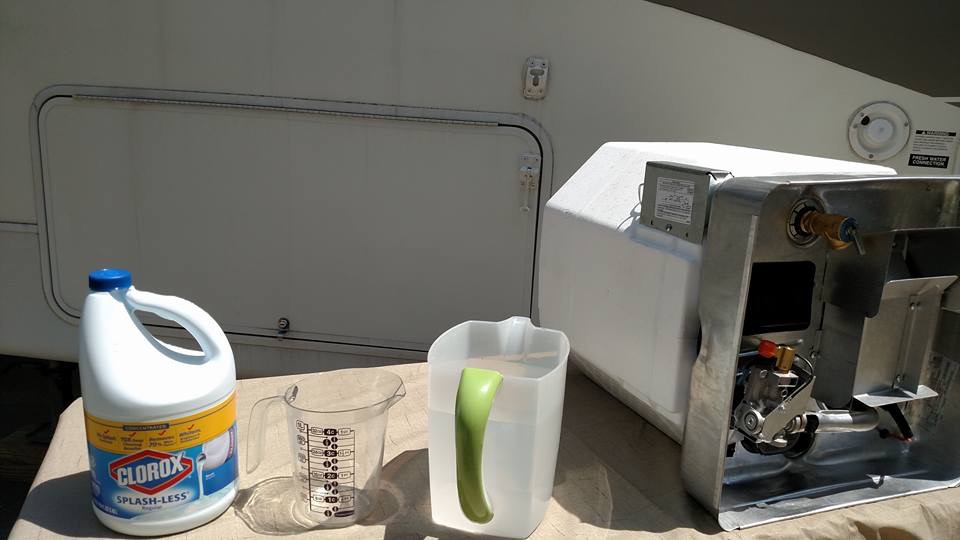 Trailer Hitch and Components 
Start by familiarizing yourself with all of the components of the hitch again.
Check all components for loose or rusted hardware or broken welds.
Make sure all of the nuts, bolts and pins are in good condition.
Inspect the hitch ball, the ball mount, the weight distribution bars and the sway control prior to towing the trailer.
Inspect the hitch receiver on the tow vehicle for any loose hardware or broken welds.
If you have a motor home and tow a touring vehicle, inspect the tow bar and all towing components.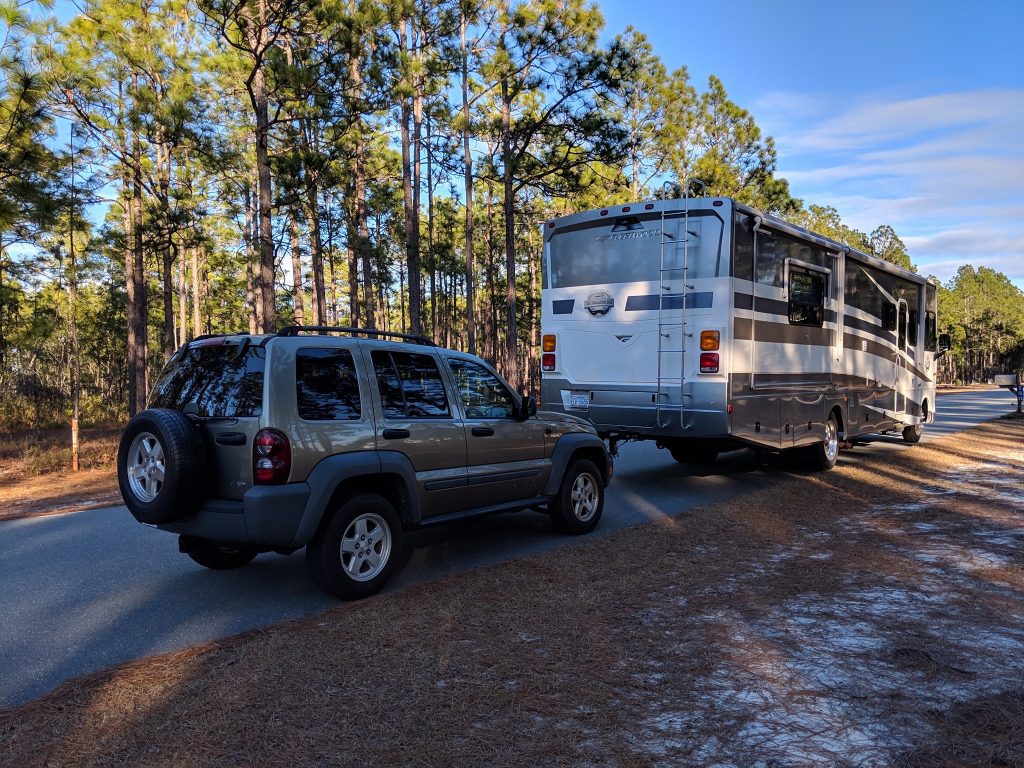 More great RV Tips from Mark
Check out and subscribe to Mark's YouTube channel.
Photos by Mark and Dawn Polk