Podcast: Play in new window | Download
Have you found the perfect trailer but are afraid to pull the trigger because it has a wet bath? Are you imagining sloppy pools of water on everything and mold incubating on the walls? Think again. RV's with wet baths can keep a trailers weight down significantly and give you added floor space where you really want it. Here are a few of the tips I've employed in my RV wet bath.
Keeping Towels Dry
Put towels up high by creating a shelf out of spring rods.
Hang your towels on spring rods and then use another spring rod for a shower curtain to go over them when showering.
Hang wire baskets high on the wall and put shower supplies and rolled up towels in them.
Keeping Other Things Dry
Put toilet paper in plastic container
Photo credit: Outdoorsoul.net
Make spring rod shelf for shampoo, bath gel and shower items
Use a bamboo mat to keep your drying off towel from dropping into any pooled water on shower floor
Consider an adjustable shower rod to store things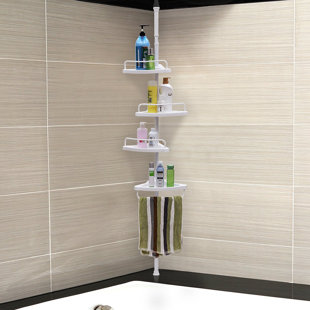 Image courtesy of Wayfair
Solutions in a Wet Bath
Hang a rod across shower wall and hang baskets or cans from it for storage.
Mount a shower shampoo, conditioner and body gel dispenser.
Keep cleaning supplies in a caddy between toilet and wall.
Use large Command hooks to hang towels from after the shower.
Have a squeegee in the shower and remove water from walls as soon as you are done showering.
Use a microfiber towel to get any excess water left behind.
Turn on overhead fan after each shower.