Podcast: Play in new window | Download
Are you part of the crowd that goes to RV Shows and comes away thinking that the designers of these units are enamored with brown and grey? Do you wonder if Elkhart, Indiana is actually the set of a 1950's TV show and it's all in black and white? Well, I'm here to tell you that the times they are a changing, even if it is slowly.
I have just returned from the annual Manufacturers Open House in Elkhart, Indiana. This is the big kick off to the RV Show season and where all of the manufacturers show off what they have been working on all year. The new models are displayed for RV dealerships, media and industry insiders. The show is closed to the public but plenty of Press is there to report on what's new.
I am happy to report some design changes happening in the industry. There are literally thousands of units on display and I had to stay disciplined to cover what I think all of you are most interested in – the lightweight towable world.
For so many years it seemed that all the bells and whistles that the RV industry had to offer were limited to the big Class A and Fifth Wheels out there. They were rolling residences with all the amenities of home while the lightweight world of travel trailers seemed to have the necessities with one or two luxury items thrown in for good measure. At this years Open House there was a trend toward more upscale features in small trailers, partly because there have never been more manufacturers making only small trailers.
In Tech, Riverside Retro, Camp 365, Pro-Lite, A Liner and Extreme Outdoors are all vying for a larger slice of the light weight towable market and they have to compete for it. In additon to these small independent companies the big guys at Forest River an Thor are producing small units with everything the big guys offer. Within the small manufacturers, In Tech and Extreme Outdoors are leading in design and innovation, but the others are catching up. Better awnings, convection ovens, trending design choices and thoughtful layouts are showing up in small trailers.
Some of the longtime standard features on large RV's that are making their way into smaller units are:
Outdoor Kitchen and Appliance Storage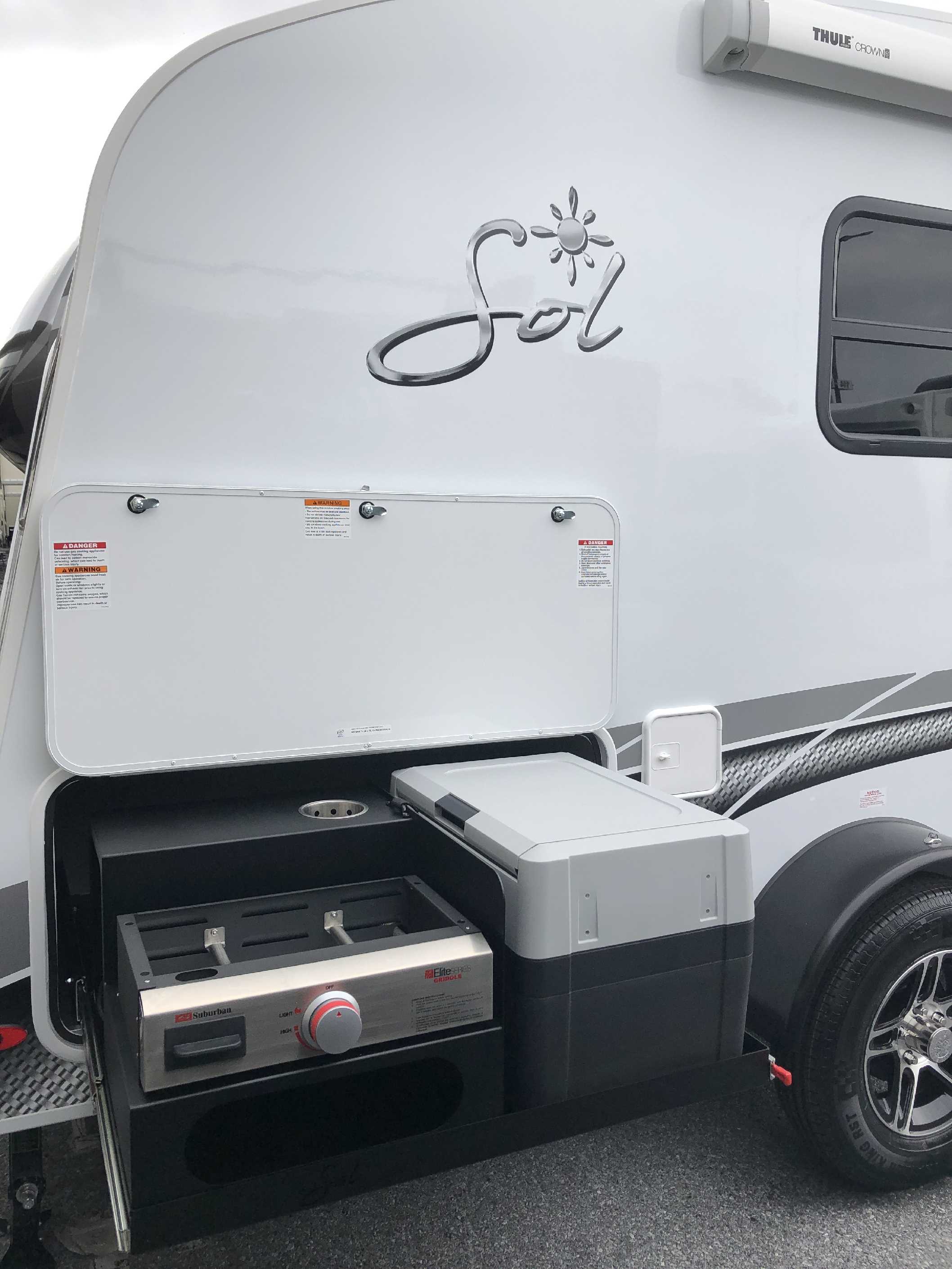 The Outdoor Kitchen is something we are now seeing on even small trailers. In Tech had a great one on their Sol trailer. This solves the storage problem I struggle with when bringing my Camco Olympian grill and Dometic refrigerator with me. I love how these are secured and easily accessible.
Electric Awnings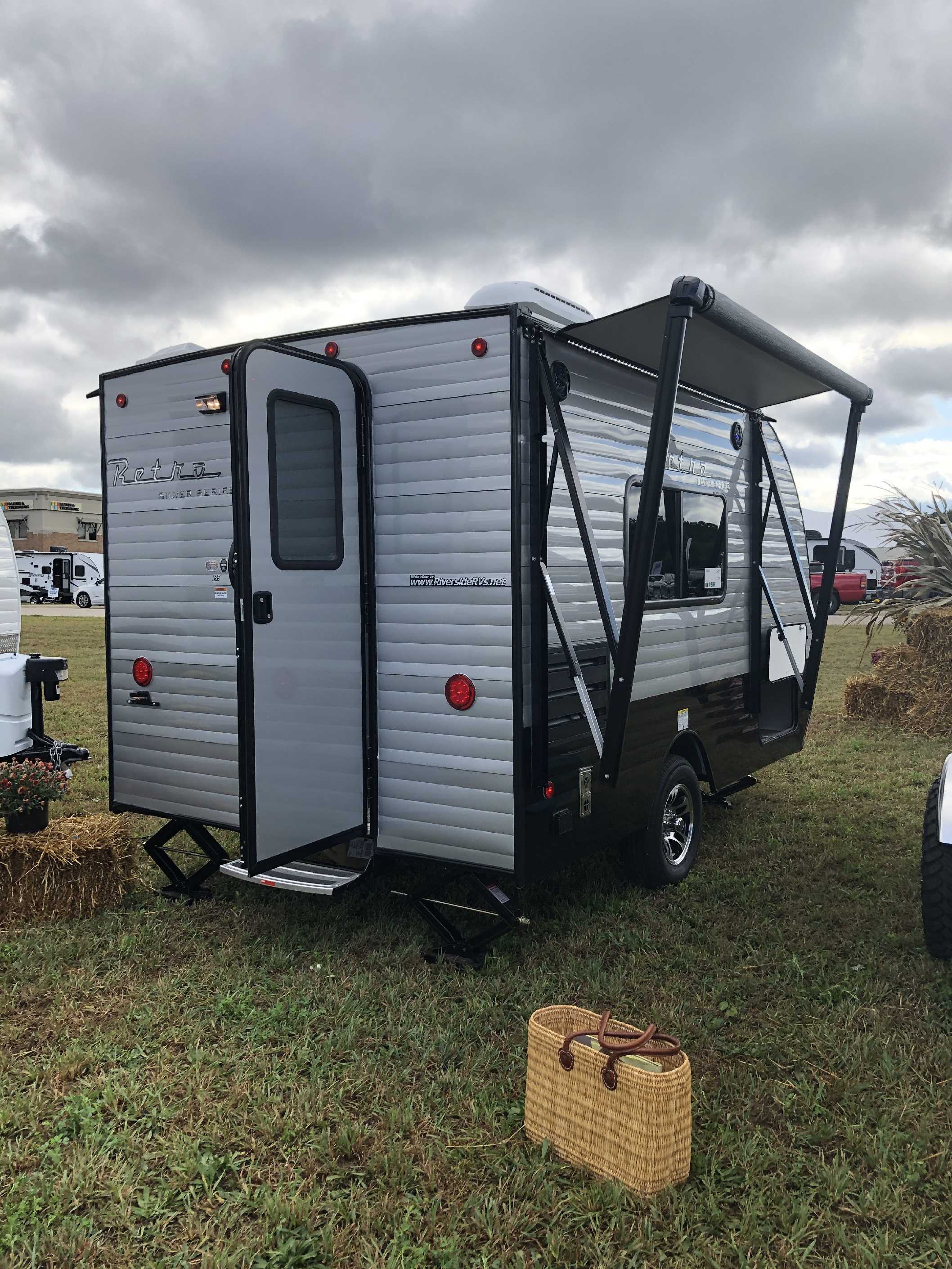 Even small units like this Riverside Retro 135 comes with an electric awning, an option normally reserved for larger RV's.
Farmhouse Chic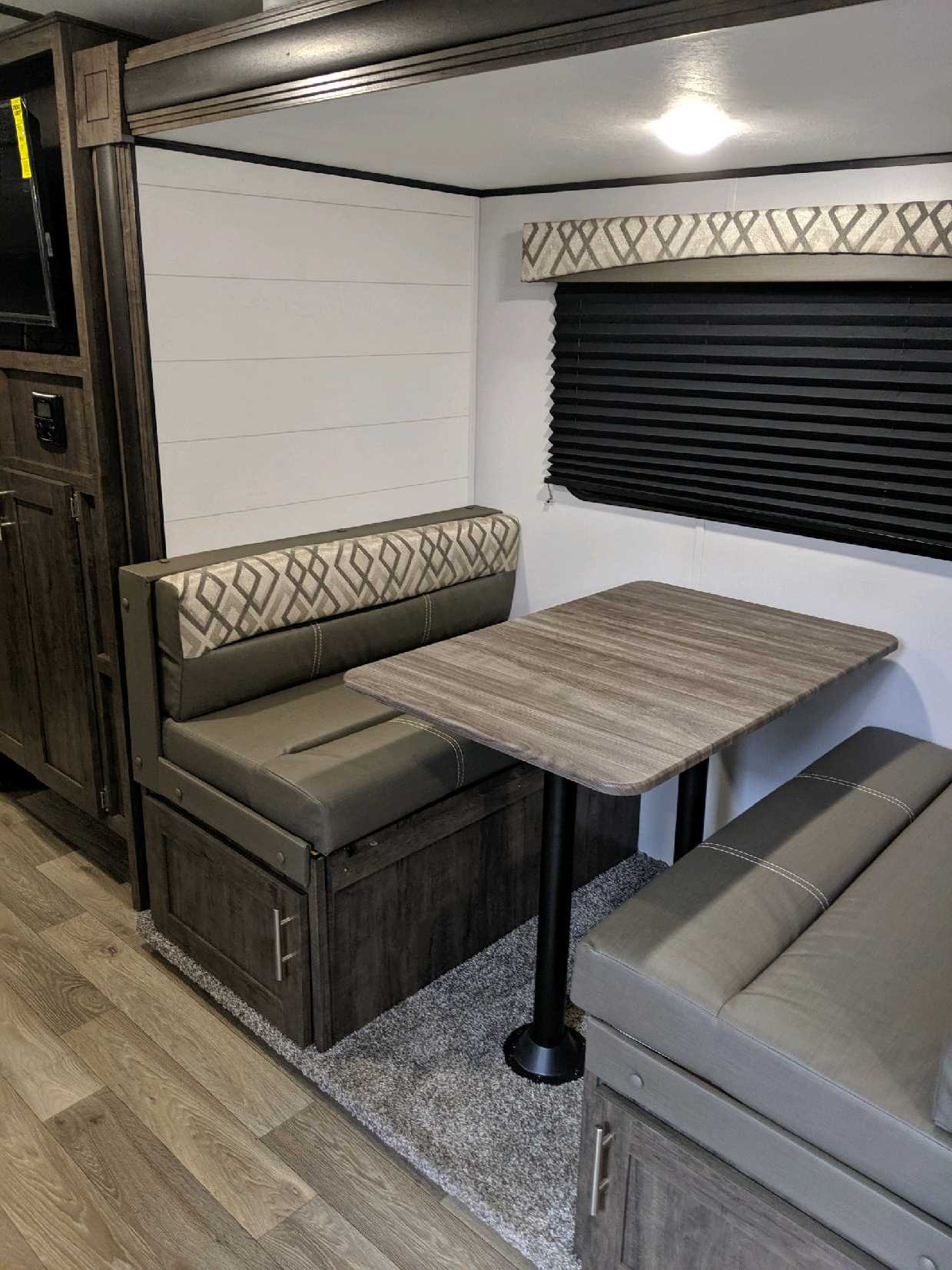 Farmhouse Chic has made its way into RV design and one of the components of this style is shiplap paneling. The Riverside Retro 199FK has had the interior redesigned to include shiplap on the dining booth walls and behind the bed. Although I dislike the cushion fabric and window treatments, those are easy cosmetic changes.
Residential Furniture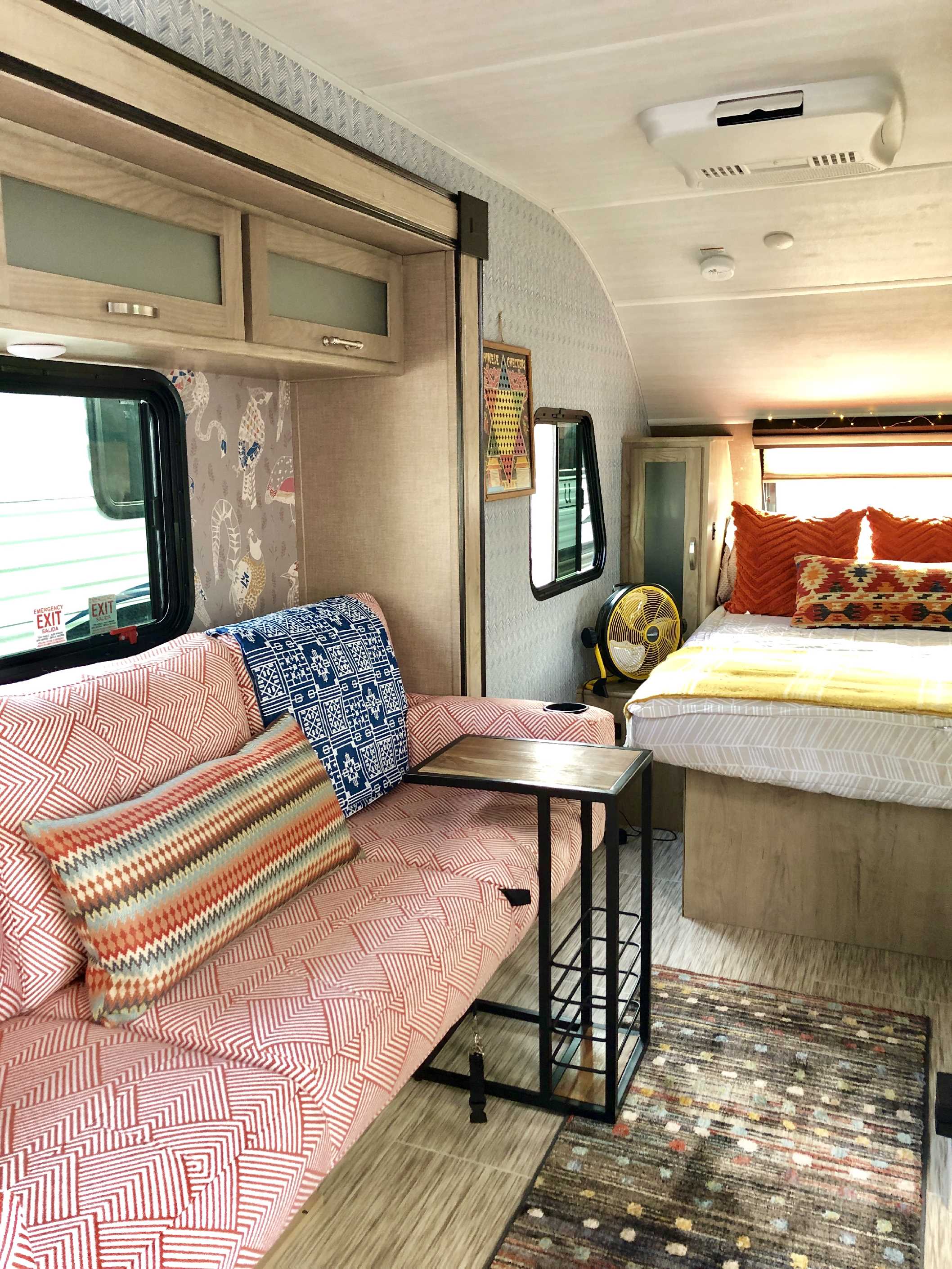 Many smaller units now have more residential furniture in them now. The details and comfort in the RPod 196 jackknife sofa made reupholstering it worth the expense. If you are planning to keep a unit for a long time and spend a lot of time in it, going to the expense to make well constructed furniture feel even more homey is worth it!
Lighter wood on the cabinets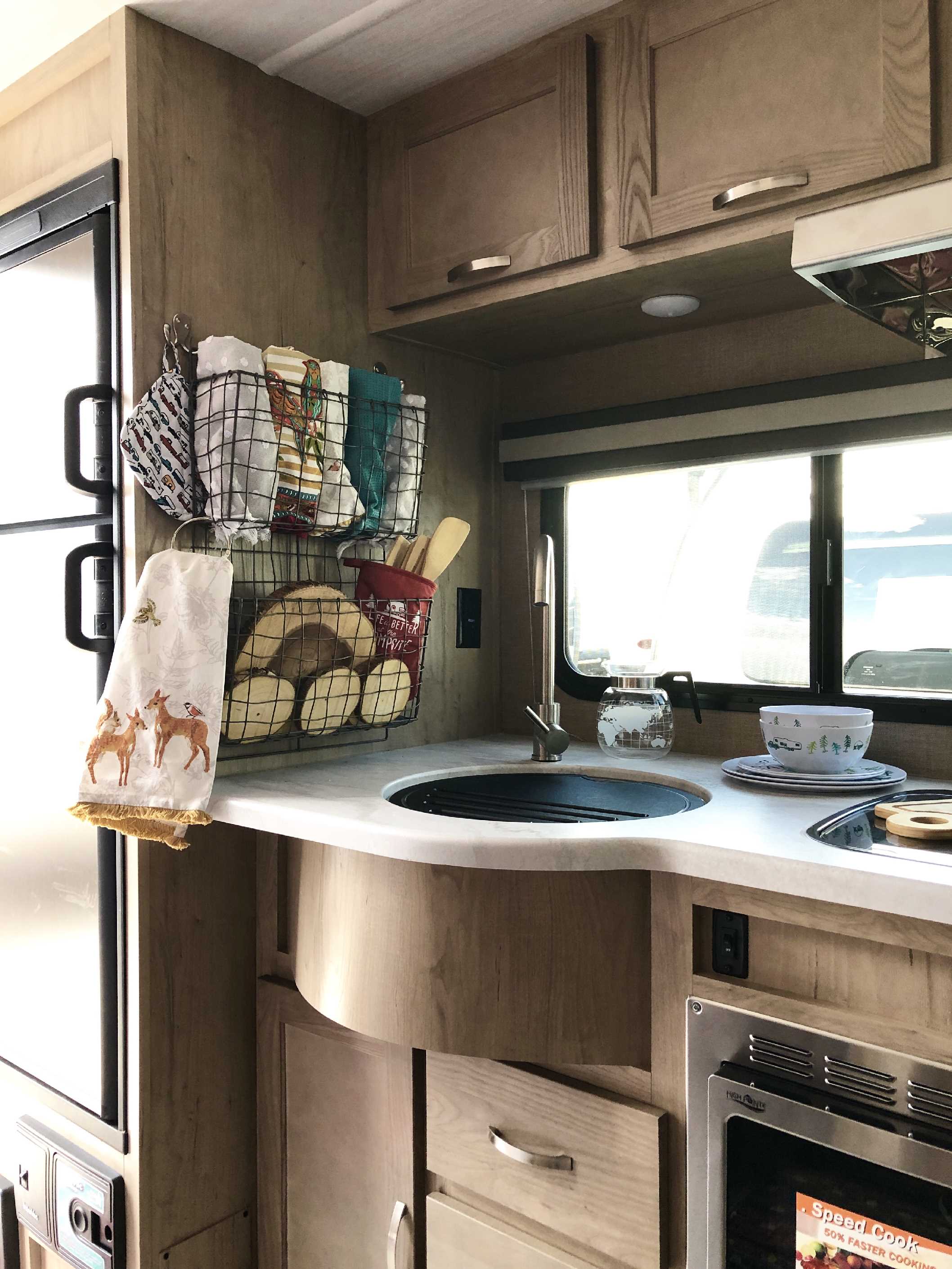 The dark, dark woods we are accustomed to seeing are giving way to lighter shades. Grey tones predominate following the national housing and home decor trend. There are lots of accent pieces available in home decor stores to compliment this color scheme.
Sleek European Styling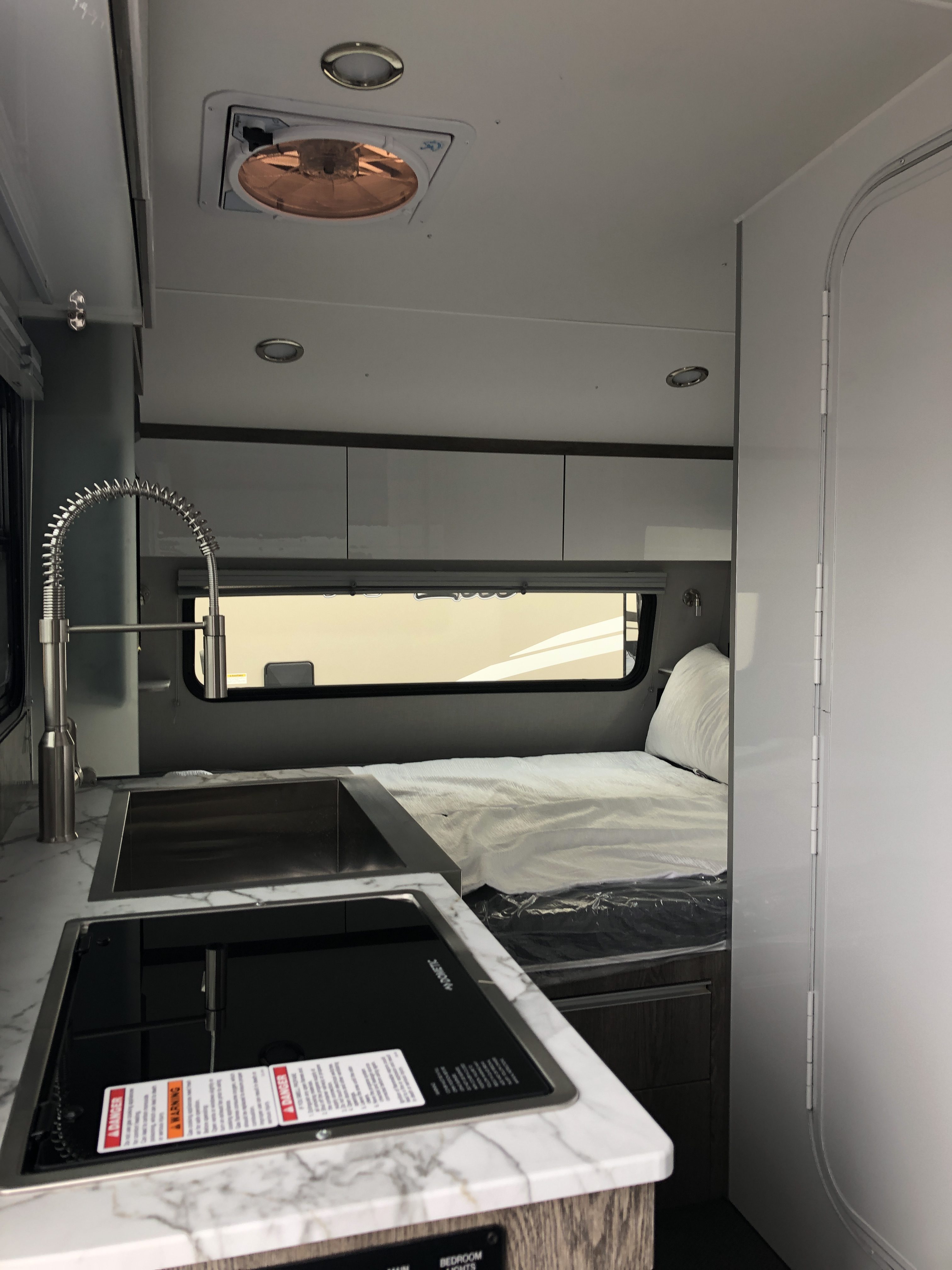 NuCamp's Avia and Barefoot, In Tech's Sol and Winnebago's Boldt are just a few of the many RVs under the influence of the European market. The Avia and Barefoot are European imports but Winnebago and In Tech are homegrown brands mirroring the sophisticated and sleek design. Glossy cabinets, minimal hardware, large windows and stainless steel appliances make these models appeal to the minimalist in all of us. They're very soothing to the mind and appealing to the "less is more" crowd.
Outdoor Settings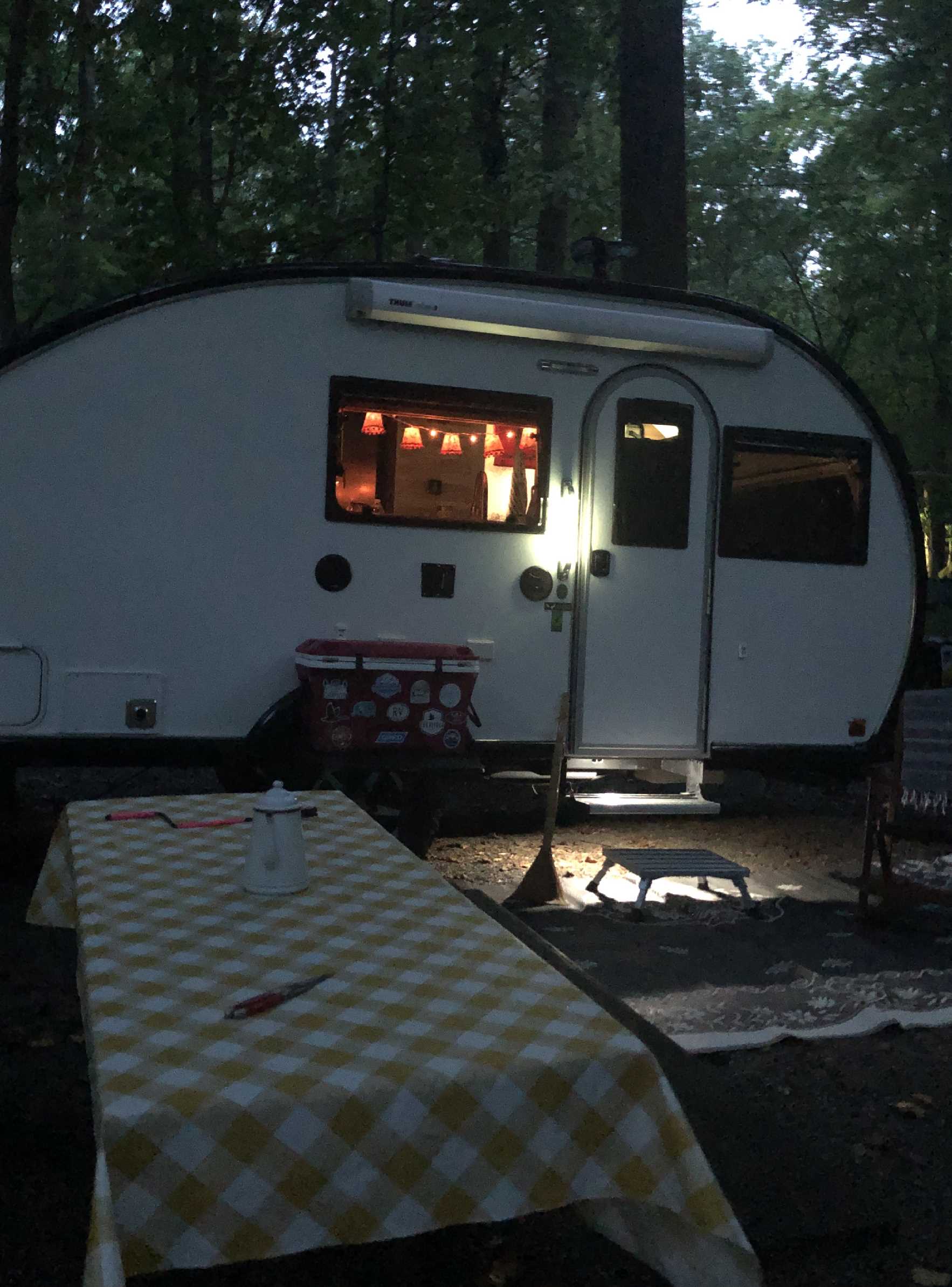 Outdoor speakers, USB ports, television and cable outlets, lighted awnings, doorhandles, and steps all make even small RV's an oasis for those who like to spend their down time enjoying the big game, tailgating with friends, or taking in a movie with the kids. My Max trailer by Extreme Outdoors, while only weighing 3400 pounds, has everything the big RVs offer when it comes to outdoor entertaining and lighting packages.
Technology
Lastly, technology. There's so much happening here. We are a society that is "wired". That is not going to go away. RV manufactures are accommodating that. Airstream offers an app with their Classic model that allows you to use your phone to turn your lights on and off, raise or lower the thermostat, open and close your awning, and adjust your shades and vents. It also helps you to maintain your RV. It will remind you to schedule maintenance, check tire pressure and it stores all of your RV manuals.
Small Rv's are now offering everything the big guys have. What will you choose?