Fall harvest is finally upon us which means hearty soups and stews are on the menu. The crisp evening air is beckoning us to stay outside around the campfire for just a moment longer while our crock-pots are luring us indoors to create warming and comforting meals.
After transitioning from the hot and humid summer towards a dry and airy fall climate it's also noticeable —and not at all unusual—that we feel off-balance and out of sorts. This is a completely natural transition that can be addressed by moving away from salads, grilled meats and raw vegetables and eating foods that promote warmth, moisture and grounding — namely those that are sweet, heavy, oily, and spiced. We are starting to adjust to the shorter days and dryer weather and our foods need to adjust with the changes to support body our and spirit.
We're looking for "grounding" so think of foods that are grown in the earth or just on top and touching it.
Avoid reaching for the heavy, dairy or sugar-laden desserts and dishes and opt instead for earthy, garden-harvested, and natural solutions such as roasted squash with a drizzle of pure maple syrup, freshly baked apple pies or sauces, baked pears with pomegranate, or sweet and gold potatoes roasted with turnips and parsnips. We'll get the fiber that we need to keep our digestive system moving and stay on track with our nutritional goals.
Focus on warming spices such as cardamom, cinnamon, ginger, nutmeg, and cloves along with warming fluids, such as ginger, lemongrass, or mint tea. Fluids should be consumed at room temperature or warmer and we should avoid ice and cool beverages which will quell an already sluggish digestive system.
Another way to find your balance and promote grounding is to stand barefoot on the cool grass for a few minutes each day. Close your eyes and feel the strength and support of the earth while talking a few deep cleansing breaths.
Creamy Sweet Potato and Curry Soup
This delicious soup can be made in a crock-pot, on the stove-top or in an Instant Pot*.
Ingredients
6 cups of high quality chicken or vegetable broth (low sodium and organic preferred)
1/2 cup diced onion
1 clove garlic, minced
1 cup of red lentils rinsed and sorted.
2 cups sweet potatoes – peeled and cubed
1 bay leaf
1-2 teaspoons curry powder or to taste ( I love Frontier Brand)
1 Tbsp avocado or coconut oil
1 can of full fat coconut milk (I love Arroyo D brand)
1 Tbsp roasted and salted pepitas (shelled pumpkin seeds)
Salt and pepper to taste
Method
Saute onions and garlic in oil until translucent.
Carefully add broth, lentils, sweet potatoes, and bay leaf.
Bring to a boil, reduce heat and simmer for 15 minutes or until potatoes are tender. (Instant Pot: high pressure 5 minutes, then quick release)
Remove bay leaf.
Add coconut milk and curry powder
Carefully use an immersion blender to blend all ingredients right inside the pot until smooth and creamy.
Thin out soup with a little water or broth if it becomes too thick.
Simmer for 5 more minutes to allow flavors to blend.Serve in a deep bowl with a sprinkle of pepitas on top.
Healthy additions and/or substitutions:
Substitute butternut or any sweet squash for the sweet potatoes or a use combination of both.
Chop up 1-2 cups of fresh spinach and stir in after blending. Allow 5 mins before serving.
---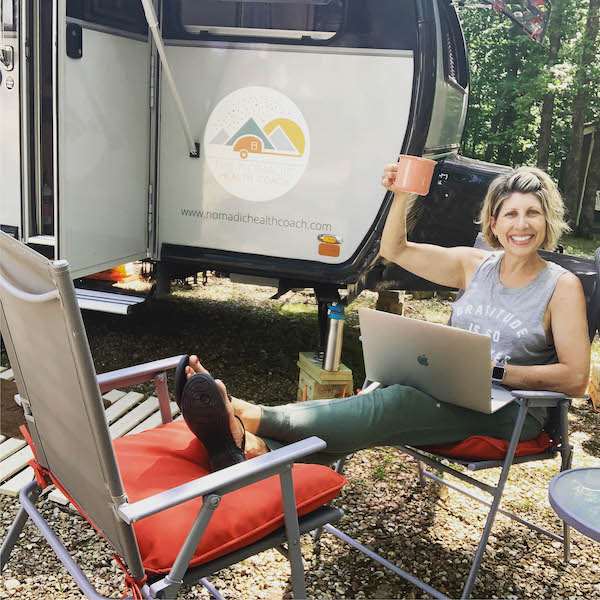 Author: Lorri Weisen is the Girl Camper Health and Wellness Expert. A recent widow, she travels the country full time in her Little Guy Max teardrop trailer exploring, experiencing and sharing what's good—good adventures, good health, good life.
You can follow her travels on Facebook and Instagram, or jump on her website, The Nomadic Health Coach to learn more about her.