Whether we are heading to the campground, already at the campground, or on a road trip across the country—we want to make sure we continue to eat healthy while we travel. Many of us think that just because we are going on an adventure we can throw our healthy eating habits to the wind. "Oh, just this one time" we say to ourselves. "It's only for a few days." Well, those days add up, especially if we camp frequently! This mindset can lead to dismissing our health goals and can sneak on the extra pounds over time. Additionally, maintaining healthy eating habits while on the road or camping is the best way to keep our joints feeling good, which makes going on that beautiful hike or taking that evening walk to meet your neighbors much more enjoyable.
BEST PRACTICES:
Always try to make organic produce, nonGMO, grass-fed beef, and pasture-raised poultry the priority. Understand how to read food labels HERE.
Limit your intake of processed/simple carbs; breads, crackers, sweets, pancakes, waffles, etc.
Strive for elating only low/medium glycemic foods. Use this list HERE.
So lets take a little trip! I've created a few ideas For Eating Healthy While On The Road. This is not a full meal plan but rather just some healthy ideas to supplement your menu. Follow the guidelines below and adapt to fit your dietary needs, preferences, and the amount of folks you are feeding — and let's all have a happy and healthy camping season!
Sample grocery list for healthy travels:
Assorted snacking veggies; carrots, celery, cucumbers, broccoli, radish, jicama, pea pods, etc.
Whole chicken
Peppers and onions
Flatbread
Jar of pesto
Canned tuna – prepped
Avocados (semi-ripe)
Fresh berries; strawberries, raspberries, blueberries
Fresh spinach or arugula (pre-washed bag or box)
Fresh kale (pre-washed bag or box)
Almond milk
Old fashioned oats
Chia seeds
Hemp seeds
Walnuts
Fresh eggs
Pineapple
Unsweetened shredded coconut
Ham or turkey
Sweet potatoes
Spices including salt and pepper
Nutritional flakes (learn more here)
Assorted raw nuts for snacks and salads; almonds, macadamia, pecans, etc.
Avocado oil
The day before you go prep work:
Roast a 4-6 lb chicken in the oven or cook in your Instant pot (you could also purchase a freshly cooked rotisserie chicken at the market). Debone and put all the good stuff in reusable containers and/or bags. Keep refrigerated. (Tip: Make a bone broth from the carcass and bring with you.)
Wash and prep all of your veggies. This is for snacking on your driving day and also for the rest of the trip so store appropriately in reusable containers and/or bags — eliminating all the air possible. Keep refrigerated.
In 16 ounce mason jars, measure out 1/2 cup of whole-rolled oats, 1 Tbsp chia seeds, 1 Tbsp Hemp seeds or flax meal, and 1/4 cup freeze-dried fruit (or omit and add fresh fruit later when serving, see below.)
In a reusable container or large mason jar, crack several fresh eggs, some chopped ham, peppers, onion, and a bit of water. Shake well and keep refrigerated.
Cut up one pineapple and chop into bite size pieces. Add 1 cup chopped walnuts, 1/4 cup coconut and a few squeezes of fresh orange juice. Store appropriately in reusable container. Keep refrigerated. (Even though pineapple is a high GI fruit, adding the fat/acid will lower the GI factor.)
Peel several pounds of sweet potatoes. Cut into 1 inch bite-sized cubes. Store appropriately in reusable containers and/or bags — eliminating all the air possible. Keep refrigerated.
Make several servings of tunafish. Keep refrigerated.
TRAVEL DAY FOODS:
Fill your travel cooler with the fresh chopped veggies. (Eat the veggies that will expire first such as cucumbers and jicama), and add a few healthy beverages such as kombucha, green or herbal teas.
Two hard-boiled eggs, peeled and slightly salted. Place in a reusable silicone bag or ziplock.
Small container of walnuts, almonds, macadamia nuts, or pecans.
Chicken breast sliced into strips for easy snacking. Serve with a low-sugar barbecue sauce or teriyaki to get that satiation factor.
Wet paper towel or reusable towel for hand washing.
Get out and stretch every two hours and have a snack!
Also, make sure you are drinking plenty of water.
BREAKFAST AT THE DINER: If your the type who likes to have a hearty breakfast and then get on the road, then skip the big chains and find a local diner if you can. The temptations to eat unhealthy are plentiful at the big chain restaurants, where the smaller, local ones, will many times cater to your dietary needs. Besides supporting the local community you'll have healthier options to choose from. Order poached or scrambled eggs, ham steak or turkey links, and hash browns. Skip the toast and orange juice! And absolutely, positively, no pancakes or waffles folks. Eating these heavy, sugary, carbs in the morning will only increase your chances of that afternoon slump.
SECOND CHOICE IS GAS STATION GRUB: Depending on where you are, your options might be pretty limited. The larger travel centers such as Flying J, have lots of in-house food choices, but they are mostly just glorified junk food; hot dogs, pizza, deep-fried chicken, pastas, sugary baked goods, etc. Not to mention the multiple aisles of chips and low-quality snacks. Don't be tempted by all the delicious smells! Many places now offer a few better choices and have a center aisle with pre-packaged salads, veggies, and hard-boiled eggs. Grab a salad and add the eggs for a protein kick. Also, only use half the dressing as its typically high in sodium and Omega 6 EFAs. Other good choices are nuts and seeds. Sprinkle them on top of your salad and you've got a light, protein and fiber-rich meal that will hold you till you get settled at your site.
ABSOLUTE LAST RESORT IS FAST FOOD: I am not an advocate of anything fast food, but if you must, find a Subway. Many of them are attached to the travel centers or located close by. The salads are generous and you can choose turkey or chicken for a protein. Have them pile on the veggies and ask for oil and vinegar for the dressing. Grab a small bag of Lays Baked chips if you're craving a crunch. If I see one while traveling, I'll order a salad and keep in the fridge so I have dinner ready at the ready when I get to the campground.
Nothing but a McDonald's in sight? I feel your pain. Only as an absolute last resort should you walk into this place because the temptation to purchase a high fat, high salt, high sugar item is off the charts. McDonald's spends millions of dollars every year to keep you addicted, and it shows in our waistline. The only items on their menu I would approve of would be the Bacon Ranch Grilled Chicken Salad or Southwest Grilled Chicken Salad.
IDEAS FOR AT CAMP:
Shake up the egg mixture and cook scrambled eggs. Serve with fresh berries. This replaces the traditional omlet in a bag—because you should never cook anything in plastic bag or any plastic that is not deemed food safe by the FDA.
Fry the sweet potatoes and just before finishing, throw a handful of fresh spinach or arugula on top and stir until just wilted. Serve.
Before bed, add 1/2 cup almond milk to jars of oatmeal, cover, shake and refrigerate. In the morning, add fresh fruit and serve.
Fresh veggies for snacking
Great substitute for chips! Add fresh kale to a large bowl, add 1/4 cup almond oil and mix well coating all leaves. Sprinkle with a bit of salt (not too much as it concentrates as it cooks) and 1/4 cup nutritional flakes. Heat griddle or cast iron pan and cook, stirring occasionally until kale is crisp.
Scoop tuna into an avocado half. Sprinkle with nutritional flakes and salt and pepper.
For a mid afternoon snack, make an app for the evening meal such as a spinach salad with veggies, berries, nuts, avocado. Toss with avocado oil and fresh squeezed orange juice.
Chop the chicken and serve with diced avocado, nuts, oil and greens. Sprinkle with nutritional flakes for a "cheesy" kick.
Make a healthy broth-based soup or stew in the crockpot/instant pot. This can sit on the countertop on warm (140*) for the day. Make sure you fill it with lots of veggies and healthy lean proteins.
Toss a flatbed on the grill and add pesto and fresh tomatoes and veggies for a healthy option to cheese-laden pizza.
It's actually quite easy to eat healthy while camping. The simplest way to start is to make a list of your temptations and then avoid those aisles at the market. Don't bring the temptations with you! Rule of thumb is to shop the perimeter of the store, but that's also where you'll find the bakery so be careful! Make a list, set a budget and stick to it. Keep the sugar low (this includes carbs) and drink lots of water to keep flushing toxins out of your system, and opt for fresh vegetables and lean proteins.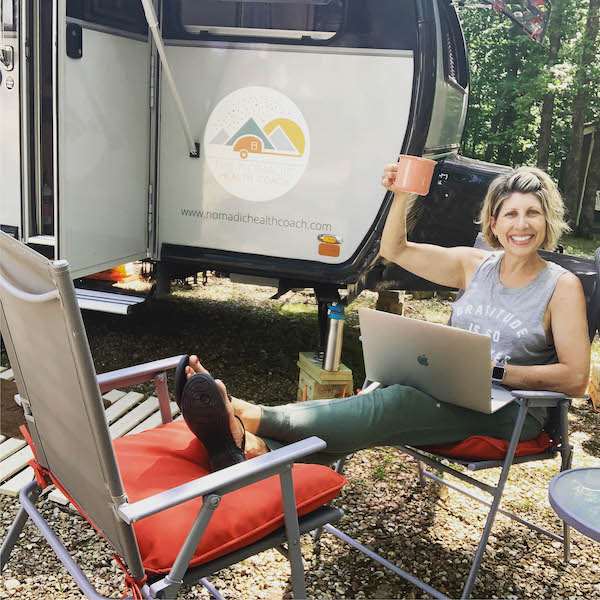 Author: Lorri Weisen is the Girl Camper Health and Wellness Expert. A recent widow, she travels the country full time in her Little Guy Max teardrop trailer exploring, experiencing and sharing what's good—good adventures, good health, good life.
You can follow her travels on Facebook and Instagram, or jump on her website, The Nomadic Health Coach to learn more about her.