We spoke with Nebraska girl camper Frances Anderson about her RV choice: a 2022 Black Bean by Bean Trailer.
Why did you buy this particular RV? 
First, having already been Bean owners (we previously owned a 2021 Mean Bean), my husband and I had already experienced Bean's customer service and personal one-on-one care. We could never imagine deviating from their brand. As our family grew and Bean Trailer released the Black Bean, the outdoor kitchen features offered in this model were well beyond what we'd seen in any other trailer. The kitchen includes a Dometic 55 and a Dometic 75, a full-size sink, massive slide-out drawers, substantial cabinet space (accessible inside and outside), a 22-inch partner cook stove and a giant Discada cooker.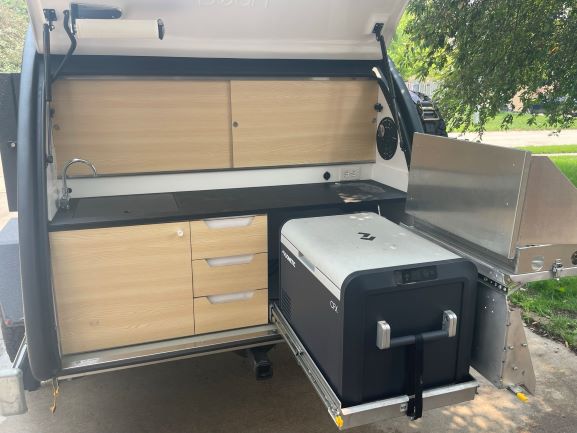 How did you come to purchase this RV? 
When we first found Bean, I telephone interviewed, researched and cross-compared eight teardrop trailer companies. I also looked at other fiberglass trailer builders. Over the phone, Bean Trailer was the most impressive and excited to talk to a new customer. On paper, they had recently won awards highlighting their creativity and commitment to innovation. Based on my market analysis, Bean's pricing was significantly less than any competitor's. We ordered directly from Bean to custom-build our trailer and only waited about six months for our Black Bean.  
What makes you happy about this RV? How do you feel about it?
There are so many things! First off, I love the inherent functionality inside and out. Everything in the trailer makes sense and is incredibly functional. Being a mom of five, soon to be six, I don't have time to move things around while camping or to look for things. With the simplicity of Bean, I also know where everything is and I can reach it with one hand from almost any place. Its small size does not limit its capacity. 
How do you all fit in the Bean?
We added an iKamper rooftop tent and two bunk beds that leave endless sleeping space for our family of seven (soon to be eight). My husband is 6'2" and can easily stretch out in the trailer. The outdoor kitchen, off-road capability, included levelers, and solar power allow us to camp easily. But even more, it reminds us why we started camping in the first place: to give our children authentic childhood experiences with the untamed outdoors. Lastly, the outdoor shower never makes us rush home for a clean, hot shower because we get one right at our camp.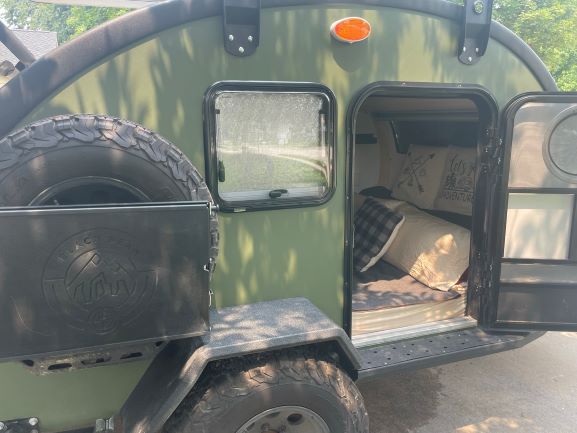 Do you camp with anyone else? Who?
Primarily, we camp with two of our nephews (husband's side) and my brother and sister-in-law. We love bringing our nephews because we get to spend time with them in ways that we would otherwise never get to know them without their parents. Also, my brother and sister-in-law spend endless hours hosting us on a Canadian campground where my brother, a professional fisherman, takes us out on the lake all day. We've camped with many friends, the scouts and other family members, which is another huge reason why camping continues to be so dear to our hearts. We find that camping with others draws us closer to them and adds depths to our relationships that we otherwise would not have the opportunity to experience and share. 
What else would you like us to know about you and your RV/ your camping style? 
We have learned to keep it simple. Sometimes camping, traveling, packing and planning can seem daunting for one person, let alone half a dozen. But we make lists, give everyone a job and have learned to simplify, simplify, simplify! This was taught to us by Bean Trailer in how they modeled the trailer. I know that if it doesn't have a spot (that's easy to get to), it doesn't belong on our trip. Then, we wash, clean and reuse as much as possible. This way, we never run out, over pack, or say no to a one-night trip. The fact that the Bean can stay packed. with a full kitchen ready to go, is a huge perk. We love that our trailer is everything that you need and nothing that you don't. 
Perks
Timbren independent suspension
Solar powered
Full sink
Bike rack
Easy to use
Why I Love My RV 
Built-on outdoor shower
Full outdoor kitchen
Off-road powerhouse
Fridge in front box
270-degree outdoor view from the inside 
This article first appeared in the Fall 2023 issue of Girl Camper Magazine.
More Girl Camper
Girl Camper Magazine: Subscribe to Girl Camper Magazine here! Girl Camper Magazine
Events: Check out upcoming Girl Camper Events – you can attend events in any chapter! https://girlcamper.com/events/
Main GC Facebook Group – Join more than 400,000 like-minded women in our Facebook group! Girl Camper FB Group