Forest River R-Pod 177 2014
By Lesa McDermott
Girl Camper Chapter Guide – South Dakota & Wyoming
My first camper was a 2005 Starcraft Travel Star Hybrid Toy Hauler. It was a hybrid with fold out tent beds. It was hard to stay warm at night in the mountains and not a great option in bear country, so I sold it.
I knew I wanted an R-Pod, but I couldn't find any in my price range in my area. So I started looking farther away. I knew from the R-Pod Owners Facebook group that Couch's RV Nation in Trenton, Ohio tended to sell R-Pods at very good prices. I contacted them and asked about used R-Pods and was told they rarely took in used campers but they'd keep my name in case one came in. About a month later I got a call that they had a used 177 and did I want it? Two days later, my dog Bandit and I made the 1,250-mile journey to get it.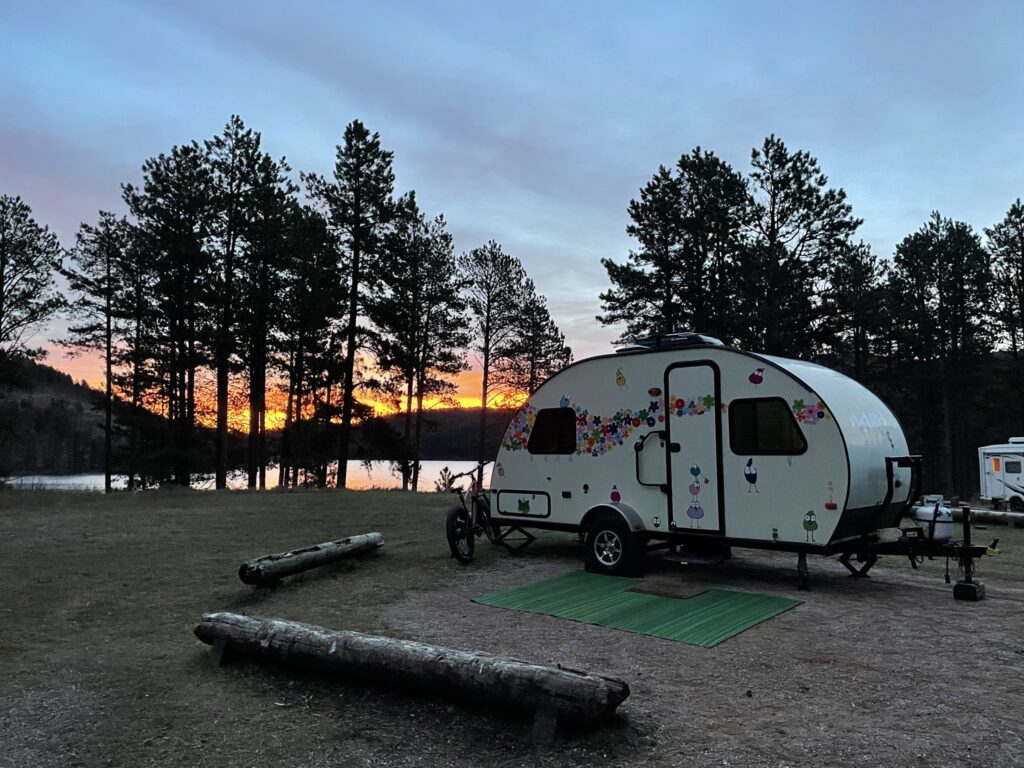 I love the cool look of tear drops and the 177 R-Pod model was something I could tow with my Jeep Rubicon, especially with a WDH (weight distribution hitch) that has built-in sway control. It has a dry weight of 2,418 pounds. It also has a ton of room and storage, a small kitchen and a wet bath. I also liked that the dinette could fold down into a second bed so I would have room for a friend to go camping with me.
When I am in my camper, it is my happy place. It's full of color. I camp a lot with girlfriends. But occasionally my husband comes, too. Luckily he is not bothered by the design and loves it as much as I do. My dog Bandit is a constant companion. Occasionally my mini golden doodle Zoey comes, too. If I'm hanging out at home in my camper, Finley and Jibber, our cats, love being in it too.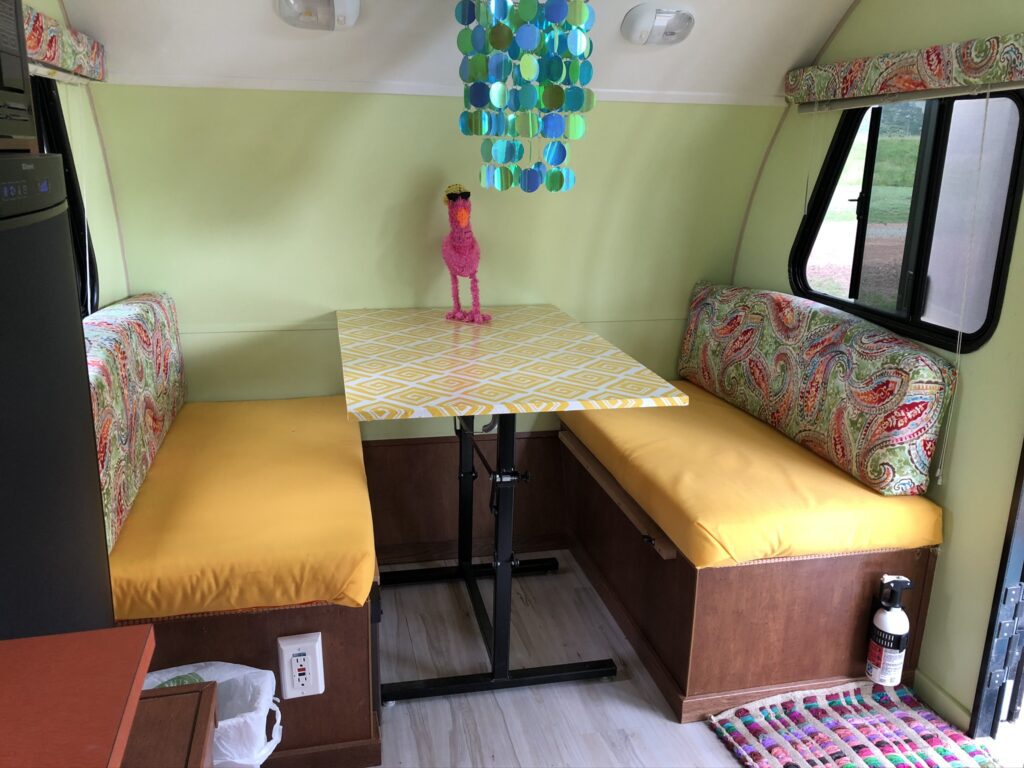 My R-Pod didn't originally look like the way it does now. It was still in its original factory condition when I got it. As an owner of a construction company, I have a hard time leaving things as is and factory brown is not my color. I replaced the flooring and countertop, painted the walls, put a metal backsplash in the slide-out area, reupholstered the cushions, the slide-out/door trim, and the window valances and replaced the cooktop with a recessed version. Mechanically I upgraded it to be solar compatible with and installed a Lion Energy Lithium Battery.
On the exterior I removed all the factory decals and using a Cricut machine and $40 of outdoor vinyl, made all the flowers and birds. I use command hooks to hang the faux flower window baskets and had a custom awning made. I christened my R-Pod the "Birdcage." In a world full of color, why blend in?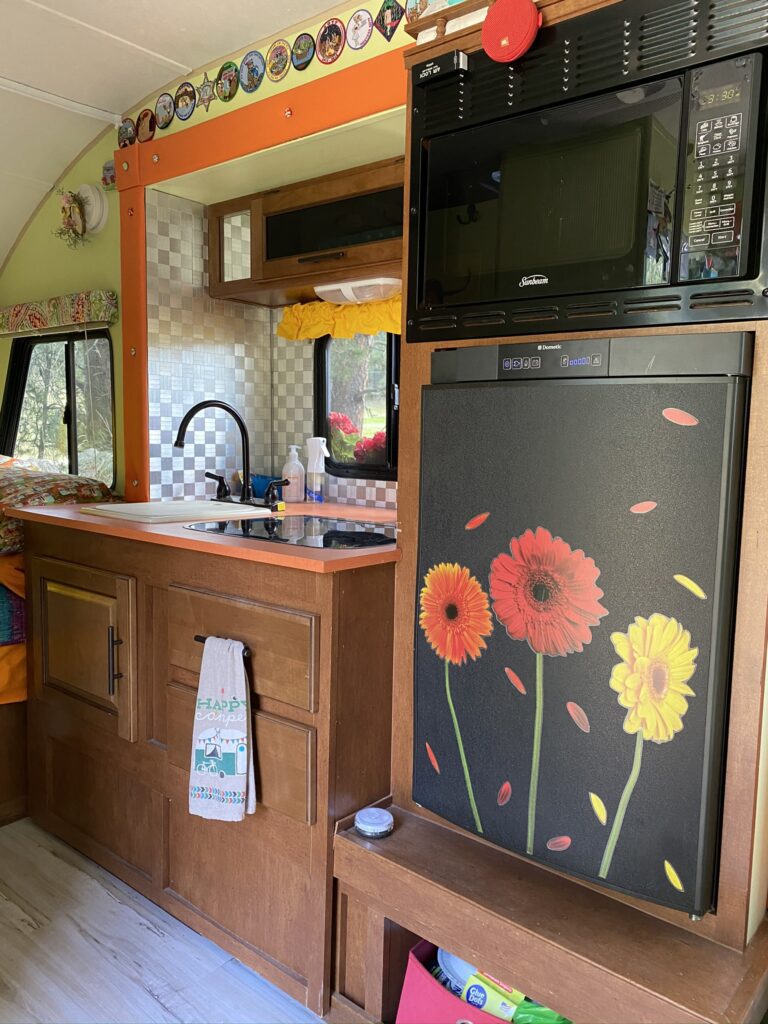 Perks
Bathroom
Queen size bed
Lion Energy lithium battery
Lots of storage
Dinette converts into a 2nd bed
Why I Love My RV
All the color inside and out
It invites people to stop by my camper and ask about it
It makes people smile
Just the right size for a girl and her dog (and occasional husband)
It's easy to tow and backup