Big News!! Breaking News!
I will be the opening speaker at the Southeast Tourism Fall Forum 2015!
I am so excited to be traveling to the beautiful state of West Virginia! It really is 'Almost Heaven'. I will be bringing along my little vintage Go Tag Along trailer because they will be having one heck of a street party in Charleston!! The theme of my talk will be, "Girl Campers; going places, doing things!" 
I will be dishing the dirt on how to join in on all the reindeer fun and sharing some photos of all of the best adventures we go on as well as the beautiful trailers. I am so excited about this because as you all know, I never get tired of talking about Girl Camping!! I want everyone to have as much fun as we do!!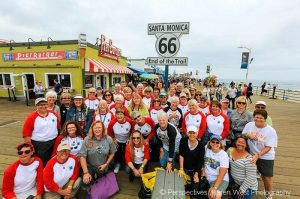 The Sisters on the Fly at the Santa Monica Pier after they completed the entire Rte 66 tour!

Hershey Pa RV Show
The Largest RV Show in America is taking place in Hershey, Pa the week of Sept 16-20th! I will be there hanging out with my friends Stephanie and Jeremy Puglisi from RV Family Travel Atlas. They will be at the Progressive Insurance booth talking shop and sharing tips and tricks from their highly rated and popular Podcast, RV Family Travel Atlas. I will be stopping in on Stephanie before I get my running shoes on and check out all the potential Girl Camper trailers!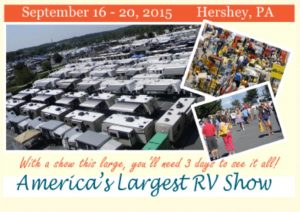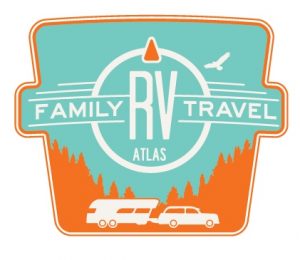 www.rvfamilytravelatlas.com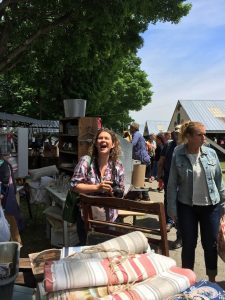 Stephanie Puglisi working her camera magic at the Rhinebeck NY Country Living Fair
It's that time again and there are so many things to look forward to!
I will be at the Country Living Fair with Go RVing in Columbus, Ohio the weekend of September 18-20 at the Ohio Village at the Ohio History Center. I will be speaking on the Main Stage on Saturday afternoon along with Sisters on the Fly, Pam Elson and Louise Grivetti, about all of our adventures! We will also be doing some demos on Dutch oven cooking, organizing your trailer and trailer safety!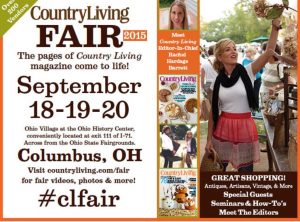 This is always one of my very favorite events of the fall. The shopping, the food, the fun, the trailers, the sisters on the fly and Go RVing!! I also get the chance to catch up with all of my favorite vendors! I get to shop their fantastic booths before the show opens.
When I leave the Country Living Fair I am heading straight to the Airstream factory for a tour and talk with their Public Relations spokesperson, Molly Hanson. I can't wait to visit the factory where this icon of American tourism is built.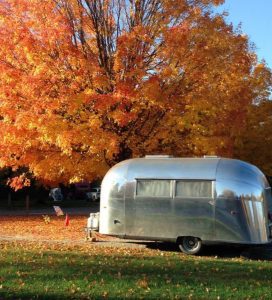 A Sister on the Fly took this picture at Potato Creek State Park in Indiana. It looks like a perfect setting!
It's no secret that I think the Riverside Retro is a great alternative to a vintage camper. The Sisters on the Fly had a hand in designing a Sister on the Fly model and I have been pleading with my friends who are connected to the manufacturer to help me persuade them to build me a custom Riverside Retro for my upcoming summer of 2016 tour of National Parks!! After rebuilding 10 vintage trailers and camping for the last ten years in vintage ones, I know exactly what I like and don't like in floor plans and design choices! Now, if only I could get someone to build me my dream trailer!!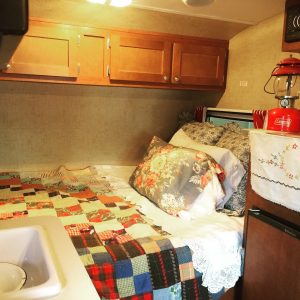 The kind folks at Stones Camping World in Berlin NJ were nice enough to let me glamp up their Riverside!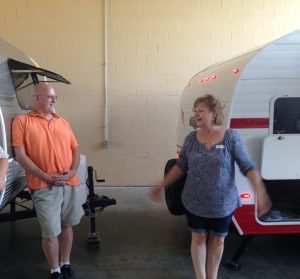 Kevin Stone and I chatting about the Riverside at their dealership in Berlin, NJ.
Girl Camper, the Podcast!!
Yes, it's happening! It's happening in September! I will be bringing you via the Podcast world all of the Girl Camping news and some extended interviews with the Girl Campers profiled in my Go RVing blog as well as the wonderful women I meet on the road. There will be news about what is happening in the RV world, tips and tricks for safe and healthy travel, shares on great campgrounds and towns to visit on your travels and stories from the road!! Stay tuned!!