By Deanne Kelly
I love homemade soup. Especially on a cold, winter evening. There just isn't anything better than a hot bowl of homemade soup to warm you up from the inside out.
Homemade Broccoli Cheddar Soup
My homemade soup experiments began this winter right after Christmas. I had an abundance of broccoli that I had purchased to make a veggie tray and dip for a holiday gathering. I got to thinking, what can I do with all this broccoli? Broccoli cheddar soup was the answer. I googled and found an easy recipe with ingredients I had on hand. It was a hit and my husband loved it. Here is a link to the recipe I used: https://gimmedelicious.com/broccoli-cheddar-soup/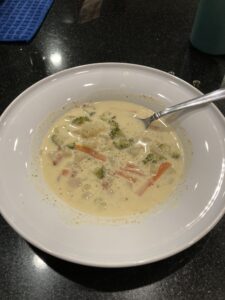 Homemade Chicken Noodle Soup
My next soup experiment was some homemade chicken noodle soup that I made with some leftover chicken and other ingredients I had on-hand. I didn't have a recipe for this one, I just threw a bunch of stuff together that I thought would work. This soup was pretty good too. Even though my husband approved of the chicken noodle, the broccoli cheese soup was still a winner over the chicken noodle.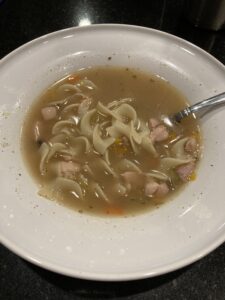 Homemade Potato Soup
Next I decided to try my hand at some homemade potato soup. My grandmother always made the best potato soup in the world, even though and I knew I couldn't come close to hers but I wanted to give it a try. Again I googled for an easy recipe that used simple ingredients and came up with one to try.
It's a crock pot recipe which makes it even better, you can make it while you're at work all day. This was my husband's favorite of the three homemade soups that I made and he ate it every day until it was gone. This recipe is definitely a keeper and I've already made it 2-3 times this winter.
Recipe
Here is the recipe for the potato soup:
6 medium red-skinned potatoes (peeled and cubed) (I used russets that I had on hand – you could also use other types of potatoes)
1 large onion (peeled and chopped)
4 medium carrots (peeled and sliced or diced) (I used baby carrots and thinly sliced them)
2 large ribs celery (sliced, including some leaves)
4 chicken or vegetable bouillon cubes (or equivalent base) (I skipped this since I was using chicken broth)
1 Tablespoon fresh parsley (chopped, plus more for garnish, if desired) (I used dried parsley flakes)
5 cups water (I used chicken broth, you could also use vegetable broth or stock)
5 Tablespoons butter
1 (12 oz) can of evaporated milk (or light cream)
Salt & pepper to taste
Gather and prepare the ingredients.
Combine the cubed potatoes, onions, carrots & celery, chicken bouillon or base, parsley and water (or broth).
Cover and cook on LOW for 6-8 hours until the vegetables are tender. (I was home and cooked on high for a few hours until I checked and the vegetables were tender)
Stir in the butter and evaporated milk about 30 minutes before serving time. Add salt & pepper to taste)
Serve with crackers, croutons or some nice crusty bread.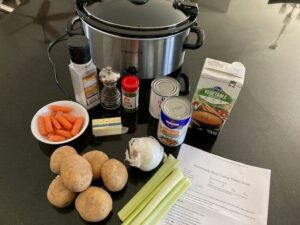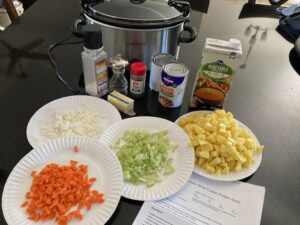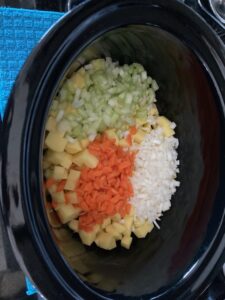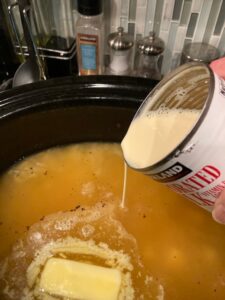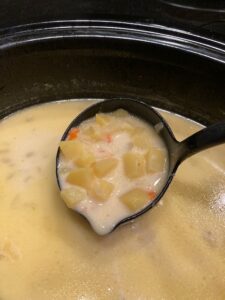 You can make this soup ahead and freeze it for up to 3 months. Try it with bacon crumbles. chunks of diced ham, or smoked sausage. Add chopped spinach or kale for additional color and nutrients or try adding 1-2 cups of shredded cheddar cheese along with the milk for a potato cheddar soup.
Making Homemade Soup for Camping
Soup is also a great thing to make on those early spring or late fall camping trips since the weather tends to be cooler. I have found that a hot bowl of soup around the campfire is always welcome on those cooler days. Your soup making at the campground can be made easier by prepping your ingredients ahead of time, throw everything together in a crock pot and let it cook all day while you are out exploring. You could also simmer on top of the stove or in a dutch oven on an open fire all day long. Soup is inexpensive to make and it feeds a lot of people!
I hope you like this recipe as much as we do. Here are some other stories with camping recipes that you can find on the Girl Camper website:
Deanne Kelly
Girl Camper Guide – Colorado
Contributing Editor/Writer/Photographer
3783 Golden Eagle Drive
Dacono, CO 80514
303-810-4256
Follow me on my Facebook Page
Join our FB Group