Twelve years ago when I began camping again I bought a vintage 1959 Field and Stream trailer. It was full of charm and that's about all. It had no bathroom, holding tanks, hot water, air conditioning, heat or refrigerator! It had an old school ice box. By the time I filled the icebox with the gallons of water I froze ahead of time I could barely put any food in it!
I dreamed about a little trailer that would be as charming and cozy as my vintage one but would have all the safety and comfort features of a new trailer. It would be small enough and light enough to easily tow  and I wouldn't have to constantly bring it in  to my trailer guy to make sure it was safe. I could stop worrying about the axle and if the frame had rusted through. I could just tow it without thinking that every bump I went over was going to break something big and strand me somewhere. Well, my dream has come true in the Little Guy Mini Max.
Last year I  had the enviable job of road testing the Max trailer by Go Little Guy. I took it on a four week tour of some of the  national parks out west. The quality of the build and design impressed me so much that I came home and sold my trailer in order to keep the Max. I did a podcast episode of all the things I loved (and a few things I didn't) on the Max which can be found here.
The Max debut made a huge splash in the RV industry and RV Pro Magazine named it Best in Show at the RVIA National Trade Show in the travel trailer division.   There was only one problem – at 3140 pounds the Max was too much Max some people. There was a market for the design and quality of the Max trailer but smaller, lighter and capable of being towed without an SUV. Enter the Mini Max – the 1993 pound version of the Max that can be towed by a Subaru. I am road testing it on a five week tour of Texas and the southeast.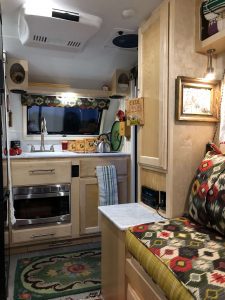 Like the Max, the Mini Max features solid hardwood cabinetry which  is made in house at the Somerset,  Pennsylvania factory. Dovetailed drawers and high end hardware give a "home" feel to the kitchen. A microwave, two burner propane stove and deep stainless steel sink with re-tractable faucet make the kitchen a compact delight.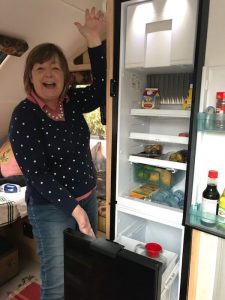 My favorite feature of the kitchen though is the 5.0 cubic square foot three way refrigerator. It runs on electric, propane, and battery. The battery is supported by the solar panels on the roof of the trailer. I can keep this refrigerator cold without running the propane while I'm driving by way of the solar panel and battery. The added refrigerator space will allow for longer boondocking stints in remote places without having to replenish refrigerated items.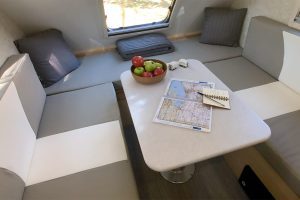 The floor plan of the Mini is flexible. It comes with a U shaped configuration of cushions and a unique center table that compresses down beneath the cushions allowing the area to be made into a Queen sized bed.  When it is not made up is the large bed, you can seat quite a crowd here for meals, board games, or trip planning sessions. The large windows let in plenty of light and air.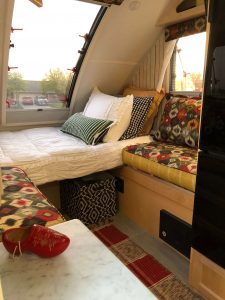 The other flexible aspect of the Mini is that you can personalize the space to fit the way you travel. As a solo woman traveler I knew the table would not be as useful to me as the floor space would be. I reconfigured the cushions and created a full twin bed across the back. I can comfortably sleep here, watch TV or use the space as a daybed while working on the road.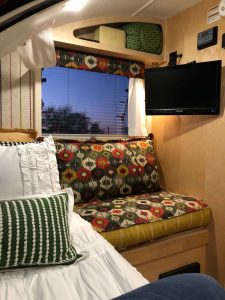 I sewed reversible new covers for the side "love seats" in two fabrics that  I love. Filling a space with color, texture and patterns you love instantly makes it feel like home!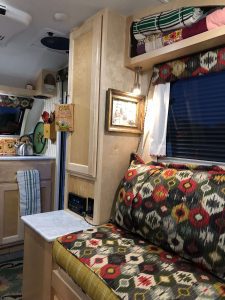 This little nook is a great place to sit with my coffee in the morning. The counter is big enough to hold my laptop and there is a convenient plug there for charging. When I was making the new seat cushions, I also covered all of the valances in the trailer. They are held in place with Velcro and came off quite easily with a good tug. I stapled the new fabric right over the old.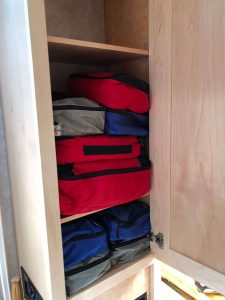 I purchased these  travel bags from Amazon and I am so happy that I did. This is a five week supply of clothing. The bags hold quite a bit and keep this closet organized. I color-coded the bags for easy use. The red bags hold pants, shorts and leggings. The blue bags hold T-shirts, tops and sweaters. Gray bags hold socks, underwear and tanks.  After packing all of my clothes I actually had an unused shelf. I found a basket that fit there and it holds my hair dryer, makeup and beauty supplies. There is a cabinet under the refrigerator where I have shoes stored. I have extra towels stored under the bench seat. There is an additional cabinet under this cabinet where all of my cleaning supplies are stored. Although the trailer is small I was able to easily fit everything I wanted to take with me.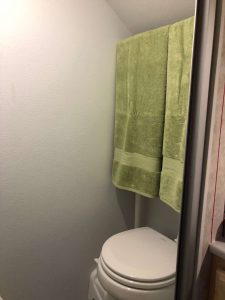 The bathroom is a wet bath or as we like to say, a "shoilet". I added spring rods  across the back to hold my towels. They need to be taken out while you are showering. Some people add an additional spring rod with a shower curtain that has been cut down to cover the towels while showering. I think it's far simpler  to take them out. The bathroom also comes with a mesh bag that is riveted to the wall which holds shampoo, conditioner etc…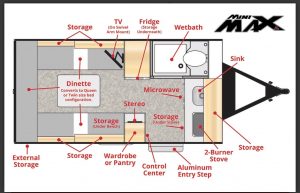 This is the floor plan as it comes from the factory. I encourage all those thinking about this trailer to consider how you would use it and to make modifications that work for you. I never owned a vintage trailer that I did not modify to suit the way I travel. What I love about the Mini is that I didn't have to give any time or attention to making it roadworthy and safe. That was all done for me. All I had to do was make it my own.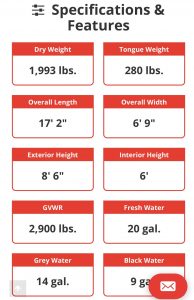 Some stats on the Mini.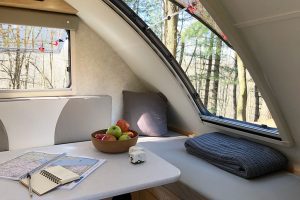 I saved all of the cushions  that originally came with the camper so that if I ever want to use it with the big Queen sized bed made up I can do so. I have that flexibility. I didn't change anything that is not reversible.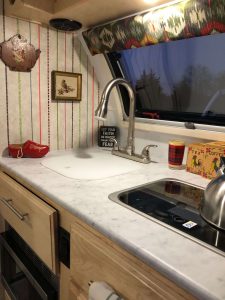 A little design  feature you may have noticed is my pin striped "wallpaper."  This is nothing more than five dollars worth of Washi  tape from the craft store. It is a low tack tape that is very easy to apply and if you change your mind about it or redesign your trailer it peels off leaving no marks on the wall.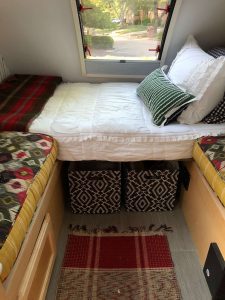 By re-configuring the trailer to fit the way I camp I picked up a lot of space under the bed. I bought these packing cubes to store extra things in. They actually hold a great deal and I have all of my outdoor lighting in them as well as "girl camper" extras that would have had to go in my truck. If you buy the sturdier cubes with lids you can pull them out and put your feet up on them while sitting on the "love seats."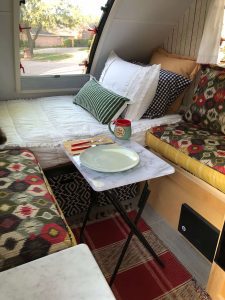 I found this little folding TV tray table at TJ Maxx that I am storing in the back of my truck. It has an almost identical pattern as the counter tops so it looks like it came with the trailer. I can pull it out if the weather is not friendly for eating outdoors or if I want to work on my lap top here. It's a good trade off for me.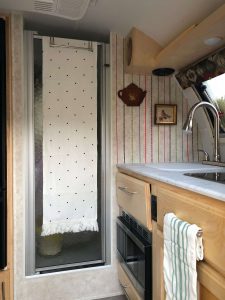 I covered my bathroom door with a table runner from Target. I can switch it out if I want. I secured it with a snap on towel bar that fits over the shower door. I could sew pockets on it if I got ambitious but I just like the pattern and the simplicity of the project. For $18 I fixed the shower door problem.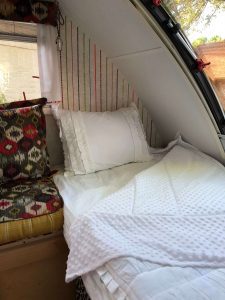 Since getting my first Beddy's Bed last year for the Max I can't imagine not having one. It makes making the bed so easy. The bottom fits on like a fitted sheet and the top quilt zippers on so the bed always look neat and doesn't become untucked every time you sit on it. When unzippered for sleeping little wings fold out of the top comforter and give you plenty of coverage if you toss and turn a lot. My only complaint is that I'm burning less calories making the bed now. I became such a fan girl of this company that I wrote them a glowing letter! They asked to be the official bedding supplier for Girl Camper and offered any followers a 20% coupon code which is good even on sale items. The coupon code is GirlCamper. This time I chose the Chic White pattern which seems like a poor choice for a camper but I am a grown up now and get to control my environment!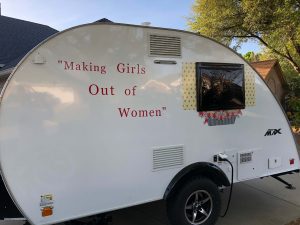 One of the pleasures of Girl Camping is having your own space. I decorated my little Girl Camper trailer like a cottage on wheels. I love cozy cottages and I am not likely to ever own a real one but I can create the feel with my Mini Max. I am off today to meet 100  "camp like girls" today.  After this loooong winter I am looking forward to some fun around the campfire. Stay tuned for more pictures and feel free to post questions and comments. I am more than happy to dish! At the end of my 5 week road trip I will be doing a podcast episode reviewing the Mini Max trailer. I can't wait to share with all of you how the trailer performed!
Happy Trails!  Janine Pettit
Instagram:  girl_camper