On a recent camping trip from Minnesota to Texas, my husband and I decided to "get organized". The camper was packed, we had change for toll roads, and we decided that our gas stations of choice on this trip would be Love's Travel Stops. So, I downloaded their app onto my cell phone, and we took off.
It was a long drive, so I started our trip by doing a little research on the company. Love's Travel Stops were founded in 1964 and they have more than 600 locations in 42 states—Minnesota, my home state, is one their newest locations! They provide professional truck drivers and other motorists with 24-hour access to clean and safe places to stop when over the road. They offer fresh food in their stores, clean restrooms and showers, and safe well-lit parking lots. I knew they were a favorite of over-the-road truck drivers due to all the amenities they offer, but they offer so much more than just gas and convenience store food items. Here are five (surprising) things you probably don't know about Love's Travel Stops:
Love's Connect App
The Love's Connect App allows you to plan your trip with ease. You can secure the next shower with Mobile Shower Check-In, look for the next location on your trip route, check out featured promotions in the store, check out fuel prices at all Love's Travel Stops, and locate and reserve a spot for an overnight stay.
Camping
Many people know that you can boondock at Love's Travel Stops. Boondocking, according to the MacMillan Dictionary, refers to the practice of staying overnight in places that are not set up to accommodate campers, and have few or no facilities; also, called dispersed camping. Love's Travel Stops allow people to "camp out" in their parking lot for free, but with no hook ups for electricity, water or sewer. A benefit, besides being free, is that, as stated above, their lots are safe and well lit, there is gas and food on the premises, and there are restroom facilities in the store that includes showers. However, did you know that Love's now has actual campsites with hook ups?
Love's has more RV parking spots and amenities than any other national travel stop network (camplife.com). They have propane refill (handy for when we need to boondock), RV dump stations, laundry facilities, water hookups, Wi-Fi, and 30-amp and 50-amp service. The campsites are not what I would call "pretty". There are no trees, bodies of water, nor activities. But, again, their sites are convenient, clean, and easy to get to. If you are looking for a place to stay overnight while traveling to get to your ultimate destination, Love's is the place you are looking for.
Are you ready to stay at a Love's Travel Stop? If so, you can make your reservation, pay, and check in/out on your device or on their convenient kiosk.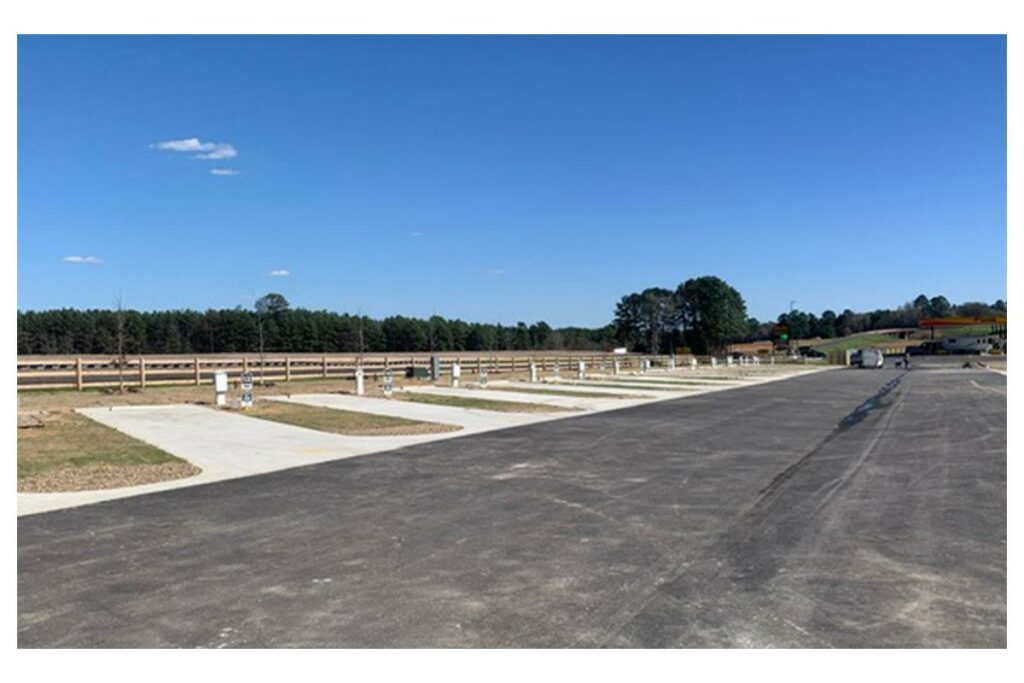 Hotels
You may have noticed that there are hotels near many Love's Travel Stops. I always thought that was just a coincidence, but it's not! Love's has a Stop and Stay program where they have franchised with the "best hotel brands" in the country. Love's currently has nineteen hotels from Nebraska to Texas to Nevada to Colorado to Florida, with more hotels planned in the upcoming year. They have franchised with Sleep Inn & Suites, Best Western Plus, Fairfield Inn & Suites, Holiday Inn Express, Comfort Inn & Suites, Suburban Extended Stay, Microtel Inn, and Hampton Inn & Suites.
Each of the hotels offers a complimentary hot breakfast (Yum! And I don't have to make it—major win!), 24/7 fitness center, an indoor pool, laundry facilities, and free high-speed internet. One of the first "amenities" I checked for was if the hotels are "pet friendly" as my Pomeranian is my constant companion. Some hotels do not allow pets, but some do. I recommend checking with the individual hotel before making a reservation (https://www.loves.com/en/location-and-fuel-price-search/hotels) if you, too, travel with a four-legged companion.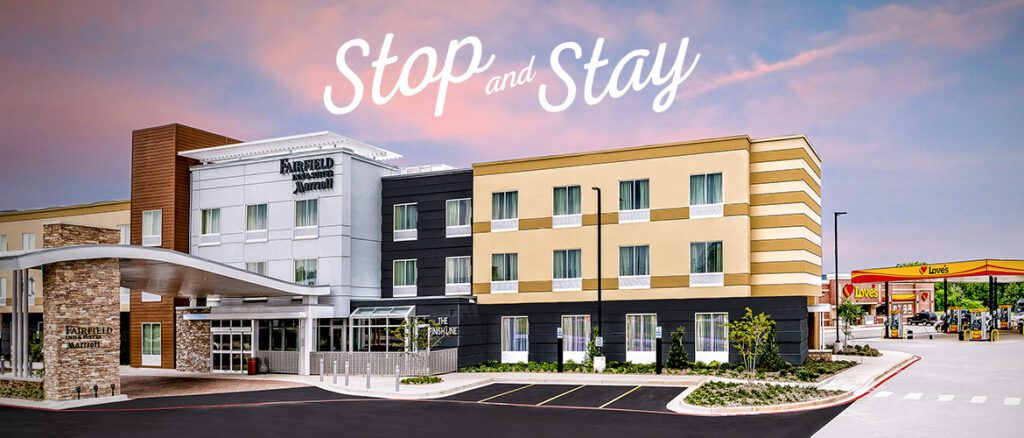 Dog Parks
Love's has approximately 350 dog parks across the nation. This is one of the big reasons why we use Love's Travel Stops when traveling. It's hard enough for me to sit in one place while driving, but it is even harder for our dog, Duke, to sit in one place. He loves going to the dog park at Love's where he can run around and smell all of the smells from the other dogs who have been there. The dog parks are clean and well maintained and usually have seating for the pet parents.
Community Giving
The last interesting item I found out about the Love's company is their commitment to community giving. I believe that each of us, and each company, has a responsibility to make the world a better place than we found it. I was pleasantly surprised to read that Love's believes that community giving is central to their company culture.
Each Love's location nationwide donates a part of its budget to the local nonprofit of its choice, and at all new store openings. Love's presents a check to a local charity during the ribbon cutting event for new store openings in partnership with the local Chamber of Commerce. Each Love's participates in the annual Children's Miracle Network Hospital fundraising campaign. Since 1999, Love's has raised more than $40 million for Children's Miracle Network Hospitals (https://www.convenience.org/Media/Daily/2022/Oct/13/6-Loves-Raises-4-Million-for-Childrens-H_Community). "Giving generously is at the core of Love's culture because the organization values the communities in which its Customer and Team Members live and work" (https://www.loves.com/en/about-us/community).
Their employees are also generous with their time and labor. Some employees tutor local students, volunteer at local food banks, or at the local Boys & Girls Clubs. "Volunteerism is a key component of how Love's develops leaders both at its corporate offices in Oklahoma City and at its stores nationwide." (https://www.loves.com/en/about-us/community).
Love's is also a longtime supporter of Truckers Against Trafficking and their efforts against human trafficking.
I plan on continuing to use Love's Travel Stops on my camping adventures and look forward to the opening of even more stops. I love a company that offers the amenities that I am looking for, but I like that company even more when they offer those amenities while still keeping an eye on the "big picture"—a commitment to making the world a better place for all of us to live.
Connect with me!
Dana Botz
612-234-5363
[email protected]
www.girlcamper.com
Girl Camper Magazine: Subscribe to Girl Camper Magazine here!
Events: Check out upcoming Girl Camper Events – you can attend events in any chapter! https://girlcamper.com/events/
Facebook Page – this is the link for where you can tag us and we can tag you! This is where I'll share general Girl Camper news, events and more. Girl Camper – Minnesota.
Private FB Group – Where you can interact with others who are interested in camping in Minnesota! Girl Camper Minnesota Group.