A direct link to some of the best customers in camping.
They are creative, motivated, adventurous and most importantly – they are YOUR customer!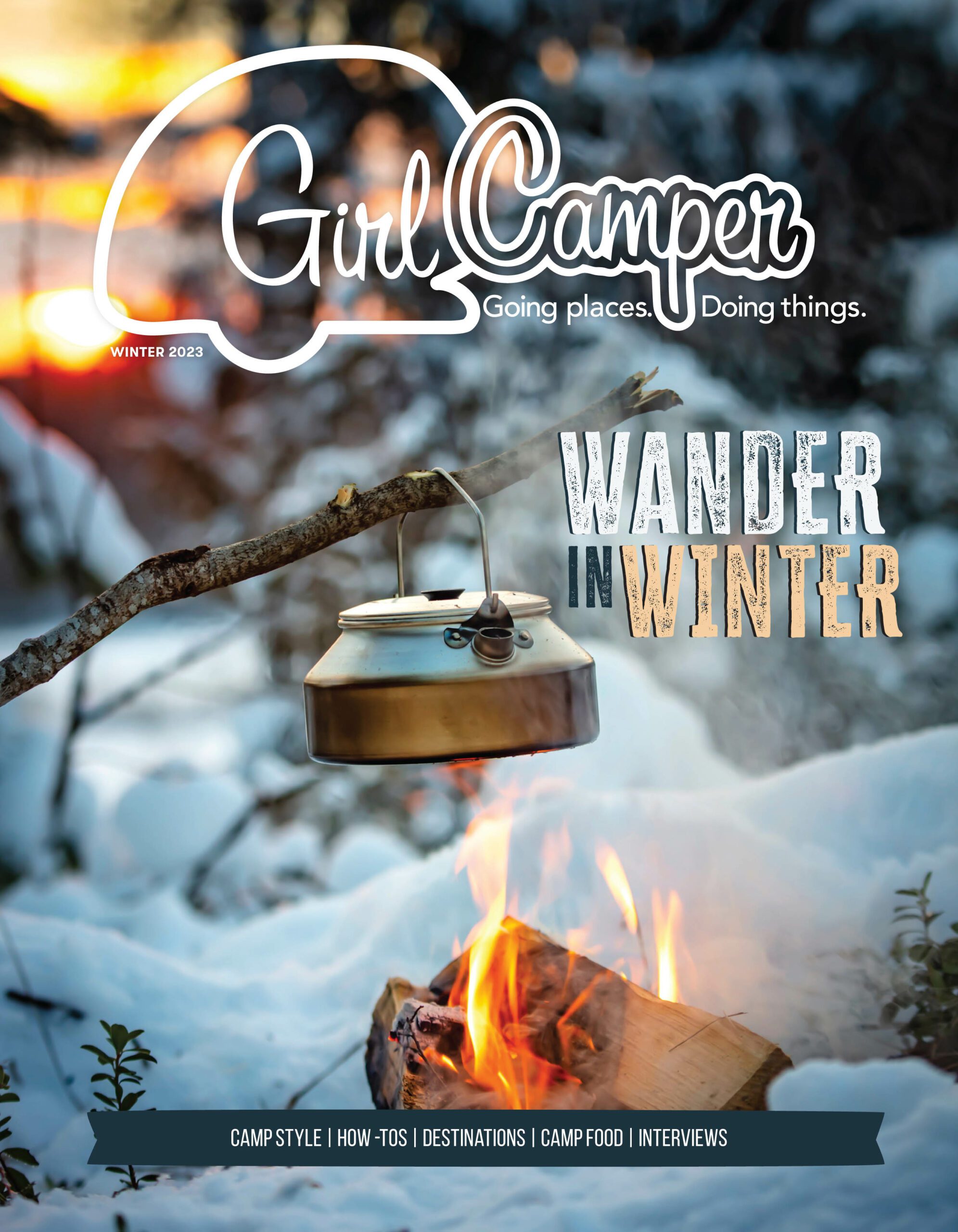 Girl Campers are a passionate, devoted and engaged audience, ranging from lifelong campers to dreamers and everyone in between.
Our readers turn to Girl Camper to inform, inspire and lead as the largest multi-media platform for this coveted audience. We hope you'll join us at the heart of this authentic movement, sharing your brand as a trusted partner in the Girl Camper world!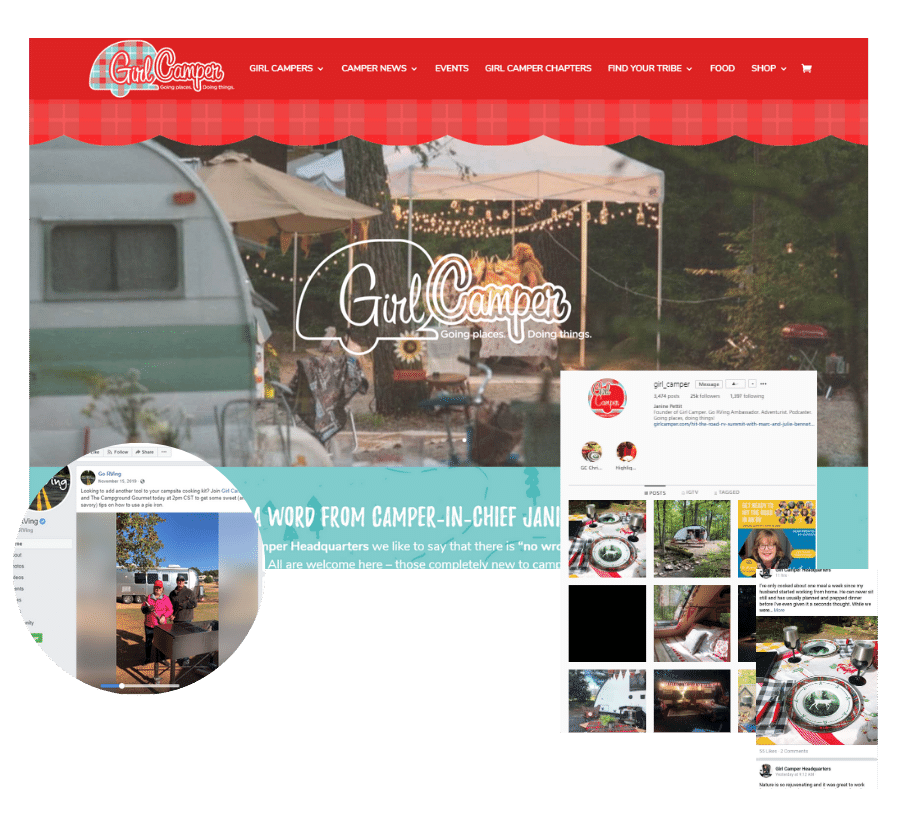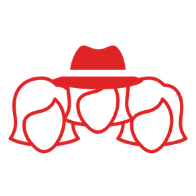 Girl Camper has an extraordinary following with a pheonomenal engagements. Our Instagram page is within the top 6% of Instagram accounts; our Podcast is among the top 15% on-air (and launched as "New & Noteworthy" by iTunes"). We have 36 Girl Camper Chapters nationwide with their own social media platforms that support both our national advertisers and their local brand partners.
Facebook Engagement Oct. '23
Facebook Group Views Oct. '23
Unique Website Users Oct. '22- Oct. '23
Website Views Oct. '22 - Oct. '23
Podcast Downloads - 244 Episodes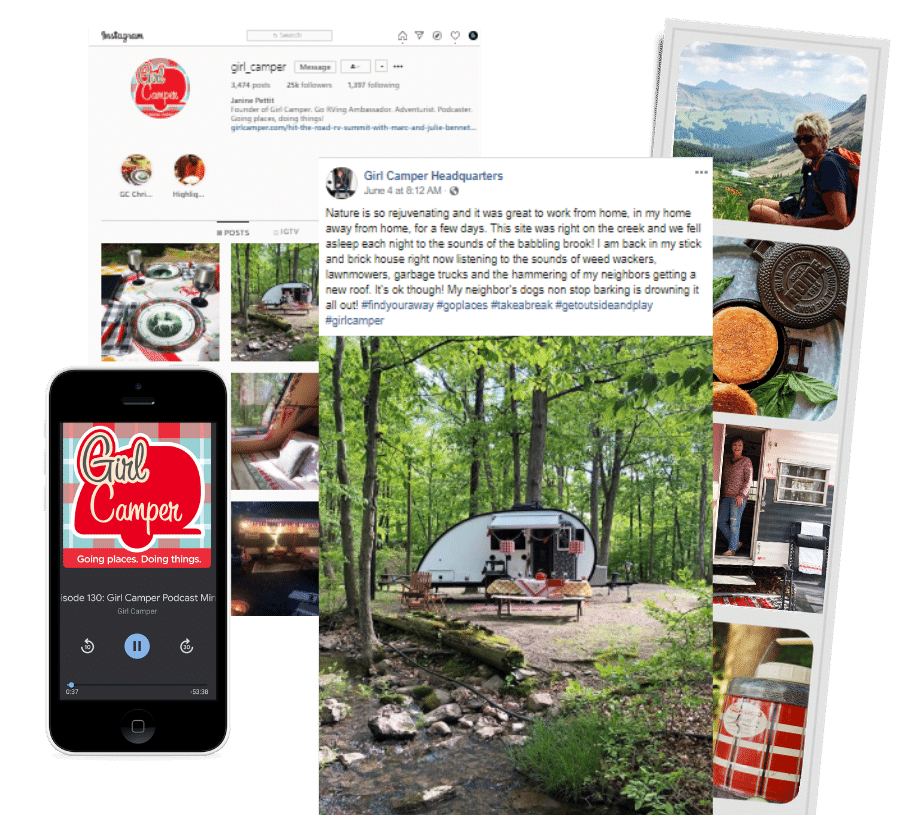 The inaugural issue of Girl Camper Magazine sold out in the summer of 2020 with more than 2,000 copies distributed. We're now at more than 10,000 print subscriptions in the U.S. and Canada and an additional 1,000 copies distributed to dealerships, campgrounds, consumer and industry events. All subscribers have access to digital editions too, reaching 40,000 readers!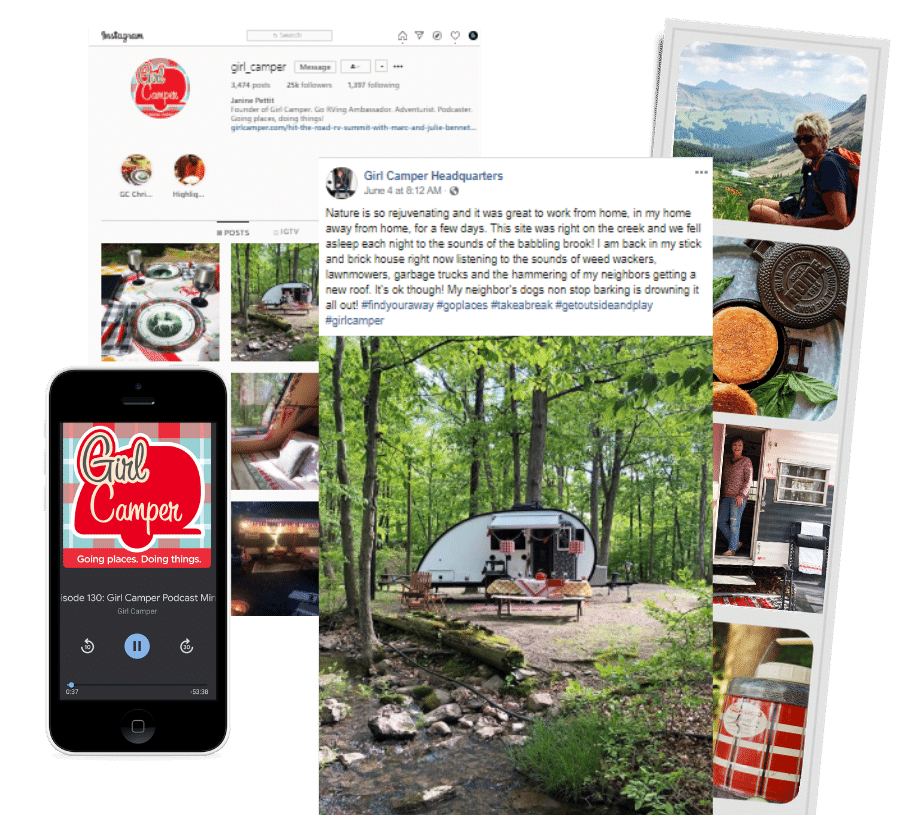 40 – 60
Average Age Range
$75k – $100k
Average Household Income
12
Average Camping Trips Per Year
Bachelors
Average Education Level
Industry Research
shows that women make up more than half of the 72 million Americans who will RV this year, with the solo woman traveler among the fastest growing demographic.
Increase in markets that cater to female travelers in 2021.
Results of Google search for "solo woman travel"
Women in relationships who vacation without their partners
Women are more likely to travel solo than men, according to travel agents.
Women make travel decisions for their partners or family members.

Production Requirements
We offer only full page ads in our magazine. This allows us to limit the ad content and give your brand the best possible representation to this coveted market while maintaining a beautiful aesthetic throughout.
All full-page display ads will have the full bleed regardless of left or right position. The print-safe margin is a suggestion for important images or text placement. There's no need to send a separate file for the digital book. All ads include active links to the advertiser's website or landing page in the digital book version.
Trim Size:
8-1/2″ x 11″ (finished size)
Safety From Trim:
3/8″ on top, left & right side. 1/2″ on the bottom (full-page ads)
File Format:
PDF (flatten all image layers, convert all fonts to curves, CMYK color)
Rate Card
Girl Camper Magazine rates are extremely competitive and the most affordable in reaching this coveted demographic. Individual issue ads are non-negotiable. However, we offer a discount when committing to multiple issues.
annual commitment – 4 issues:
One of the most frequent compliments we receive is how beautiful the magazine is – including the ads!  We limit the number of ads to only 20% of the total pages to ensure our partners truly stand out. If you need help creating an ad that speaks to the Girl Camper audience, please let us know!
Please contact [email protected] to get started.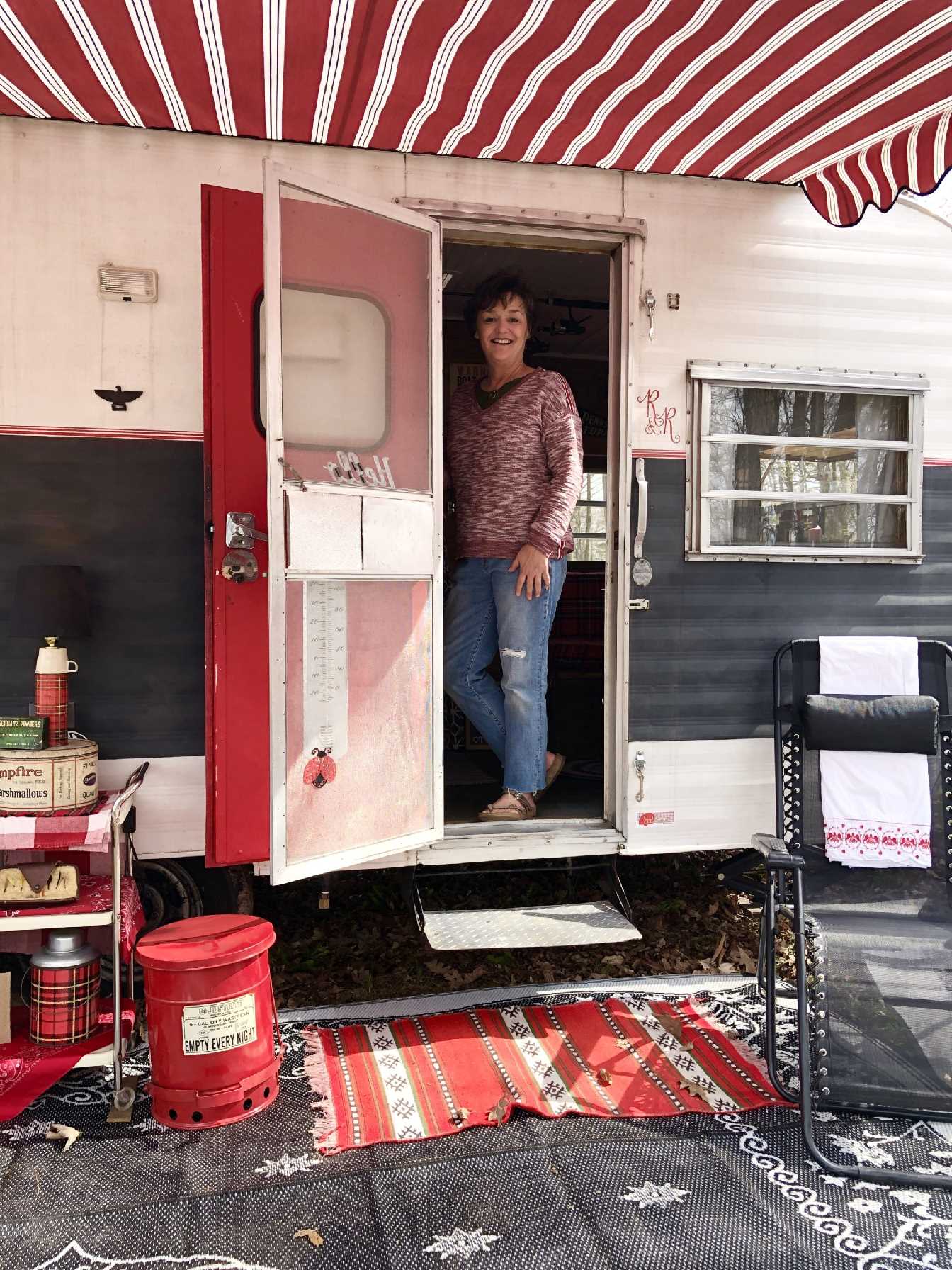 These terms and conditions apply to all advertising insertion orders placed by advertiser with Girl Camper Media ("Publisher") during 2023. Publisher will not be bound by any condition appearing on order blanks or copy instructions submitted by or on behalf of the advertiser when such condition conflicts with any provision contained in Publisher's rate card or with its policies, regardless of whether or not set forth in the rate card. All references herein to Advertiser include Advertiser's agency, if there is one, and Advertiser and its agency shall be jointly and severally liable for Advertiser's obligations hereunder.
Publisher reserves the right to decline or reject any advertisement for any reason at any time without liability even though previously acknowledged or accepted. If an advertisement is accepted for publication, the advertiser agrees that it will not make any promotional references to Girl Camper Media without the prior written permission of the Publisher.
Short Rates. Advertisers will be short-rated if the space upon which billings have been based is not used within the contract period. The advertiser agrees to pay the amount of invoices rendered by Publisher within the time specified on the invoice.
Orders 30 days beyond current closing date will be accepted only at rates prevailing, and only on a space-available basis (and subject to the other terms and conditions herein). Orders containing incorrect rates may be accepted and if accepted, charged at regular rates. Such errors will be regarded as only clerical.
All agencies or direct advertisers must supply Publisher with a legal street address and not just a post office box.
Orders specifying positions other than those known as designated positions are accepted only on a request basis, subject to the right of Publisher to determine actual positions. Rates, conditions, and space units are subject to change without notice. Any discounts are applicable during the period in which they are earned.
Schedule of months of insertion and size of space must accompany all orders and are binding upon advertiser upon receipt unless terminated in writing prior to the applicable closing date(s). So-called "space reservations" are not considered by Publisher as orders or binding upon it in any way.
Reproduction quality is at the advertiser's risk if Publisher's specifications are not met or if material is received after closing date even if on extension. All queries concerning printed reproduction must be submitted to Publisher within 30 days of issue date.
The advertiser agrees that in the event Publisher commits any act, error, or omission in the acceptance, publication, and/or distribution of their advertisement for which Publisher may be held legally responsible, Publisher's liability will in no event exceed the cost of the space ordered and further agree that Publisher will not under any circumstance be responsible for consequential damages, including lost income and/ or profits.