How did you get interested in camping?
My grandmother loved camping.
I think I am my grandmother reincarnated. She died when I was 1, so maybe not; but from the stories told, I am a lot like her. My mother tells stories of camping when she was a kid and her mom converting a big red bus into a camper. As teenagers it was easy to tell new friends where to find them!
The camping bug skipped a generation.
I did not go camping much as a kid. My mom was my Girl Scout leader, and she was an excellent leader! But our first and only primitive camping trip did not go so well. We did the glamping thing after that- Girl Scout lodges. My mom does love camping now, but she only goes camping with me.
The Camping Adventures Begin!
My camping adventures began when I was 20. I decided I wanted to go on an adventure and I took my mom and sisters on our first adventure to Cuba, Missouri. We stayed at the Wagon Wheel, which at the time was a cheap basic motel and we went on our first float on the Missouri rivers.
When my kids were little, I too joined the Girl Scouts as a Girl Scout leader. But I was determined that I was going to do the camping thing. I found a small multi-age troop led by women who taught me about camping. I learned everything I could in the Girl Scouts.
Eventually, I was packing up my large family of 20-plus people including mom, sisters, spouses, all our kids and often friends, several weekends every year to GO Camping!
My favorite camping memory was at Johnson Shut-Ins where we had several campsites for our large family. One of my nephews decided to start his own kid's campfire. After struggling to get the fire started, he finally said, "I need a girl for this!"
Now I am an old lady with four adult children and eight grandchildren, who still loves camping! But now sometimes I go with my family, sometimes I go with the grands, sometimes with friends and sometimes solo.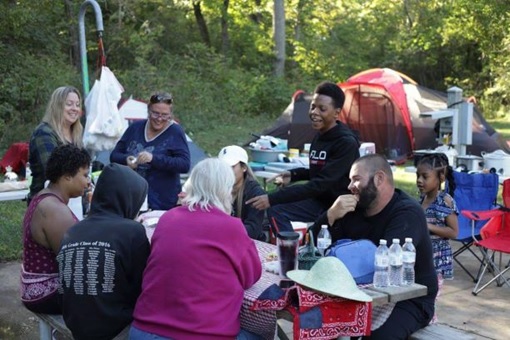 What led you to Girl Camper?
I have always loved planning my family's adventures and we love parties. In my 40's I started thinking about what I wanted to do in my retirement (which I hoped was sooner than later) and I thought I would like to own a campground. What better way to spend the later part of my life than planning camping adventures and parties?!
I lost my job in 2018. I thought, "Do I get another job or is there a way to get to my retirement plan from here?" I decided to launch Sparkle Adventures, an adventure travel planning company. Starting Sparkle Adventures led me to discover the Girl Camper community. I immediately knew you are my people and I wanted to be the guide for Missouri.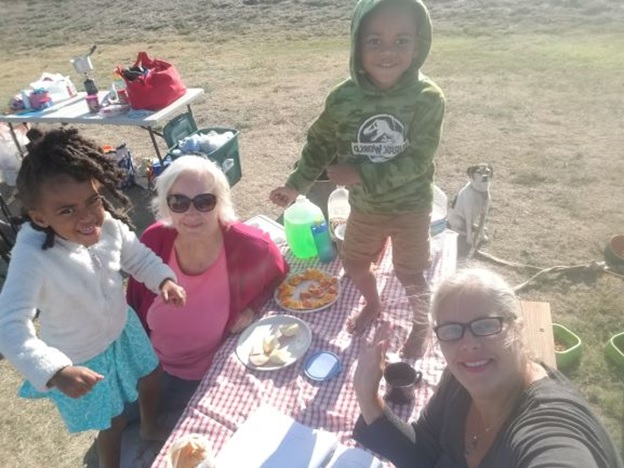 What can Girl Campers expect from your Chapter?
Missouri is a great state for camping and outdoor adventures. As excited as I am to see the rest of the country, I am just as happy to be home in Missouri. You will never run out of new places to explore in Missouri, and I am excited to be your Guide!
I look forward to building a community of Missouri Girl Campers and to welcome all of you to Missouri!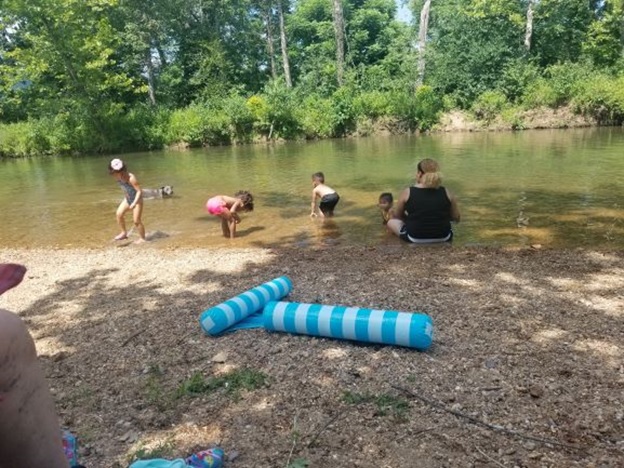 Teresa Willis, Chapter Guide for Eastern Missouri
See my articles written specifically for our Chapter: https://girlcamper.com/eastern-missouri
Follow us on fb: http://www.facebook.com/girlcampereasternmissouri