Podcast: Play in new window | Download
Each year I get lots of products sent to me to test and I also buy lots of things that I see and want to test out. This is a list of some of my favorite products from last year.
First let's start with a few simple things from Camco that make great stocking stuffers.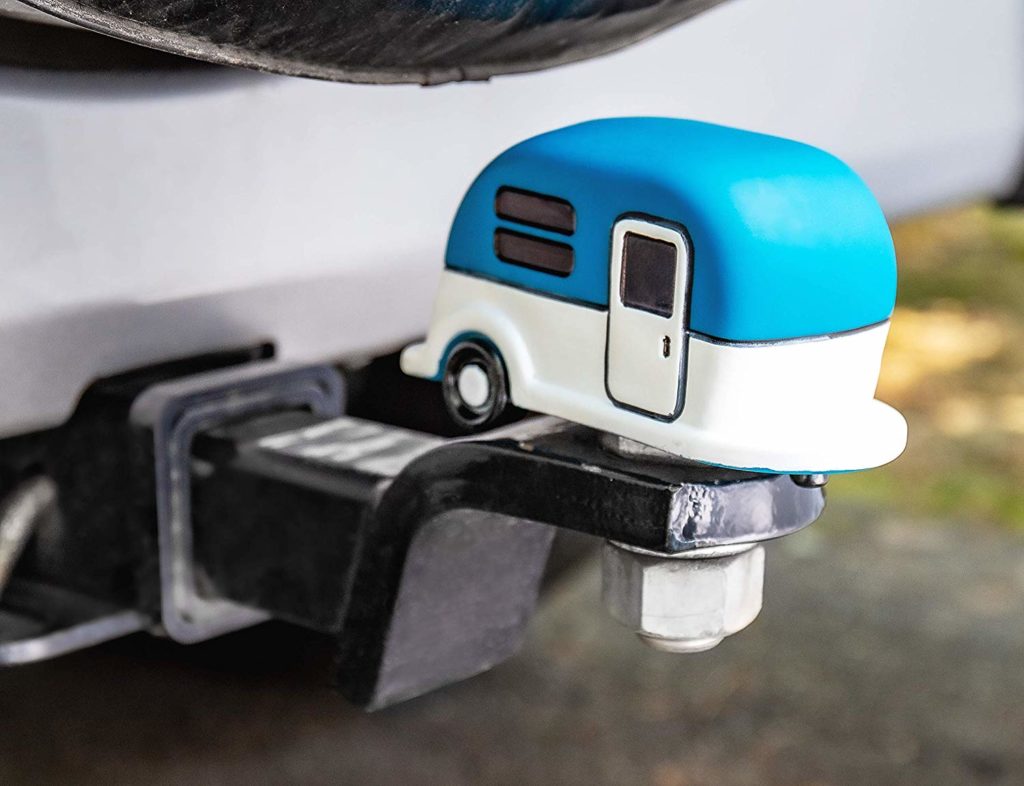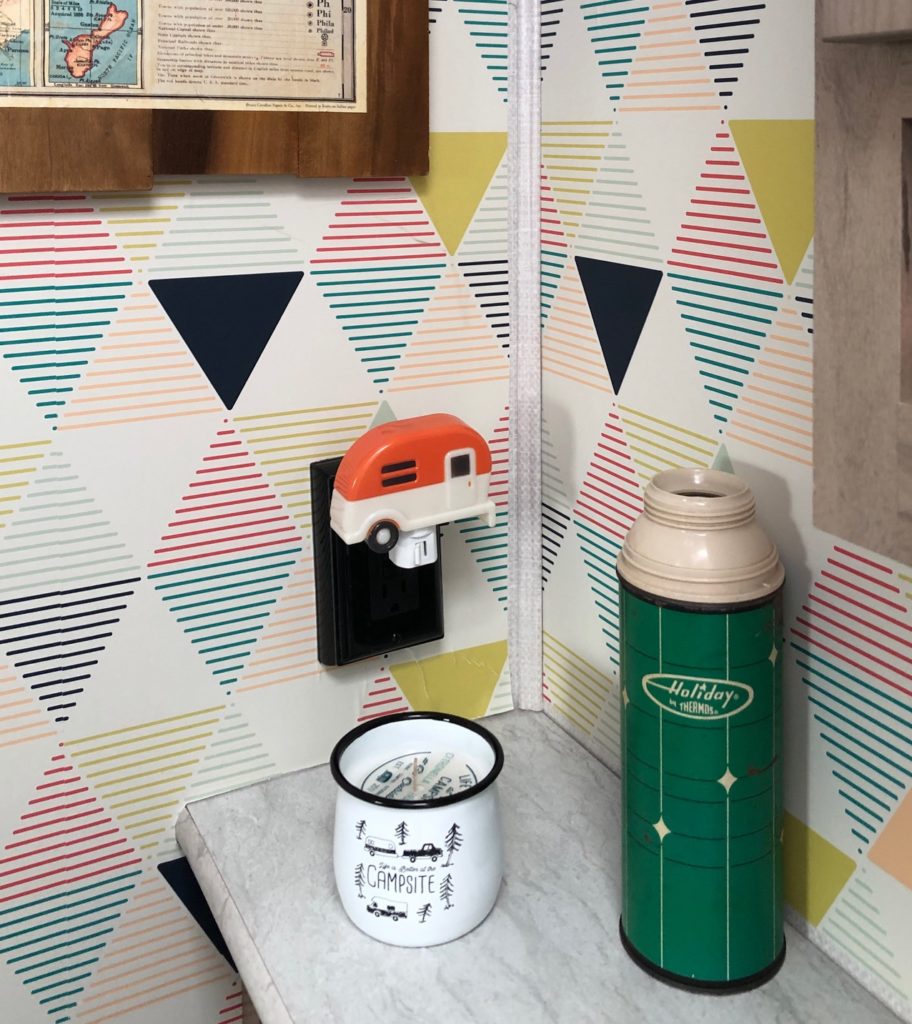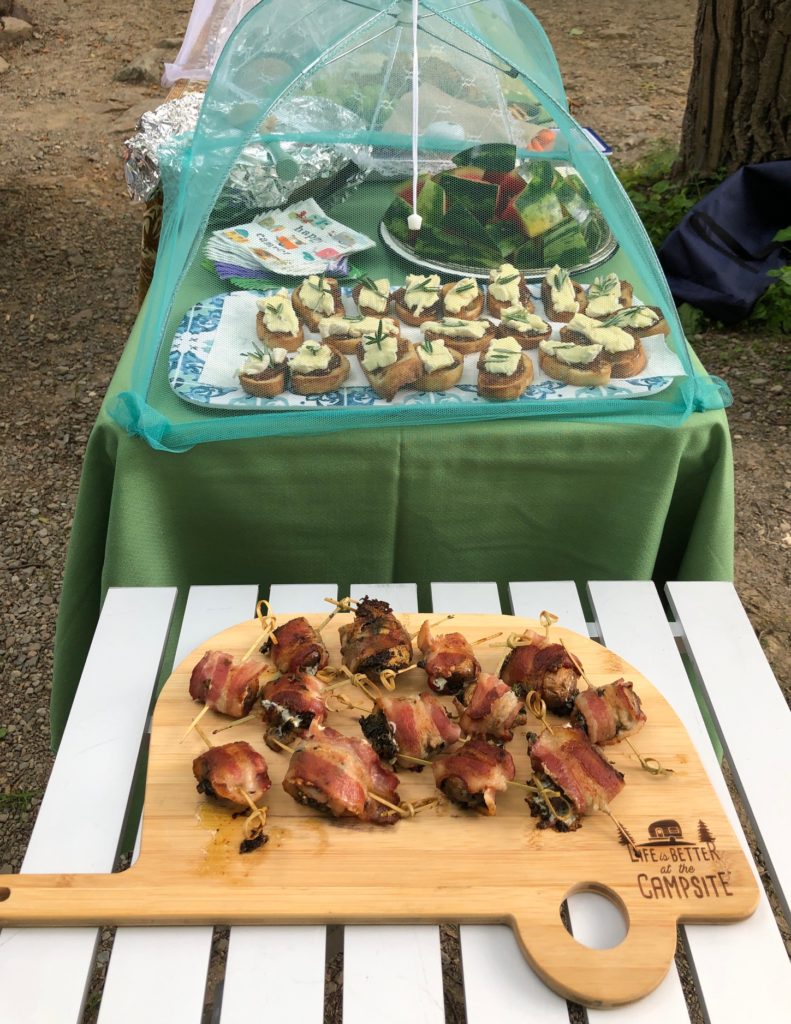 Scotch Plaid Flannel Shirt by LL Bean. They call it a shirt but I used it all fall as a jacket. It's got a zipper front, hoodie, side pockets and is soooo soft. I've washed mine a few times and the color is still bright. The shirt retails for $59.00 but I got mine on sale for $29.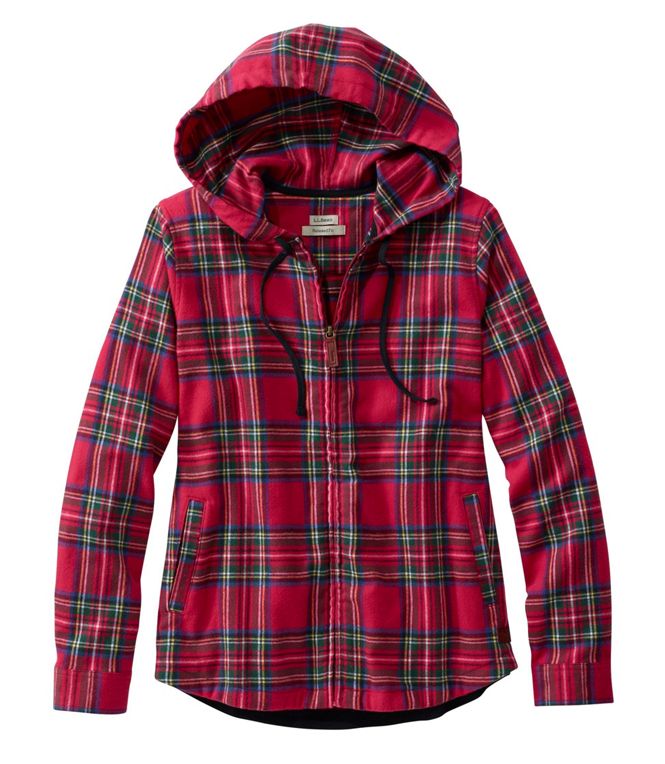 The Land's End Plaid Bag is what I chose to give the Girl Camper Guides for Christmas. I love that the plaid is all in the Girl Camper colors. The bag is such a heavy canvas that it will hold 500 pounds before the straps break. It has a extension with a zipper on it that opens up and extends the height of the bag. Inside the bag are two side pockets, one full length and one with compartments that make it easy to find things. The best part is that we were able to get them all monogrammed with the phrase – Girl Camper! $56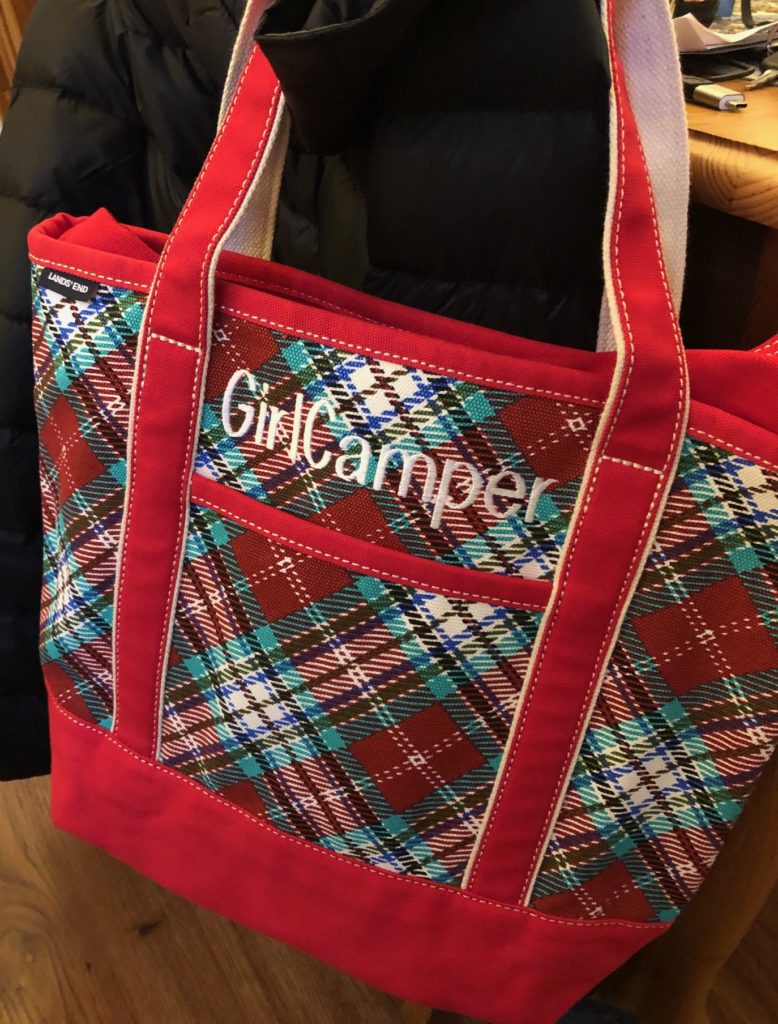 The Way Light Light by Sylvan Sport is a combination hiking stick with a light on the top that can be directed to the ground in front of you or to illuminate the surrounding area. It is rechargeable and has a USB port that you can use to charge things while hiking. It is adjustable for any height hiker and can be staked in the ground. It also has some basket slots on the bottom for bamboo stakes to roast marshmallows. $59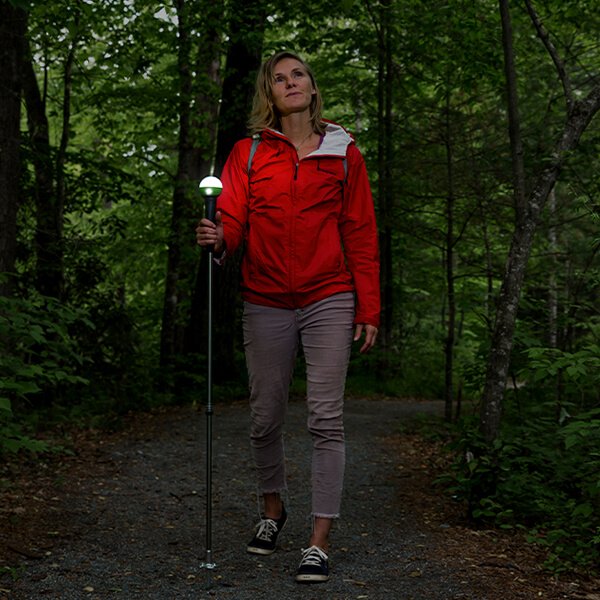 Wander Art is a company that creates art posters for bucket list destinations and achievements. It was created by the husband and wife team of, Nathan Downey and Kait Erickson as a stylish way of recording their "adventure related accomplishments." The beautiful posters list the 61 National Parks, fifty states and the wonders of the world among other things. With each poster comes a diamond stamp and ink pad to mark off your latest successes. Not only are they inspirational, they are art. Kait and Nathan donated their National Parks piece to our Charity Raffle Trailer and it looks spectacular in their. I liked them so much I asked if we could carry them at Girl Camper. You can get 15% off by buying them through our Affiliates page. Starting at $59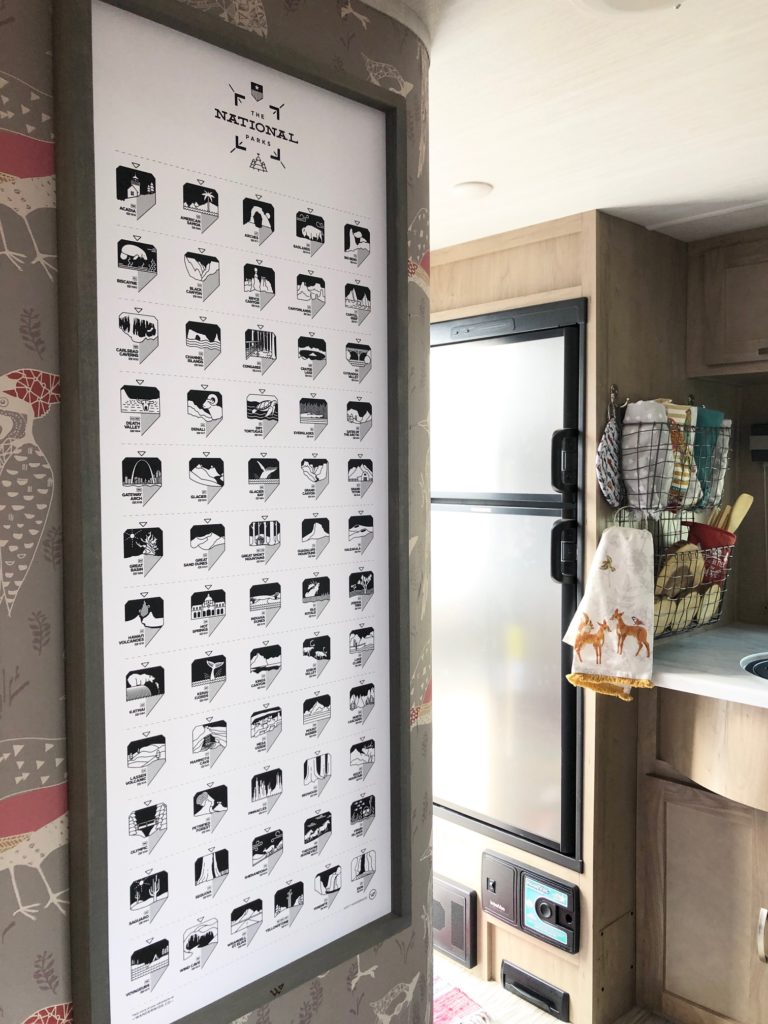 The Tire Table! A tailgaters dream. This product is made by The Tailgater Tire Table Company. I began using this in 2019 after I found it at the outdoor Retailer Show in Denver. I fell in love with it and take it along all the time now. I like having my cooler off the ground and also using it as a dining, serving table. or drink station if I need it. It takes up very little room and sets up in a few minutes.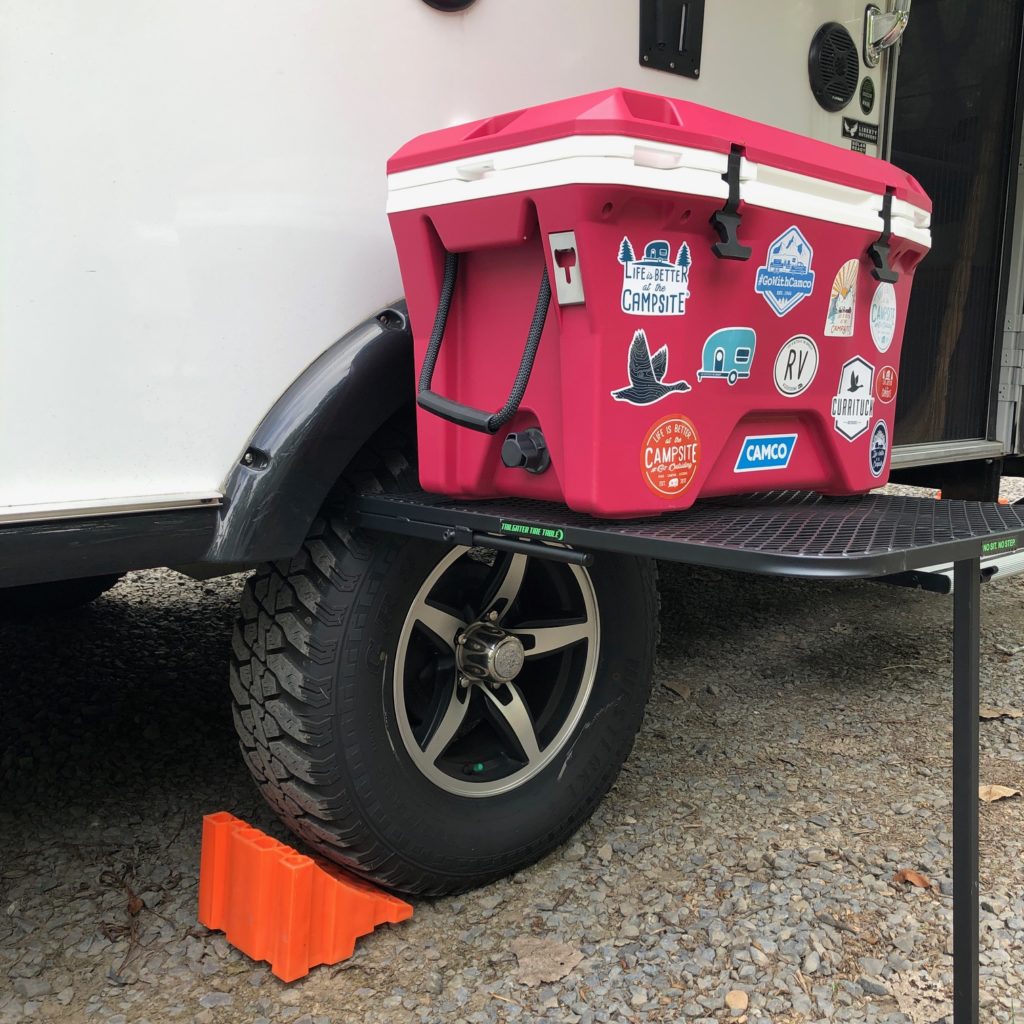 Cozee blankets were developed by a Dad whose wheel chair bound daughter was always cold. Paul and Carolynne LaRue wanted a way to take their daughter Brianna outside to enjoy all that nature had to offer,but keep her warm and comfortable without layers of clothing on her. Once they had figured out the technology of the battery rechargeable blanket, they needed to start and indiegogo fundraiser to get the capital to manufacture their Life Giving Warmth blanket. It took a while to come together but it is now available. I met Paul last year and enjoyed his story so much. I got to wrap myself up in this incredible blanket that is a portable power station and blanket in one. The charge will last five hours and has three different settings. Even after you turn it off, it will stay warm for a long time because of the mylar lining. The blanket is great for boondockers, tailgaters, stadium sitters and those with cold houses!! $249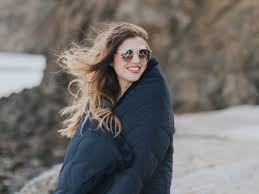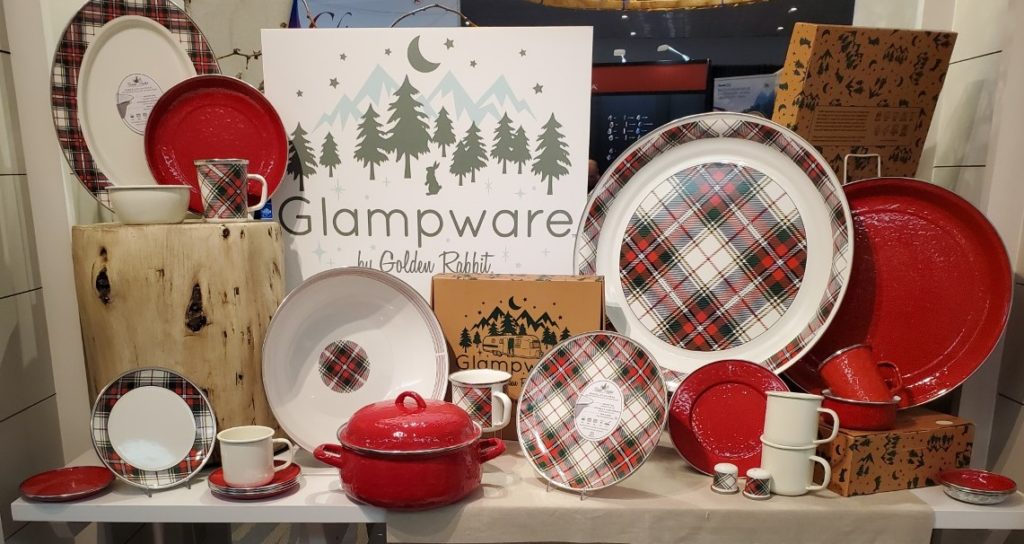 Golden Rabbit had me at "enamelware!" I have always loved the classic red spatterware that just screams "camp" so when I got an email saying that there was a new line of enamelware for Glampers I took the bait and clicked on the link. I fell in love immediately and made an appointment to meet the owners in person at the Outdoor Retailer Show in Denver. When I walked into their booth, I was so struck by the beauty, selection and quality of their line that I immediately made up my mind to swap out the dishes in my own RV. I had been pulling together a Classic Camp feel in my Max and felt that their Highland Plaid and Forest Glen patterns mixed and matched would be perfect in their. The fact that they could be cut on, used in the broiler, oven and stove top and run through a dishwasher was pure bonus. I just loved the look of them. Their beauty is more than skin deep though. They are actually baked on porcelain fused onto carbon steel and finished with a stainless steel rim/trim. They will last for…ever. Again, I loved them so much that I asked their founder Peggy Hedgepeth if she would like to be a Girl Camper affiliate. Golden Rabbit is available on our Affiliates page with a discount code. We also have an incredible Giveaway this month from Golden Rabbit. One of our subscribers will win a $500 gift card at the end of the month. We thought their Highland Plaid was the perfect Holiday gift!