We like to say at Girl Camper that there is "no wrong way to camp like a girl." I have camped in National Parks, on BLM land and at RV Resorts and I loved each one of them.
On a recent trip to Florida I was scouting out private campgrounds to host an event at when I came across the Bay Bayou RV Resort outside of Tampa. I was looking for a place to host an event that would be a little steeper on the amenities side but also still be in a natural setting. Sometimes RV resorts don't feel like campsites but, Bay Bayou has struck just the right balance.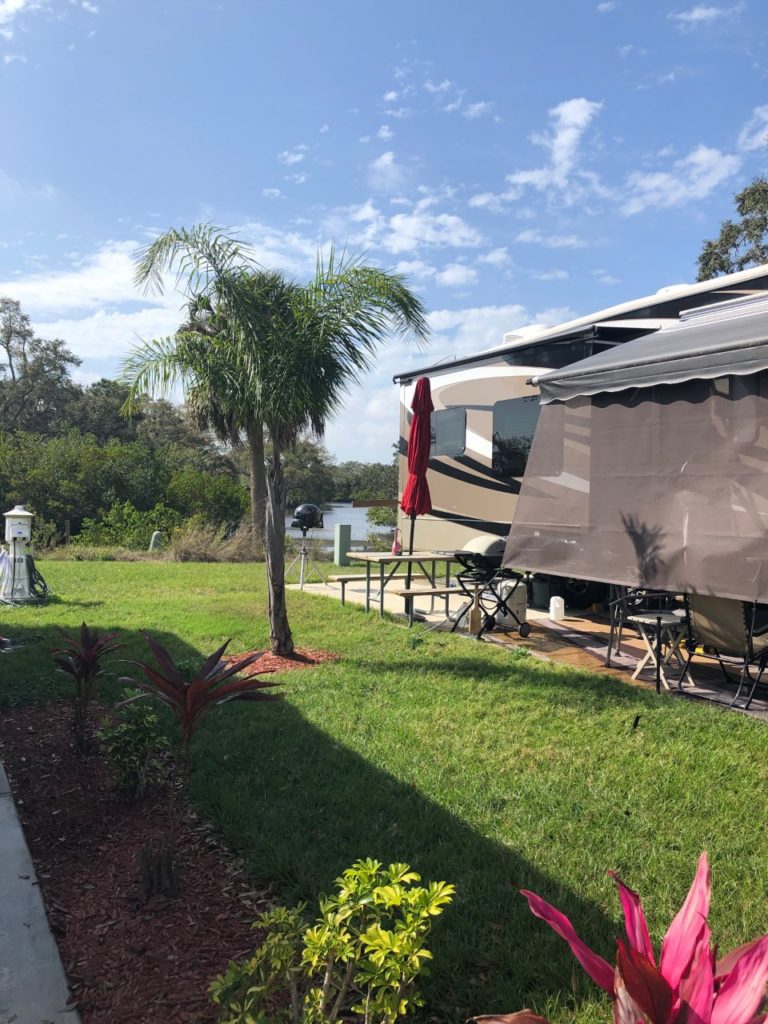 They offer three hundred sites on lots that are shaded and tree filled with some backing up to the nearby Double Branch Creek. I visited in the peak of the winter season and nearly every site was occupied with snowbirds. A beautiful transient community had formed there to winter over and they were taking full advantage of all this incredible resort had to offer (both people & their pets!)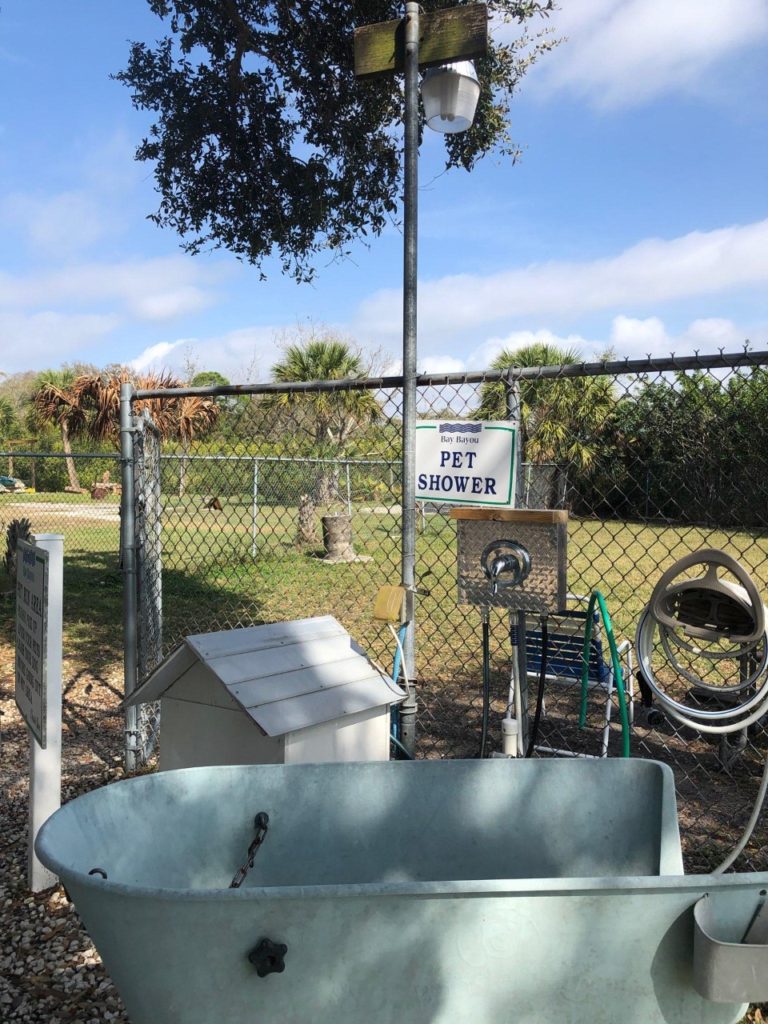 I met their manager in the community hall where a group of about six quilters had set up shop for the day to work on projects. Once a week these newly formed friends tote their machines and irons and cutting tools over to sew and chat and trade tips. A few men were there playing pool and lunch was available there to those not in the mood to cook. An afternoon ice cream social was also happening that I had a hard time passing on!! This community room had a bulletin board full of posted activities from card games to Taco Tuesday sign ups to a community yard sale and even a Supper Club. Lots of people were signed up for lots of different things.
Bay Bayou also has a small store containing the things we would most need in an emergency – good to know for when something goes wrong. One less trip to the store. This large community gathering place is attached to a really nice pool with lots of lounge chairs and umbrella tables for lazy afternoons.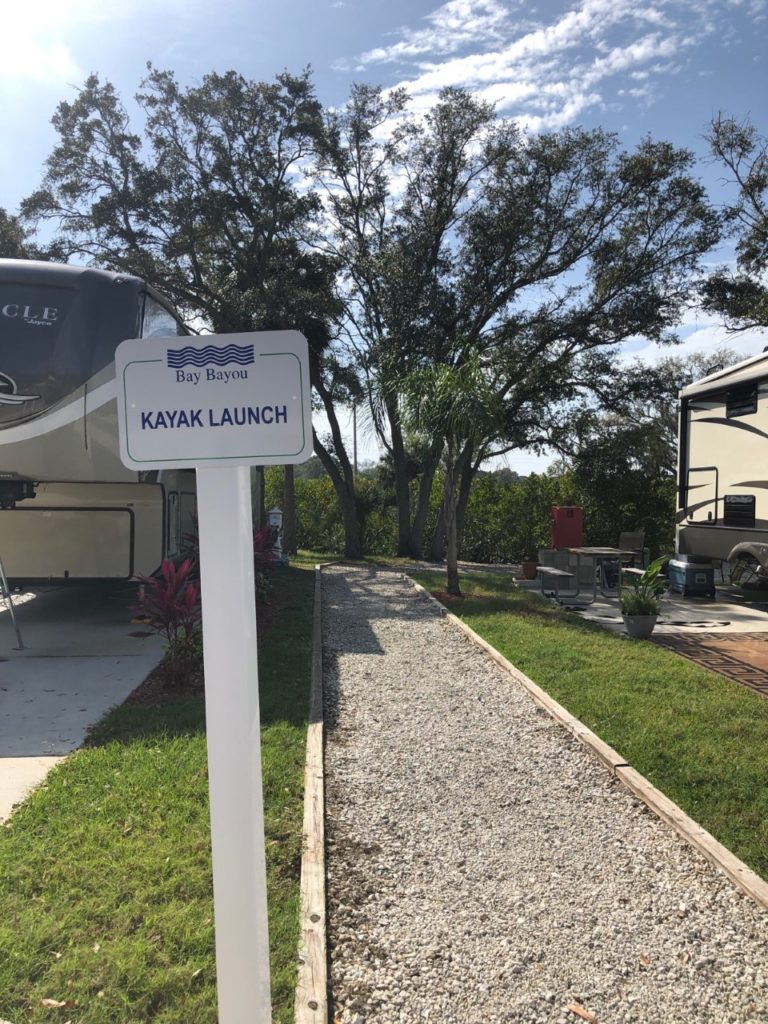 For those more likely to spend their time on outdoor activities, all the roads are paved around the park and make great walking and biking trails. There are decks that can be fished from and places on the property to launch a kayak or canoe from. They recently added 53 new sites with extended concrete pads for long RV's. All the sites offer full hook-ups. While riding around on a golf cart tour I was struck by the peacefulness of the place. Although there are a lot of sites and it was quite full, it seemed like a lazy afternoon vibe permeated the premises. It made me wish I was retired and could spend my afternoon with sewing friends followed by a little kayak trip before supper club!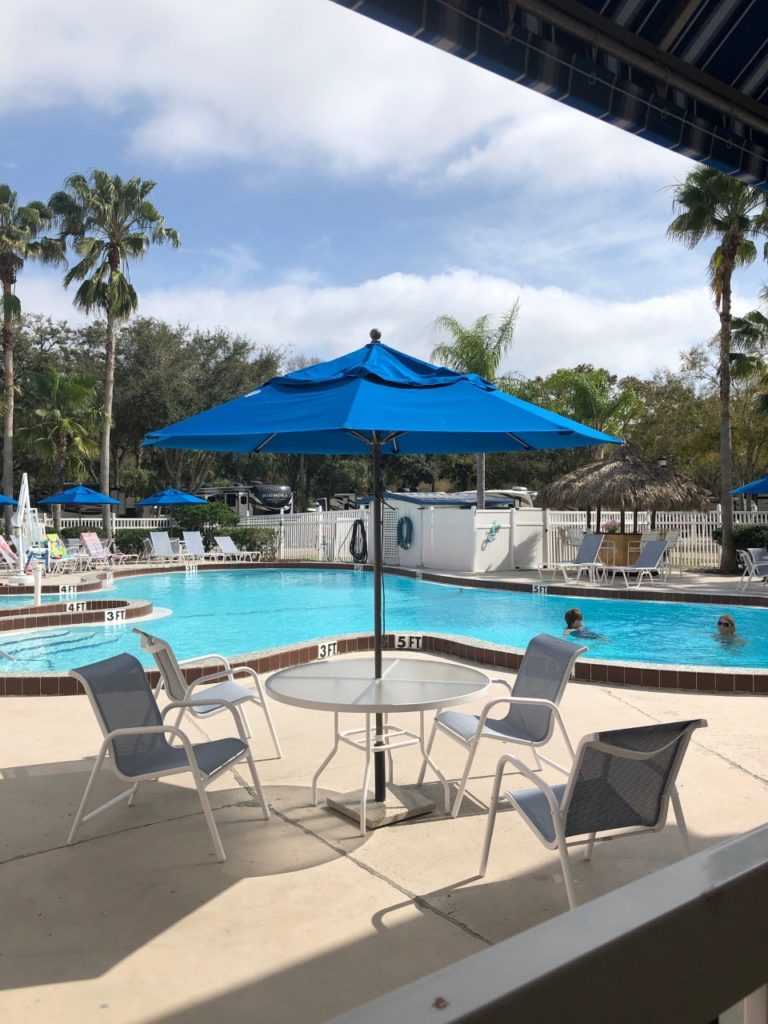 Bay Bayou offers daily, weekly, monthly, semi-annual and annual rates packages that were very affordable. There are some great deal to be had in the shoulder season from May 1- October 31 and this is when I want to get the Girl Campers together. I've got Judi George, our Girl Camper Florida Guide, working on a get together here where we can sit in the pool, take a stroll and visit our friends on the other side of the park and do a little kayaking. Stay tuned for this trip but if you are near Tampa anytime soon, check out this beauty of a campground!