Podcast: Play in new window | Download
I had so much fun preparing our R Pod 196 Charity Raffle trailer for touring. We took it from factory to fabulous in just one short week. I felt a little like the Shoe makers kid passing the finished trailer to Ginny McKinney for road tripping. It was beautiful while my Max trailer sat in the driveway with all kinds of unfinished projects.
The whole summer went by and I never did get around to doing much more than covering the cornices and finally installing a few kitchen items that I had purchased for the camper. Now the season is over and this week I will winterize my camper for its long nap. I may not be camping in it for the next few months but I plan to work on it and finish up a few projects I have had on my to do list. I have three practical tasks that need doing and three cosmetic jobs I want to complete.
The first practical job I want to do is to install rolling baskets in my pantry . My pantry cabinet has five shelves and is very deep. I can't get at what is in the back. I also look forward to the baskets keeping things in place. As it is right now, the canned good slide around and often cause the doors to open no matter how many different locks I have tried.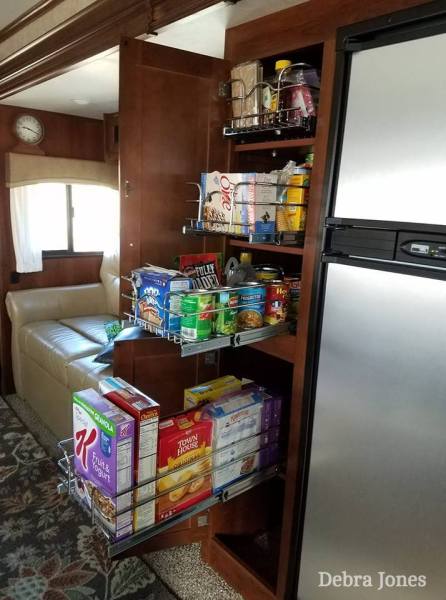 The second practical thing I want to do is put hinges on the bench seats in my booth so I can get at the contents easier. One of the benches has a door but it is hard to get into and you can only see what is right upfront. I'd like to be able to easily open the lid and see everything inside.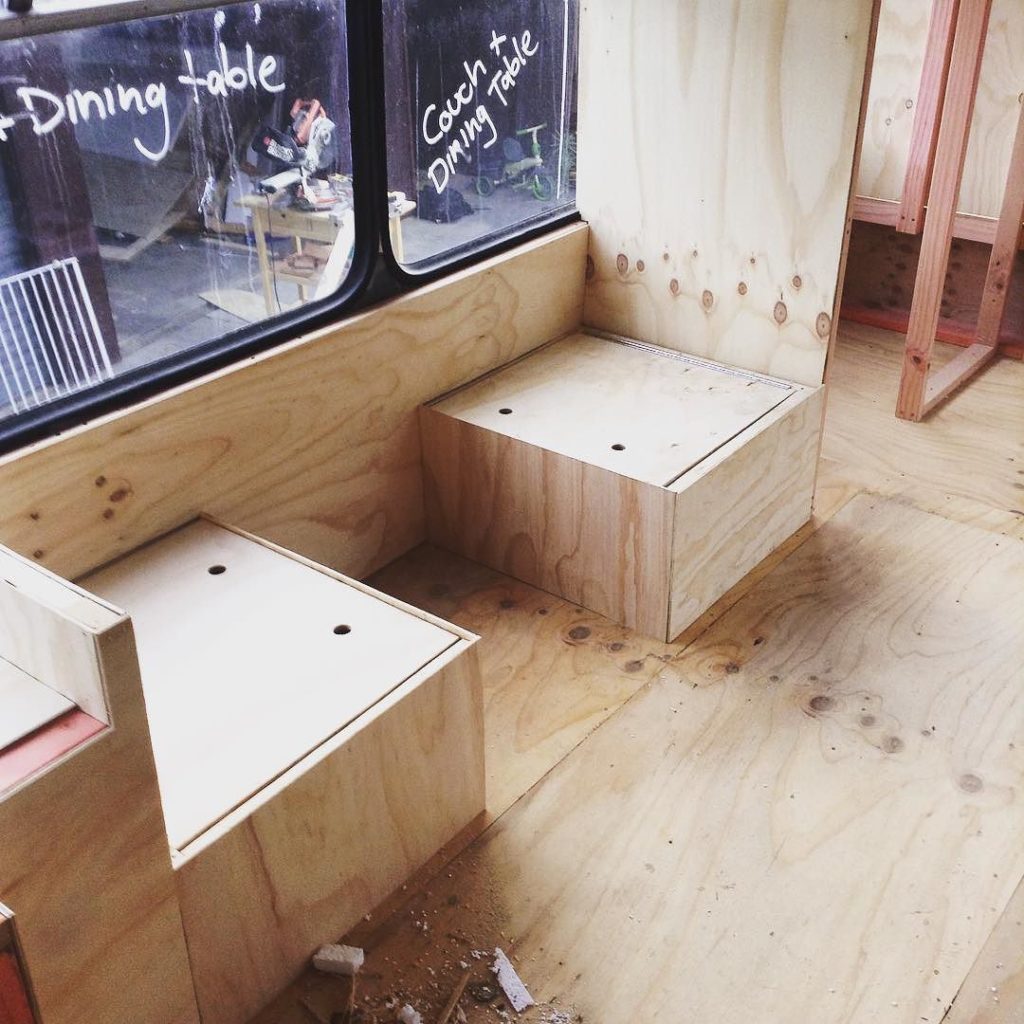 The last on my list of practical jobs is to replace the locks on my RV door and storage cubbies. Most RV storage compartment locks have a universal key called the CH751 that will open about 70% of RV storage units. It's time to replace those. I also want to replace the main door lock with a keyless entry pad so I don't have to worry about someone using a Master key on it or just forgetting the spare. There are several companies that make these and they range in price from $100 – $250, less than the deductible on an insurance claim.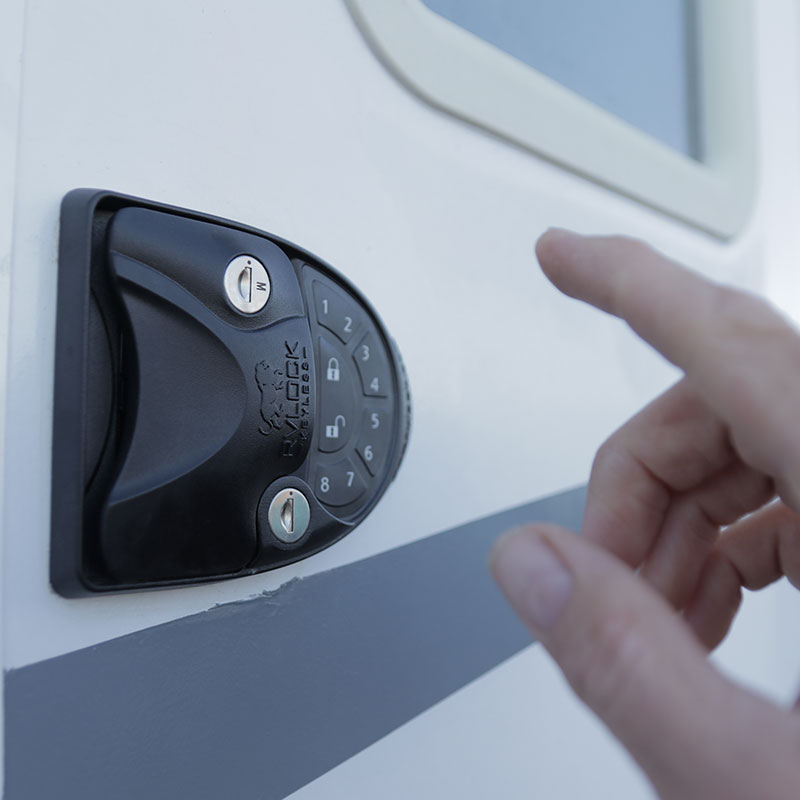 After I finish my practical to do list, I want to get a few aesthetic things accomplished before I hit the road next spring. It is often the finishing touches that don't get done and those are usually the things that take a room, an RV, or a garden space from "ok" to polished.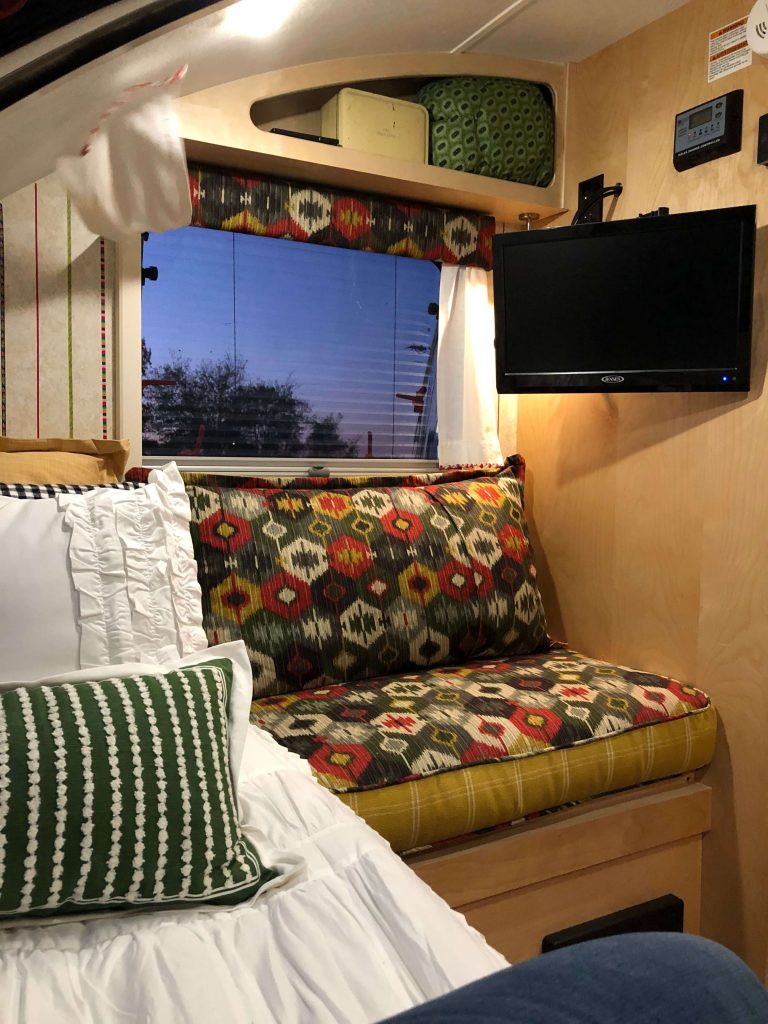 On the top of my list of cosmetic things to do is to recover the cushions in my Max. RV manufacturers choose fabrics that are "practical" and "durable." Mine are a neutral grey with a white inset that reminds me of an upholstered auto seat from the 1950's. I want a warm fabric with a complimentary pattern on the reverse so I can get a different look when I want it. I am going to make these box cushions, the most detailed and labor intensive version of slipcovers, myself. It's a big project but worth it because the going rate in NJ for labor alone is about $125 per cushion. I have four cushions to cover so would be spending $500 on labor before I even buy the fabric.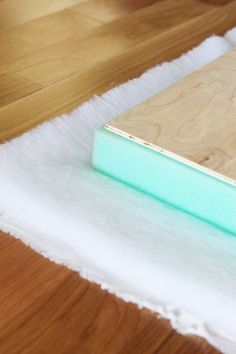 You can do a shortcut to cushion recovering by stapling fabric over the foam with a layer of batting between the fabric and foam. It's good to cut the plywood a 1/2 inch smaller than the foam so that the wood won't rub against the fabric and wear a hole in it.
The other cosmetic project I have on my honey do list is to wallpaper my RV. I am a big fan of wallpaper and have it in my house. I tried wallpapering it with an inexpensive peel and stick that I bought on Amazon but I didn't like the look or feel of it. I wallpapered the R Pod 196 Charity Raffle trailer in wallpaper from a company called Spoonflower and loved working with it. I want to choose two different complimentary patterns and use one on the "bedroom" ceiling which is huge and very white! I want to use the other to cover the wall across from the kitchen and the booth area. I won't be going with anything too bold because it is a small space. I just want to warm it up.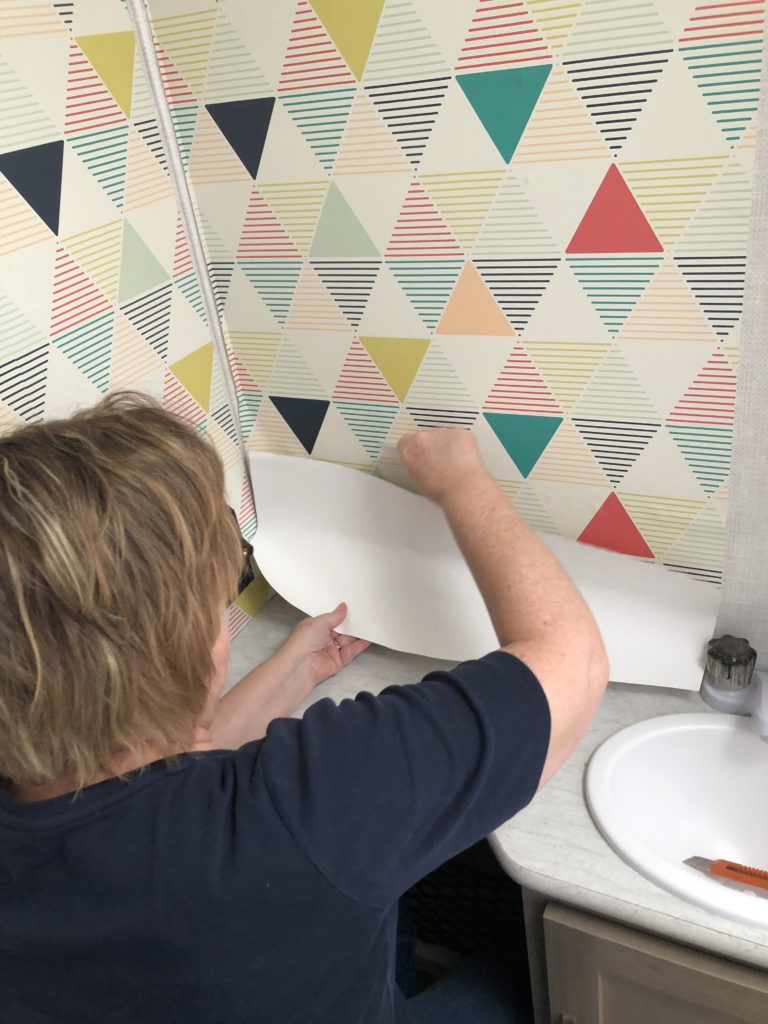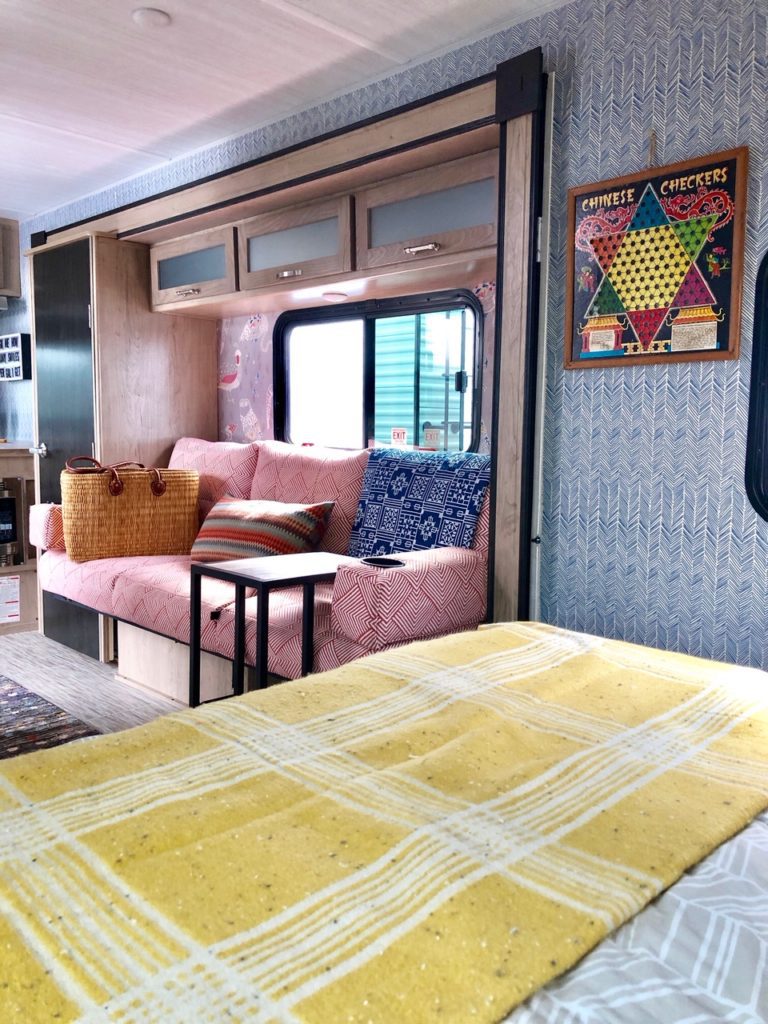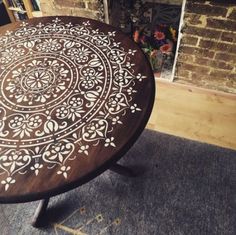 The last project I have in mind is to do something with the table in my Max trailer. The counters area solid white and the table is made of the same material. It's just bland. I might want to resurface it with something or remove the table top and replace it with a different material. I am not sure what though because the RV has plenty of dark wood already. I have seen tables covered in maps but I don't love that. I may do a wood table that is painted a color rather than stained. I am still mulling this one over but I do want to do something.