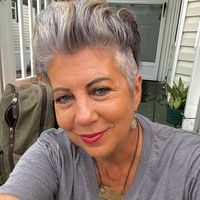 Girl Camper Guide - Pennsylvania
Stephanie Lemma
I am often asked why do I travel the way I do?. Some may say It is because I love the outdoors, or I am obsessed with nature. While this is true the real reason is much simpler.  After 32 years of marriage and a lengthy divorce, my love for camping was my rescue. I started to begin craving being outdoors again. I yearned for something that would bring me closer to nature and help me escape the mental rollercoaster that I was on.
After that first trip out, sitting by a campfire, listening to nature, and feeling more peace than I had in years, I felt alive again and connected.  Since that day I have not looked back. I jump at every opportunity to escape the noise of the city and connect with the simplicity of nature. I have kayaked with the alligators, boondocked on blueberry farms and driven thousands of miles to reach my destinations. Doing this has taught me many skills needed to be outdoors, from building fires to pitching tents.
Camping has taught me many valuable lessons, but the biggest lesson I have learned is to keep moving forward and never look back. Disconnecting from the world and reconnecting with myself. Not feeling guilt for taking time for me – much needed time that we all need.
With that said I would have to say that I started camping because I was searching for something more than a fix for my soul, not just a band aid. I need to reach for my passion of being on the road. I am grateful for every moment that I am able to camp and take in everything it has to offer. I encourage others to do the same. There is so much to find from within in the wilderness.