I hate to see the camping season end and each year I extend it a little further into fall. This year I am winding up the season at the RV Family Travel Atlas Rally at the Philadelphia/Westchester KOA the weekend of October 23 and 24th. I attended the first ever RV Family Travel Atlas rally in the spring of this year and met some really great new camping buddies.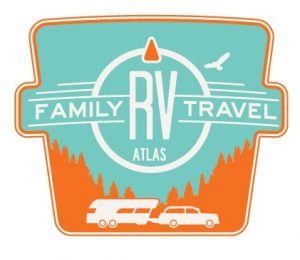 Stephanie and Jeremy Puglisi who are the voices behind the highly rated podcast of the same name really know how to draw a crowd. There were singles, and families and glampers and retirees! I loved the mix of those who love to camp. Stephanie and Jeremy's top rated podcast is sponsored by Go RVing and is chock full of tips and tricks for campers of all styles. They also write prolifically for many camping publications! The rally is sure to draw a mixed crowd and I am so excited to be camping there with my family!
This trip is going to be a winner for my husband who, by trade, is a home inspector with a specialty in historic homes. We used to live in a house constructed in 1749 with additions in 1850 and 1905. My husbands hobby and new passion though is landscape painting which makes the Philadelphia/Westchester KOA the ideal spot to 'camp like a family'  for us.
This campground is in the beautiful Brandywine Valley which is home to Longwood Gardens and Winterthur Museum.  I really want to get to the Winterthur Museum and Gardens in Winterthur, Delaware which is a 25 minute ride from the campground. I have always wanted to go there and even though it is less than two hours from home and, last year had a beautiful exhibit of the Downton Abbey costumes, I have yet to make it down there.  In addition to the stunning gardens and grounds there is a DuPont built family manse that is now the museum. It is always fun to see how those blessed with extreme wealth lived in the days before the words carbon foot print even existed.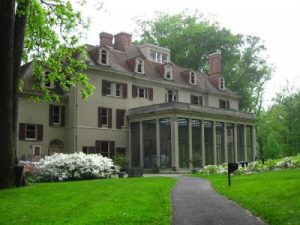 In addition to that there are the Longwood Gardens which I have been to in the past but never in the fall. Longwood is, according to their website,  a "horticultural display garden created by Pierre DuPont in the 19th century".  It too has a magnificent home/mansion attached to it. It looks like a starter castle compared to the "home" at Winterthur though. It is only 15 minutes from the campground in the same direction as Winterthur if you are hearty enough to do both in one day.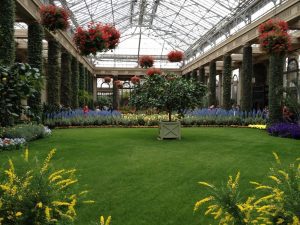 I won't be doing that because my husband feels that once he has paid his admission fee he is somehow obliged to read every single little placard explaining every single little detail of mansion life. Our children have flat out refused to accompany him to museums anymore! I just endure and get the headphones tour so I can avoid what my grandmother called the "Pete and Repeat" syndrome.  Here's how it works…Rick and I are standing side by side  behind the velvet ropes with our maps and brochures in hand in a group of fellow curiosity seekers. The tour guide says, "The fireplace mantle came from a castle in Europe that was pillaged by torch wielding villagers and an agent of the duPonts was able to secure it at the fire sale and bring it here for their castle."  The head nodding group begins moving to the next fortuitous acquisition and Rick turns to me and says, "Hey honey, the fireplace mantle came from a castle in Europe that was pillaged by torch wielding villagers and an agent of the duPonts was able to secure it at a fire sale and bring it here!!! How cool is that?"  After thirty two years of stereophonic museum tours I have now developed a system that is fool proof. I pay for the headphone version of the tour and every time Rick tries to repeat to me what we all just heard, I gesture kindly, pointing at my headphone covered ears to signal that I am listening to a segment and can't chat right now. This is fool proof because there is no danger of Rick springing for the headphones himself. He has been asking since he turned 40 how old you have to be to get the senior discount! With the advent of the headphone option, I am now safe to enjoy the tour without back up!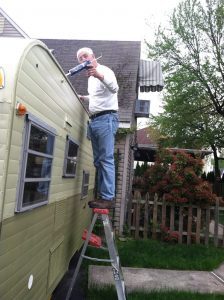 My Mister doing what he does best! Caulking!