When you can only get away for a few days, you want to make the most of your time at the campground. You don't want to spend your time worrying about what to eat, where to buy food and fussing about how to cook it. For years, I have tried to embrace simple weekend meal planning, This makes weekend campouts a breeze so I can spend more time exploring or sitting by the campfire. 
Plan your meals in advance so you don't get to the campground and need to make a grocery store run. If you are in the mood for a good steak, buy it locally before you travel and bring it with you. If you have a main dish plan, you can bring the side dishes and spices you want to cook use with you. This saves a lot of time and money. Often our travels take us to out of the way places where small local grocers can't compete price-wise with large grocery chains. They also often don't carry the specialty items we are accustomed to finding in more densely populated areas. Buying ahead assures you of a meal you will enjoy at prices you can control as well as saving you time spent.
Leftovers
Use the leftovers from the week's meals for simple weekend meal planning. When cleaning up from dinner on Tuesday night, use a freezer bag to pack a single-serve meal and put it in the freezer for Friday night. Most ladles are calibrated to deliver one cup, eight ounces, which fits perfectly in a sandwich-size freezer bag. Squeeze out the air and flatten it for stacking in the freezer. You can thaw it in the refrigerator while you're driving and will appreciate the easy meal at the end of a long work week and travel day.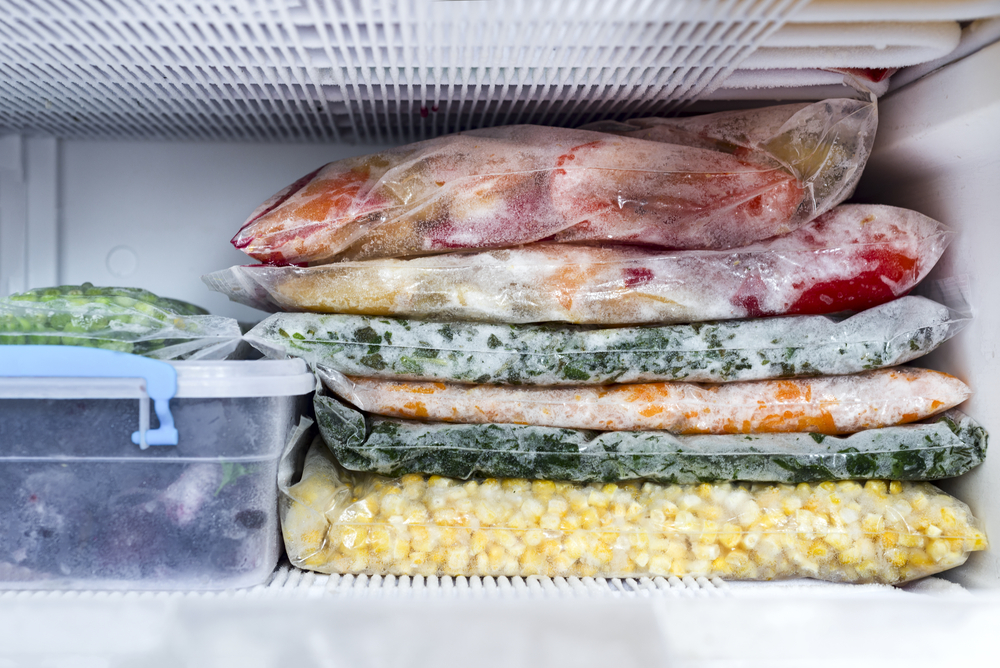 Keep a Well-Stocked RV Pantry
Even the best-laid plans can go awry. Your work week can be busier than expected and it could end up being a take-out week with no leftovers. Having a pantry stocked with dry and canned goods that can supply a quick but satisfying meal is key. Nothing says comfort food like a tuna casserole made with Ramen noodles or tomato soup with quick mix biscuits. Choose a few favorites and keep the ingredients in your RV all the time so you know you will have a hearty meal whatever the circumstances. 
RV Pantry Staples 
Basic spices, like salt and pepper
Canned tuna or chicken
Canned vegetables
Box mix biscuits and corn bread
Canned soups
Freeze-dried meals
Beans and rice
Pasta and sauce
Chickpeas and couscous 
This article first appeared in the Summer 2023 issue of Girl Camper Magazine.
More Girl Camper
Girl Camper Magazine: Subscribe to Girl Camper Magazine here! Girl Camper Magazine
Events: Check out upcoming Girl Camper Events – you can attend events in any chapter! https://girlcamper.com/events/
Main GC Facebook Group – Join more than 400,000 like-minded women in our Facebook group! Girl Camper FB Group