Where did you find the trailer?
I was living in Southern California, Ventura to be exact and I needed a trailer, desperately! I found her in El Dorado, California well above Sacramento in Northern California at a restorer's shop. She was owned by one of the employees and it was his flip project. She was about 99% complete with the full frame to roof restoration. The for sale listing was being created later that day and would go on their website, I purchased her right there sight unseen.
Why did you name it the name you gave it?
My daughter, Paige named her. We were towing her back to our home after we purchased her, my twins were in for one of the longest driving days of their lives 16+ hours. So, in our car was a DVD player, we loaded up all their favorite movies and packed a ton of snacks. The movie that was playing when we drove the trailer out of the restorer's lot and on to the highway to head back home was the Disney movie Up. I kept watching Paige turn her head around and look at the trailer behind us and then back to watching the movie back. Then out of nowhere in her tiny 5 year old voice she said " Mommy, I think your trailer should be named Ellie, just like Carl's Ellie the adventurer. You are a girl, she's a girl and you are going to go on adventures yeah, I think her name should be Ellie."
Did you have to do a lot of work on it?
Not too much, I've changed the counter tops, took out the ice box and added a storage closet, painted her, added moveable shelves and a spare tire mount. Soon she will have the missing bookshelf from the original design added and a few other little things.
Did you sometimes feel like you bit off more than you could chew?
I grew up camping with my Grandparents who were very active in the Holiday rambler association, the art of towing, setting up camp, hooking up and then doing the process in reverse was already ingrained in me. I knew I did not have the skill set to restore a trailer and I have no desire to learn how. So, buying one that needed work and sending the trailer off was my only path, I wanted a vintage not a new trailer. Sometimes the frustration of waiting for the correct fabricator or craftsman to complete a job I want done on her is a bit overwhelming. On average there is 3 year wait at a restoration company and the trick is once a trailer goes in and you go pick it up you put your name back on the list because, something is going to need to be fixed.
What is your decorating theme?
I have amazing treasures from Hawaii, my Grandmother & Great-Grandmother had an apartment they would stay in over the summers right on Waikiki Beach. I'm truly lucky to have treasures from the 40's-60's, Ellie is that stylish, relaxed vintage Hawaiian themed trailer. From her hard wood floors to the dark koa wood accent bowls and platters, vintage bar sets, bark cloth fabric and pillows, hand carved tiki's and a lot of other little things. She is my tropical get away when ever I need it.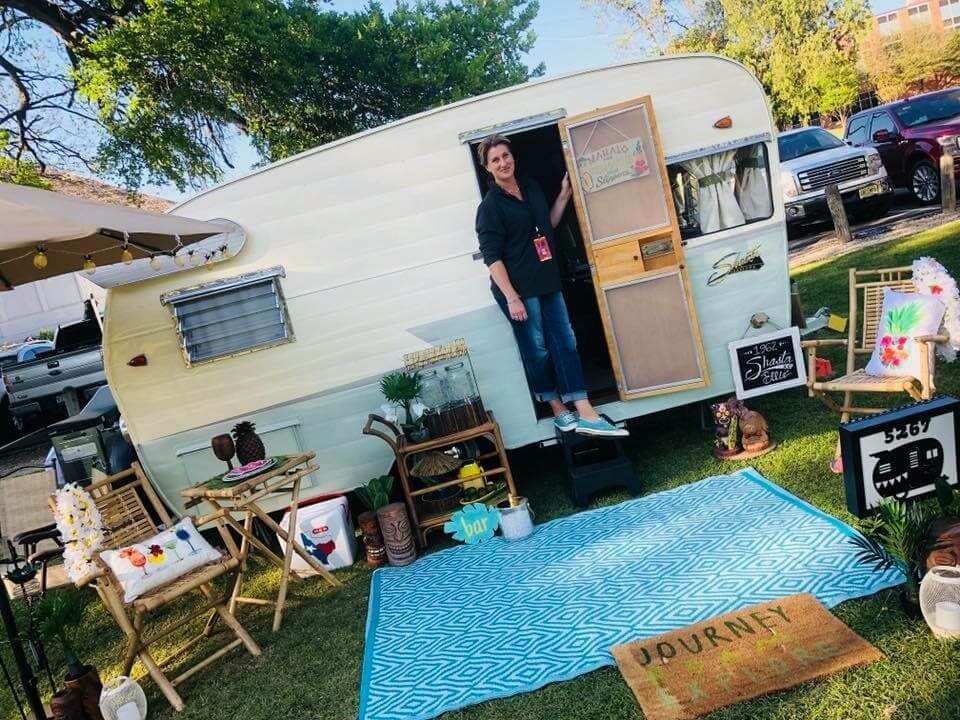 Do you use it at home?
Yes, we built a bay in our garage for her to be stored in and that's s where I do quite a lot of my food writing and blogging. From time to time I also record podcasts in her too, with all that wood the sound quality is amazing! I also am able to get quite a lot of "me" time when I need it all thanks to my husband. My family and I are caregivers for my Mother who had dementia. I'm not always able to go to a campground to get away and have that quiet time I love. With Ellie being at our home I make sure she always has her bed made up, snacks in the pantry and a bottle or two of wine. When I need a night away I just walk out into the garage and escape, but I'm right there in case if anyone needs me.
How do you feel when you're in it?
There is a sense of calm that comes over me immediately, she's something I never thought would give me this much joy but does she ever! I love the smile that just shows up on my face the second I step through her door, its like I've come home to an old friend. I love how she is naturally quiet there is nothing loud or cluttered, she is so streamlined and peaceful that calm naturally happens to not only me when I'm in her but so many other friends have said those exact words too.
What's your most favorite thing about your trailer when you go camping?
I love the smiles on other campers faces when they see me pulling in or after I'm all set up relaxing under her awning reading a book or having a cocktail. Most people are blown away that a 56 year old trailer is still on the road having adventures. Many times, I've had an older couple who own a large trailer, fifth wheel or motorhome come over hand in hand and say "we had one of those, I remember all the wood work, it was so cozy in there." My personal favorite moment is just as I'm slipping off to sleep, my blankets are all around me, the sounds of the campground are softly in the background. The smell of the campfires are still circling the air and then it happens, a released calm breath it's like my body, mind and heart have just settled. That moment is the calmest feeling I get, and I look forward to it every time I go camping with her.