In 2011, I found myself an empty-nester and wondering what changes I would like to make with my life. Prior to marriage and having my children, I had been an outdoors lover, and I wanted to get back to camping and hiking. I remembered having read a magazine article years ago about a small group of women who camped in vintage campers and enjoyed flying fishing. I searched Google and immediately hit on a girl camping group! I quickly joined and got myself camping. I was hooked! I found and bought my brand-new Little Guy T@B in early 2012 at Scenic Roads RV in Manchester, Tennessee. I tried various names for her, but "T@bby" just seemed to stick and became her official name.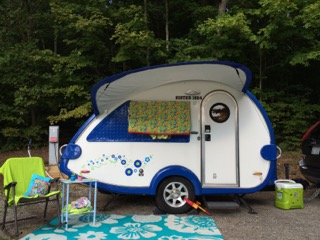 I had never camped in a camper before, so it's been an on-going learning experience. But what fun! That first year, I immediately set to collecting Vintage Cowgirl/cowboy decor for T@bby, as is so popular among my fellow girl campers. It was so much fun!! It was (and is) a continuing challenge to figure out how to store things in such a small space as a teardrop camper because we do love collecting our decor!
Because I am a creature of change, T@bby has undergone many transformations. She's been though a boho look, a flower-power hippie look, and a shabby-chic look which I am sharing in the photos. This was a favorite, as I am an antique dealer and easily find an abundance of beautiful items that can be used for this look. As I enter the 2018 camping season, she is undergoing yet another change which will include a collection of vintage flashlights, influenced by the awesome Girl Camper Janine Pettit!
I enjoy camping with different groups now, I love the bonds we make, and nothing is better than a weekend in a woodsy campground, visiting with friends, crafting, trying out new things in my dutch oven, doing a little junking, and relaxing with a good book or dvd. Nothing is better than being in my tiny trailer; even at home I can be frequently found piddling around in her. She's like the playhouse I never had as a child. The back of T@bby has a Dr. Suess quote that says sit all and makes me smile every time I see it.
Becoming a girl camper was one of the best things I ever did!