Big News!! Breaking News!
I will be the opening speaker at the Southeast Tourism Fall Forum 2015!
I am so excited to be traveling to the beautiful state of West Virginia! It really is 'Almost Heaven'. I will be bringing along my little vintage Go Tag Along trailer because they will be having one heck of a street party in Charleston!! The theme of my talk will be, "Girl Campers; going places, doing things!" 
I will be dishing the dirt on how to join in on all the reindeer fun and sharing some photos of all of the best adventures we go on as well as the beautiful trailers. I am so excited about this because as you all know, I never get tired of talking about Girl Camping!! I want everyone to have as much fun as we do!!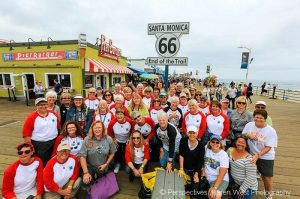 The Sisters on the Fly at the Santa Monica Pier after they completed the entire Rte 66 tour!

Hershey Pa RV Show