To listen to this week's podcast, click the arrow below.
On this weeks show I continue my spring gear guide and giveaway. I spied, tried and am reporting on some new products out there, some of my personal favorites and a few products with a cause behind them. Like last week I've broken my list down to what I consider Glamping items and Camping items. Considering I grew up in a canvas tent with a Coleman cooler, lantern and stove as "equipment" most of the things would have been considered "glamping" two decades ago but technology has impacted every arena of our lives including camping. I let you consider what where the items belong on your list!
Glamping
Para Kito Mosquito Repellent.  Para Kito makes a mosquito repellent bracelet without the use of harsh chemicals. The bracelets are filled with essential oils and naturally repel insects. I bought one last year when I was in Yellowstone because I hate having  Deet or any strong chemical on my skin or clothes. I thought they were very effective and I loved the pleasant odor. This year Para Kito launched a Party bracelet that is perfect for the beach at night,  alfresco dining, cocktail parties and summer weddings. No need to spoil the look of your nice outfit with a lime green or hot pink bracelet. Para Kito bracelets last two weeks and refills can be purchased at a cost of 2 for $13. They are sold at many retailers including REI, Amazon and Walmart. Para Kito is giving away five bracelets to Girl Campers. Go to their Instagram (Parakitousa) account and follow them and tag a friend. They will pick a winner and send out the prize.
Copper Wire Fairy Lights When these lights first hit the market two years ago I invested in a few short strands. I love the light they give off and that the battery life is so long on them.  They had been selling for about $8-$10 for a short strand though and I like lots of lights. Lightsetc… is an Amazon seller that has the best bargain on these great lights. A 65′ strand with over 200 lights for $8.59. They run on 3 AA batteries and will light for 30 hours on one set. They also have Modes that allow you to flash, fade, strobe and five other fantastic light show options.  Favorite find this spring!! Check them out here. 
Man Can. The ultimate tailgate, camping, backyard picnic growler ever!! Keep your favorite home brew or micro brewery favorite bubbly for up to 30 days in this single layer steel growler. It's threaded, sealed top and the help of CO2 cartridges protect the integrity of your brew. You can add the tap and call it a party. I got this even though I am not a big beer drinker because I am a little hooked on seltzer carbonated homemade lemonades, and my own homemade ginger drinks. I love mixing up a batch of refreshing summer non alcoholic drinks that anyone can add a splash of vodka too if the mood strikes them. Often after I've gone to the trouble the leftovers get tossed because there is no way to keep the bubbles. Having a cold sparkling drink when i arrive at the campground and to offer a friend seemed like a great thing. I also like the size and that I can eliminate carrying lots of extra seltzer with me. Man Can is giving away a 64 oz. growler so head over to their Instagram (Mancanbeer) Hit follow and tag a friend.
State Stickers – Teardrop Shop. The  Teardrop Shop has the classic USA Map that allows you to keep track of the states you've visited and add the month and year as well. I actually bought this for my office and maybe sometimes the trailer but I don't want to put it on the trailer. I bought a 12 x 18 White Board to mount it on and that will allow me to take it with me on the road if I want. I think this is a great gift for a Girl Camper or grandchild. It is something fun to keep in the kitchen and talk about over dinner. It's also just really cute for a kids bedroom. It's 19.95 at the Teardrop Shop.
Girl Reinvented, Diana Kuen took the journey of a lifetime and in the process made a new life for herself which included "giving more" to the world. She created a line of high quality Luxe Linen Dish Towels that not only look great but give a percentage of their profits to worthy charities. Dish Raggs was Diana's brain child and she has brought her designs to the Girl Camper brand to benefit the HoldYou Foundation. For every beautiful tea towel ordered 20% of the profits go to HoldYou, a foundation that helps the poorest of the poor while their children are in medical crisis. The towels are large and come beautifully packed in their own little linen gift bag making them such a nice gift.  A note about the tote! I love it. I ordered it to support HoldYou but was thrilled when it arrived because of its shoulder strap! I love a tote you can sling across you leaving your arms free to shop and speak animatedly! The bag is nicely sized and sits just below the hip. Form and function!! Diana is donating a tote to a winner. To be in the running, head over to the Instagram pages of HoldYouFoundation and Girlreinventedandco and follow them and tag a friend. There's more beautiful designs on Dish Raggs site. Consider having a Dish Ragg fundraiser yourself. We all have enough candy!!
Camping Gear 
Wonderbag is a company that produces a "wonder bag" that continues to cook food after it has been started on a heat source, with stored heat from its foam insulated cinching bag. It was designed to help women in advancing countries be liberated from the open fire. On average women in these countries spend up to eight hours a day gathering fuel, cooking and tending the fire to keep their food going. The wonderbag allows them to bring the food to a boil, cover the pot and place it in the wonderbag to continue slow cooking while they are free to spend time with their children, earn wages from other activities as well as reducing their exposure to the exhaust of the fires and their damaging health effects.  This came to the attention of first world countries when it was placed for sale on Amazon. I found this company at the Outdoor Retailers Show in Denver and was as impressed with their mission as the product. I began testing it at home and have loved it. I was testing it as a camping accessory and began using it at home regularly. It's great to start a meal in the afternoon when my energy level is higher and put it in the wonderbag on the counter and forget about it. I get to rest at 5pm instead of scrambling to put a meal together. The fact that purchasing them supports a foundation that impacts the lives of so many whose lives are so drastically different than ours is just another bonus. Wonderbag is giving a free bag away. Head over to follow them on their Instagram (mywonderbag) and tag a friend.
My Charge are the portable power experts. Their newest product is the ultimate in portable power outlets. The 20K Portable Power Outlet is the largest charging hub and inverter with the highest power output. It can recharge a cell phone over ten times, can run a 32″ LED TV for four hours, (enough to finish the game in the event of a power outage) and will charge these devices 65% faster than competitors. It is small, 5″ x 6″ and only weighs one pound. It's a great camping option for all campers but especially boon-dockers.  It has a battery that will hold its charge for up to a year. I replaced my much heavier, less effective battery charger with the My Charge. It recharges much faster than my old one which did not have a 110 outlet in it. The My Charge has one as well as 2 USB A ports and 1 USB C port. I really like this product and am happy to be taking it along on my five week tour of the south where I will be doing lots of boon docking.
Salad Spinner It doesn't seem like a piece of camping equipment but a Salad Spinner is a great multi purpose piece of equipment. It can be used for its intended purpose as well as be used as a strainer for pasta which can then be spun to remove more water from it. I bought it though for a camp laundry spinner. Last year on vacation I hand washed a lot of clothing and would have loved to have this to spin the water out of them. It can also be used to spin a bathing suit to damp dry after using the pool.  Cleaning sandy vegetables, fresh picked berries. It's an inexpensive item that pulls a lot of weight around the camper.
Coocheer Car Kit It was way past time for me to update my car emergency kit which somehow had been reduced to a set of jumper cables with electrical tape on them and a lot of zip ties. I ended up choosing this one which seemed to be the best value. It has a lot of items I consider necessities; tow rope, reflecting triangles, reflective vest, diamond hammer and seat belt cutter, volt tester and emergency blanket to name a few. For $36.99 I could not have purchased these items separately. I was very pleased with the package it is stored in. I purchased it on Amazon.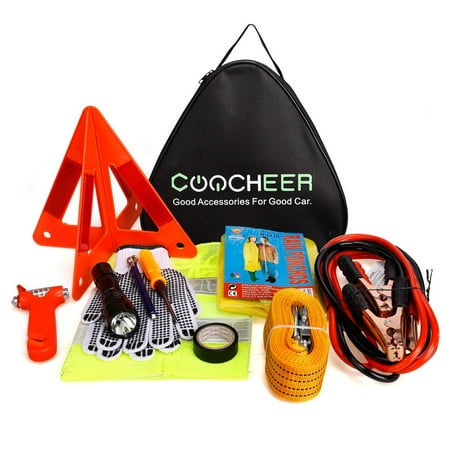 Dowell 14 Piece Homeowners Kit  Also rather threadbare after 12 years in my camper was my little tool kit which was reduced to a screwdriver with only one bit left in it and a few stragglers which are still in the kit because they're mostly unnecessary. This kit hits many of the tools that many leading experts recommend. I like the hard shelled carrying case with the interior molded slots that hold each tool in place. The kits costs $29.99 and I am so happy with it. I purchased it on Amazon.
Night Tech Gear – After inventing the Night Trek Tactical Shoe Lights Doug Storer brought them to Shark Tank and was awarded a contract with a shark to produce them. Their newest version of USB rechargable lights are out now. These lights clip to the shoelaces of your shoes and flood your path with light up to 30 feet ahead.  In addition there are red rear facing lights so you can be seen from behind. The lights are adjustable, rechargable, water resistant and weight only 1.5 ounces each. They are such a practical hands free way to run, power walk, hike, and get around the campground at night. A few months ago my brother in law was hit by a car while crossing the street at night by a woman who "just didn't see him." By his own admission he was dressed in dark clothes with no reflective outerwear or flashlight. I'm happy to say he only suffered a broken nose and finger, both of which have required surgery though. It could have been avoided with something like the Night Trek Shoe Lights. The lights cost $64.95 and could literally be a lifesaver.
Podcast: Play in new window | Download