Nancy Grant/ Indiana Chapter Guide
The Pioneer Woman was my first overnight and out-of-state Girl Camper event. Being a Pioneer Woman fan the event did not disappoint, everything from the campground to the town of Pawhuska Oklahoma was great.
I talked my family into going with me, we traveled in my sister's Class C Motorhome flat towing a Jeep. One thing I must say about Girl Campers is that they welcomed us four Indiana ladies like they had known us forever.
The town of Pawhuska had everything needed we needed for a great girl's trip, plenty of shopping and dining options. It truly is a ranching town, every place you went there was cowboys wearing chaps, cowboy hats, and spurs.
Shopping
Pawhuska was full of small shops with casual and western wear mixed with jewelry and boots. The Pioneer Woman had two shops of her own, one was connected to her restaurant the Mercantile. This building was two levels with the Mercantile and her restaurant was downstairs with a meeting room and a bakery upstairs. Next to the Mercantile was an event center for larger groups, are Girl Camper had a catered lunch there. Down the street, The Pioneer Woman had another shop where she carried her clothing line and household goods.
Dining
All the food I ate was delicious, from the catered meals at the campground to the restaurants in Pawhuska. We sampled all the Pioneer Woman restaurants, she has the Mercantile, Event center for catering, P-Town Pizza shop, and Charlie's Sweet Shop Ice Cream.
The catered lunch that came from the Mercantile consisted of Soup, Salad, and Half of a Roast Beef Sandwich. The next day we ate at her P-Town Pizza, I had a mushroom pizza that was great, but my favorite was her Garlic Knots. I could eat them every day! After lunch, we treated ourselves to an ice cream cone from Charlie's Sweet Shop. From the bakery above the Mercantile, I had a slice of Pecan Pie, once again it did not disappoint.
Accommodations
We camped at Washington Cove campground on Copan Lake, it was a well-shaded clean campground. We had an electric and water hookup at our site with a concrete pad, fire pit, and picnic table. The campground offers 101 campsites, showers, a dump station, a boat ramp, playgrounds, and a group shelter. I think Washington Cove campground had the cleanest shower houses that I had ever seen.
We gathered at the shelter for our meals and met all the Girl Camper. Every night after dinner we would gather at the lakeside for the magnificent sunsets.
If you choose not to camp there is a hotel downtown Pawhuska and the Pioneer Woman's eight-room hotel, The Boarding House.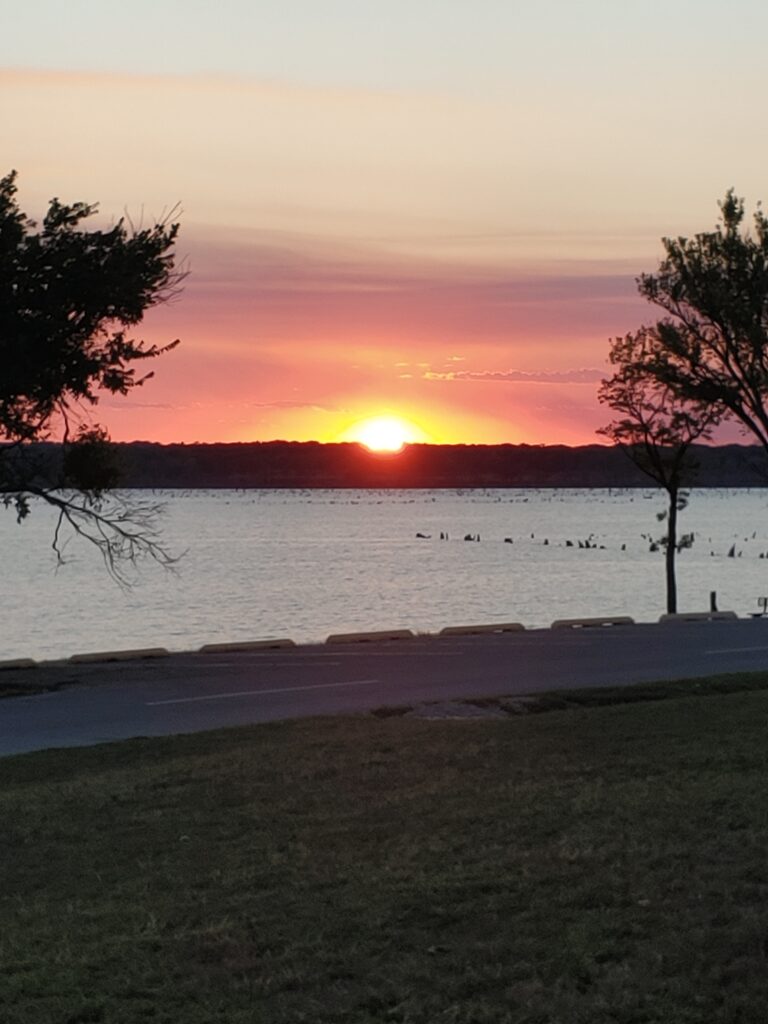 The Lodge
When they are not filming the Pioneer Woman cooking show you are allowed to tour the Lodge where it is filmed. We were lucky enough to get that opportunity, it was beautiful overlooking a huge valley. The kitchen and pantry were huge, every cook's dream kitchen. At the other end of the lodge was another kitchen used to cater events. It also had two bedrooms that were used for dressing rooms for filming the cooking show and events.
If you ever get the chance to attend a Girl Camper event do it, you will make instant friends for life.
Connect with me!
Nancy Grant
317-985-3207
Girl Camper Magazine: Subscribe to Girl Camper Magazine here! Girl Camper Magazine!
Events: Check out upcoming Girl Camper Events – you can attend events in any chapter! https://girlcamper.com/events/
Facebook Page – this is the link for where you can tag us and we can tag you! This is where I'll share general Girl Camper news, events and more. Girl Camper – Indiana
Private FB Group – Where you can interact with others who are interested in camping in Indiana! Girl Camper Indiana Group.