The National Parks Service has charge of caring for sixty one preserved areas known as our National Parks. Only ten of these are east of the Mississippi River. The most visited National Park in the United States is the Great Smokey Mountains National Park which straddles the borders of Tennessee and North Carolina and is part of the Appalachian Mountain chain. A section of the Appalachian Trail, itself a National Scenic Trail, goes through the park.
The Great Smoky's were the first park to have federal funds designated for its purchase. The park has over 500,000 acres, one of the largest protected areas on the east coast. Gateway cities to the park include Gatlinburg, Tennessee and Cherokee, North Carolina. The park was chartered in 1934 and dedicated by President Roosevelt in 1940.
I can get to the Smoky's in about ten hours from my home in New Jersey. The Gatlinburg, Tennessee entrance is my favorite point of entry. Each time I go there I try to explore a new area of the park. I am fascinated by the folklore attached to the park and its history. I love exploring the early settlers who lived on the mountain and were granted life time tenancy when the government made the property a National Park.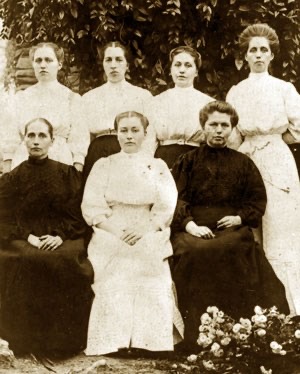 My favorite story is that of the Walker Sisters, six unmarried sisters who inherited their family farm and remained there, even after it was a National Park, until the last one died in their family home in 1964. If you park at Metcalf Bottoms, it is a half mile walk to the Little Greenbrier Schoolhouse built by John Walker, the sisters father. If you hike another mile up the hill, you will see the log cabin home the sisters spent their whole lives in. Every time I visit the place I feel a kinship with these mountain women! I imagine myself time traveling back and telling them how we started a group for road tripping women who love to travel on their own. Of course they find it amazing and want to hear all about Girl Campers!!
Our own Girl Camper, Marilou Parsons, is an expert on the Great Smoky's. She is an Indiana native who fell in love with this park on her first visit there and explores the park as often as she can. She has written a book on the Ranger Programs offered at the Park that can help you avoid traffic jams, find good parking and explore Cades Cove with a plan. Check it out here!
https://www.amazon.com/Ranger-Programs-Great-Mountains-National-ebook/dp/B07FFHJH77
Here are a couple other links on the Great Smoky Mountain National Park stories you will love.
https://www.nps.gov/grsm/learn/historyculture/walker-sisters.htm