October is pumpkins and football and sweaters and comfort food! It is also Breast Cancer Awareness Month!! I have to admit that I haven't paid much attention to this because cancer doesn't run in my family and I have no relatives that have ever had breast cancer. The awareness part of the program though alerted me to the FACT that 80% of breast cancer diagnosis' do not have a family relationship to the disease! Whoa! That's staggering and shook me out of complacency and made me make an appointment for a mammogram.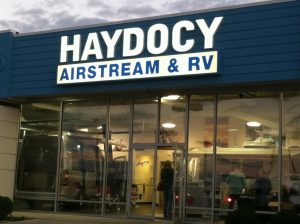 My favorite Ohio RV dealership and sponsor of Girl Campers, "Camper College" program, Haydocy Airstream of Columbus, Ohio, is taking their support for women campers to a whole new level with their October campaign to support the Susan B Komen Foundation through the sale of their Tab trailers! Tab trailers has a "Tabitha" model trailer designed by the talented Mary Jane Butters from Mary Jane's Farm Magazine. The sweet Tab is "girly"! It has the touch of femininity that we girl campers appreciate. Haydocy has taken the Tabitha and "pinked" it for Breast Cancer Awareness month. For every sale of this special model Tab, Haydocy will donate $250 in the buyers name to the Susan B Komen Foundation.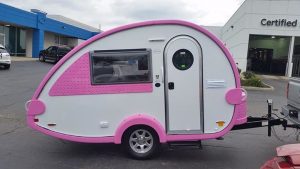 When I asked Mike Harlan, GM of Haydocy, why this was important enough to put so much time and effort behind, he replied, "My sister is a breast cancer survivor and I am a husband and father to three girls. I want to make sure my 'girls' are aware of the dangers of this disease. If I can do something to make that happen, I am happy to do so."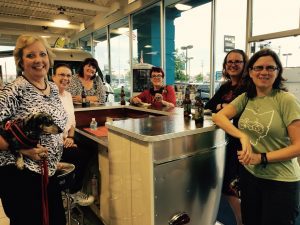 Our October "Camper College" at Haydocy Airstream.

Haydocy Airstream recently hosted the Girl Campers for Camper College. There were trailer tutorials, towing 101, Q & A's with the staff and really good food!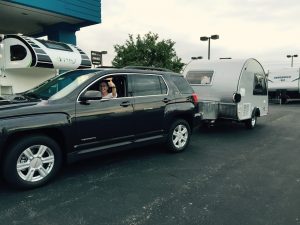 One of our Girl Campers being tutored by Mike on Towing 101 !!
She did it!!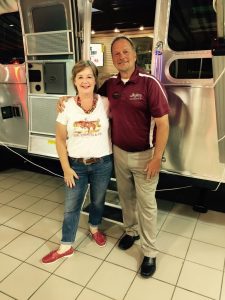 Mike and I at Camper College. Another successful Girl Camper event! Thanks to Haydocy for all they do to support the Girl Campers!
FYI – Last year Haydocy Airstream sold trailers to buyers from 37 different states!!