By Guest Writer Kirsti Johanson
Hey, Girl Campers! Resa here. I'm really excited to share a three-part series on watercolor painting and travel journaling with you, written by our own Girl Camper, Kirsti Johanson! I met Kirsti last fall at Mirror Mirror on the Lake. You might remember me sharing about that event, and sharing a pic of a watercolor that Kirsti gave me. She painted that at the campground that weekend, and I truly cherish it in my own journal.
Kirsti has written a three-part series on using watercolor to illustrate your own personal journal. She is also willing to teach a class at our Spring Has Sprung 2 event coming up in May! Stay tuned for the next two installments coming soon! ~Resa
Hello Girl Campers!
In addition to loving my camping adventures with my 13' Scamp Trixie and my pup Lucy (and my husband Steve), I also love to make things and find moments of small beauty around me when I'm in the woods.
One way to focus on these small beauties and keep myself in the moment is to create a little journal entry or sketch about what I'm experiencing. I'm entirely self-taught and have no formal training in visual arts, so that's my general disclosure. But finding joy is something that is probably best self-taught, right?
I hope this article series helps you find a way into this practice, too! And if you're at the Spring Has Sprung 2 event at Yellowstone Lake, join me for a watercolor session!
Why watercolor in my travel or nature journals?
I've always kept a notebook or journal to jot things down. It's in part because my head is full of daydreams, so writing things down is the way I keep track of details…but partly because I love the practice of thoughtfully reflecting on what I'm seeing and experiencing. And I've absolutely revisited camping journals from previous years when planning a trip so I can go back to that trail or that site that I just loved.
These journals become a collection of little treasures. Like a magpie, I gather little bits and scraps of things that represent where I am; ticket stubs or campsite tags, stickers from a particularly good piece of fruit or a wrapper from a gourmet candy bar. I always have tape and a glue stick, and usually have some little scissors along, as well. This little kit has served me well over the years, but in the past few years I've decided to add a layer.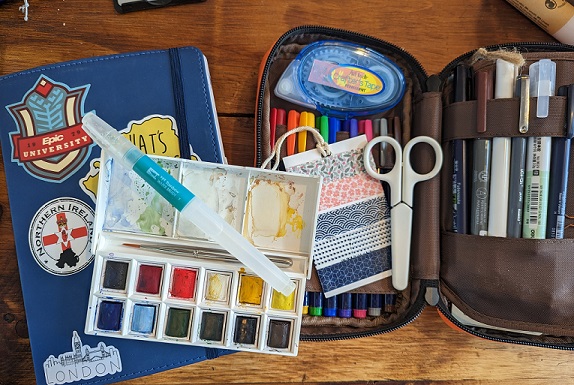 Watercolor sketching has become one more way for me to document my experiences, and the thing I like best about watercolor is that what I create is never perfect but is always a reflection of the emotional experience. These watercolors are never a photo-realistic representation of what I've experienced, but instead are a representative collection of colors. Thinking about it this way has really given me the freedom to just play with the paints and worry less about what it looks like…especially since I'm the main audience!
Journals in Process
Currently, I have a few journals in process. I don't have a set of rules about when to do what, but I do have a few general guidelines about when and where I add watercolors.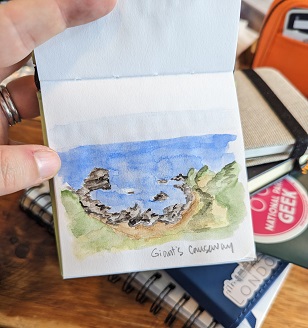 General Sketch – I have a pile of watercolor paper scraps and a small sketchbook that I carry around on adventures just in case I see a really cool stick or leaf that I want to try to paint. Currently I'm using a 4×4" book from Michael's, and it's not fancy at all. The paper is a good weight to hold the paint, but isn't specifically watercolor paint. The important thing in this instance is to have something easy to manage. This is also what I keep in my backpack kit (more on that in the third installment)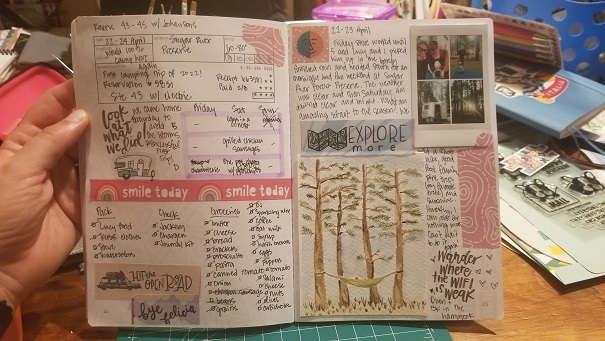 Camping Journal – Each year I start a camping journal to plan all of my camping weekends and also document where I was and what I did. All kinds of things go in here – photos, stickers, watercolors, notes about my campsite, recipes, packing lists, reminders for maintenance. It's an everything book.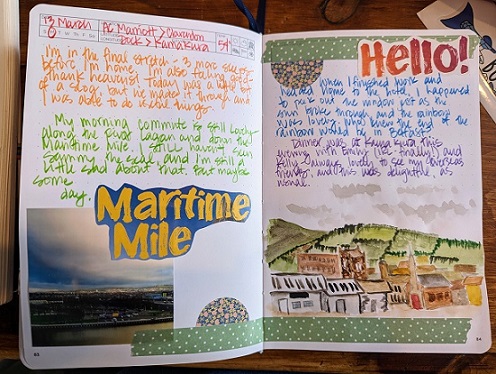 Travel Journal – I travel for work periodically, and whenever I do, I take a dedicated journal with me to record where I've been and what I did. These tend to be a little more structured and I write in them every day of the trip. [photo 4]
Perpetual Nature Journal– This is a new one for me this year. I'm following the plan here on the Perpetual Journal website to keep track of some of my observations in my own yard and neighborhood. We'll see how this goes, but I think I can swing one sketch a week.
Enjoy the process.
The most important thing to remember when you get started with any kind of creative endeavor is to remember that the most important thing is that you are enjoying the process. The end result is not important. In fact, almost everything I did at the beginning was a "first time" and boy did it look like that. But it was fun to learn and it's still fun to meditate and mix up color and use all of my senses when I'm looking at the world around me.
In the next installment, I'll talk about gathering supplies and getting started. When you take this on, embrace a sense of play and tell that inner critic to stay home. She's not welcome on this nature walk.
Have you ever done any watercolor painting and travel journaling? Tell us about it!
Connect with our chapter!
Theresa "Resa" Leppert
Guide Manager
Guide, Iowa & Wisconsin
563.284.2868
Girl Camper Magazine: Subscribe to Girl Camper Magazine here! Girl Camper Magazine
Events: Check out upcoming Girl Camper Events – you can attend events in any chapter! https://girlcamper.com/events/
Main GC Facebook Group – Join over 400,000 like-minded women in our public Facebook group!  Girl Camper FB Group  
Facebook Page – This is my public Iowa & Wisconsin page, where I'll share Girl Camper news, events and more. Girl Camper – Iowa & Wisconsin
Private FB Group – Where you can interact with others who are interested in camping in Iowa & Wisconsin! Girl Camper Iowa & Wisconsin Group.
Resa's Articles – Click this link to see all of Resa's articles on the website! ARTICLES
Resaarticle