Who doesn't love a good wellness app? Personally, I rely heavily on them. Especially the ones that provide opportunities for staying healthy while camping . Technology, nature, and health combine quite nicely together, and as Girl Campers, we may want to revisit the idea of "unplugging" while camping after trying a few of these out.
I've created this list based off of my favorites that I use on my travels. Whether it's making healthier food choices, creating movement, exploration and discovery, finding calm within chaos, or staying hydrated—these helpful apps provide key components for us to stay healthy in our bodies, minds and spirits. Both at the campground and at home!
FOOD/NUTRITION:
Healthy Living App from the EWG
We all know that filling our plates with home-cooked meals of lean proteins, vegetables and fruits is the best way to maintain good health, but what about those camping days when we want a simpler choice? Pre-packaged foods are the answer but with confusing labels of "natural", "whole-grain" and "organic", it's hard to know which are healthy and which are marketing hype. And who has time to research and compare labels? In every one of dozens of supermarket categories, we can now use Food Scores to cut through the noise of brand advertising, dubious marketing claims and misleading nutrition labels. It's easier than ever to make fast and trusted decisions to eat greener, cleaner and healthier while camping.
Hands down my favorite app of all time—the EWG Healthy Living App has a database for ratings of more than 12,000 food (and personal care) products. Simply scan, review, and pick the better choice.
Get app here >> Healthy Living

Farmers Markets
A great way to support local farmers and businesses is to high-tail it over to the farmers market on Saturday morning. Full of seasonal and freshly-picked produce, hand-crafted artwork, and local eggs, farmers markets are the mainstay of many small communities and a great way to get heathy foods while camping. You can typically pick up a bouquet of fresh-cut flowers, find some hand-made lotions and potions, and get to know the locals a bit as well. I find the local farmers markets are a great way to get to know the community better and I always leave with a good tip about a local attraction to check out.
Get apps here >>
(Apple) American Farmers Markets
(Google) U.S. Farmers Markets
Gluten Free Dining
According to Forbes, more than 3.1 million people across the United States follow a gluten-free diet. 72 percent of them are classified as "PWAGs" – people without celiac disease avoiding gluten. The number of PWAGs has risen steadily over the past five years amid increasing public suspicions of health problems brought on by gluten sensitivity. The symptoms of gluten intolerance range from anxiety and depression, constipation, diarrhea and bloating, to headaches and joint pain. If you're one of the many folks following a gluten free diet for better health and struggle with take-out or finding restaurants that cater to your needs, you may want to check out Find Me Gluten Free. I use this app whenever I get to a new area to find the local places I can safely eat at. Restaurants are user rated and reviewed which helps if you are celiac like me. They also have a barcode scanner for grocery store items that aren't labeled GF as well (think Trader Joes.)
Get apps here >>
(Apple) Find Me Gluten Free
(Google) Find Me Gluten Free
Find Me Gluten Free Scanner
Drink, Drink Drink! Water That Is.
We know we should all do it. We know how good it is for our health. We all bring it with us….but do we drink enough water? Remembering to drink our requirement of water is not always easy. The benchmark is half our bodyweight in ounces every day and even with the best intentions, we mostly fall short. But not anymore! Water reminder apps are the easiest way to stay hydrated and on track. Remember that by the time we are actually thirsty, we are already starting to dehydrate. Drinking water also lubricates our joints and keeps us cool in the summer which are two benefits that can make our camping experiences better.
Also, the drip notification is clever.
Get app here >>
(Apple) Drink Water Reminder App
(Google) Drink Water Reminder App
---
MOVEMENT
Hiking, Walking, Biking and Exploring.
With all the prep and planning we do to get ready for our camping vacations, we may not have time to find the local trails beforehand. And while it's great to walk around the campground and meet the neighbors, it's even better to get a good cardio hike or walk in. All Trails lets us sort routes by accessibility, activity and popularity. We can also search trails by difficulty, distance, elevation and trail traffic. As a solo female traveler, the trail traffic is my first filter. I always choose trails that are popular and with fairly good traffic for safety reasons. This app is also user rated and reviewed and allows you to save your favorites.
Get app here >> All Trails
Trail Links is created by the Rails To Trails Conservancy who's mission is to create a nationwide network of trails from former rail lines—connecting corridors to build healthier places for healthier people. This is a really great organization that not only does advocacy work, but defends the preservation of former railroad corridors for continued public use. And now, with COVID-19, it is imperative we have safe access to the outdoors as it's been deemed essential for our health. This is a great mission to support even if you don't use the trails.
Get apps here >>
Trail Links
Rails To Trails
99 Walks is a tool I use (almost) daily. Even though I have an iWatch that tracks my walks and steps, I rely more on the 99 Walks app to keep me on target with my monthly walking goal. I love this app because at any point of the month I can see what my progress is and as a competitive person, I love the challenge of hitting—or surpassing—my goal. Great podcasts, motivational texts and awesome music, we really can't go wrong with this app. Oh, and did I mention we get monthly inspirational bling for crushing our goals? Since the first of January I have walked 284 miles! I also was able to leave my mark at a SoCal campground I was self-isolating at when the pandemic first struck. It's a fun challenge to write your name. I clocked over seven miles!
Get app here >> 99 Walks
Girl Camper exclusive! Click the link for a discount code to sign up for 99 Walks and get a Girl Camper bracelet! >> https://www.99walks.fit/girlcamper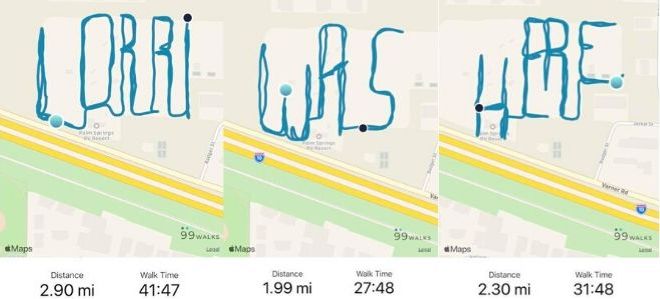 Yoga & Stretching
Because there's nothing like a good stretch in the morning to work out all the creaks. No need to do a full on yoga routine, these apps give you diagrams of poses you can do anywhere, along with virtual classes. I personally have a headstand inverter and do yoga right in the privacy of my tiny teardrop trailer each morning before I open my shades. I can stand on my head without touching the ceiling and have just enough room to do many simple poses without issue. And…I can do it all in my pajamas;) So grab one of the apps, pick out a few poses, and do some stretching before your morning coffee. You'll feel spiritually and physically energized and ready to take on the day.
Get apps here >>
(Apple) Yoga Studio
(Google) Yoga Studio
(Apple) Pocket Yoga
(Google) Pocket Yoga
If your looking for more of a group setting, download the MindBody app—another one I use consistently when I roll into a new town. The MB app offers yoga, bootcamp and barre along with wellness and beauty destinations. Maybe it's raining out and a massage, pedicure, or facial sounds in order. What's wrong with a little self-care after all? I have found some great Sunday morning yoga-in-the-park classes (great during COVID-19) through this app along with a mesmerizing Tibetan singing bowls healing sound bath. You can book any appointment and pay via the app making it convenient and efficient.
Get app here >> MindBody
---
DISCOVER AND EXPLORE
Daytime Exploration
Out for a walk and find a mushroom, flower, or bug, and not sure what it is? Open up the Seek camera app to see if it knows! Drawing from millions of wildlife observations on iNaturalist, Seek shows you lists of commonly recorded insects, birds, plants, amphibians, and more in your area. You simply scan what you are observing with the Seek Camera to identify organisms using the tree of life. Add different species to your observations and learn all about them in the process! Seek even has challenges where you can earn badges for each discovery. Great for the kiddos and for families who want to spend more time exploring nature together.
Get app here >> Seek
Nighttime Discovery
Star Walk 2 is one of my absolute favorites to use by the campfire. Open the app, point to the sky and discover celestial objects, constellations, planets, and more. Observe how they move across the sky and figure out where to look for any stars or planets we want to see. What I love about Starwalk 2 is that it "layers" the information so we can still see the background environment through our screen when we search. Now we can all have a little Neil deGrasse Tyson in us!
Get app here >> Star Walk 2
---
SPIRIT
Finding Calm Within Chaos
We are living in the most chaotic and uncertain times and some of us may still experience anxiety and agitation even when we are relaxing at the campground. I've had a meditation practice for over 10 years and it's helped get me through some of my darkest days. The new meditation apps on the market make taking "brain breaks" so much easier for us and there is really no wrong way to do it. But with over 2,000 meditation apps out there, how can we know which is the most beneficial? Headspace is one of the only ones committed to advancing the field of mindfulness meditation through clinically-validated research. They are currently in progress on research studies with large national institutions that could be among the largest mindfulness meditation trials ever conducted.
As of this writing, and because of COVID-19, if we're unemployed, we can get a free year of Headspace Plus to help us get back on our feet. Definitely a company committed to actually making an impact in our lives.
Get app here >> Headspace
Well, that's a wrap fellow Girl Campers! Hope you can try a few of these healthy apps out. Leave a comment below if you are utilizing any of them already!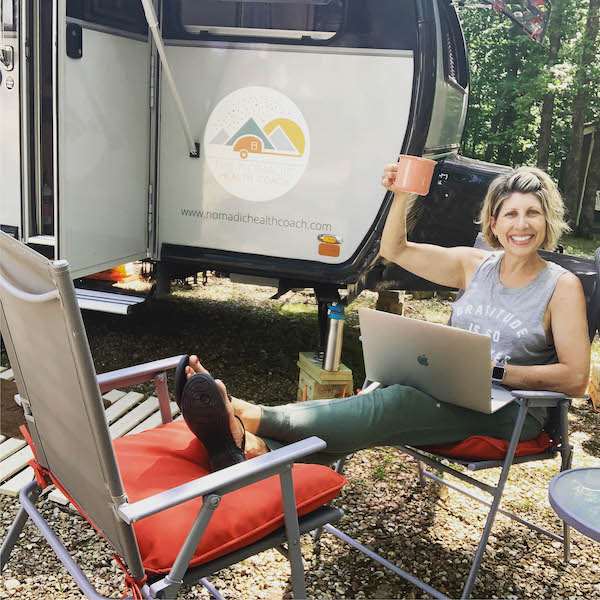 Author: Lorri Weisen is the Girl Camper Health and Wellness Expert. A recent widow, she travels the country full time in her Little Guy Max teardrop trailer exploring, experiencing and sharing what's good—good adventures, good health, good life.
You can follow her travels on Facebook and Instagram, or jump on her website, The Nomadic Health Coach to learn more about her.