Here at Girl Camper headquarters, we love a good chuck box. So many of us have great memories of campsites centered around food. Even at the campground, the kitchen is still the heart of the home. I remembered the chuck box my family had when I was a kid and wondered what happened to it, so I called my mom to find out. She said the one we used was not actually ours, but had been made by a neighbor who lent it to anyone on our street who was heading out to camp. I love the community attached to that old wooden box and that the neighbor who made it enjoyed that it could be useful to friends.
DIY Chuck Box
We put on our thinking caps here and pondered how we could make a chuck box without big sheets of plywood and a table saw and came up with this repurposed wine crate version. No construction know-how necessary and just as practical. Here's our step-by-step process for creating a portable kitchen for your next campout, tailgating party or backyard barbeque.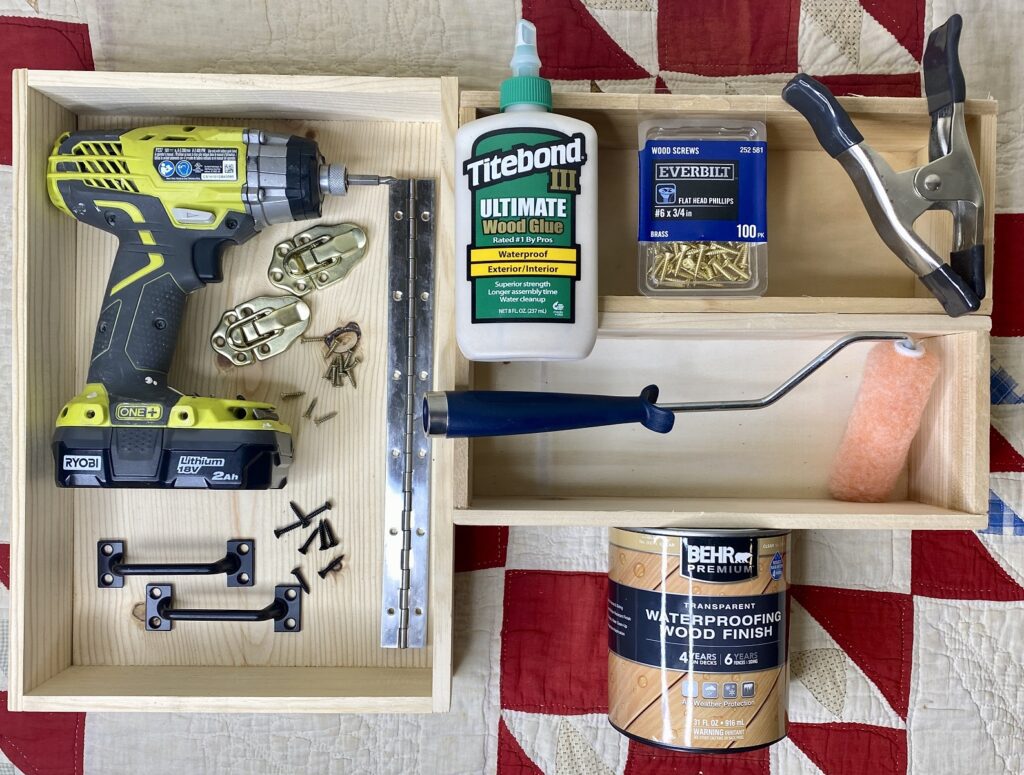 Materials
Wooden wine crates that are the same size
Appropriate length piano hinge and screws to connect them
Latches to keep it closed when folded up
Flat folding handles for carrying
Wooden boxes or containers for interior storage
Exterior waterproof paint for sealing
Wood glue and screws to attach pieces
Steps
One
Determine which way you want your boxes to stack and open. We opted for horizontally because most of what we planned on storing in it would best fit this way. Sometimes a box lid will have a slight warp and you need to stack them so that the flattest bottoms meet the flattest tops where they will be joined.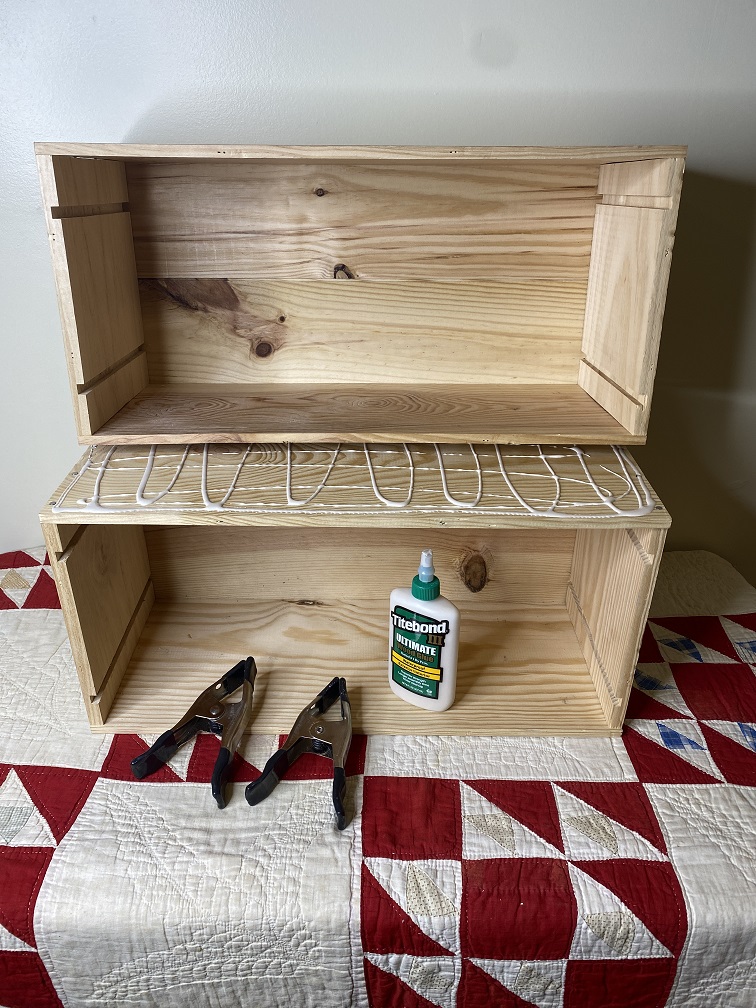 Two
Coat the top of the bottom box with wood glue and place the box you are joining to it on top. We clamped ours down with heavy clamps, but also used ¾" screws to insure a good seal. We screwed several screws in from the topside and then flipped it and added more screws from underneath the shelf we created.
Three
We let the boxes sit overnight and then removed the clamps and painted the boxes inside and out with a waterproof wood finish. We used clear Behr Premium All Weather Protection. Although the can said "transparent" and "clear," it was actually a yellow tone which we decided we liked and enhanced our project. (Consider making a cover for your box if it might be in the rain; sealant can only protect so much.)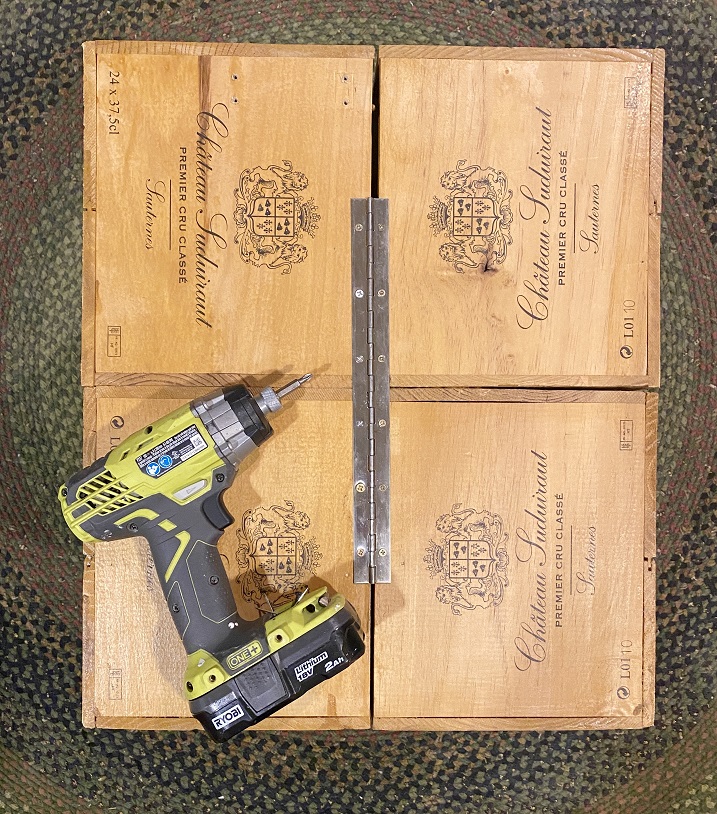 Four
After drying for several hours, we screwed a wooden "silverware" caddy that we purchased at an art supply store to the side and bottom of the box. We kept two other containers (filled with spices and cookware) unattached, so we'll have the option of pulling them out and taking them to the grill or picnic table. 
Five
Lay the two boxes side by side on a flat surface and attach the piano hinge to the back. We centered ours, leaving room on the top and bottom, but you can cut a full length one with a hacksaw if you want to cover the entire area. We were using things available at our local hardware store and this was the longest one we could find. 
Six
Choose a spot near the top of your box to place the flat folding handles. We originally used solid metal barn handles, but they did not allow for the box to fold flat when opened. The flat handles won't allow the box to open completely flush but are the best option for those without a wood shop.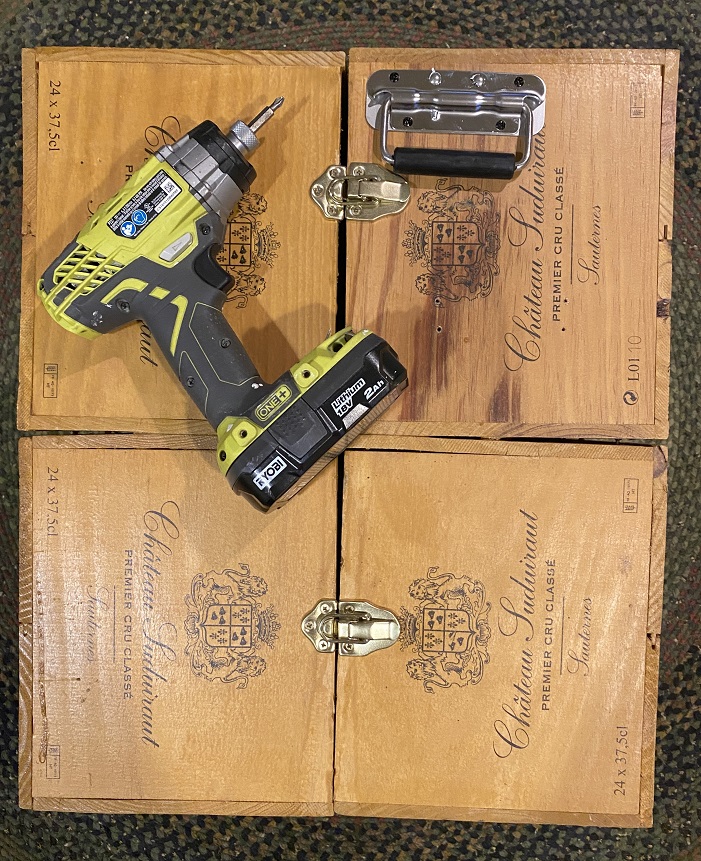 Seven
Get some sturdy latches and attach them to the front of the chuck box to keep it secure in transit. These also allow you to be able to lock it up at the campground at night and keep critters out. We opted for simple buckle latches and used two of them for added strength. Step
Eight
Load it up! We decided to fix only one interior storage box in place permanently so we can keep the option of using shelves in different ways. For camping trips, we might want a different arrangement than if we use it for a picnic or as a bar or serving area in the backyard or at a barbeque.
This DIY, written by Janine Pettit, first appeared in the summer 2022 issue of Girl Camper Magazine. For more great content like this, subscribe here today!