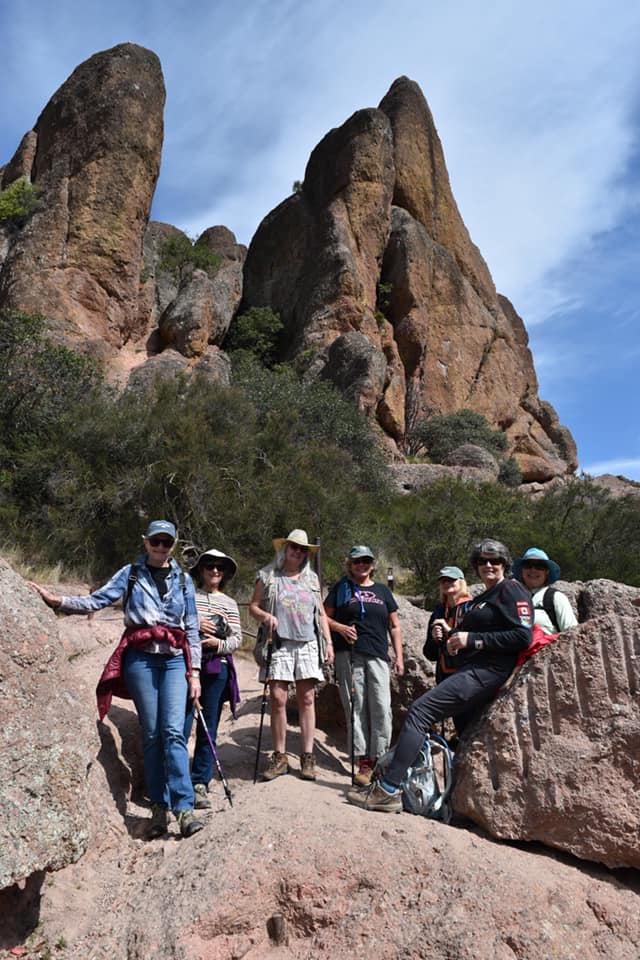 The camping season in Northern California is long but even here there are several months where weather can put a damper on camping. During those months, periods of dumping rain are often followed by glorious sunny days with mild temperatures. This year, I decided that if I couldn't camp, I was still going to do my best to get outside.
The 52 Hike Challenge provided the perfect structure, this free program is designed to encourage people to move and enjoy the outdoors. The goal is to get 52 hikes into any 52-week period. A hike can be whatever you want from a two-mile stroll around the neighborhood to a 10-mile trek up a mountain. I decided that my "hikes" would mean I was intentionally someplace outdoors and scenic, no clocking four miles wandering IKEA for my Challenge! I wanted to be outside as much as possible.
As I've done more hiking, it's become clear that I'm not 30 anymore. My more mature body requires a little more care to keep it comfortable and functioning. Below is my list of go-to gear and hydration products.
Hiking Gear
Compression Sleeves
Compression socks and tights have long been a staple for those with circulatory or other medical issues but recently, "compression" has gone mainstream. Hikers, walkers and pro athletes have begun to realize that your legs and feet are happier with extra support, especially if you are going to be on them all day.
A reoccurring battle with shin splints and a stress fracture led me to try a compression sleeve, essentially a snug-fitting, footless knee sock. When using them, the puffiness I often had at the end of a hike disappeared and my feet and calves felt less stressed. I even took the sleeves on a recent college tour with my daughter. They helped on the cross-country plane trip in a cramped seat, long drives between colleges, full days of walking, and even provided an extra layer for warmth on brisk Midwest days.
As compression has gone mainstream, style has caught up with functionality. My personal favorite for outdoor adventures is the Zensah compression calf sleeve in the topography print, available at REI but sold-out at Zensah. You can find myriad other styles from subtle (gray, white, black) to screaming (tie dye, llamas, flowers), directly from Zensah. Pay attention as calf sizing can be unusual, you want them snug enough to be supportive without constricting. Most Zensah styles are running about $39 a pair but you can find them on sale.
Trekking poles
This is another item I resisted, it seemed so, well, over the top. I didn't need poles to keep me upright, and I certainly wasn't "trekking". After finally being convinced to try them, there were five basic decision points.
Pole companies make unisex, women's and kid's models and the first step is to make sure you get a pole that matches your height. Women's models are generally a bit shorter at maximum height and have a narrower hand grip. Find a model that will fit your frame.
The second decision was whether I wanted single length, folding or telescoping poles. Single length poles are sometimes the lightest, but we're talking ounces and I wanted something that would fold down for easy storage and carrying. The foldable models were pricier, so I wound up with the telescoping type, they seemed the best balance of light weight and sturdy.
The third decision was whether shock absorbing poles would be worth the extra money. I tested both in the store and opted for the standard model. The next decision was carbon or aluminum poles, the carbon is lighter but more expensive and the aluminum was plenty light for my needs. Finally came the question of cork, foam or rubber hand grips. I had read that the foam and rubber grips can get hot and sticky in warm weather, so I chose cork which is gentle on the hand and temperature neutral.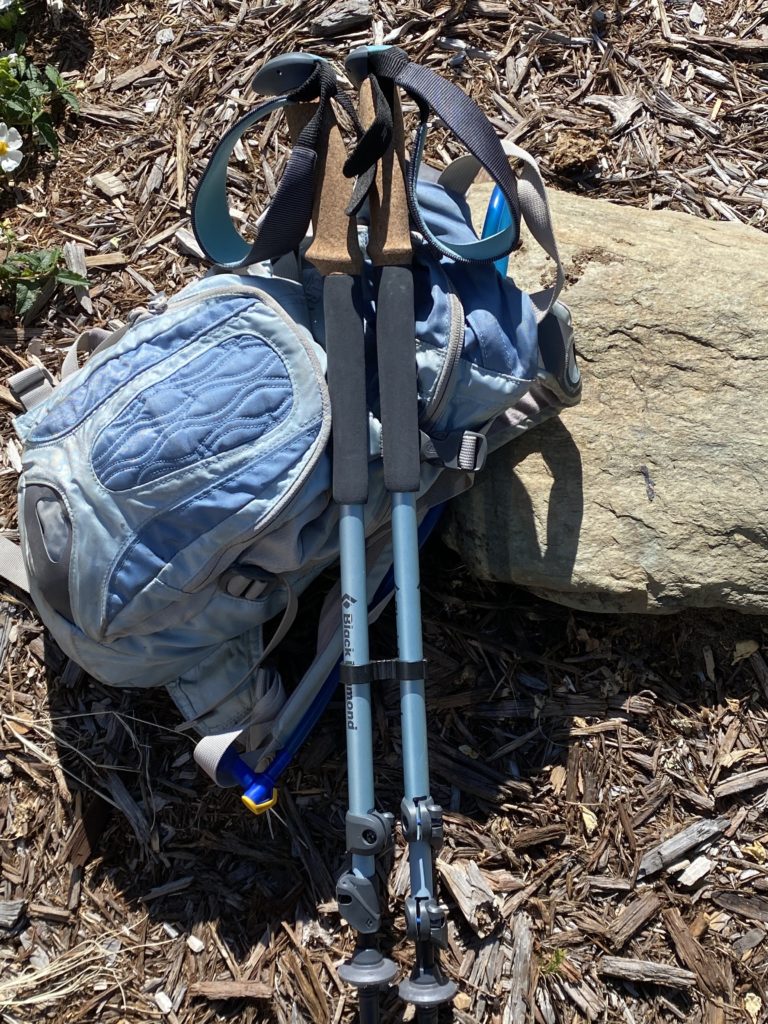 In the end, I chose $129 Black Diamond Trail Ergo Cork poles. The first trip out with my poles I saved my receipt, I was pretty sure I would be taking advantage of REI's great return policy. But, ten minutes down the trail, I could see the benefits of them. The poles were taking stress off my knees, encouraging a more balanced stride, and shifting some of the exertion to my arms. I was fearful my arms would get tired, but instead of feeling heavy as they often do, they felt energized, like my upper body was balancing out some of the effort. The one additional purchase I made was $9 rubber tips. They can be quickly added or removed for different types of terrain and they protect the tips (and you) when the poles aren't in use. I am now a convert and use poles every time I get out for a hike of anything over 2 miles.
Hydration packs
Over the years I have tried numerous variations on the backpack/hydration theme but there was always something that got in the way; the water bottles fell out of the backpack when I leaned over, the pack was too small to carry what I needed, or getting the pack on and off took too much effort. Fast forward 20 years and hydration packs have become a perfect balance of water delivery system and storage container. My Camelbak L.U.X.E from several years ago is still going strong and the new women's L.U.X.E. (shown below $115) is similar. The M.U.L.E is slightly larger but has the same basic design features.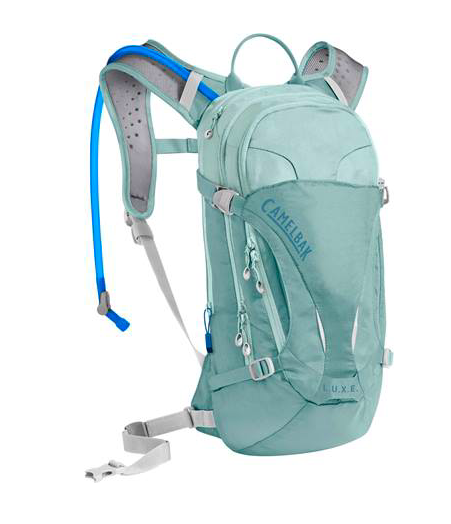 Both are designed for biking so they have a narrow width that makes it easy to move around in, whether hitting the trails or the flea market. Both also come with a 100-ounce bladder meaning you'll have plenty of water for full-day excursions. The hallmark of these is well thought out storage design including small internal pockets for keys or money, and larger areas for flashlights, first aid kits or binoculars. These models also have a deep outside pocket with an open top, perfect for items you don't want to dig for like snacks and lotion. If all that weren't enough, the largest zippered compartment happily swallows a down jacket or vest.
Several adjustable straps mean these packs expand to carry lots of stuff and can then be cinched back close to your body, making carrying it effortless.
I used to struggle to get enough water, it just wasn't convenient. Now the nozzle is inches from my face and my rewards are doubled, I feel better with more water intake and the more I drink the lighter my pack gets!
Hiking Tights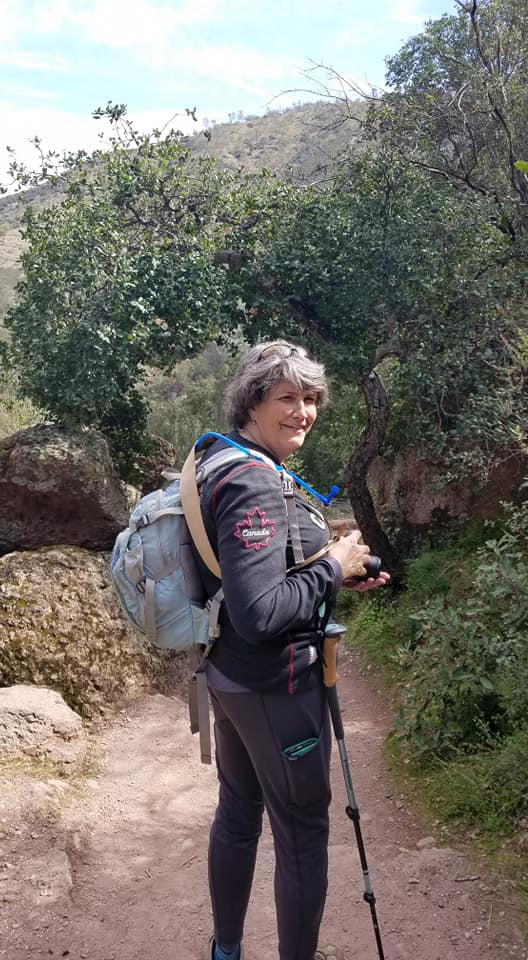 Hiking in "tights" violated all my middle-aged fashion stodginess. I love the comfort of my yoga pants but I hesitated to wear them beyond yoga, they were just too snug. But numerous reviewers sang the praises of hiking in "tights" so I began searching for that just right pair, neither too fitted or too loose.
The Patagonia Pack Out tights are slim legged but not too tight. They have deep side pockets that fit my larger phone, and the pocket sits at mid-thigh, making it easy to reach below tunic style tops. The fabric is magically soft and holds its shape through multiple wearings without bagging, even around the knees. They also go in the washer and dryer.
I had some sticker shock at the $89 price but eventually made the purchase. They've gotten so much wear, on and off the trail, that I bought a second pair. They also come in a lighter weight crop style for warmer seasons. Buy them from REI and you'll get 10% back if you're a member. Patagonia has both the crop and the regular styles available.
Post Hike gear
Oofos
At the end of a day, whether I've been driving, setting up camp or hiking, my feet are ready for a change. Oofos tag line, "recover faster, feel better" is spot on.
Both the sandal and the clog have serious arch support, a must for those of us fending off plantar fasciitis. Made of a patented foam, it feels like you are walking on memory foam, it gives but supports. These shoes can take the dirt too, even after extensive use my Oofos show little wear.
While the "ooriginal" sandal is fairly neutral, the clog isn't going to win you any style points. But, put your foot in one and you simply won't care. Fortunately, they come in solid colors too. You can buy them directly from Oofos but many online retailers have more choices. Sandals will run you about $50 and the clogs $50-$70.
Zojirushi Camping Themed Thermos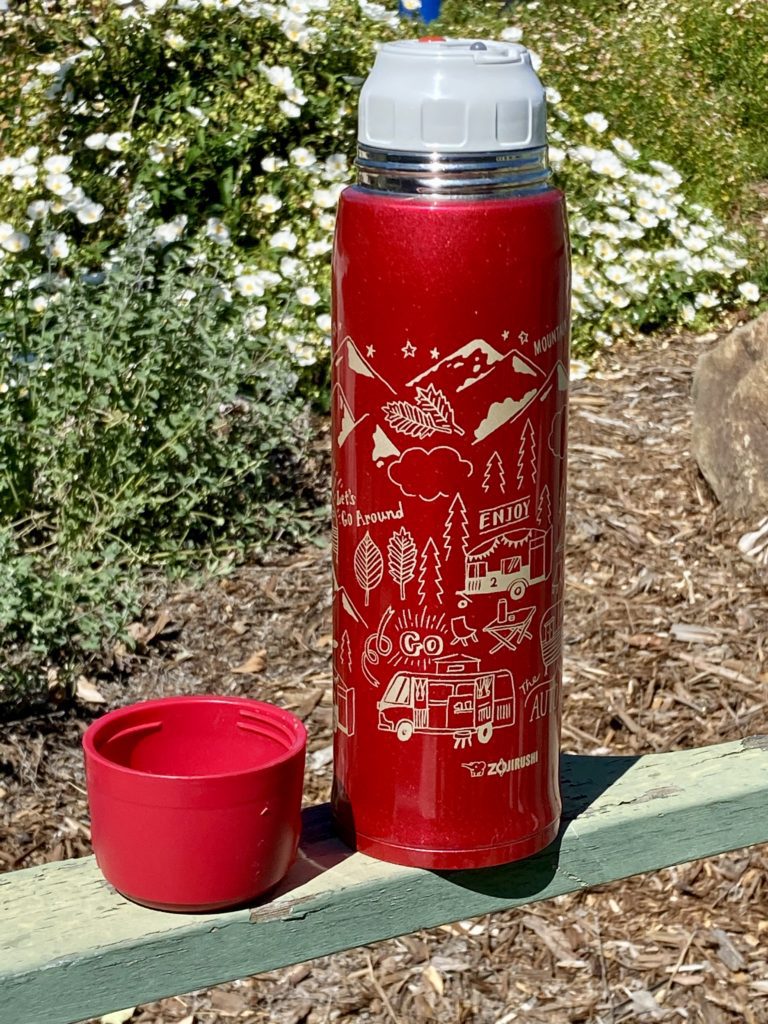 My final hydration find is a large, 35-ounce thermos. I drink hot water with lemon, tea, and sometimes hot chocolate during the days I camp. I fill this in the morning and it keeps the water hot, actually hot, for 24 hours! The seals are tight and the patented pouring system reduces spills. That would have been enough to sell me on this but then I discovered they make this fabulous camping/trailer pattern. It was made for Girl Campers! $35 well spent at Amazon.