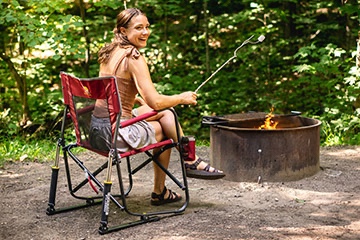 Rockers are a relatively recent entry into the market of camp chairs and they have evolved to include portable, comfortable, and even exotic options. I was gifted one of the first rockers about 4 years ago, and I added two more to my collection to explore the tradeoffs.
Fit
Fit is the most important item and is a function of the way the chair matches your height, weight, limb length, and even fitness. Do you really want to squat all the way down into a "beach" model chair that is about 6 inches off the ground? You can only test fit by sitting in a lot of chairs. Just like Goldilocks, you'll know when it's neither too big or too small but "just right".
Rocker mechanism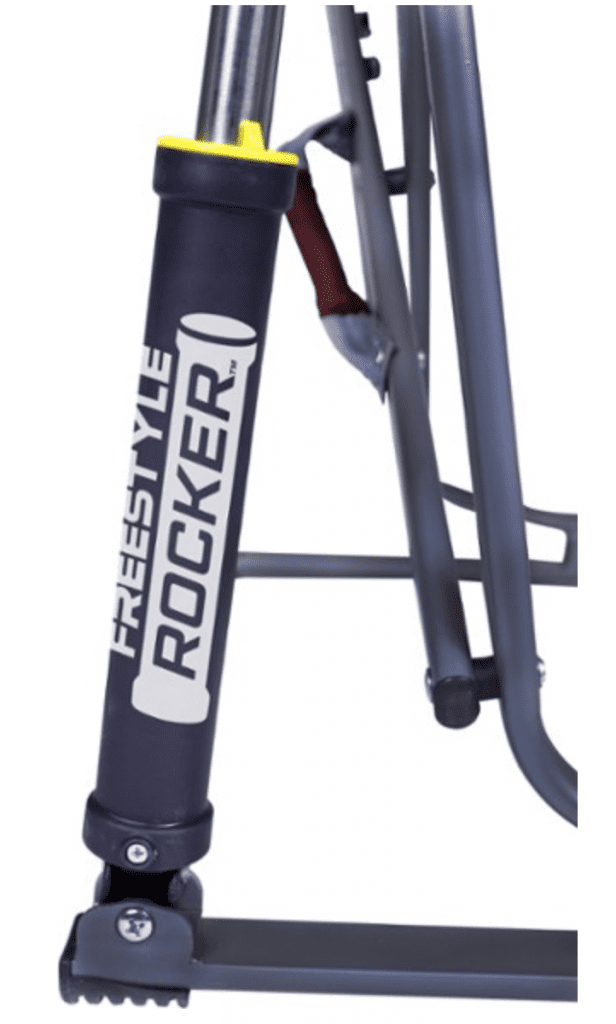 Rocking is achieved with either a fixed rocker bottom, a spring-rocker function (GCI chairs have patented these), or a swing function. The big question here is, what does it take to get the chair moving? Fit is critical for all of these, if the chair is too tall you won't be able to reach the ground to get it rocking or swinging and springs can be stiff if you are too light for a larger chair. You won't know how it moves until you try it.
Storage size
Rocking chairs fold and collapse in many ways these days. What is best for both camping and storage at home? Are you tight on space either place? Do you have oddly shaped storage areas for camping? Are your items strapped down in a truck bed and needing the additional weather protection of a storage bag?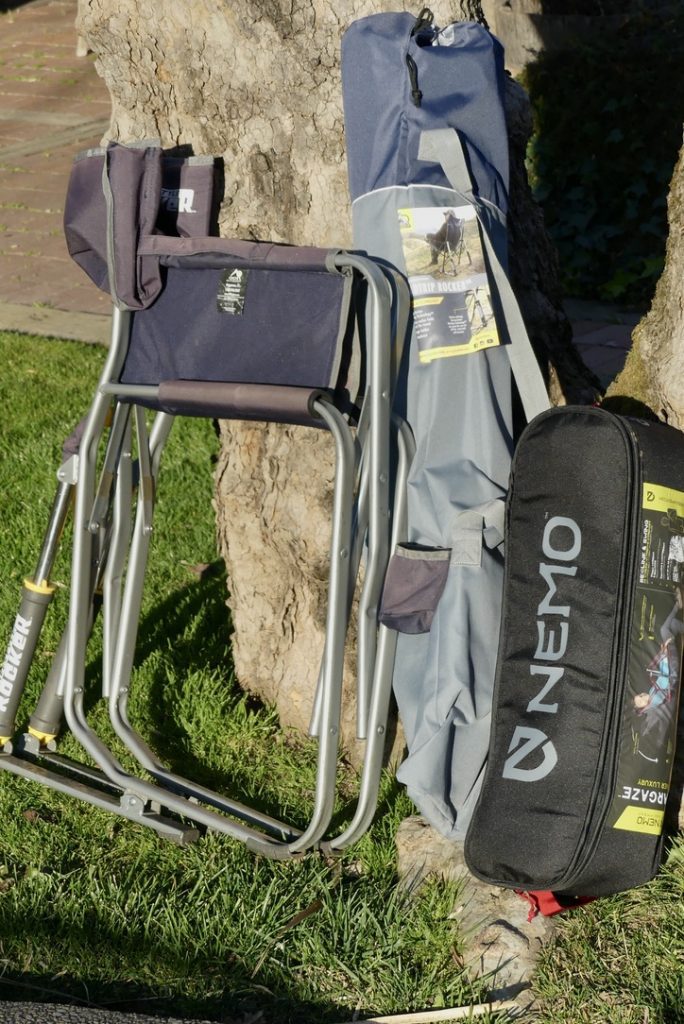 Portability
Will you be hauling the chair a long distance? Do you move between campsites frequently? Consider the way it folds for carrying and what, if any, handles or straps are available. I love the carrying bag and shoulder strap on one of my chairs, but, I don't love keeping track of the storage bag when I'm using the chair.
Support
Camp chairs are like car seats, they need to fit well to be comfortable. Consider what type of back, leg and arm supports feel comfortable. Some arm rests are perfect while others seem to impede movement. And if you choose arm rests, do you want them soft and flexible or firm? Do you prefer a taller back or something with good lumbar support? Firmness is another factor, as we age, those flexible chairs you sink into can become challenging to climb out of or roll your back uncomfortably. Every "body" is different.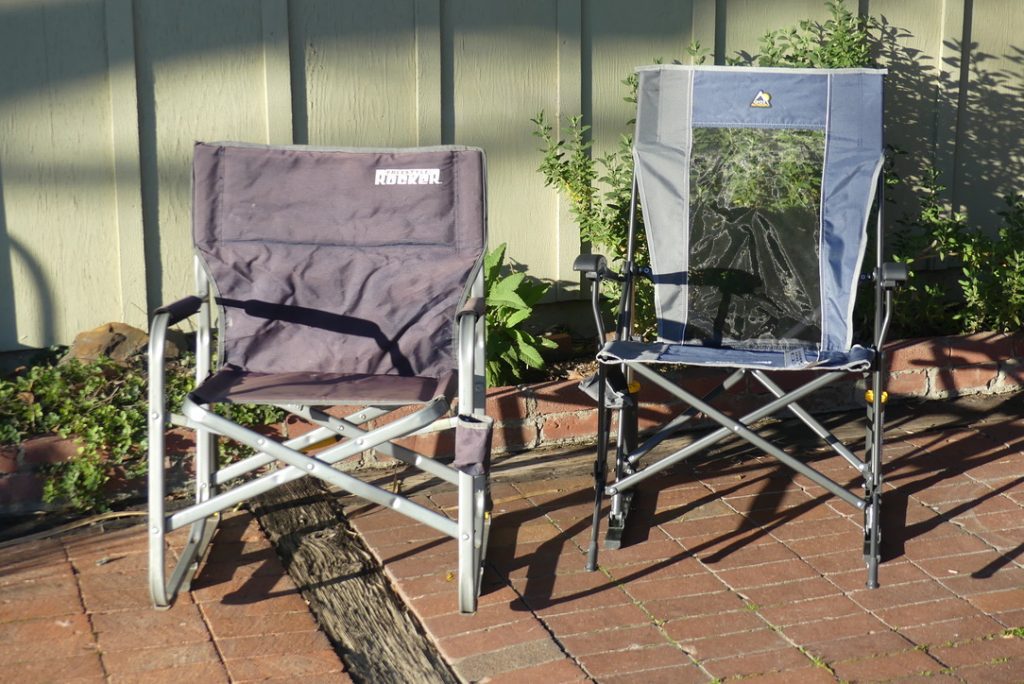 Two Rockers and a Star-Gazing Swing
I have two GCI rockers, the Freestyle ($65) which I've had for 4-5 years, and the RoadTrip ($80), a recent acquisition. These are both firm, traditional rockers and fit my 5'8" frame well. GCI rockers have a spring action rocking technology on the back legs while the front legs are stable meaning when you lean forward to get up the chair feels secure. The Freestyle folds in half for storage and has a carrying handle attached. I've had the Freestyle for 4-5 years and it has tolerated being thrown in a truck, left in the sun and rain, and dragged around dirty campgrounds. I was worried that the spring action would get clogged with dirt and not work but that hasn't been the case. I've been very happy with this chair and it frequently gets "borrowed" around the campfire. Note that the newer Freestyle has a mesh back.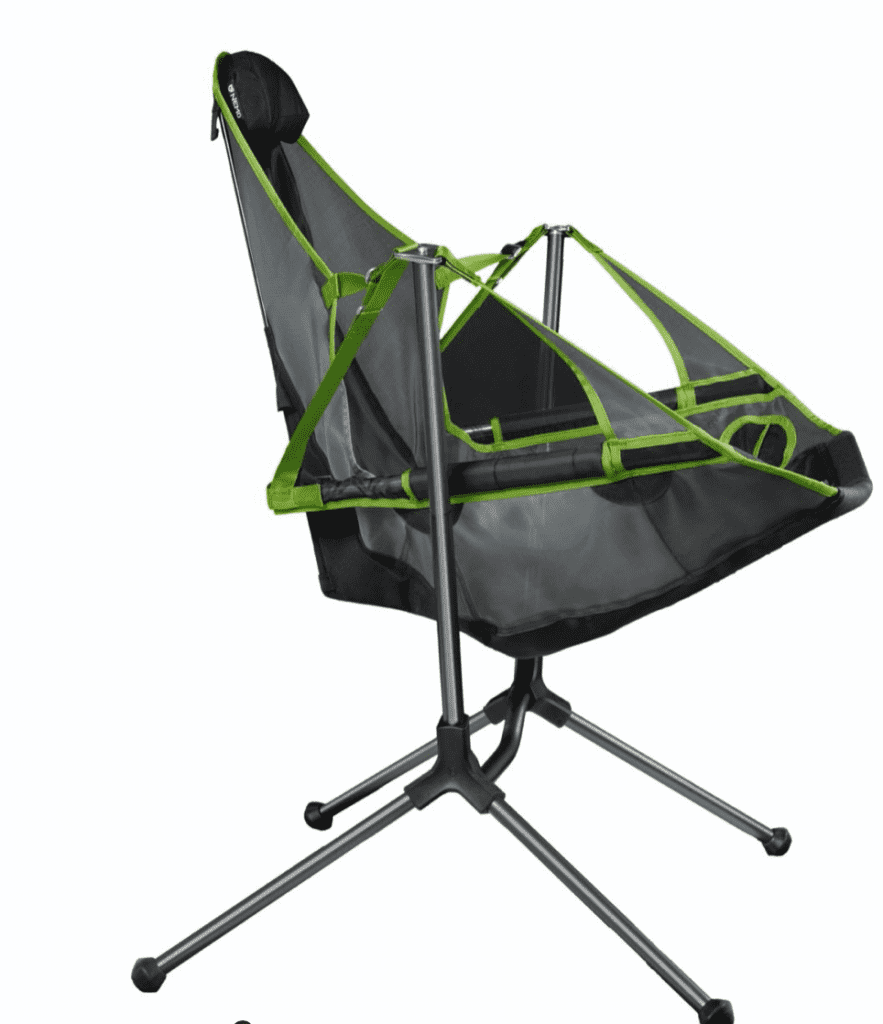 The RoadTrip has a tall back with a mesh panel. It looked big in the materials but folds in a new way that makes it especially portable with a carrying bag and shoulder strap. I wound up loving this chair, the taller back provides more support and the rocking motion is terrific. I trust that, like it's older sibling, it will wear well.
The Nemo StarGaze Recliner is a niche chair that allows you to swing and then lean back into a reclining position. You can literally star gaze. South Dakota Guide Lesa McDermott did a great video about how to set this chair up. It takes a minute to set up but stores in a small package and is really fun.
Rock on!
There are several other GCI rocker models, and super light-weight options like the Helinox rocker. In the end, remember that fit is critical so try out friend's chairs or head over to REI to make sure you're really comfortable.  Whatever you get, you'll enjoy rocking around the campfire this year.
As a contributing editor about gear, I occasionally receive discounted or free items to test. However, the opinions about gear are strictly my own.
Article written by: Mary Kittleson Kirlin