It's no secret that Vermont is filled with a seemingly endless supply of picture perfect towns, but even so, each one is unique. Living in Massachusetts, I can be in Vermont in a couple of hours and I love to check out different towns whenever I get the chance. Last summer, I spent some time in Brattleboro after years of zipping by it to go other places. I'm not sure what I was waiting for because, like many others before me, I was a little tempted to pack up and move there. While I'm not quite ready to leave Boston (yet), I encountered more than a few transplants who fell in love with this tiny town and did just that. – Written by Kim Foley MacKinnon
History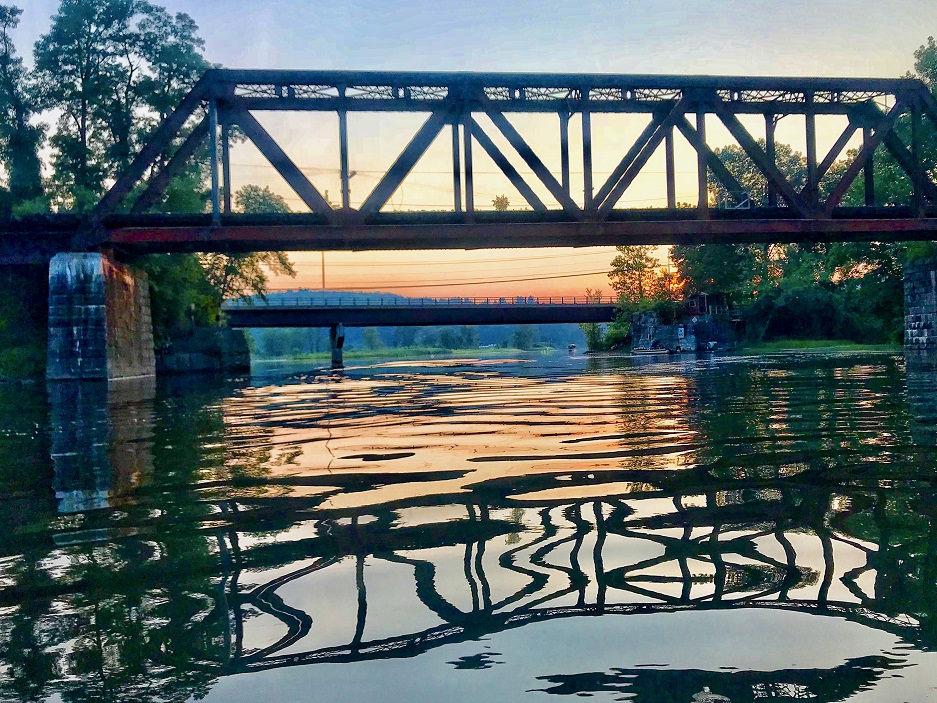 Like any other town, Brattleboro didn't spring from the ground fully formed. Before European settlers arrived in the early 1700s, this land, located where the Connecticut and West Rivers meet, was used by the Abenaki tribe. In 1724, Lieutenant Governor William Dummer of the Massachusetts Bay Colony built Fort Dummer as protection against the Abenaki. Eventually, the area around the fort became a New Hampshire grant and was charted in December 1753 as the first "town" in Vermont. By 1859, Brattleboro had a woolen textile mill, a paper mill, a flour mill, a maker of papermaking machinery, four printers and two machine shops. The railroad followed and the town grew quite prosperous. Today, it's a thriving hub of arts, culture, food and drink, festivals, and of course, outdoor activities galore.
Downtown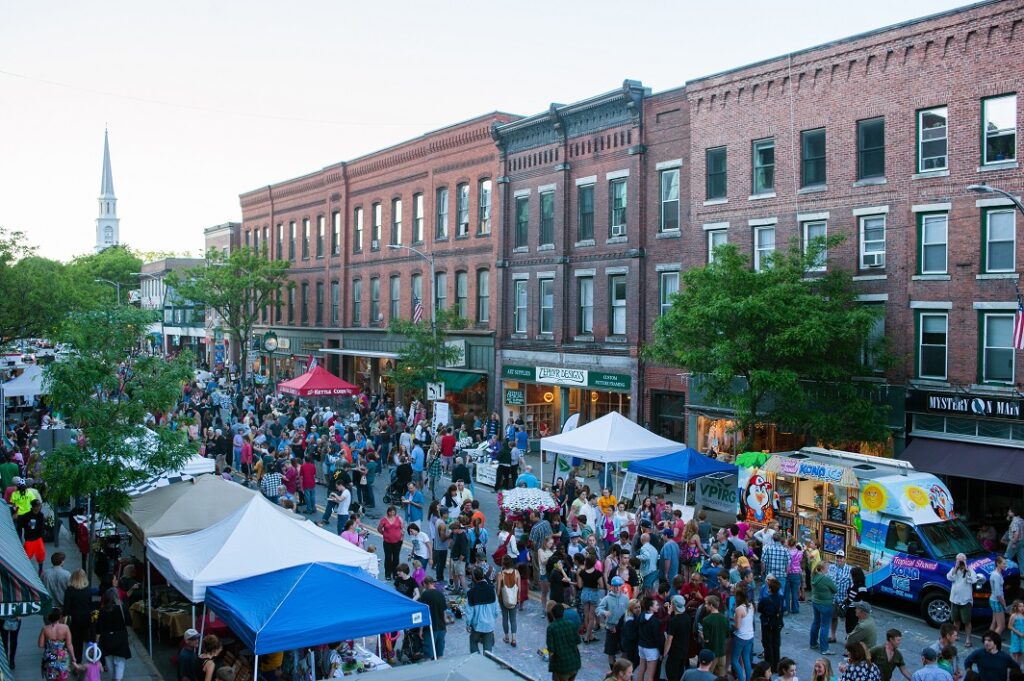 Brattleboro's Main Street is everything you could hope for in a small town's downtown, packed with independent shops, restaurants, breweries, cafés, galleries and boutiques. As a writer, I fell in love with the Brattleboro Words Trail (brattleboro.stqry.app). Story after story details Brattleboro's history of the written and spoken word. Everyone from Rudyard Kipling to John Irving have ties to the area. You can listen on your phone with an app or on your computer. As you wander, do not skip Beadniks, which has an absolutely fascinating museum downstairs.
The Food & Drink Scene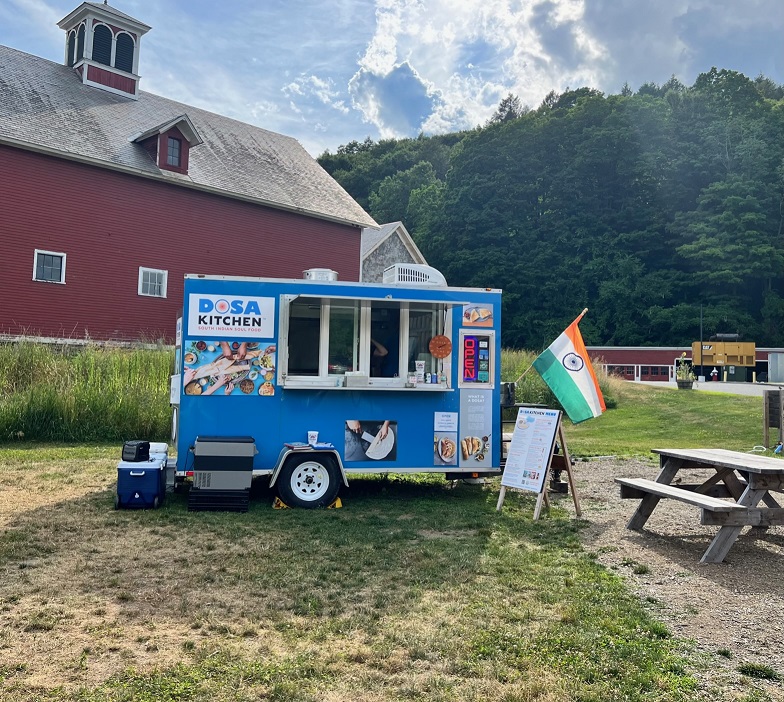 Really, there's an embarrassment of riches for such a small town. Lunch at Whetstone Beer Co., which is downtown and located right on the Connecticut River, is hands down one of the most scenic places in Vermont to sip a beer (and eat a burger or pretzel). If you head over to Retreat Farm (more on that below), you're likely to find food trucks, including the excellent Dosa Kitchen, plus the Grafton Village Cheese shop, where you can load up on items to take home. Brattleboro's Farmers Market is not to be missed if your timing is right, with dozens of local purveyors.
The Arts Scene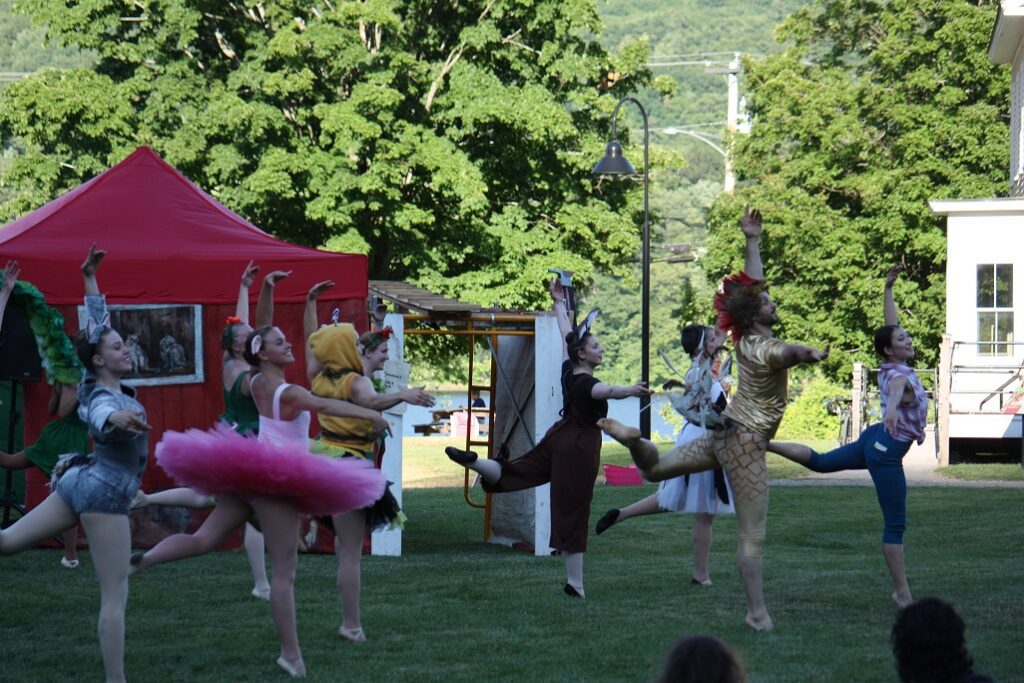 From watching expert glassblower Randi Solin at work at the Fire Arts Vermont open studio to paying a visit to the Brattleboro Museum & Art Center downtown, and a host of other galleries and artists around town, you'll encounter art everywhere you look. Retreat Farm, a 500-acre property on the edge of town is a community gathering place, offering everything from live music to farm programs to a Storybook Walk for families. On my visit, I visited a few times, to listen to a band, to eat dosas, and most importantly, see my daughter perform in a production of Farm to Ballet by Ballet Vermont! The farm is a wonderful and beautiful local resource.
Outdoor Adventures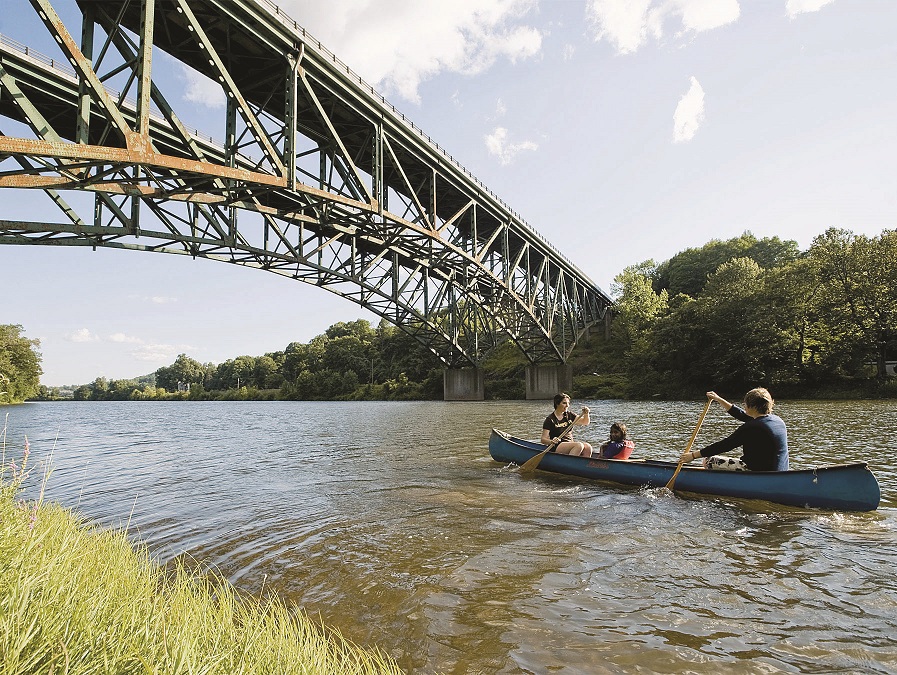 There is so much to enjoy in the outdoors in the area, but I'll start with the 9-mile trail system at the Retreat Farm, open year-round, so you can hike or snowshoe depending on the season. Say hello to Carlos the Ox, quite famous in these parts. In the summer, ask a local to tell you their favorite swimming hole—there are waterfalls, streams and ponds in which to cool off, but you need to get directions. You can get out on the river to kayak or canoe, too. Make sure to leave time to visit the West Dummerston Covered Bridge, Vermont's the longest covered bridge.
Where to Camp
Kampfires Campground & Inn
Located in Dummerston, this campground features RV and tent sites, guestrooms in a house and an Airstream you can rent. There's a pool, playground, game room, miniature golf, a Whetstone Food Truck, ice cream shop and live music and events. innatkampfires.com
Fort Dummer State Park
This 217-acre park, located in the Connecticut River Valley, is just outside of Brattleboro, with 50 tent/RV sites (no hookups) and 10 lean-to sites, two bathhouses with coin-operated hot showers, and a dump station. There is a small picnic area, hiking trails and a swimming hole). vtstateparks.com
Molly Stark State Park
Molly Stark State Park, located along the Molly Stark Trail Scenic Byway (State Route 9), is the main east-west route in Southern Vermont connecting Brattleboro, Wilmington and Bennington. There are 23 tent/RV sites and 11 lean-to sites. Facilities include two bathhouses with coin-operated showers, a play area and a hiking trail that leads to the Mt. Olga fire tower. vtstateparks.com
Brattleboro North KOA Journey
This KOA has a mix of accommodations, including cottages, tent sites, RV sites and a log cabin. Amenities include a swimming pool, two playgrounds, a dog park, game room and special activities like ice cream socials and craft events. Located about 5 miles north of Brattleboro in East Dummerston. koa.com 
This article appeared in the 2023 Spring issue of Girl Camper Magazine. Subscribe today to get more content like this and so much more!