By Tracey Stieb
As our license plates state, Michigan is a water and winter wonderland. Michigan Girl Campers spent a brisk January afternoon rafting gently down the Pine River.  To say I enjoyed myself would be an understatement!  Sharing a raft with two strangers quickly felt like I'd made two new friends who understood my love of the outdoors. Our guide, Jacob, shared the history of the area and pointed out his favorite sights along the way while fellow Girl Camper, Kim, shared her biology background by teaching some tree identification with me. The river is shallow so this was a slow, meandering trip along the bends of the river.  The pace of the trip allowed us to take pictures and truly enjoy the scenery. We were able to soak in the beauty of a rare sunny winter day.  
Where can you try winter rafting?
We chose to raft with Pine River Paddle Sports, a locally family owned and operated outfitter for river activities. Pine River is a National Wild and Scenic River located in Michigan's Huron-Manistee National Forest near Cadillac, Michigan. This designation means you will not be passing by built up areas and the back side of businesses. You will see gorgeous scenery and hopefully a bit of wild life. This location was the most centrally located of three winter rafting operations in the lower peninsula. We were greeted by our guides and by the handsome fur baby, Hoxey. There was a campfire crackling and three picnic tables where we could relax both before and after the trip. A changing and restroom area were provided so we could layer up on site. After our rafting trip we enjoyed cocoa by the fire while we warmed our toes and hands.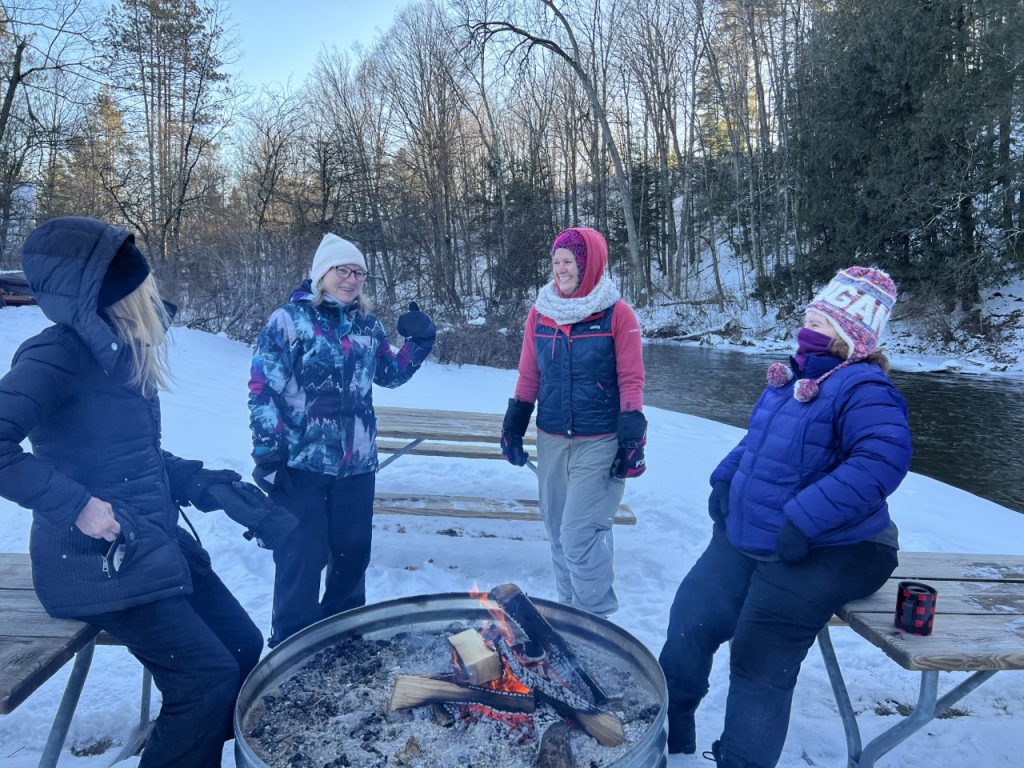 Additional offerings
Pine River Paddle Sports offers warm weather raft, canoe, kayak and SUP rentals (non-guided), transportation to and from the rental office as well as a rustic campground should you wish to stay for a few days.
Tracey Stieb |Girl Camper Guide to Michigan
Connect with Tracey & her Girl Camper Group
Facebook Page – this is the link for where you can tag us and we can tag you! This is where I'll share general Girl Camper news, events and more. www.facebook.com/girlcampermichigan
Facebook Group – Please join the private Michigan Group so you can participate in this supportive and fun community! Michigan Girl Camper Chapter Groupinst
Instagram – follow me for snap shots of the camping life: Instagram Girl Camper Michigan
Events-Be sure to check out the Girl Camper Events I'm hosting.