By Lisa Dempsey
If you are a fan of wonton soup, pho, or chicken soup, my easy Asian Market Dumpling Soup is for you. A few simple ingredients come together to make a quick and delicious meal. Also, this dumpling soup is great because you don't have to remember to thaw anything out beforehand. It is ready to eat in under thirty minutes. For your reference, a link will be in this post to download the recipe card.
Without reservation, this is a go-to recipe after a long day of driving when I don't want anything too heavy but want something fast and satisfying. This recipe can be prepared in your camper on your cooktop, outside on any camping stove, or in a Dutch oven over your campfire. Basically, any way you can boil liquid in a pot. Additionally, you can also select ingredients that will render the recipe meatless by selecting a vegetable potsticker.
Find A Local Asian Specialty Market
I live in Houston, and we have several Asian Markets around town. I purchase several bags of frozen dumplings, commonly known as potstickers, monthly. They come in a variety of fillings. I like chicken and vegetables or pork and vegetable. Generally, when I cook for a group, I use the chicken version because, all things considered, most people are okay with chicken. You can use whichever you like. To be sure, most grocery stores will carry some potstickers. Undeniably, I have found the difference to be that the kind I get from the Asian Market has a better flavor, a thinner outer wrapper, and they are not sticky and doughy when you cook them. I have heard that Trader Joe's has pretty good potstickers compared to regular grocery stores.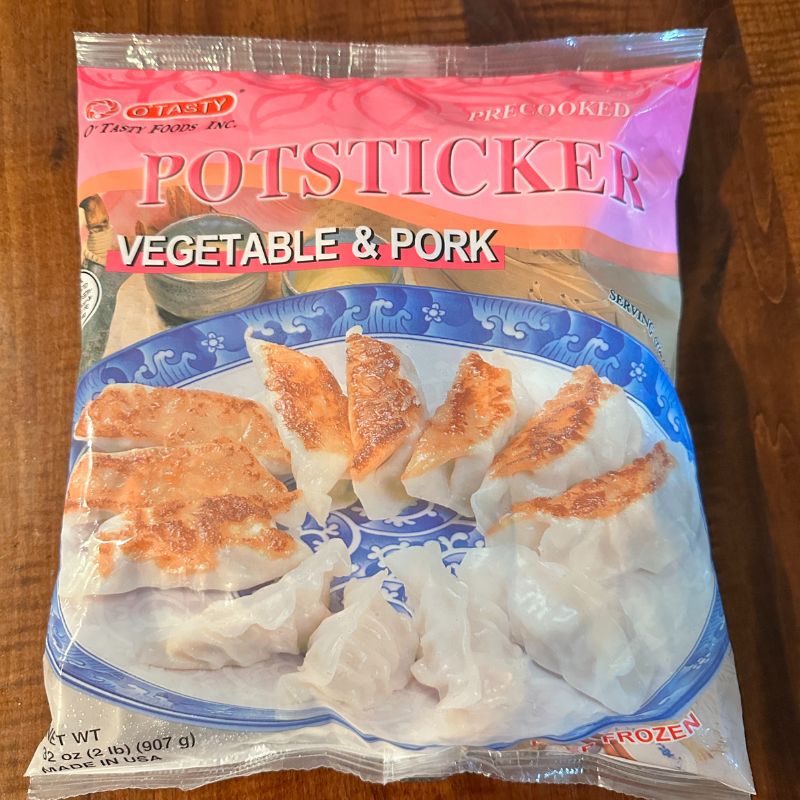 Moreover, there is a great variety of vegetables at the Asian Market, and I love fresh baby bok choy. If you have yet to try this light and refreshing Chinese cabbage, you should. You can cook it on the grill, in the skillet, stir fry it, or add it to soups. You can also find this at many grocery stores, but you can substitute fresh baby spinach as well.
Accordingly, when I'm going camping, I will put a couple of handfuls of the dumplings in a freezer bag for my trip. They are small and easy to pack. I always have chicken or vegetable broth on hand in my trailer. In particular, I like to bring a couple of boxes of broth, but you could also use bullion cubes or a jar of soup base.
PRO TIP: I also keep on hand the small packages of soy sauce and other seasonings I get from take-out restaurants. I put these in my campers spice rack in a small covered container.
Recipe for 2 Entree Portions
8 Frozen Potstickers/Dumplings
1.5 Cups of Roughly Chopped Bok Choy or Baby Spinach
4 Cups of Chicken or Vegetable Broth
1 Cup of Water
1 Tablespoon of Sesame Oil
1 Tablespoon of Soy Sauce
3 Tablespoons of Chopped Green Onion
1/4 Teaspoon of Grated Ginger or Ginger Paste – optional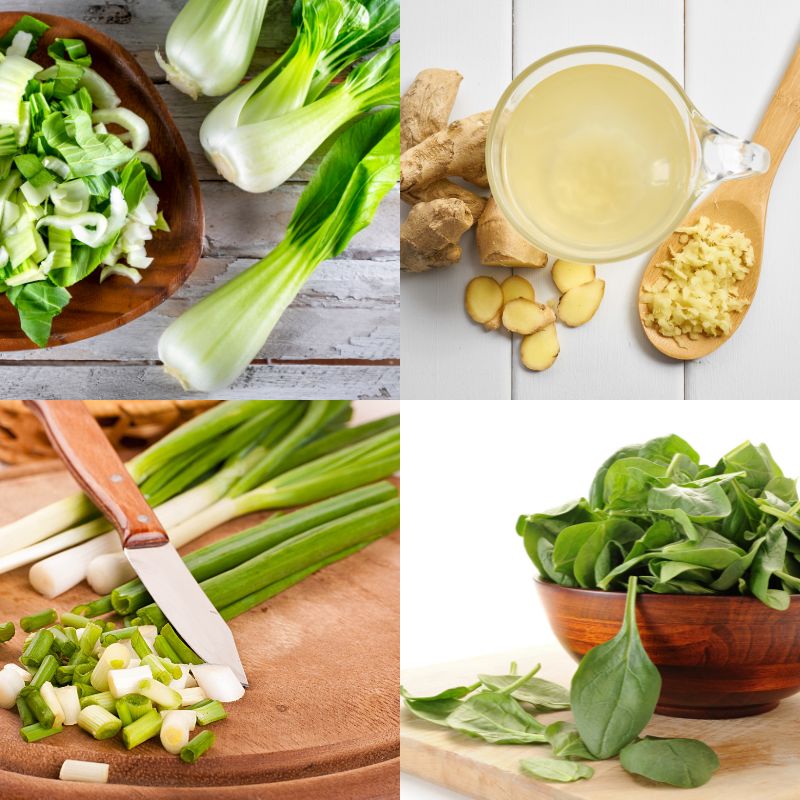 Cooking Instructions
Bring the water, broth, sesame oil, soy sauce, and ginger to a boil in a saucepan.
Taste the broth and add more seasoning to your liking.
Add the Bok Choy or Spinach and stir.
Add the frozen potstickers and gently stir to keep them from sticking to each other, and bring the broth back to a simmer.
Simmer for 3 to 5 minutes until the dumpling wrapper looks glossy.
Stir in the green onions and serve immediately.
Garnish with your favorite sauce to add a sweet, heat, or savory finish.
On the whole, this is a fun recipe to experiment with to add your personal touch. You can add sliced water chestnuts for crunch, lemongrass, or basil to add a different flavor or other vegetables to the broth.
Get the Recipe
CLICK HERE TO DOWNLOAD A PRINTABLE VERSION OF THIS RECIPE: EASY ASIAN MARKET DUMPLING SOUP.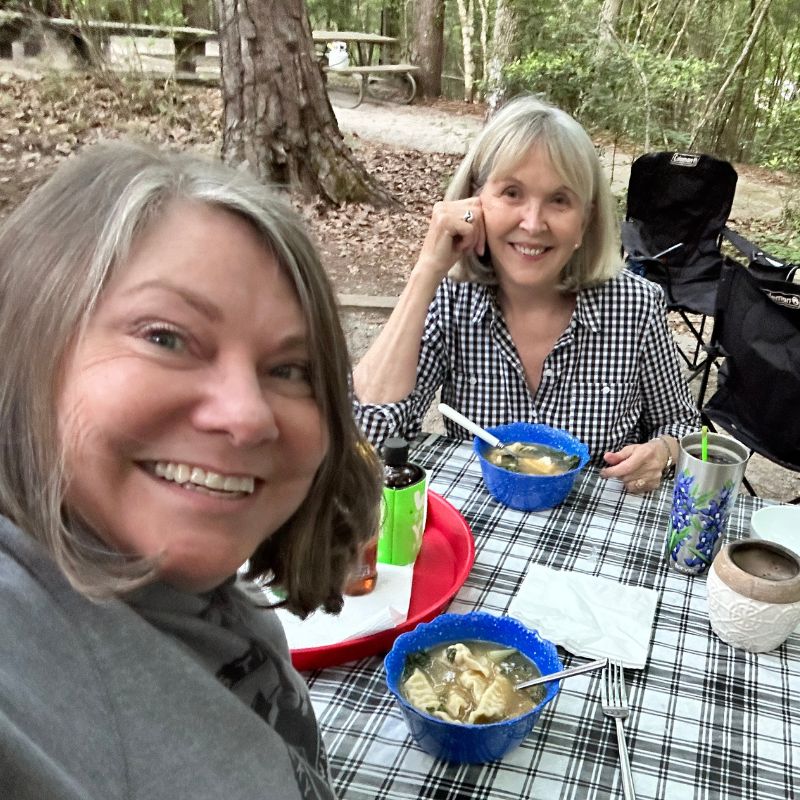 Next, check out some of my other recipes on the Girl Camper Blog under "Good Stuff to Know" Camp Cooking.
Finally, check out my review of the Camco Big Red Campfire that I use for cooking when I'm on the road.
---
Lisa Dempsey is the Southeast Texas Chapter Guide for Girl Camper. She lives in Kingwood, Texas, with her husband Robert, two fluffy Cardigan Welsh Corgis, and her teenage son. In addition to being a guide, Lisa is the CEO and Founder of the Forgotten Wishes Foundation, whose mission is to help people with disabilities combat feelings of loneliness and isolation and create a society of belonging.
Girl Camper is a women's lifestyle brand focusing on camping, outdoor activities, camaraderie, and travel. Our national company produces the award-winning Girl Camper Magazine, has a website with informative and fun blog posts, hosts events and excursions, and maintains national and local social network communities on Facebook. Search for Girl Camper on Facebook and find your local chapter.
---