By Lisa Dempsey
---
1. Very Easy to Transport
The Camco Big Red Campfire is compact, lightweight, and easy to carry. The lid acts as a case fitted with clamps to keep it securely in place and features a sturdy handle for carrying it where you want your fire. Simultaneously, use the base to have the fire higher off the ground. The lightweight and compact size makes it perfect for almost every Girl Camper to have on hand. It comes in just under twenty pounds, and I had no problem lifting it in and out of my trailer's storage bay.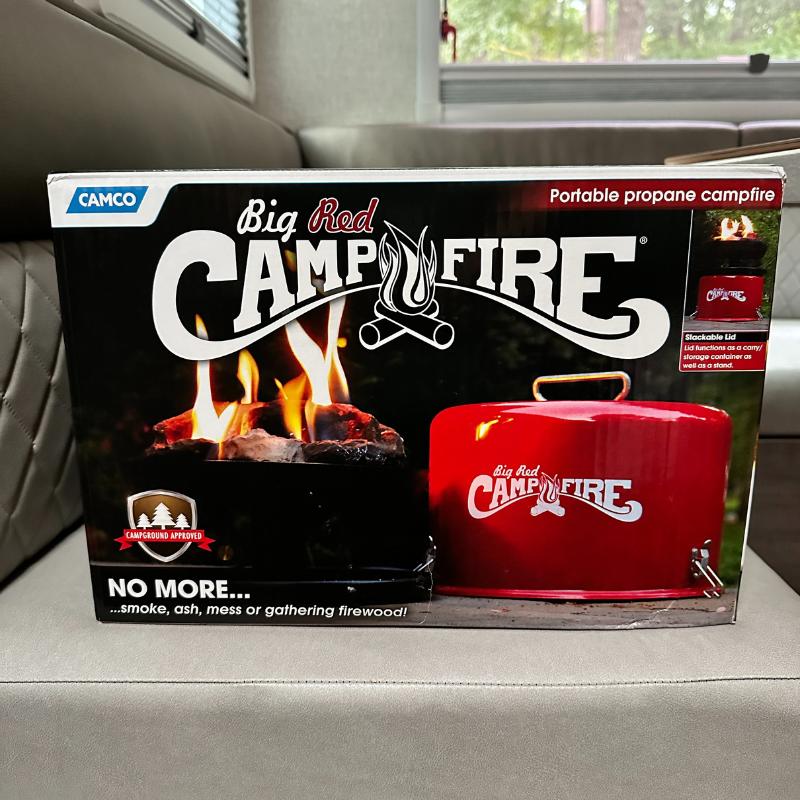 2. Everything You Need in One Place
Another great feature is no more searching for an LP Gas hose to connect. The Camco Big Red Campfire comes with a ten-foot LP hose with an attached regulator that conveniently wraps around the base of the Campfire unit for storage when not in use. The length of the hose keeps it out of the way and allows plenty of room to place your chairs around the campfire.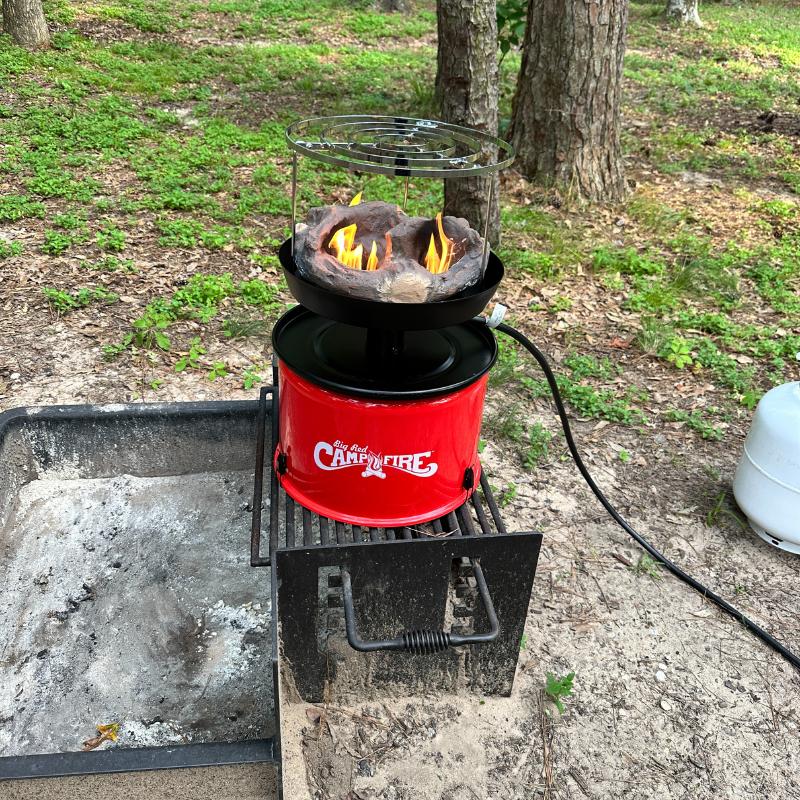 3. Multiple Uses and RV Campground Approved
Having an outdoor campfire adds life to all kinds of events, and the portable Camco Big Red Campfire makes it easy to take to the park, a tailgating event, camping, or just hanging out in your backyard. The bright red cover and retro styling add a festive feel to sitting around the fire. The Big Red is also an RV campground approved for above-ground campfires. It may also be approved when burn bans are in place, but be sure to check your park's restrictions before lighting her up during a ban. Always follow safety recommendations when working with an open flame.
4. Cook Your Meals
Obviously, using the Big Red Campfire to roast a marshmallow and make a s'more is simple, but they also have an accessory that will allow you to cook a meal. Add the portable campfire cooktop, and you can place a pan right over the flames. I loved using the cooktop and made coconut lime chicken for dinner. I was able to control the flame and made the coconut lime sauce without an issue. You can find my recipe for the Coconut Lime Chicken at the end of this review. The weather kept me from trying out Janine Pettit's campfire popcorn recipe, but I'm pretty sure using the cooktop would be great for her recipe.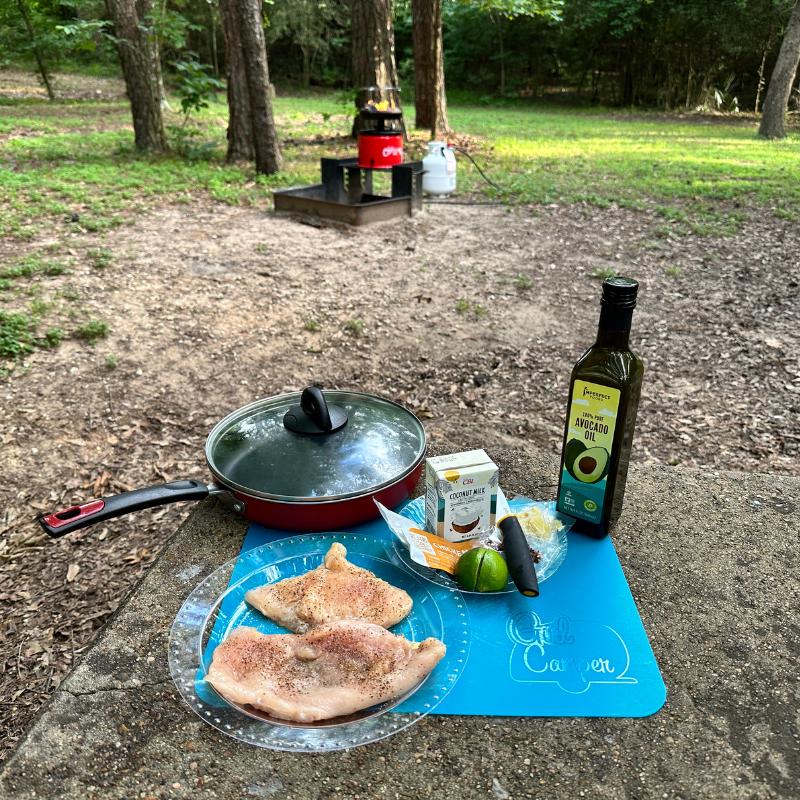 5. A Reliable Campfire Every Time
Undoubtedly, the best thing about having the Camco Big Red Campfire with me on my recent trips was that it was reliable. I hosted a Girl Camper event called Kid Along Camp with grandmas, aunts, and children ages 4 to 12 at Huntsville State Park. Everyone looked forward to an evening campfire and s'mores. I tried unsuccessfully multiple times to get a traditional fire going in the firepit at the campground. Having the Big Red saved the day! I thought the kids might be disappointed that we didn't have a substantial roaring wood-burning fire, but I was wrong. The kids thought this little campfire was fantastic! Furthermore, no one missed the smoke and ash of the wood-burning campfire.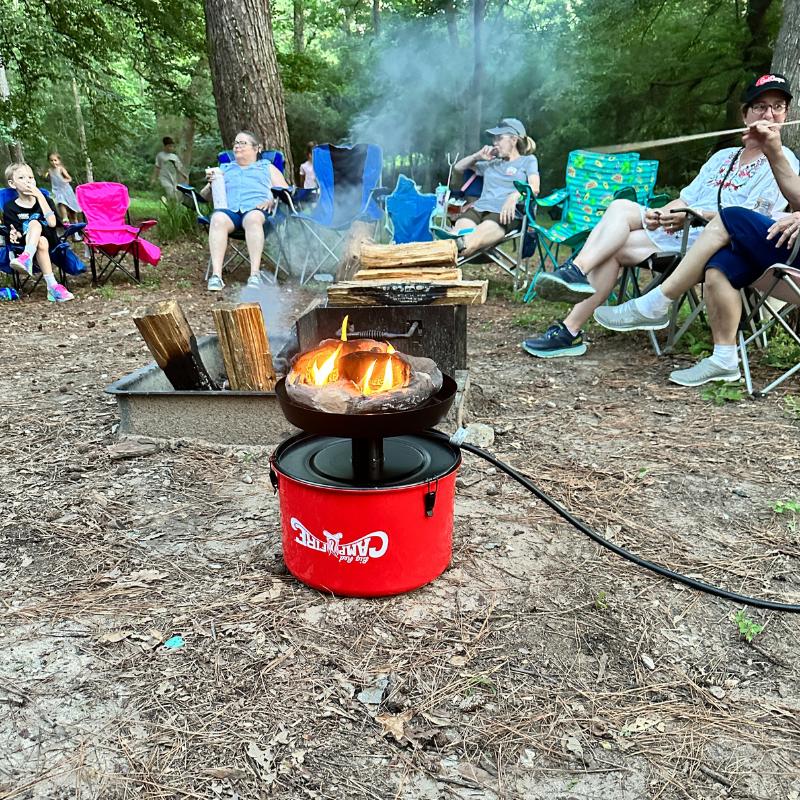 BONUS: You can purchase your Big Red Campfire at Camco Outdoors. Girl Campers can receive a discount on Camco Products at Camco Outdoors Online, including the Big Red Campfire, using the promo code: GIRLCAMPER 10
Want to see it in action?
Here is the link to the product video: https://www.camco.net/big-red-campfire-olympian-58035
Coconut Lime Chicken Recipe Link
Link to Lisa's Coconut Lime Chicken Recipe: https://girlcamper.com/wp-content/uploads/2023/06/coconut-lime-chicken-1.pdf
---
About Lisa Dempsey & Girl Camper
Lisa Dempsey is the Southeast Texas Chapter Guide for Girl Camper. She lives in Kingwood, Texas, with her husband Robert, two fluffy Cardigan Welsh Corgis, and her teenage son. In addition to being a guide, Lisa is the CEO and Founder of the Forgotten Wishes Foundation, whose mission is to help people with disabilities combat feelings of loneliness and isolation and create a society of belonging.
Girl Camper is a women's lifestyle and media brand focusing on camping, outdoor activities, camaraderie, and travel. Our national company produces the award-winning Girl Camper Magazine, has a website with informative and fun blog posts, hosts events and excursions, and maintains national and local social network communities on Facebook. Search for Girl Camper on Facebook and find your local chapter.
---

---