History and Heritage
Orr Family Farm, located in Oklahoma City, Oklahoma is a picturesque destination that combines agricultural traditions with family-friendly entertainment. From the start, the Orr Family Farm was to be much more than a family-friendly attraction Exploring the Charm of Orr Family Farm will be an unforgettable experience.
When Dr. Glenn Orr and his wife Shari, along with their children and families, opened the Farm in 2004, they had a mission. They wanted to build a space for families to come and visit to not only experience an educational glimpse of the past and enjoy simple, fulfilling activities, but to create memories that last.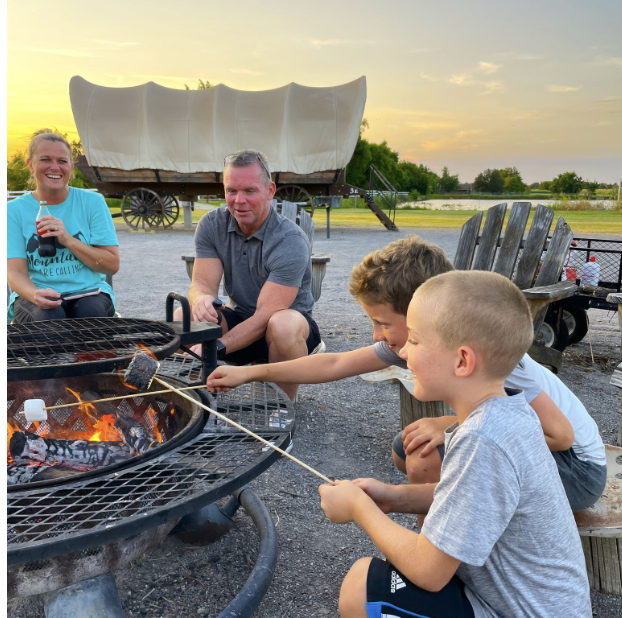 Commitment to Agriculture
Despite its growth and expansion, Orr Family Farm remains deeply rooted in its agricultural heritage. Visitors can explore working farms, witness daily operations, and learn about sustainable farming practices.
Attractions and Activities
Family-Friendly Fun
Orr Family Farm offers a plethora of activities suitable for all ages. From petting zoos to hayrides, the farm provides an immersive experience for families looking to connect with nature and each other.
Seasonal Events
Throughout the year, Orr Family Farm hosts a variety of seasonal events. From pumpkin patches in the fall to holiday celebrations in the winter, there is always something special happening on the farm.
Are you ready to unplug and relax? Perhaps you are the glamping type! Maybe you prefer to stay in a unique lodging option such as a teepee or conestoga wagon! You are in for a treat this fall! The Orr family farm is one of the most popular locations in Oklahoma City for year round access to more than 15 activities including fishing, ropes course, tube rollers, animal feeding, jumping pillows, and human foosball. Seasonal activity options include a pumpkin patch, corn maze and hayrides.
One of the fan favorites of the Orr Family Farm is the complimentary Central Campfire, S'mores & Coffee each night for visitors who are staying in the campground and lodging area. In addition to the fun and excitement for all ages, the farm provides additional high quality amenities for campers and glampers! Amenities include: bedding, private restrooms/showers, picnic table and charcoal grill, hospitality room with refrigerator and microwave, snack machines and laundry room.
Educational Programs
Farm Tours and Workshops
For those interested in gaining a deeper understanding of agriculture, Orr Family Farm provides educational programs, including guided farm tours and workshops. These programs cater to school groups, families, and individuals eager to learn about farming practices.
Community Outreach
Orr Family Farm actively engages with the community through outreach programs. This includes partnerships with local schools, involvement in agricultural fairs, and initiatives aimed at promoting agricultural education.
Awards and Recognition
Orr Family Farm has received numerous awards and accolades for its commitment to agriculture, family entertainment, and community involvement. These recognitions highlight the farm's positive impact on both local and regional levels.
Conclusion
Orr Family Farm stands as a testament to the harmonious blend of tradition and modernity. With its commitment to agriculture, family-friendly activities, and community engagement, the farm continues to captivate the hearts of those seeking a genuine farm experience.
Visit their Website! https://www.orrfamilyfarm.com/
Connect with your Oklahoma Chapter
Rhonda Hart
Oklahoma Guide & Contributing Writer
Girl Camper Magazine: Subscribe to Girl Camper Magazine here! Girl Camper Magazine
Events: Check out upcoming Girl Camper Events – you can attend events in any chapter! https://girlcamper.com/events-page/
Main GC Facebook Group – Join over 430,000 like-minded women in our public Facebook group! Girl Camper FB Group
Facebook Page – This is my public Oklahoma page where I'll share Girl Camper news, events and more. Girl Camper – Oklahoma
Private FB Group – Where you can interact with others who are interested in camping in Oklahoma! Girl Camper Oklahoma Group.