By Theresa "Resa" Leppert
Always need to have a Plan B!
In October 2020, I was supposed to go to a Halloween weekend event down in Oklahoma.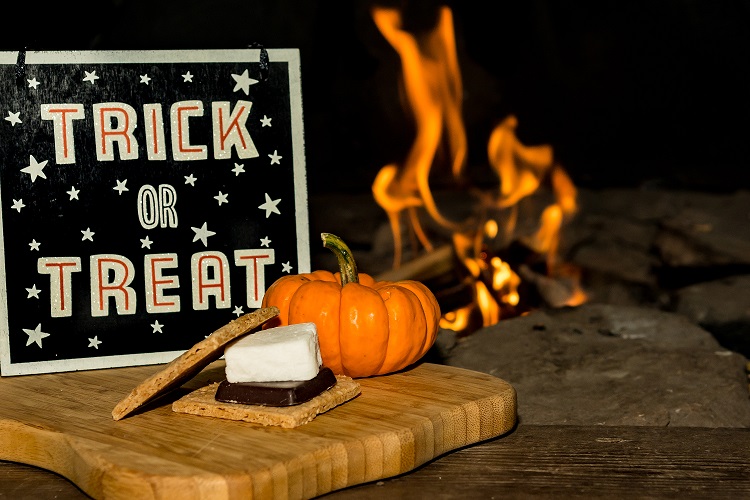 Unfortunately, they experienced a freak storm that left the whole area under ice and there was significant flooding at the campground. I didn't find this out until the day before I was supposed to leave. My Jeep was already packed and ready to go, so I told my husband that doggo Boxer-girl Shiloh and I were just gonna head southwest and see where we ended up. It was Halloween weekend, so the possibilities were endless for camping in Iowa! Cold, yes, but campgrounds are very sparsely populated at that time of year.
So heading out, I was thinking of where we should go – and Geode State Park popped into my head. We had checked that park out as a family on a road trip a decade ago, and had said "Oh, we should camp here someday!" Never happened, though.
Impromptu Trip to Geode State Park
I got to the park, and there was almost no one there. The camp host camper was there but no one was around. There was one other camper that turned out to be a road construction worker who was there while he was working in Burlington. Boy, was it cold at night in my tent, but I had an old horsehair lap rug that I put between the tent and the rain fly which kept a lot of the heat in. I had taken our giant zero degree canvas sleeping bag (watch for that review – coming soon!) and I of course had puppy heat as well since Shiloh ends up in my sleeping bag with me all the time anyway.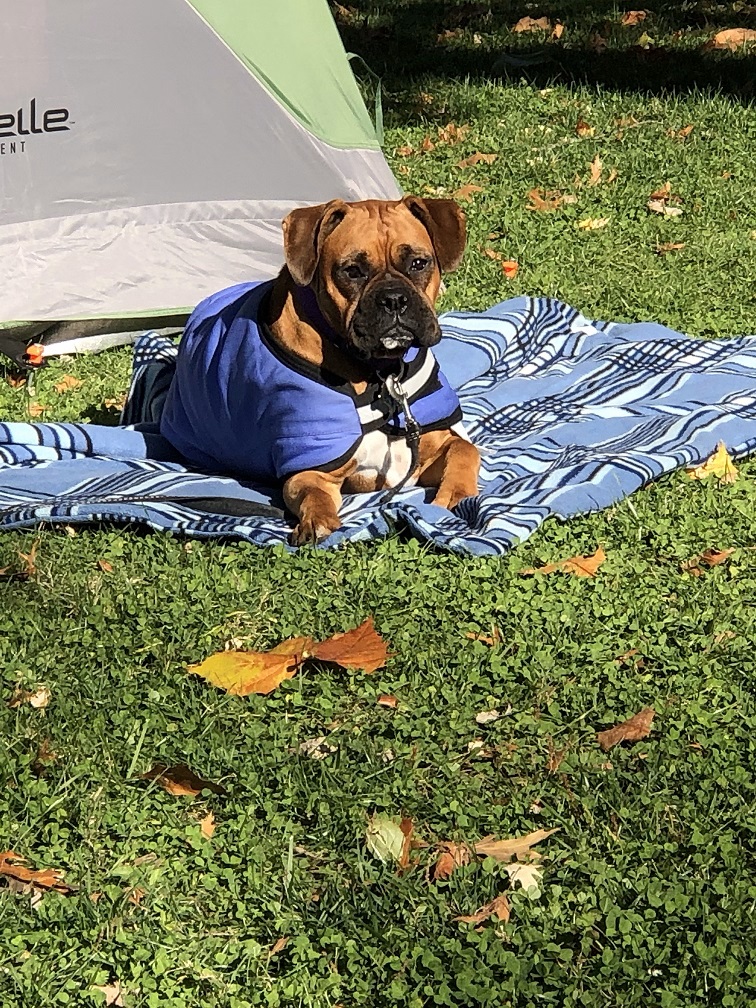 What an amazing weekend. It was so relaxing, so quiet, just listening to the wildlife; the turkeys, the deer bounding through the park at any given time, the coyotes running through at night. (Shiloh slept right through that – some watch dog she is, huh? LOL.)
Umm, what happened to the lake?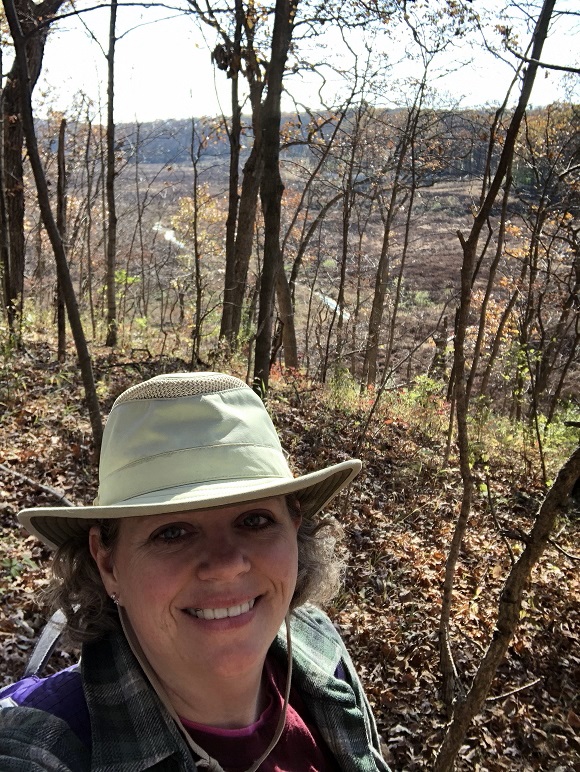 So we headed out to go for a hike around the lake on Friday morning, expecting gorgeous foliage colors – and I was not disappointed! The only problem with hiking around the lake……. The lake wasn't there. I mean, where the lake should be was a big meadow with some weird looking spiny things sticking up and a stream running through it.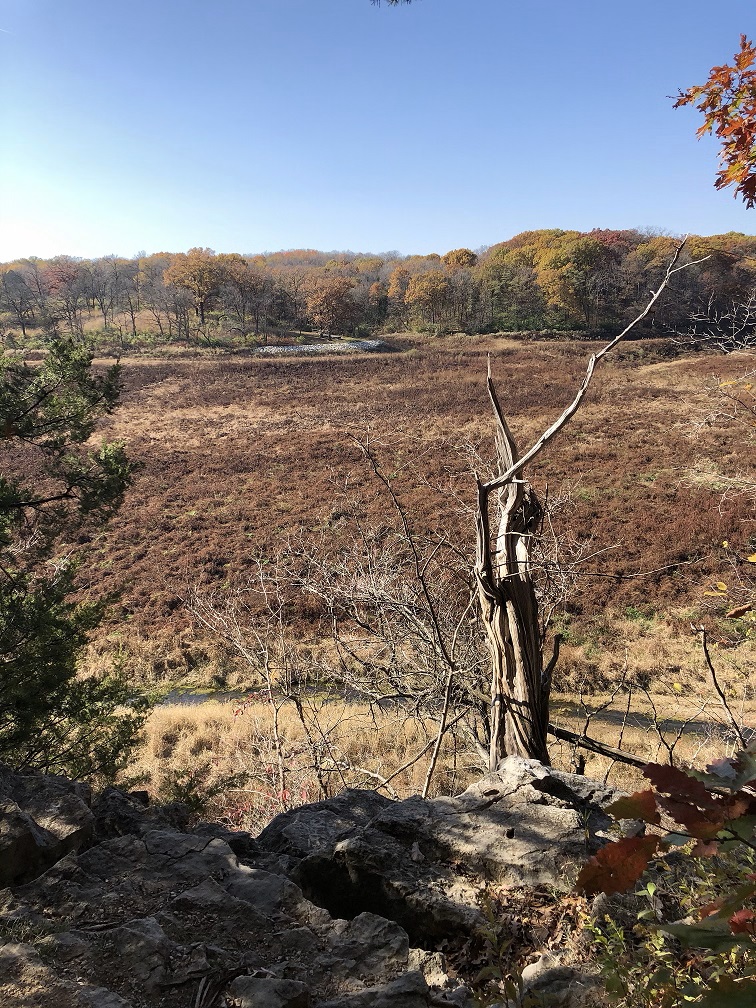 We followed the trail and eventually heard heavy equipment, and a Google search helped me figure out why: They had drained the lake in 2017 to dredge out silt. And I mean a LOT of silt. According to one article, they had lost 13 acres due to silt buildup. That's massive!
They drained the lake!
The lake apparently had a problem with silt and also an invasive bacteria as well has high chemical levels due to runoff from fields around it that made it unhealthy for aquatic life and human use.
So, they drained it. The project was supposed to last a year, but sometimes things don't go as planned. Finally, as of right now, four years later (June 2021) the project is compete and the lake is now refilled. Yay! I'm looking forward to heading back there. You can find more info on the project here: https://www.thehawkeye.com/story/news/2021/03/26/lake-geode-state-park-four-year-hiatus-nearly-over-dnr-project-drain-bacteria/7012723002/
For information on the park in general and for camping reservations, click here: https://www.iowadnr.gov/test/Places-to-Go/State-Parks/Iowa-State-Parks/Geode-State-Park
Have you ever camped at Lake Geode? My understanding is that people used to find geodes everywhere, but they are few and far between now, and of course should never be removed from state park lands anyway. Should we have a GC Campout there sometime soon?
Connect with me!
Theresa "Resa" Leppert
Guide Manager
Guide, Iowa & Wisconsin
563.284.2868
Girl Camper Magazine: Subscribe to Girl Camper Magazine here! Girl Camper Magazine
Events: Check out upcoming Girl Camper Events – you can attend events in any chapter! https://girlcamper.com/events/
Main GC Facebook Group – Join over 350,000 like-minded women in our public Facebook group! Girl Camper FB Group
Facebook Page – This is my public Iowa & Wisconsin page, where I'll share Girl Camper news, events and more. Girl Camper – Iowa & Wisconsin
Private FB Group – Where you can interact with others who are interested in camping in Iowa & Wisconsin! Girl Camper Iowa & Wisconsin Group.
Resa's Articles – Click this link to see all of Resa's articles on the website! ARTICLES
resaarticle