Did you know that Oklahoma actually has a few mountain ranges? Maybe not the type that will rival the Rockies, yet they are beautiful nonetheless! Robbers Cave State Park in Southeast Oklahoma is in the hilly woodlands of the Sans Bois Mountains not far from Wilburton. I had not been to the park since camping with the family as a kid and was lucky enough to have a fabulous weekend with the "girls" this past year.
There are 8,246 acres in the park itself and 189 acres of water including Lake Carlton, Lake Wayne Wallace and Coon Creek. The lakes are small and have a trolling max speed of 6mph. My cousin and I rented a paddle boat to tootle around on one of the lakes and had a great time acting like kids again, although, my thighs were burning like crazy from the workout. You can also rent a canoe which I wish I would have done instead!
The caves, yes real caves, were once the hideout for the likes of outlaws Jesse James and Belle Starr. We visited the nature center and there were exhibits including detailed history of the good guys and bad guys during those times. I thought it was super interesting!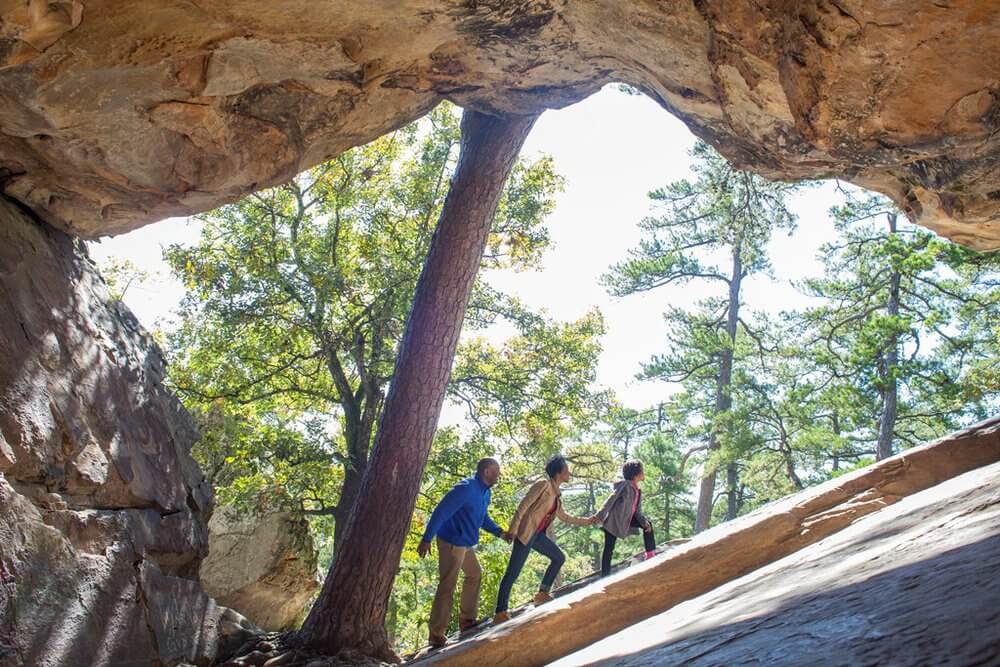 If you love hiking, you are in luck. They have loads of trails and you get to dart in and out of caves and tunnels along the way. We were there on a rainy day, so some of the areas were a little slick. Regardless of the weather, it's smart to bring a walking stick or trekking poles. I was lucky enough to be with some Girl Campers who were knowledgeable with the trails and entire park area. So, if you are hiking the area for the first time, be sure to fetch a map from the Camp Store.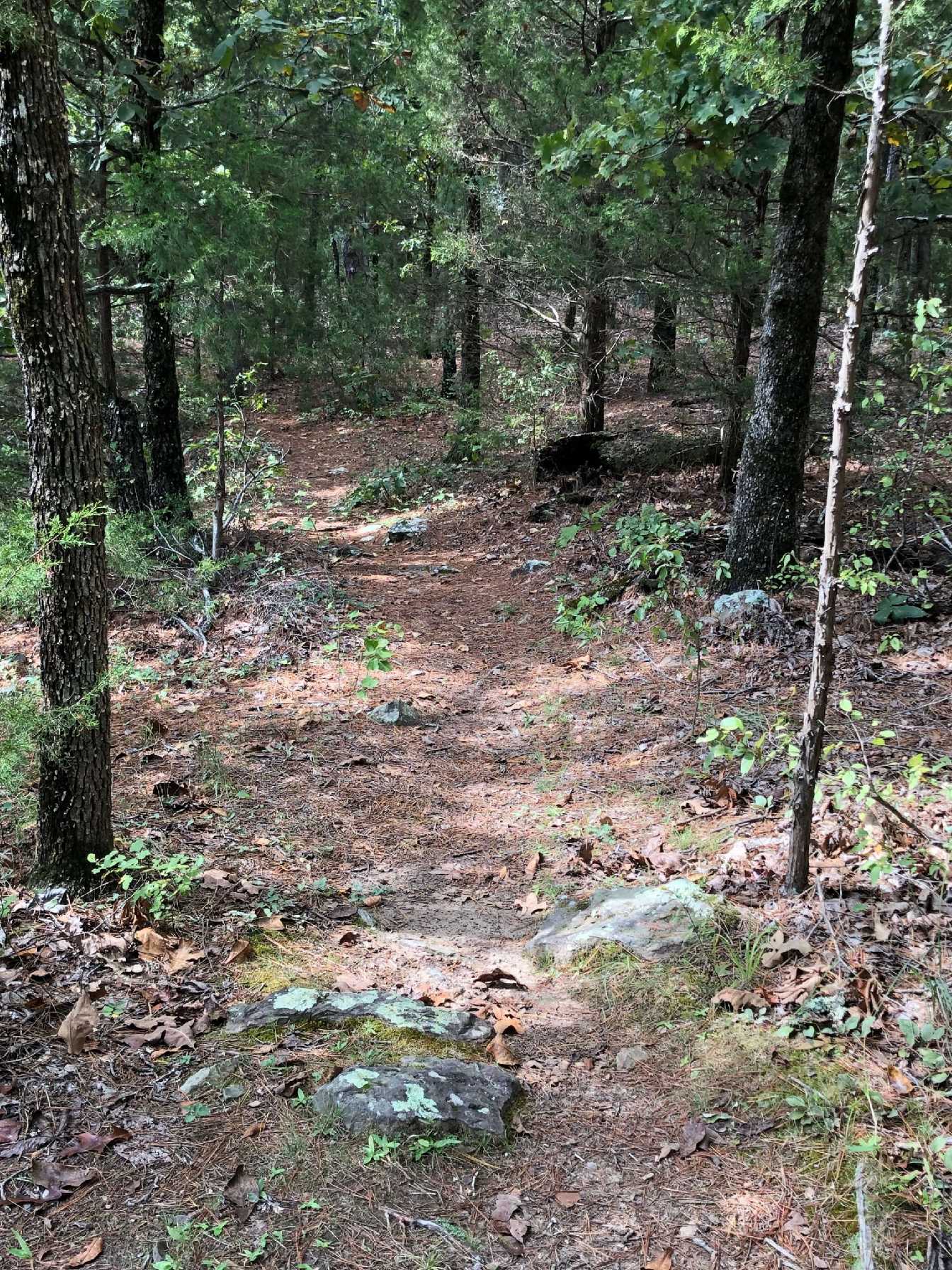 The RV campground we stayed in was called Whispering Pines. Stunning! This area of Oklahoma is close to "logging" country, so there are pine trees galore—plenty of shade. There were trailheads right there in the RV loop, too. The park has two equestrian RV campgrounds and several other regular RV loops, plus Back Country camping, which is not for this Glamper Girl, but I am sure would be appealing to bushcrafters! Some RV loops have full hook ups, some electric and water only, some primitive. They also rent cabins and yurts. The Belle Starr View Lodge looked pretty cool and all of their 20 rooms had a fantastic view of Coon Creek Lake.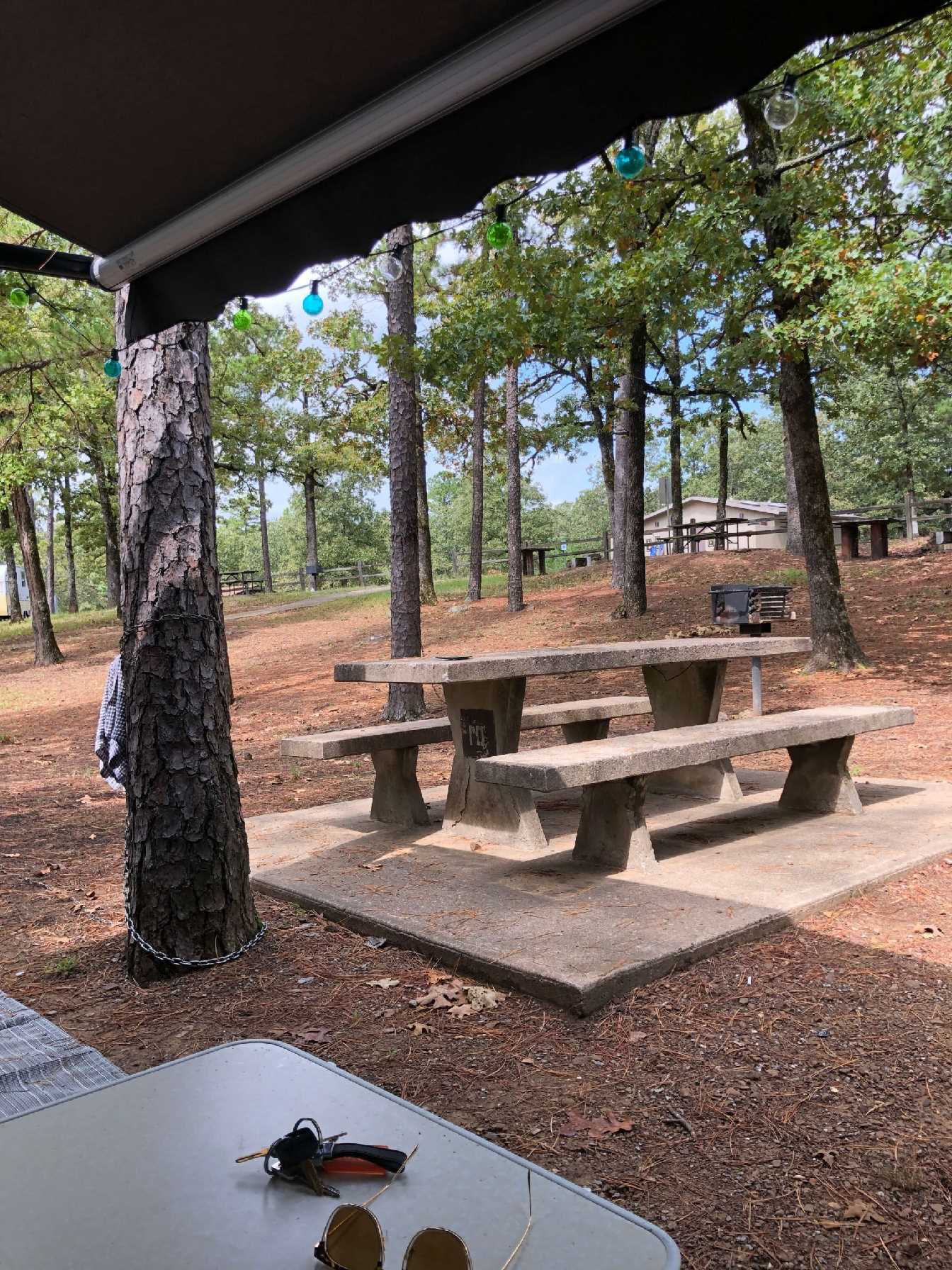 The website bragged about the Group Camp areas with cabins and bunkhouses for up to 250 people, although I didn't get to see those. I can't imagine any place in this park that would not have the same stunning scenic views and chocked full of wildlife.
And if all of that is not enough to keep you occupied, they have cliffs for rappelling, equestrian trails, and a 250-acre ATV playground. With those towering pines, the temps were great in the summer and it's gorgeous in the fall. Add Robbers Cave State Park to your list for solo camping or bring the whole family—it does not disappoint!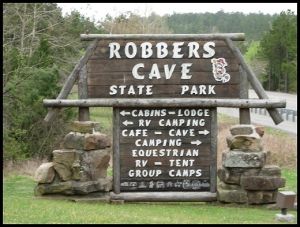 Article written by Brenda Puckett, Oklahoma Chapter Guide