I love to decorate. A dear friend coined the word "Foof" many years ago to describe how she decorated little gifts she gave, or making things cute and fun. It became a definition of decorating for me and I've always loved that word! I use it all the time to describe 'cuting something up'. Like my camper… it's definitely 'foofed'!
I love little 'things' that make me happy or activate a memory. I love cute stuff. Let's face it… I am a collector of all things that make me happy! And, I like to bring those happy 'things' with me when I camp. So, I've decorated my little camper with things that make me smile, that make me remember something wonderful, and that give me the 'cute factor' that I love.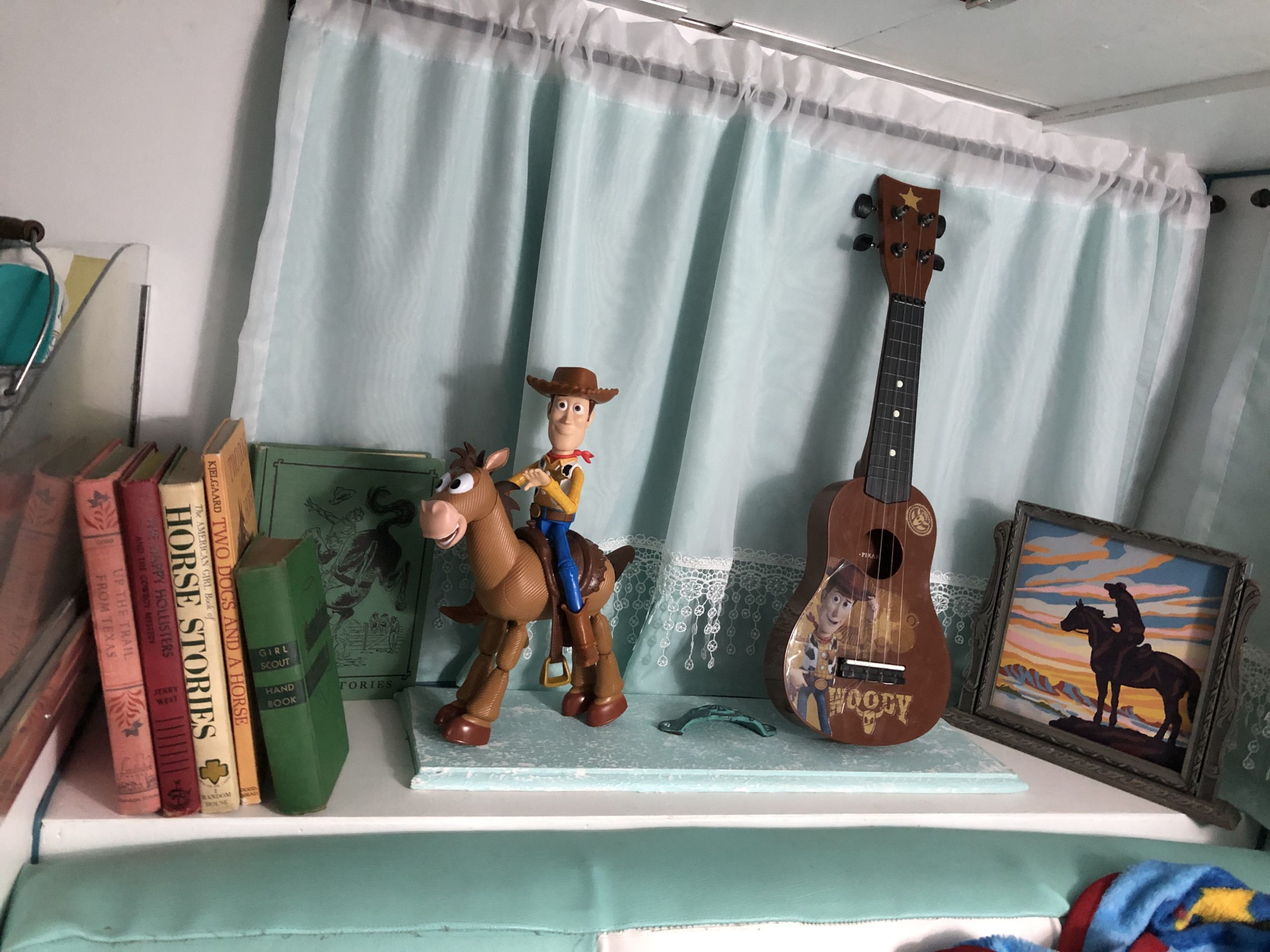 Filling your camper with 'stuff' is not for everyone. In fact at a recent campout a friends husband said 'You'd bring a ferris wheel to decorate your campsite if you could fit it in your truck!'. That might be a little bit of an exaggeration, but I do like to decorate my campsite and my camper when I go camping. It's not wrong, and it's not for everyone. But I like it, so it's worth the extra time spent because.. it makes me happy and it makes me smile!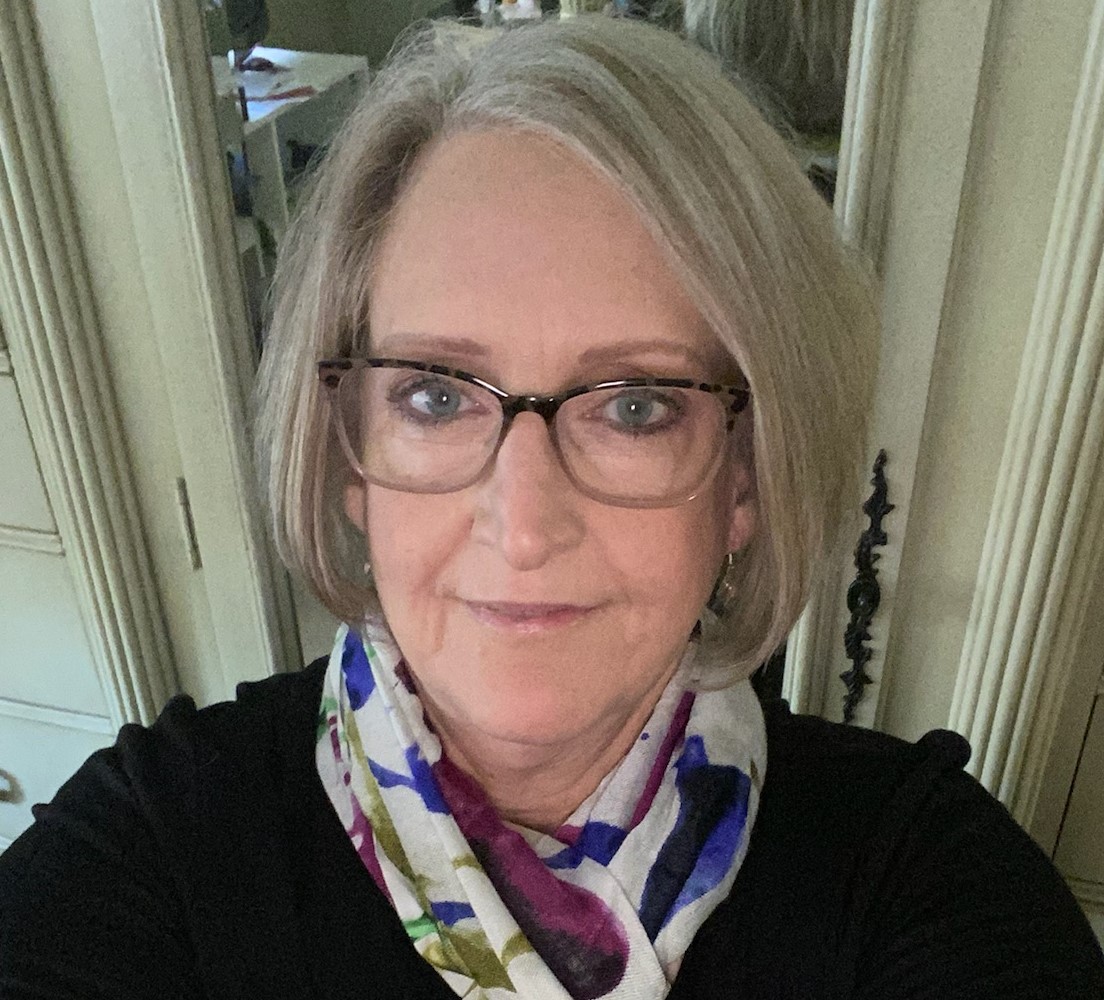 Are there things that you like to bring camping with you that evoke a memory from your childhood? My junior Girl Scout book goes camping with me. It makes me happy to remember all of the fun I had when I first became a camper, so it holds an honorary spot in my camper. I have a photo of my mom when she was a teenager because it reminds me that she's the one who gave me my adventurous 'can-do' spirit and determination. If she can't physically be with me on a camping trip, she's there in spirit and I can see her smiling down on me from her perch on the little shelf on the wall overlooking my bed.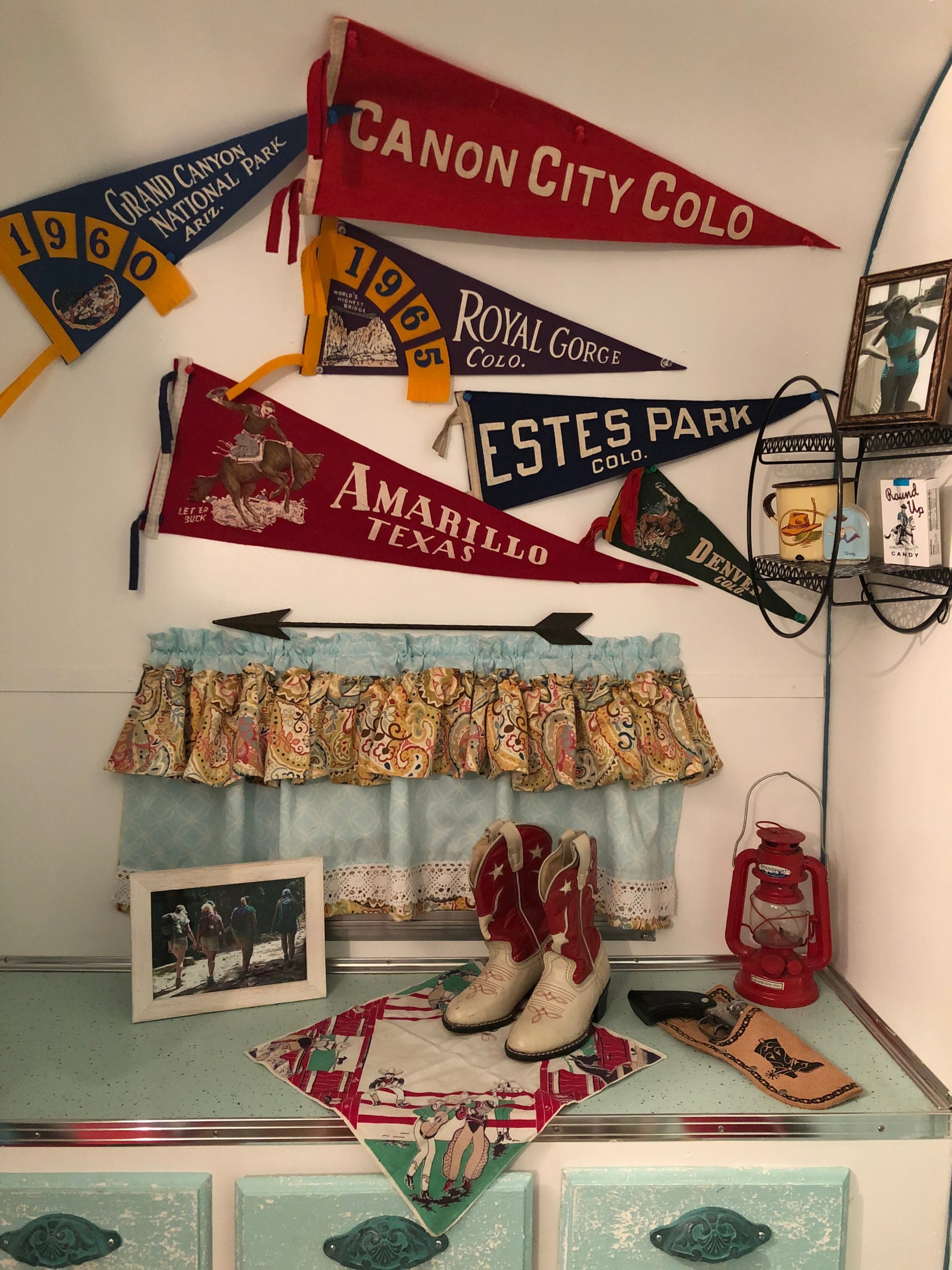 I've chosen to decorate my little camper with a western theme, so I have things in my camper that go along with that. My youngest son's red and white cowboy boots, my oldest son's Sherrif Woody characters, and a painting I did of a what a horse would look like if his name was Chester! (Chester is the name of my camper… after my maternal grandfather) I have patches on a pillow and pennants hanging on my back wall, and a framed photo of a cherished hiking trip I took with three of my besties. I even have a tag from a ball cap that I kept because I love what it has one of my favorite quotes by Walt Whitman on it. "Resist much. Obey little."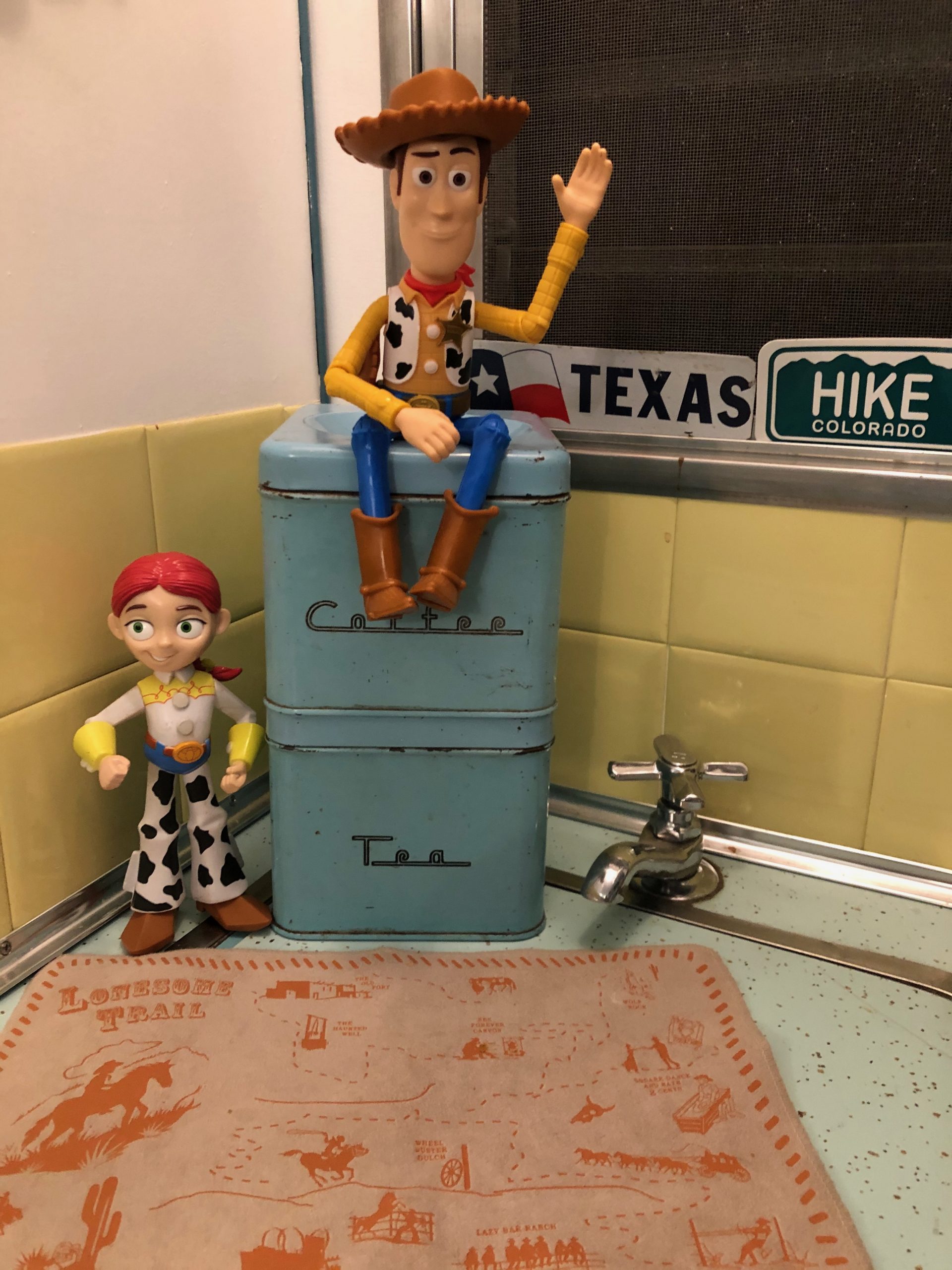 Gifts from friends who know me and love me have also found a home in my camper. A set of aqua cannisters that belonged to my friend Karen's mom hold my coffee and tea. Janet gave me a shiny silver coffee perculator makes me wonderful hot coffee on my stove each morning. A beautiful horseshoe with little symbols of things done together made by my friend Shaun hangs in my kitchen. Cards and photos from other friends hang on a lighted string over my window. Each one holds a special memory.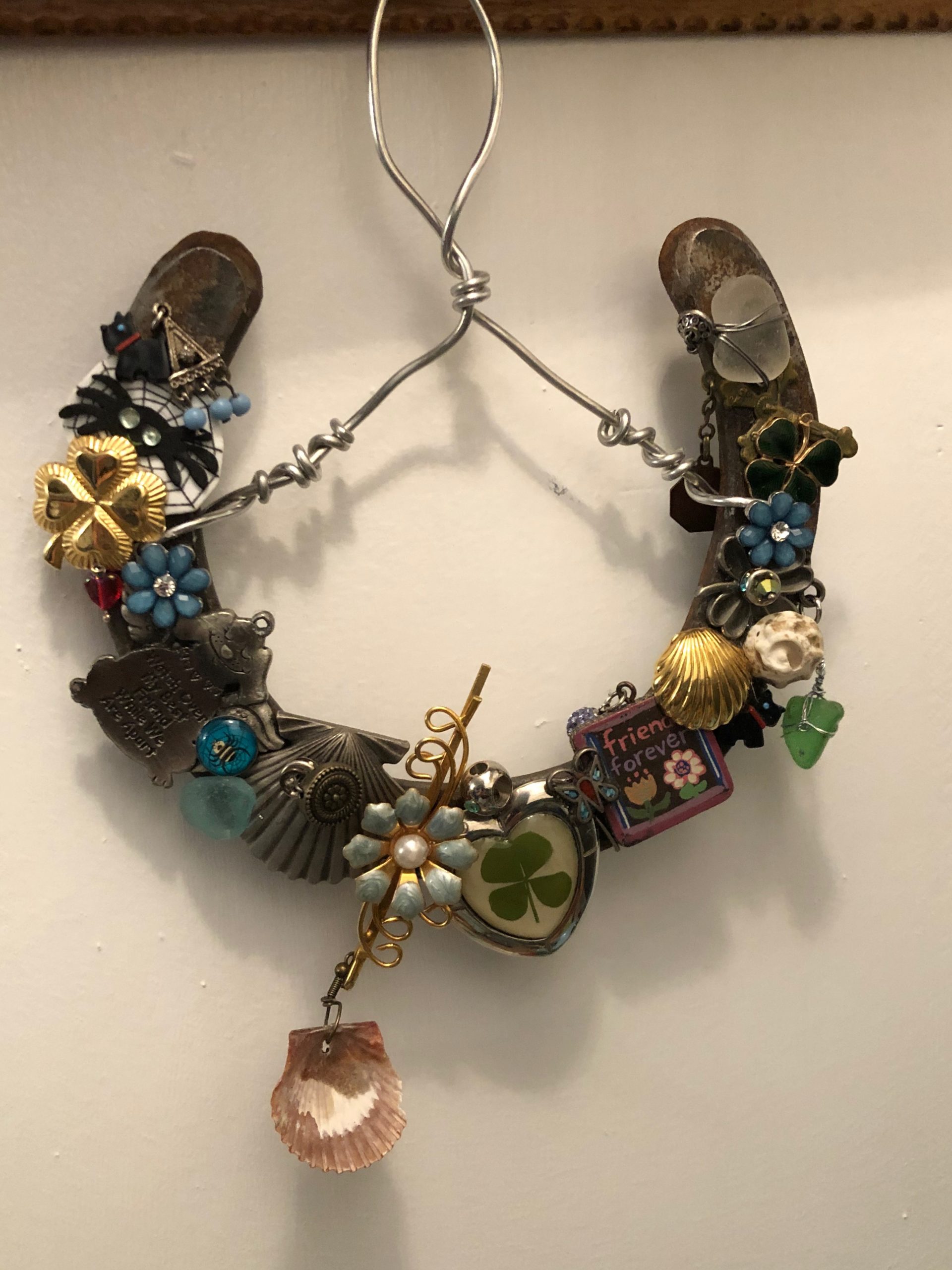 You might say that none of those things are necessary for a successful camping trip. And if you're only considering things that you need to eat, sleep and camp, you'd be right. But for me they are necessities. Why? Because they make me smile and they make me happy… and that's what camping does for me too! It's the perfect combination for me and my camping adventures.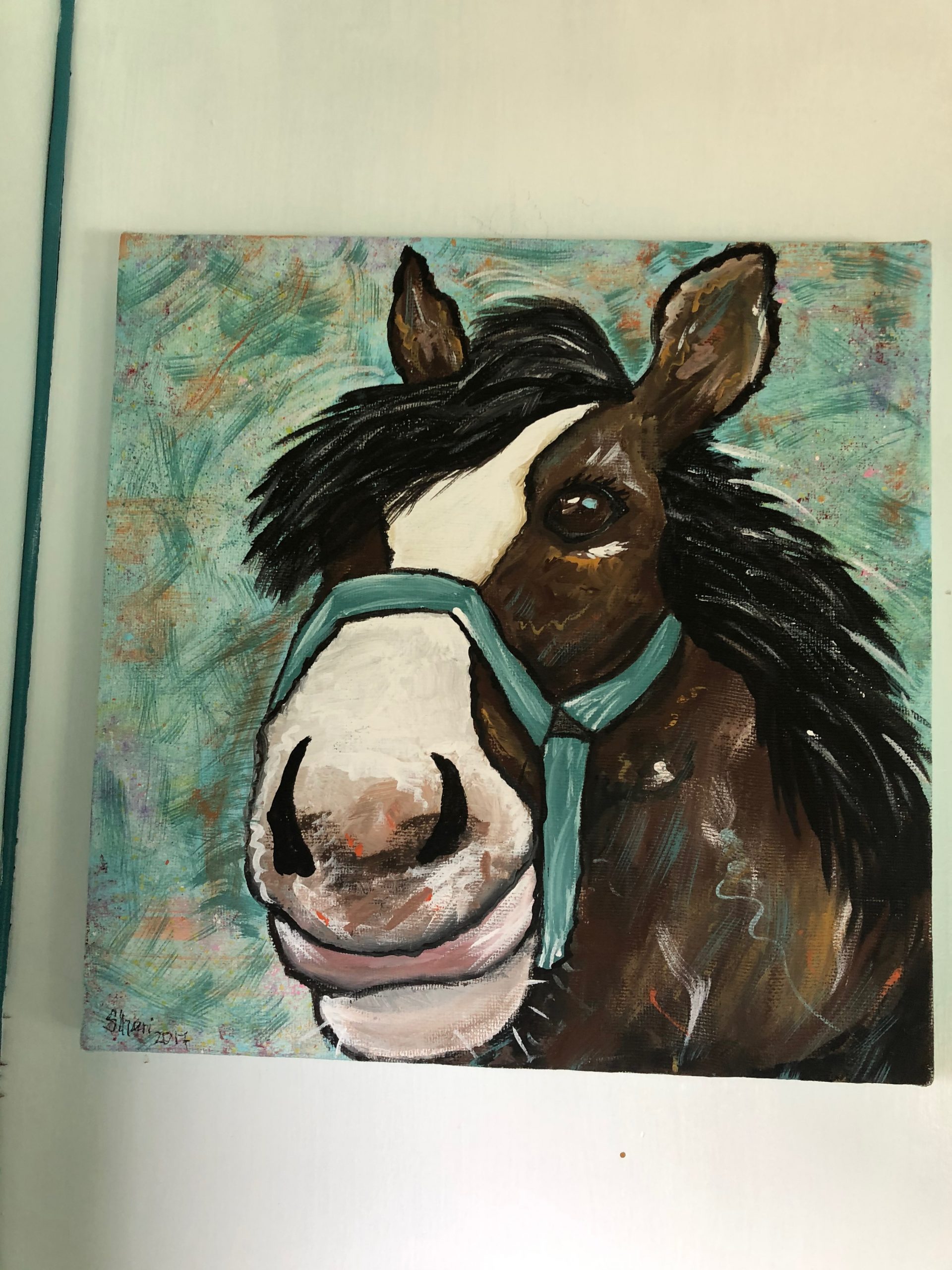 So, to foof or not to foof is the question? The answer is that there's no wrong way to camp like a girl! So if you're a "foofer", welcome to the club! Do you have special things that you take camping with you, or that live in your camper? I would love it if you would share your special things with all of us!