Recently, we got together for a campout in North Texas- Fall Fairies at Lake Mineral Wells State Park. We had a Dutch oven class. We had some tried and true recipes and we had some new recipes.
Searching for the perfect recipe!
When I was researching recipes to take, I came across the Dutch Oven Apple recipe and knew we had to try it as one of the desserts. The dry ingredients can be premeasured and combined ahead of a camping trip. You could also juice your lemon ahead of time. The only thing you would have to do at the campground is to peel and slice your apples. If you are with a group, have a couple of knives ready and have them help you peel and slice to get the job done quicker. At this campout, I actually took an apple peeler/slicer tool with me and it took us a few minutes to take care of 10 apples!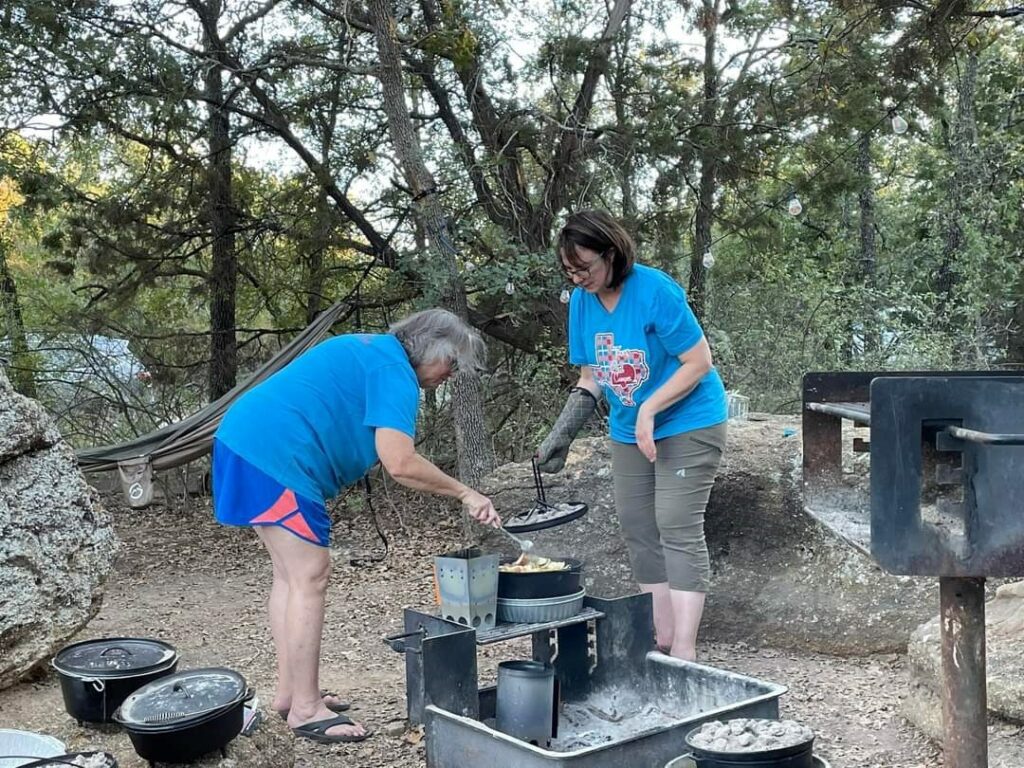 Dessert Success!
This dessert was a hit with everyone (even the armadillo!) and I had to quickly get them a copy of the recipe so they could make it at home for the other Girl Campers' friends and families. One difference of this recipe is the lemon – it really gives it a different taste.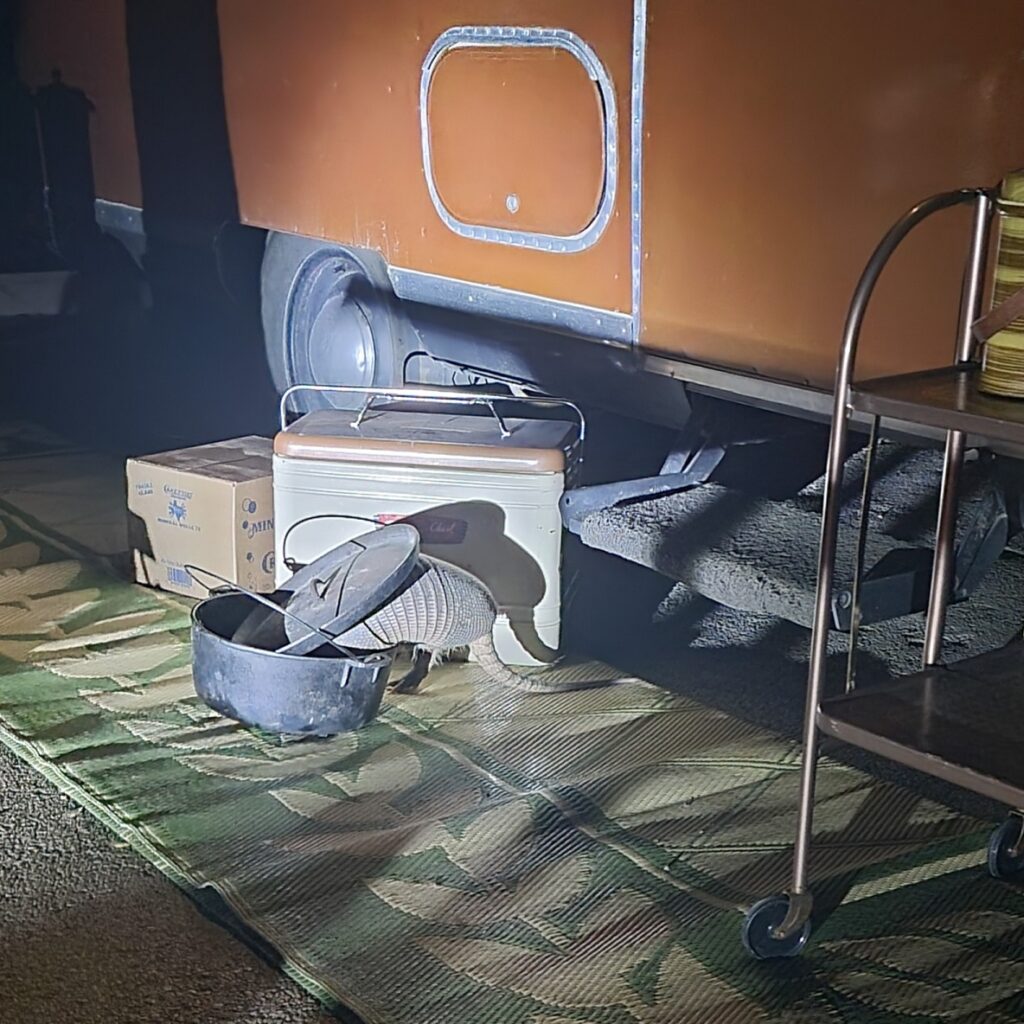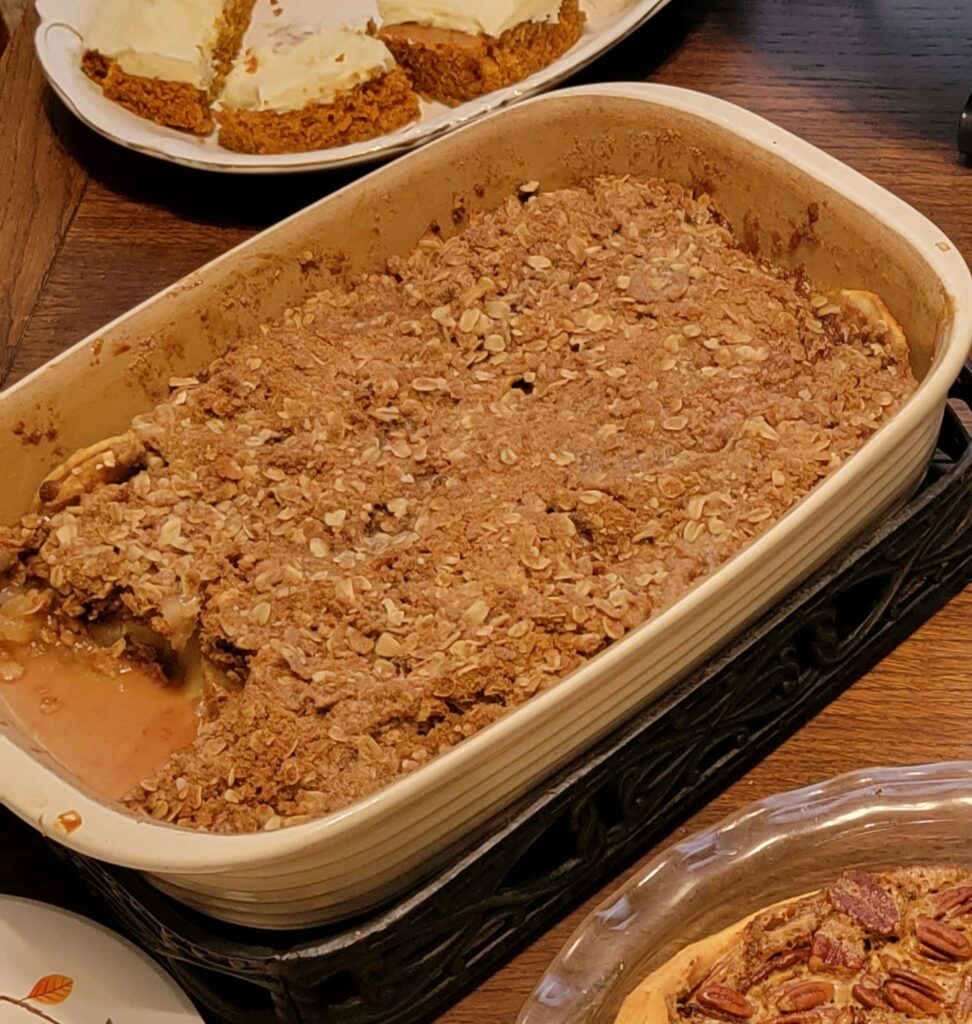 One thing I did at the campout was to also substitute the all purpose flour with gluten free flour so that I could have it! The gluten free flour did great in this recipe.
Tweaking it for home oven:
I made it at home this Thanksgiving and instead of the golden raisins, I substituted Craisins. This variation was a hit with my family.
I really hope you try this recipe out on your next campout or at home! I promise you won't regret it!
Source: Lodge Cast Iron Field Guide to Dutch Oven Cooking. Please take note (in parentheses below) of the changes I made to the recipe. Enjoy!
Apple Crisp Recipe
12 in Dutch oven, 24 hot coals, 8-10 servings
Apple Mixture:
Apples, 10 cups, peeled and sliced
Lemon juice ¼ cup
Sugar ¾ cup
Golden raisins ½ cup (At our camp out, I used dates. At home, I used Craisins – both worked well!)
Topping:
Brown sugar 1 ½ cups
Oats 1 ½ cup
Flour 1 ¼ cup (I used gluten-free flour both times!)
Butter ¾ cup
Lemon zest 2 T.
Cinnamon 1 T.
Nutmeg 1 t.
Cardamon 1 t. (I did not include this in our version of this recipe.)
Spread apple mixture in bottom of Dutch oven. Top with topping. Bake at 350 for 25-30 minutes, using 8 coals under and 16 on lid. Continue cooking until apples are cooked and topping is brown. Serve warm with ice cream or whipped topping.
Connect with me!
Christy Taylor
Guide, North Texas
817-304-2754
Girl Camper Magazine: Subscribe to Girl Camper Magazine here! Girl Camper Magazine
Events: Check out upcoming Girl Camper Events – you can attend events in any chapter! https://girlcamper.com/events/
Main GC Facebook Group – Join over 350,000 like-minded women in our public Facebook group! Girl Camper FB Group
Facebook Page – This is my public North Texas page, where I'll share Girl Camper news, events and more. Girl Camper – North Texas
Private FB Group – Where you can interact with others who are interested in camping in North Texas! Girl Camper North Texas Group.