By Christy Taylor
When deciding on a new theme or decor for your camper, the search begins for that perfect look that fits your personality, budget and taste. A lot of times, the direction you go starts with a fabric that you like. The color and design of the fabric for your curtains is just one step in making your camper your own!
The search for the perfect curtain fabric
The cost of curtains can sometimes be expensive- especially if you want to add trim, black out cloth or other personal touches. Sometimes just the fabric alone is expensive. You may look for sales and you may look in stores or all over the internet. Sometimes you may find what you want immediately, other times it takes you awhile to find that perfect look that fits into your budget.
In this example, Janetta had looked high and low for the fabric for her curtains. She found that the fabric that she wanted was pretty pricey when bought by the yard. Janetta kept looking and eventually found window panels made out of that same fabric. These window panels were made for regular house windows and cost less than the fabric did by the yard. She estimated that if she bought these window panels, she would have more than enough to make some curtains for her trailer.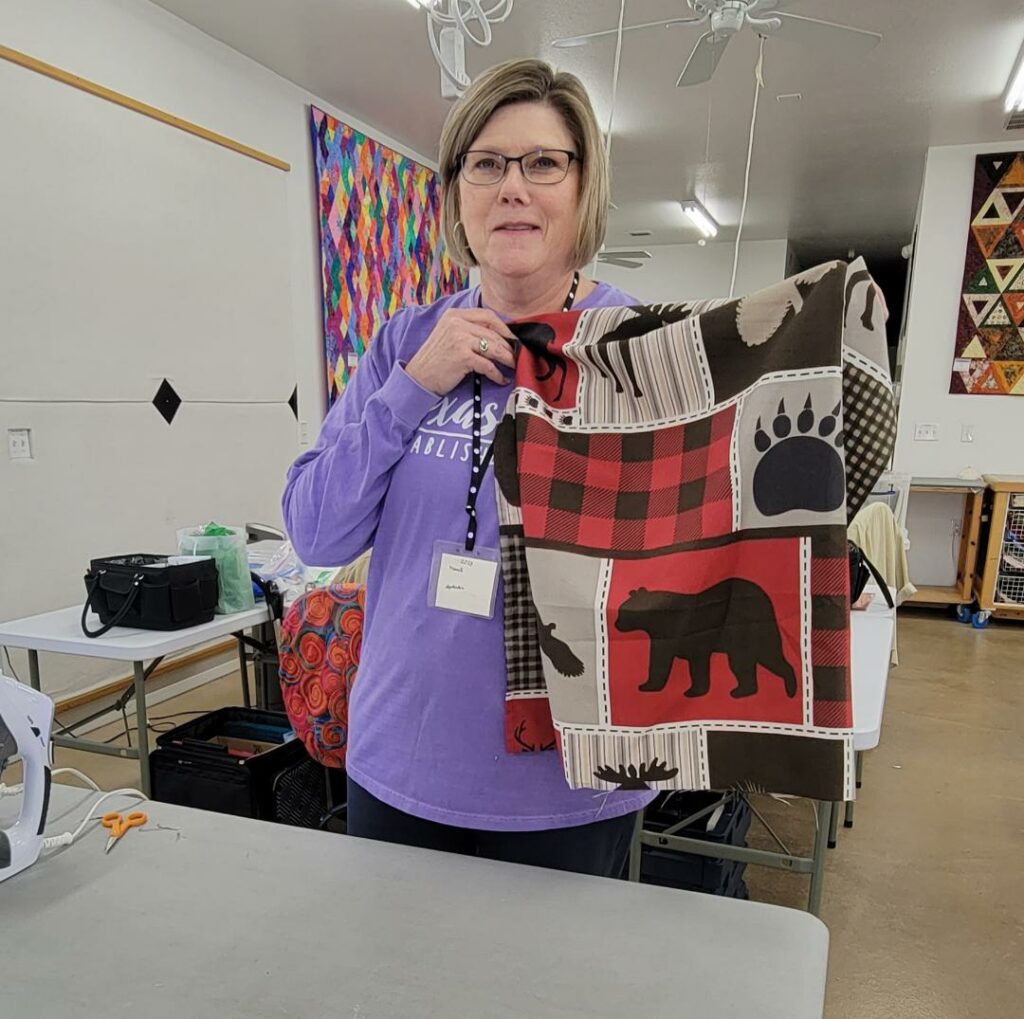 How she made curtains and came in under budget
For the first curtain, the valance had just the right length and width measurements to be used as the curtain over the dining table. All Janetta had to do for that window curtain was make sure that the rod pocket for the valance fit the curtain rod for that particular window.
After that, the purchased panels needed to be measured, cut and sewn to make the other window curtains. She was able to do this by mostly straight seams that even the most novice of seamstresses could do. She was able to use the rod pocket on the panels without having to make them on her own.
In one evening, Janetta was able to make all of her curtains for her trailer from the purchase of a package of home window panel curtains.
What did she do with the extra fabric?
Once the curtains were all done, Janetta had pieces of leftover fabric. She was able to make a couple of small throw pillows for her camper. Again, this added to the economical use of premade window curtain panels.
It is exciting to be able to get what you want, save some money and have a sense of accomplishment by making something yourself- like curtains!
Connect with me!
Christy Taylor
Guide, North Texas
817-304-2754
Girl Camper Magazine: Subscribe to Girl Camper Magazine here! Girl Camper Magazine
Events: Check out upcoming Girl Camper Events – you can attend events in any chapter! https://girlcamper.com/events/
Main GC Facebook Group – Join over 350,000 like-minded women in our public Facebook group! Girl Camper FB Group
Facebook Page – This is my public North Texas page, where I'll share Girl Camper news, events and more. Girl Camper – North Texas
Private FB Group – Where you can interact with others who are interested in camping in North Texas! Girl Camper North Texas Group.