Podcast: Play in new window | Download
It was my pleasure to head out into the Arizona desert in January to road test the Lance 650 truck camper. I have been fascinated with the idea of truck camping since I was a kid and my grandfather put a cap on his truck, two cots with a cooler between them in the bed and took off for Colorado. The whole idea of traveling around with your home on your back really appeals to a nester like me.

A little known secret about me is that I hate being uncomfortable in any way. It seems like a contradictory trait for one who loves to camp but, camping today is not what it was in the 1970's. There is no need to be too cold or too hot or too anything when the RV industry is making so many products to get us out there and protect us from the elements at the same time. The truck camper seemed like a great way to see the country with minimum hassle and still have all the comforts of home available any time I needed them.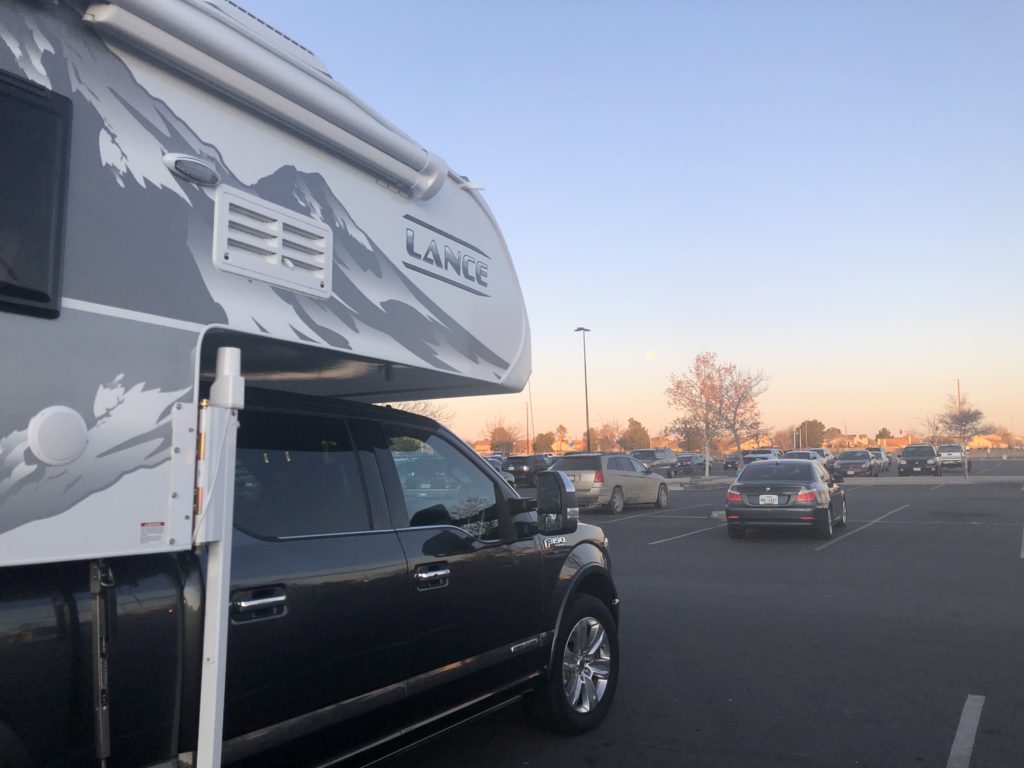 I picked up the Lance 650 at their factory in Lancaster, California and had two weeks to roam around in it. Shout out to Lance for sponsoring my adventure. Some Girl Camper friends were staying on BLM land around Lake Havasu so I planned on visiting with them before I headed down to Quartzsite, Arizona to see what all the fuss was about there. I had no plans to camp in campgrounds so I would not only be checking out truck camping but, off the grid camping as well.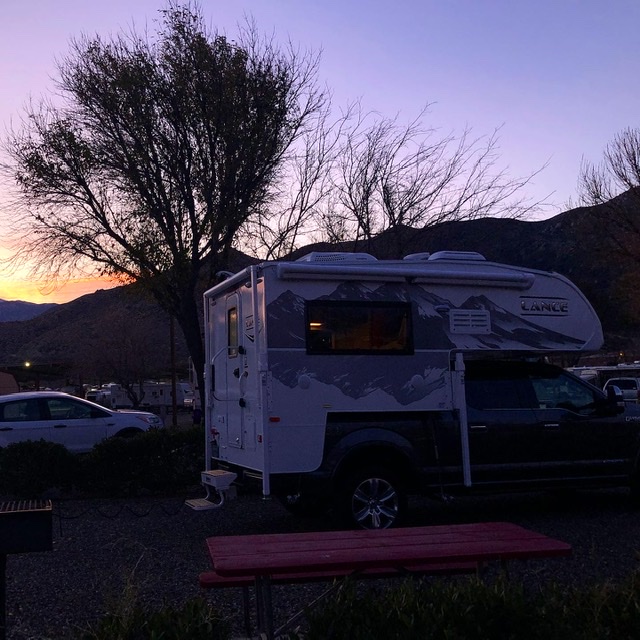 The Lance 650 is the smallest truck camper that Lance manufactures and can be placed on the bed of of a 1/2 ton truck. Caveat Emptor – not just any 1/2 ton truck. You will need to make sure that your particular 1/2 ton truck has the suspension system, axel ratio and beefed up build to hold the 1700 pound 650. Air bags can help increase the trucks ability to carry the load. A good way to see what your truck can carry is to do a VIN number analysis. That analysis will give you lots of information like what your actual axel ratio is because, the same truck can have different axel ratios. Check out your vehicles actual ratings at this VIN number analysis site here.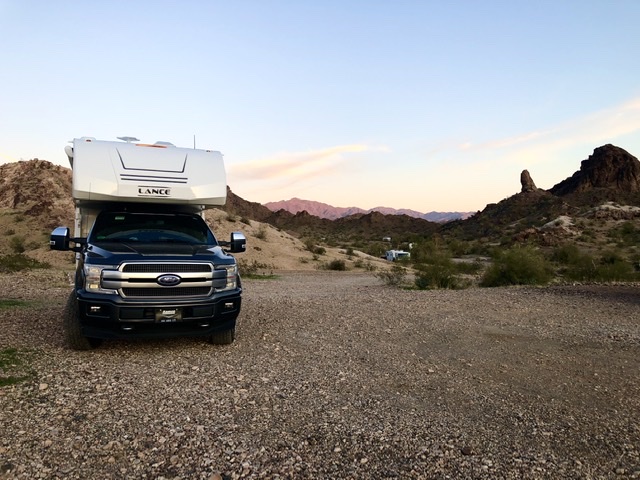 My first impression upon stepping into the Lance 650 was how small it was. This was a plus for me because it was my goal to be nimble and get in and out of sites without worrying about hitting things and jumping curbs. I have a Ford F150 as my daily ride and the 650 I was borrowing from Lance was placed on the bed of an F150 diesel truck. The good part for me was that I was accustomed to the size of this truck. It didn't feel large to me. My first outing in it was to the grocery store to load up the fridge. I was thrilled to not have to look for a special space. I pulled right in as I would in my own F150. The 650 has the same footprint as the truck. It is designed to not hang over any part of the truck. It has no slide either. It did come equipped with a rear camera which is essential for backing out of spaces!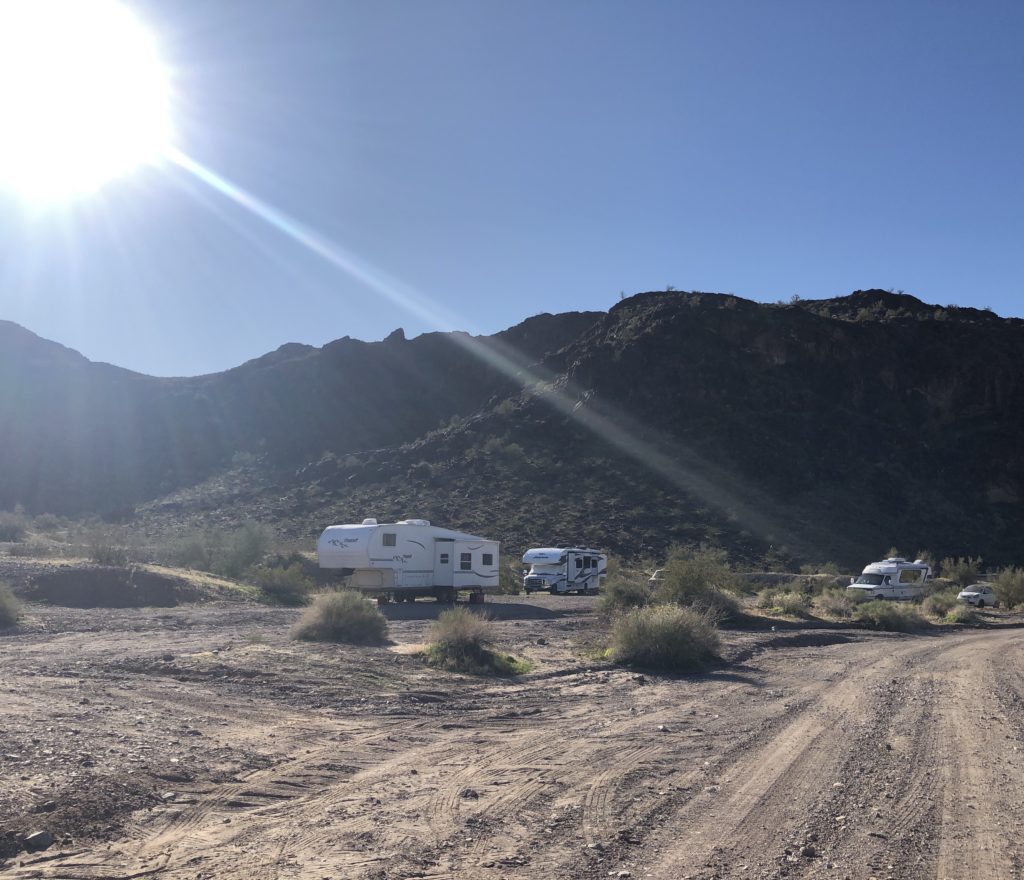 My goal was boondocking on BLM land in Arizona. I met up with a few Girl Campers already settled in on a quiet strip of land outside of Lake Havasu. I was operating solely on the 650's solar panels, AGM battery and the available propane in the 3 gallon horizontally installed on board tank. The unit has a 22 gallon fresh water tank and a tankless hot water system. The grey tank holds 15 gallons and the black tank 16 gallons. It can sleep three, two on the overhead Queen sized bed and one on the booth that folds down into a twin. It's got a 3 cubic foot three way refrigerator which was plenty for a solo traveler and an 18 BTU furnace which really did the job quickly. I was able to turn it on and get the chill off and then keep it off for a long time. I never had to run it at night even though it dropped into the 30's.
I am pleased to report that the boondocking abilities of this RV kept me warm, fed and fresh. The heater was really more than adequate and took the chill off in minutes. I ran the fridge off propane the whole time I was gone. I set it on 3 to maximize propane. I topped off the small tank once in Quartzsite when it was half empty and returned it about half empty. My guess is that I used a little over one tank (three gallons) during my 12 days on the road. Considering that the refrigerator ran all that time and the propane is needed to light the stove and heater, I was pleased with its efficiency. The 650 has a AGM battery installed which is a better option than the traditional deep cell battery. The AGM's are able to deliver high currents on demand and have a longer life. When operating on solar, they have become the battery of choice for savvy consumers. This was my first experience with them and with the exception of the one night I left something on, the battery was still charged each morning. By noon each day in the Arizona sun, I was at 100% battery power again. The 650 had one 100 watt solar panel on it which did the trick.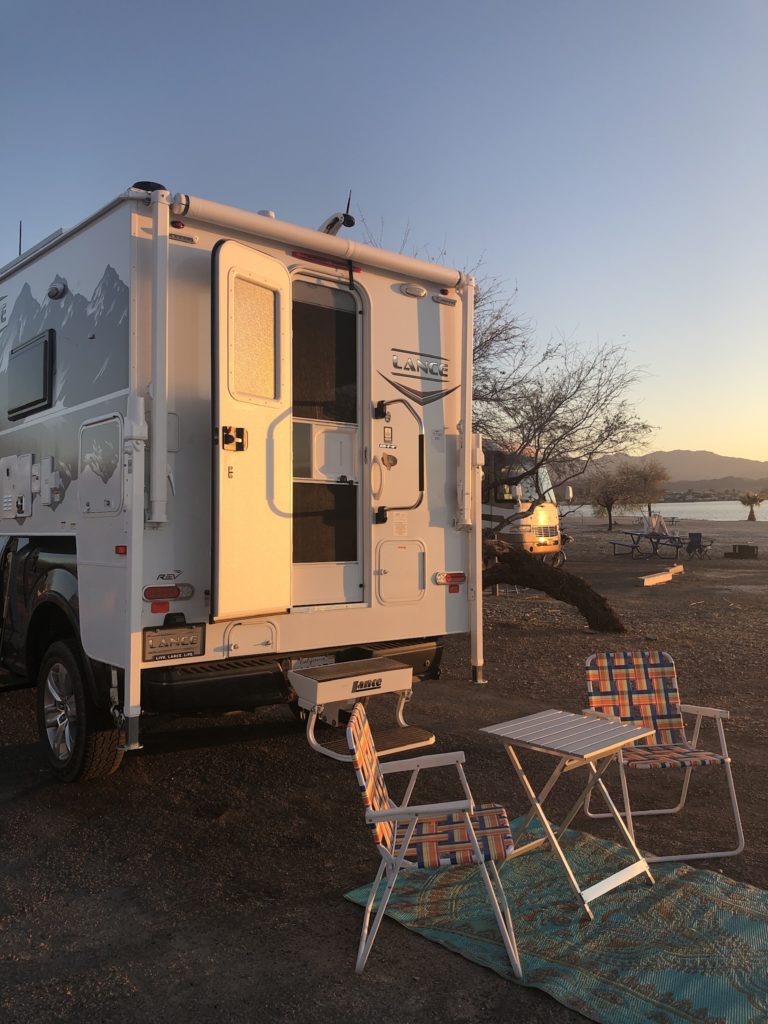 Let's talk about the bed because it's all about the sleep. I was concerned that I would feel claustrophobic in the space but that was not the case. The cabover height of 3'2″ left me feeling like there was plenty of space above and beside me when I was sleeping. The bed is a full Queen and not an RV Queen so my sheets from home fit it perfectly. I loved, loved, loved the large window in the sleeping loft and opened it each morning to watch the sunrise over the foothills. The sleeping area also has a Fantastic Fan over the bed which was nice on warm nights. There's a really large storage shelf next to the top of the bed that has a plug for charging things. It is plenty of space for a laptop, C Pap machine or just extra gear. There are a pair of great reading lights with little night light attached to them on either side of the bed too. I love a built in reading lamp!!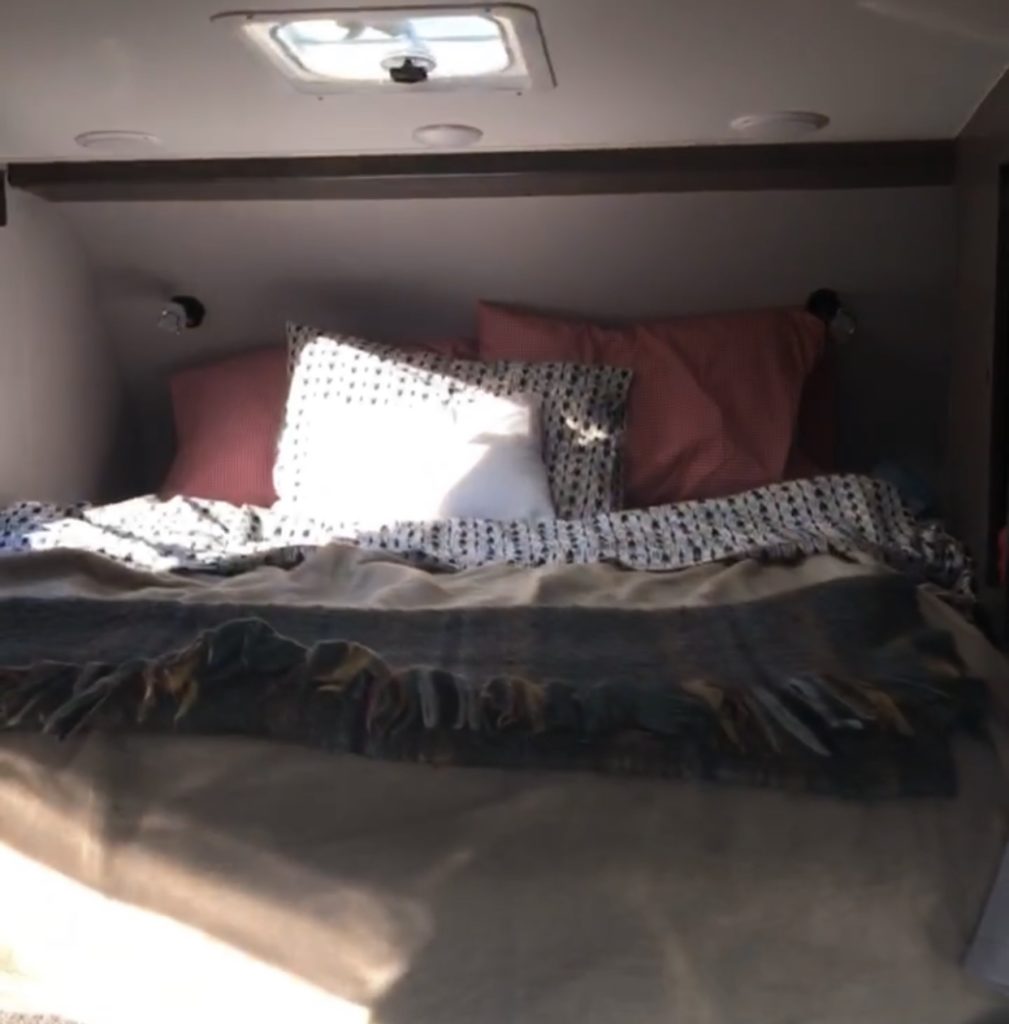 My one big negative for the sleep area is that you cannot sit up in bed and read. There is not enough head space at the top of the sleeping area to do so. I ended up putting a pillow against the cabinetry on the right of the bed and stretching out crossways to sit up. The advantage of this was that it gave me a great view out the window!!
The majority of the storage in the 650 is up in the bed area. In addition to the large shelf up front there is a deep closet that is pretty large. Next to that is a set of narrow but deep built in shelves. Great space for shoes but also for soft pack items like down jackets, sweaters and extra towels and blankets. The refrigerator sits at the end of this row of cabinets and is easily accessible from the kitchen. I always prefer a fridge that is raised high to one that is underneath a kitchen counter.
A common complaint about truck campers is that they lack storage. I was prepared for way less storage than the 650 actually offers. With mods to accommodate your personal style of camping ( I would add shelves in half of the available closet space) and some smart packing techniques, this would be plenty of space for what most of us carry on even an extended road trip. The storage issue in my mind was really with the lack of exterior storage. All of the 'outside' things we carry would need to go in the rear seats of a crew cab truck. Outdoor rugs, chairs, grills would have to be stored there or packed in sleeves and stored on the floor of the camper while driving. The interior storage though was a pleasant surprise.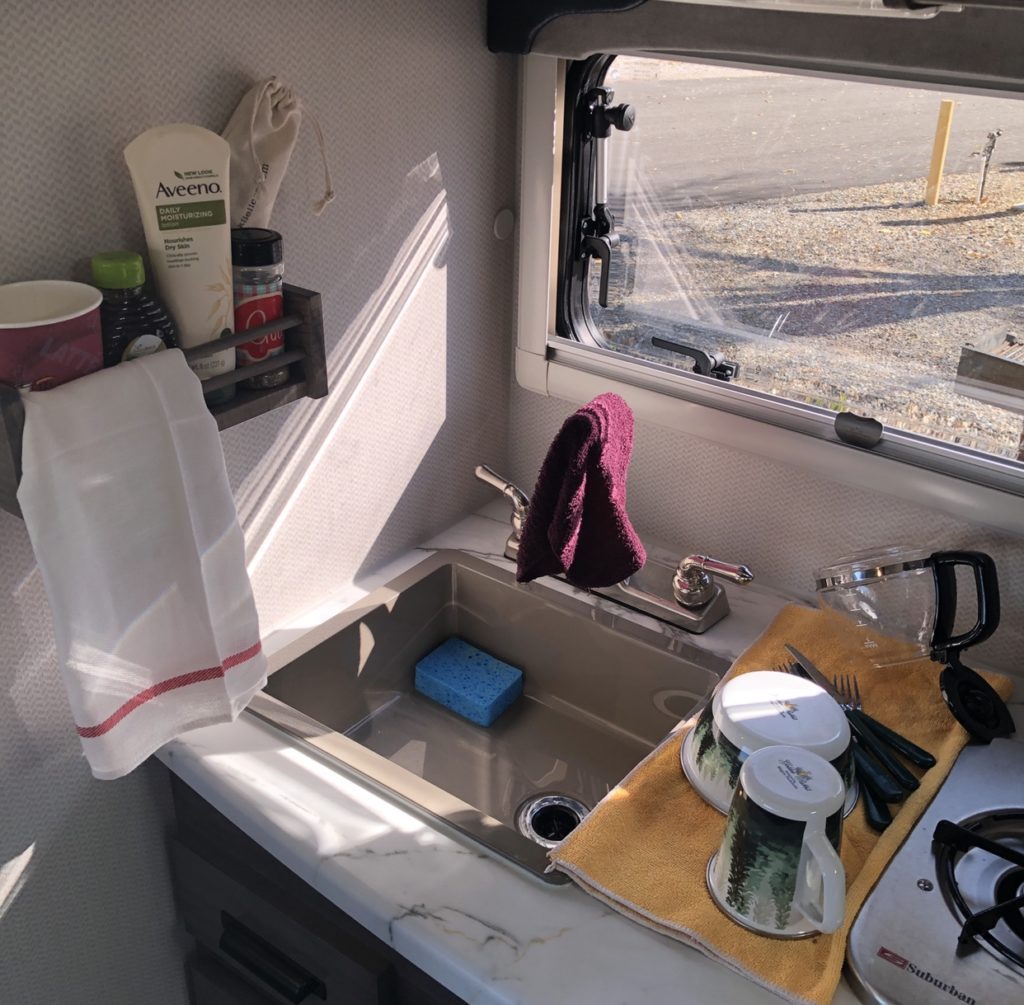 The kitchen in the 650 was compact but offered everything you need to camp in comfort. It has a two burner stove top (no glass covered top though) with a little prep space between it and the large but not deep sink. The counter space was small but enough room to stack the washed dishes and hold the coffee pot. I love it when manufacturers install the beehive faucet, especially in small units because it makes a small kitchen function so much better. When a sink is not deep, you need the space above to maneuver pots and pans to get them clean. Above the sink in the 650 is a large cupboard with really good hardware on it. Nothing in the unit ever came open while I was driving. The cabinet has a second shelf in it which allowed me to store my saucepan and lid and all of the dishes and dry goods that I had with me. The unit is tall (interior height 6'9″) so short people like me can't actually see what is way back in the top shelf. If this was my own unit I would use low baskets to maximize the storage and make it easy to grab the basket with the spices or cooking gear or crackers. The kitchen also has two drawers for silverware and utensils and a built in spice rack on the wall. A perk in small spaces is that the booth is directly across from it so I had a nice sized table right behind me to unload groceries and use a an additional prep space.

The 650 has no slide so you are working in an area that is the back of a short bed trailer. With that being said, I was impressed by the booth. I've seen smaller booths in much larger units. Four people can sit comfortably there and the table has unique swivel capabilities that allow you to use it in a few different configurations. It can pivot to be positioned perpendicularly and then slide toward you to create a great desk area. When it is set in the perpendicular position there is still enough room to pass by to the bathroom and exit the unit. I enjoyed this set up when I was working because the slide option allows you to bring it close to you and have back support. Most of use a computer daily and its nice to be comfortable doing it.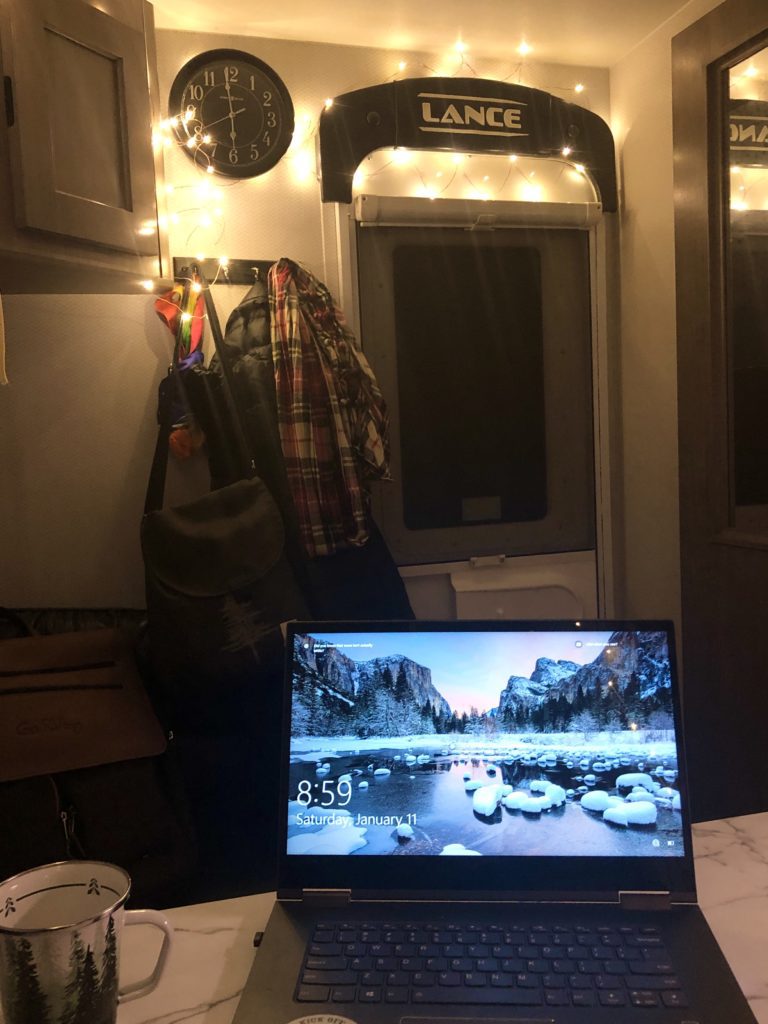 Another aspect of the booth that I enjoyed was the ability to make it into a bed. I spent several days with it set up as a daybed. I know that many Girl Campers are far less interested in a Queen bed than they are in storage and I could easily see this space being reimagined and used as a twin bed with the overhead area being used for storage. I also felt that the booth space used as a daybed would be a great option for those traveling with midsize or larger dogs.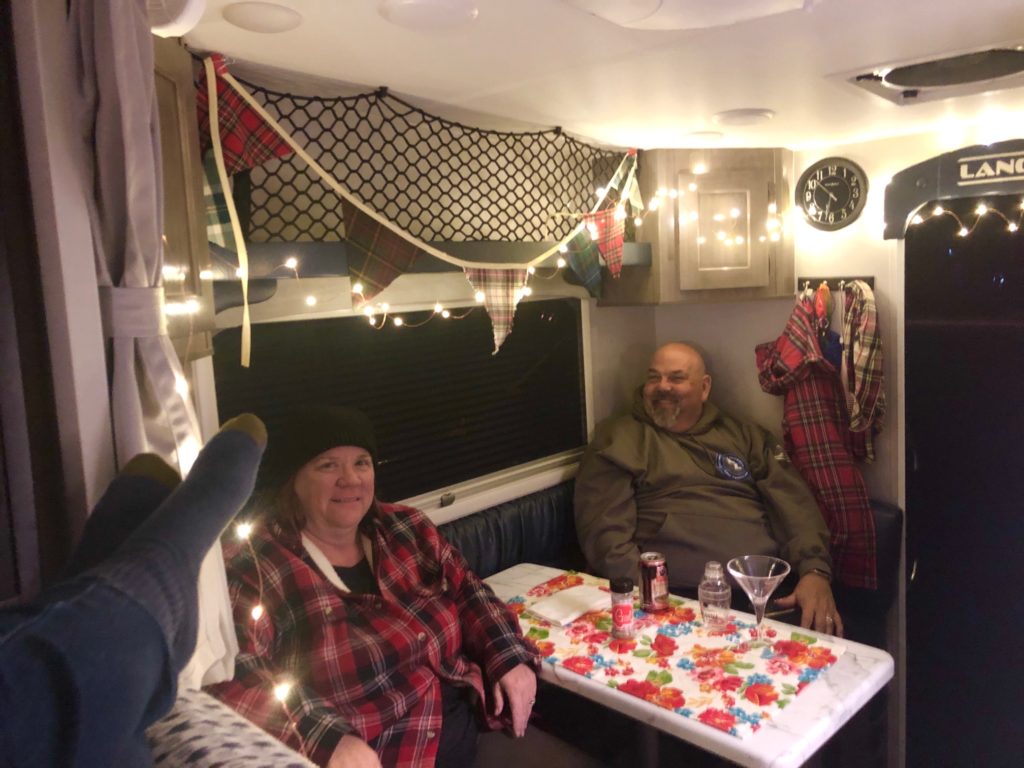 The bathroom in the Lance is so small!! It is small but does what you need it to do. Since I was boondocking in Quartzite and had no option except for the shower in the Lance, I was thrilled to have it. If I converted over to truck camping, I would definitely invest in a pop up shower tent and take full advantage of the outdoor shower faucet and tankless hot water system. You could take a long hot shower with plenty of elbow room and not add a drop of water to your grey tank. The bathroom had a corner cabinet with a mirror on it and a small sink that I did not use. It's just easier to brush your teeth in the kitchen sink. The corner cabinet was pretty deep but the latch on it kept opening. I ended up storing my stuff in the sink which worked out great.
Every time I do a product review I like to give the manufacturer a few Girl Camper ideas to implement if they so desire. Here's a few small things I would have done.
Don't curve the back of the sofa that is on the refrigerator end. If this was flat it could hold things since it is several inches deep. I kept putting stuff there that kept sliding off!!
Ditch the netting and put a small lip there to keep packing cubes from falling off. Hubby heartily disagrees with this!
Make the window in the entry door clear so that when you are laying on the sofa bed/dining booth you can see out of it. It does have a really pretty built in shade so you could cover it if you wanted to.
Add reading lights on the booth.
Longer sewer hose.
Add a shelf in the corner cabinets over the booth.
Stronger latch on the bathroom mirror door.
I took off in the 650 with the idea that this would be a great option for those who don't want to tow anything. I came away from the experience with the opinion that it is a great option for many other reasons too. The ease of getting in and out of spaces; the convenience of having everything with you all the time; the option of removing the RV from the bed and heading out to explore; the option of being able to tow something and the fact that they hold their value longer than a travel trailer, all made me rethink the truck camper. It's not just a "get out of towing" RV. It's a versatile option for so many reasons!
To check out the 650 and all of the Lance products, click here!