The best way to keep food cold while camping might surprise you! Like so many of you, my RV has a very small fridge which means I'm limited on how many cold items I can bring from home. That's why I take my Camco portable fridge & freezer with me every time I go camping. I can pack it with bigger items and know that they won't get soaking wet like they would in a traditional cooler packed with melting ice. And because the temperature adjusts between -4° F to 68° F, you can use it as a freezer too.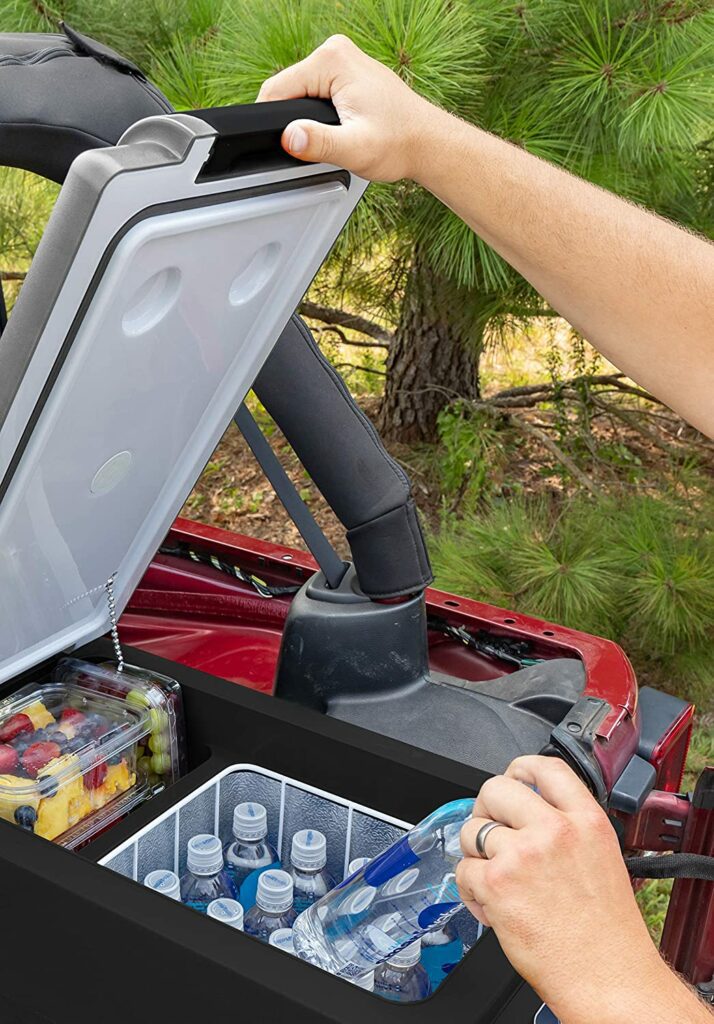 Taking Your Camco Fridge on the Road
Every Camco portable fridge & freezer combo comes with a 12V plug so you can use it in your truck or car, whether you're headed to the campground or home from the grocery store. A 3-mode low voltage protection feature for 12V DC outlets helps prevent dead car batteries or a deep draw on dual batteries. So many Girl Campers love a long road trip too so this is a must for keeping any of your cold refreshments handy. I load mine with cheese sticks, yogurt, cut-up veggies, and sandwiches so I can just pull over whenever I want and avoid those expensive (and not-so-healthy) rest stops. When you get to the campground, plug it into a 110 V outlet and use it as your go-to fridge.
Keep that Fridge Door Closed!
Did you know that your RV's fridge takes up to 45 minutes to return to its temperature every time you open the door? Load the portable fridge & freezer with goodies you'll want throughout the day and avoid opening your RV's fridge door. The interior LED lights let you see what's in the cooler at night too for those nights you're lingering around the campfire. And if you're hiking or away from your RV, you can change the settings on the cooler remotely too with its mobile app (to give those adult beverages a good chill by the time you get back to the campsite).
Where Can I Get One?
Camco portable fridges/freezers come in a range of sizes for every kind of camping adventure. You can find these fridges and all my favorite Camco products at www.CamcoOutdoors.com. If you use GirlCamper10 at checkout you get a cool discount too 😊!
Single-zone cooling (use it as a fridge or freezer):
200: 20 liters – holds 28 soda cans
300: 30 liters – holds 36 soda cans
350: 35 liters – holds 44 soda cans
450: 45 liters – holds 48 soda cans
550: 55 liters – holds 71 soda cans
Dual-zone cooling (use it as a fridge and freezer at the same time)
Easy to move with two wheels and an extendable aluminum handle
750: 75 liters – holds 114 soda cans
950: 95 liters – holds 123 soda cans
Looking for more camping must-haves?
Here's a Girl Camper podcast with some great ideas!
https://girlcamper.com/episode-167-rv-kitchen-hacks/