Podcast: Play in new window | Download
My guest today is Marlene Caraballo. She's a wife of 30 years, mom to three almost grown sons, an avid blogger at Cheers 2 Chapter 2 and a long time RVer who is now looking Chapter Two straight in the eye and, guess what, it's looking good for this almost empty nester. I invited Marlene on the show today to talk about her annual RV vacation to Myrtle Beach and how what started out as a cheap way to travel, has turned into something that is keeping her family ties tight.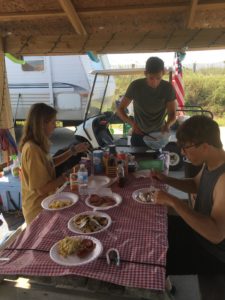 Marlene was not born into RVing as so many of us were. She came to it through a friend who kept telling her about how affordable RV vacations could be. "You get to choose the cost of your site, whether to buy or make meals, how far away to travel." To Marlene it seemed like a great way to take her three sons to Disney without having to stay on site at an expensive hotel. They could cook their meals and do the trip on a budget. She and her husband rented a Class C motor home and by the time they took their third RV trip, they did it in an RV they purchased and that they still own today.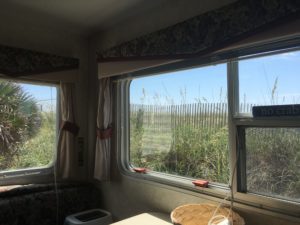 Somewhere along the way Marlene discovered a campground called Pirateland Family Campground. For over ten years now the Caraballo's have made an annual pilgrimage there. Their now grown sons love it so much that they are willing to fly in from out of state, use some of the precious few vacation days allotted to freshmen in the workforce and, sleep in their old RV bunk beds under the Power Ranger blankets still stored there!
What magic spell did Pirateland cast on them? Pirateland, while big in size with over 1,000 sites, still manages to create a family feel. Paved streets allow kids to ride bikes through the RV neighborhoods, play in the pool or ride the lazy river, test their arcade skills or use one of the paddle boats on the man made water ways. This campground has it all and its all included in the price of the site. An added bonus is that it sits right on the ocean in beautiful Myrtle Beach. Location. Location. Location.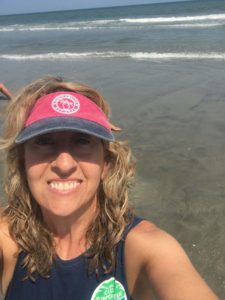 When a family finds a sweet spot, a campground that they really love and use it annually for their family vacations, they have allowed the campground industry to foot the bill for their summer home. Whenever I open a magazine and see some gorgeous spread featuring someone's multi generational summer home on a pristine lake, I think that anyone can have that if they own or even rent an RV. You can have a great gathering spot, fire pit, lake views or mountain top sunsets and all it takes is an annual reservation. Many families have enjoyed all of the aspects of a great family home without the insurance, maintenance, utilities or mortgage payments that go along. They have done it by revisiting their favorite place year after year, getting the same site, the same week and with the same friends.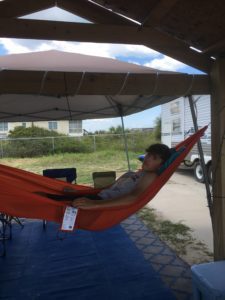 I was so excited to have Marlene on the podcast today because I want young moms to know that what started out as an inexpensive way for her family to vacation, turned into a family tradition that just keeps going. I can see Marlene pushing grand babies in strollers on those roads her sons once independently rode their bicycles on. I can see the future generations enjoying shovels and buckets on the beach again. I can see the Power Ranger blankets warming the next generation of Caraballo's. I want everyone to know that they have that option even if they don't own an RV because campgrounds offer so many rental options these days. Everyone is welcome around the campfire.
Check out Marlene's blog here.
Check out Marlene on Facebook.
Check out Marlene's Instagram.
Check out Pirateland Family Campground and book a site!