General Overview
We both tent and trailer camp on one space when we can. Most campgrounds allow one tent and one trailer per site. The grandkids get their own tent when we camp with them or when our daughter joins us.
She's a single parent and has discovered a new joy in camping/glamping! Everyone's a "happy camper"!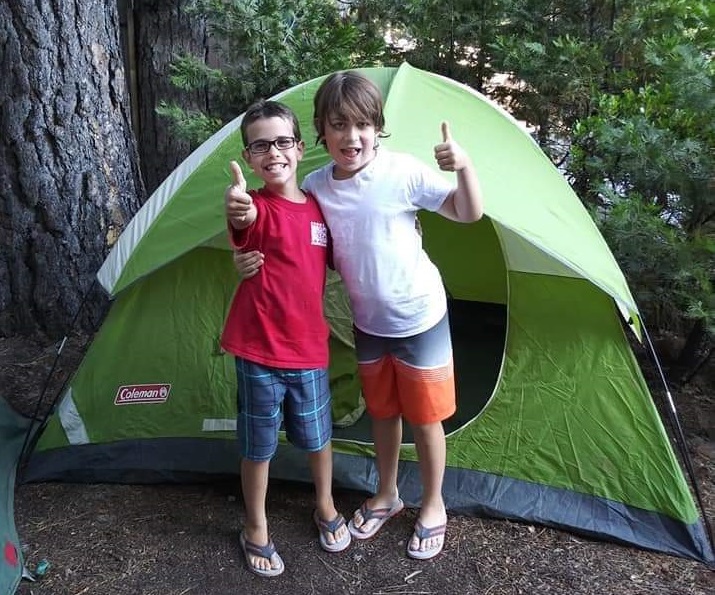 What type of tent, Travel Trailer, and vehicle do you have?
We restored a 1965 Santa Fe standard trailer with a bump-up. I designed the interior and my husband worked his magic on the exterior! It's my cottage style/beach cottage on wheels. My husband's Ram 1500 easily pulls it anywhere we want to go.
We've had a Coleman two-room cabin tent for 30+ years. It's the tent my husband and I got when we began camping together. We gave it to our daughter last year and introduced her to "glamping"! It was featured in the first Girl Camper magazine!
We also have two dome tents: a large one that sleeps six and a smaller one that we either use as our "garage" when camping by ourselves or we give it to the grandkids when they come with us (usually the boys get it). My daughter and granddaughters get the cabin tent and we get the big dome tent or our vintage trailer!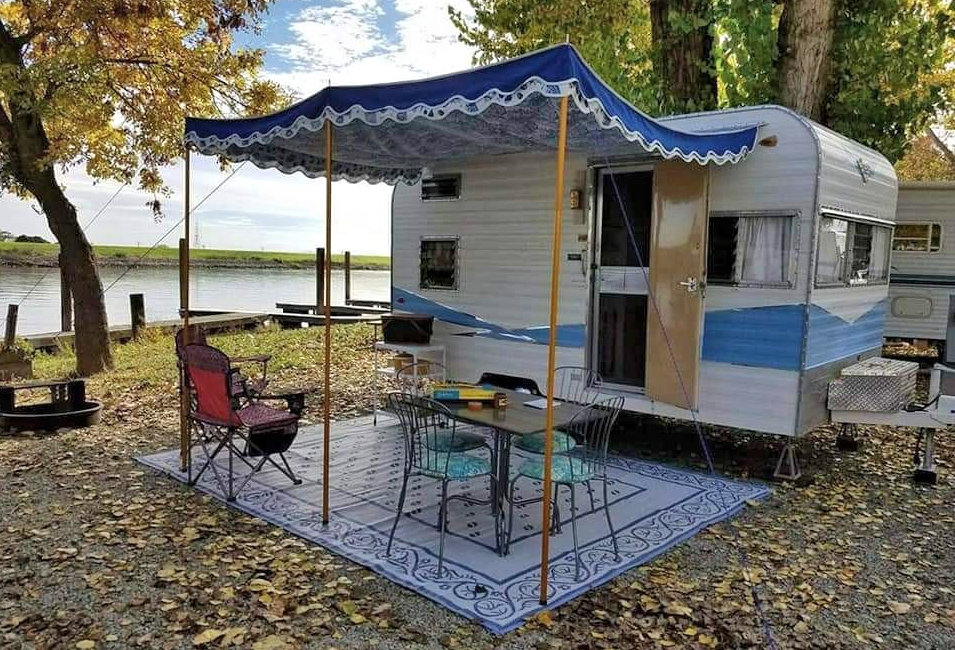 Are you interested in purchasing a vintage trailer and restoring it? If so, here are two resources for you:
Book – Before You Buy Vintage…https://amzn.to/36umAKi
Book – Vintage Rehab…https://amzn.to/2MKRc2U
How do you describe your "camp style"?
My style is comfortable and seasonal. I decorate and accessorize by the season or holiday or event. But I really like beach and cottage and anything vintage.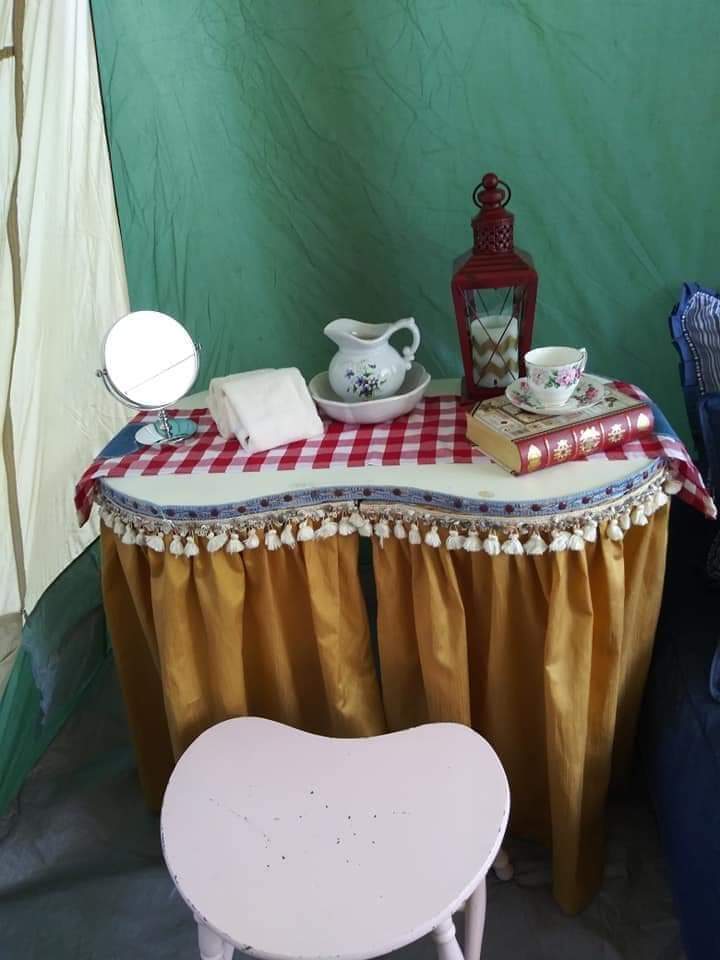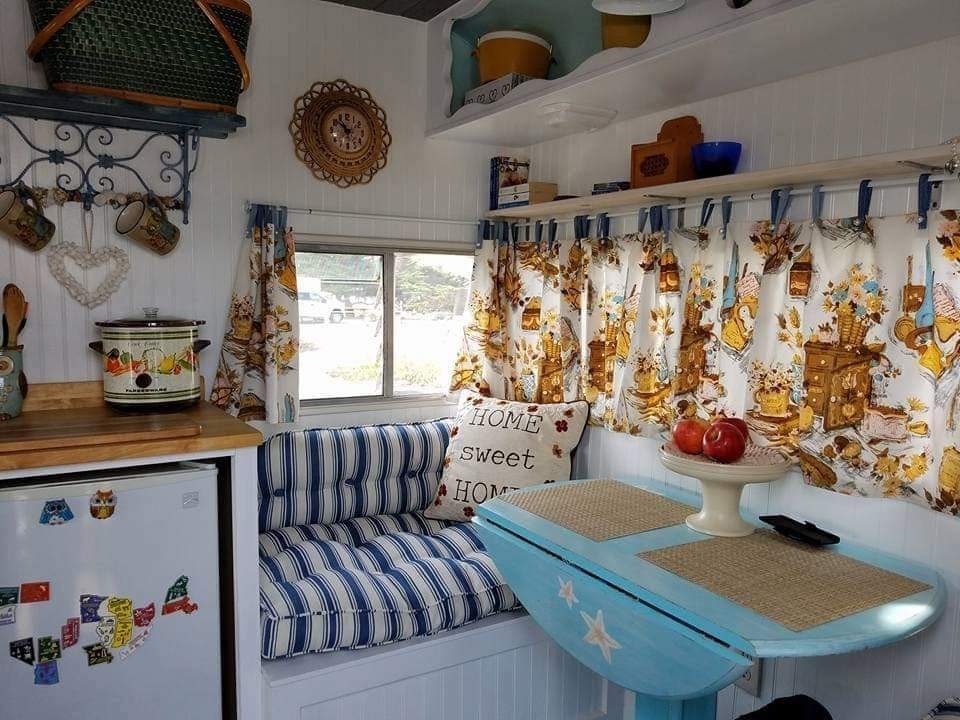 What concept or elements influence your style?
I am inspired by the idea of being self-sufficient in a rustic and charming way when camping. I was very much influenced by the Girl Scouts. I am a Lifetime and Gold Girl Scout.
I went camping with my family when I was growing up and we camped as a family when our kids were growing up. It's family time in the freedom of the outdoors; and it's an adventure that makes memories with people you love and enjoy.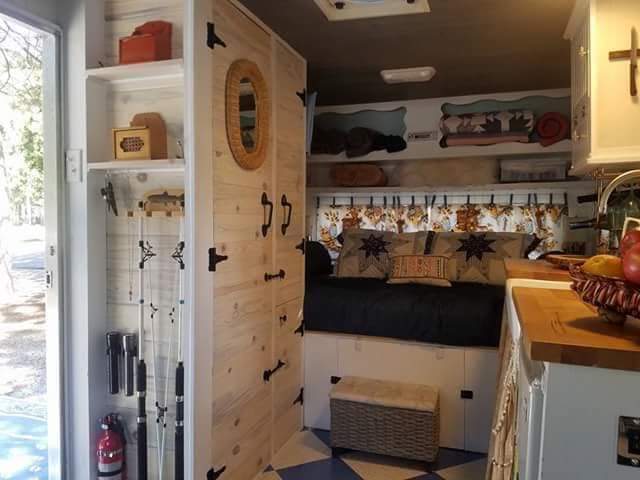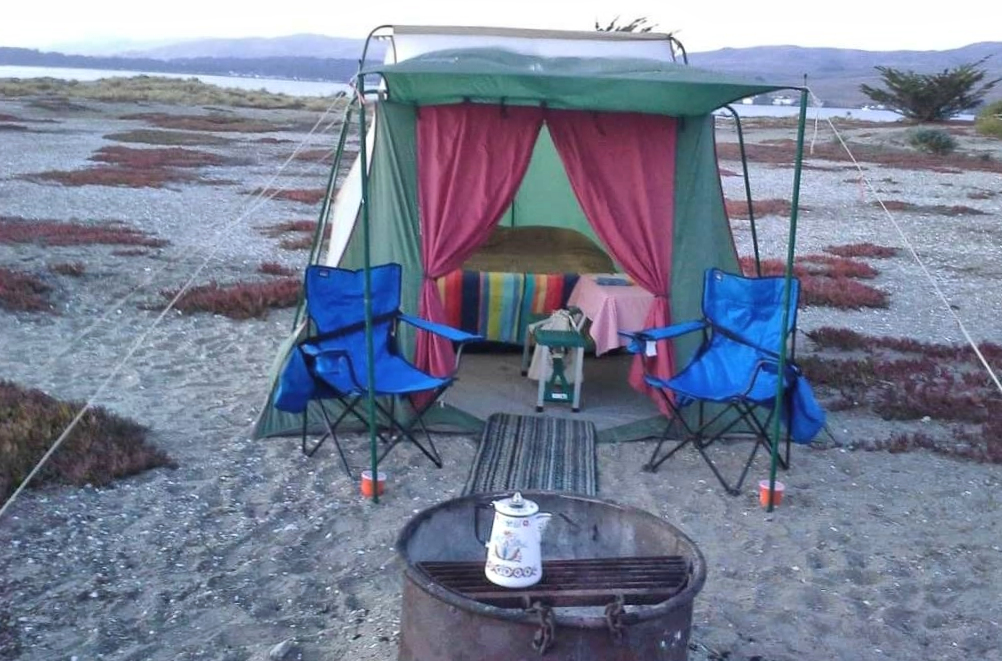 Have you made any style mistakes, and if so, what did you learn?
No. I don't think I've made any style mistakes because I'm very planned out. I know what I want to do and how I want it to look. I'm a Girl Scout and an Interior Designer. So I'm a natural when it comes to glamping. It's in my blood! I lay things out in my head and even set up in my living room when we tent camp. We take whatever fits in a picnic basket and a laundry bin; that way, we don't over pack. We do the same with the trailer. I decorate before we pack and then bring whatever fits into our picnic basket and a laundry bin. What doesn't fit, doesn't go.
What advice or encouragement can you offer Girl Campers who are developing their camp style?
Camping is so different today from what it was like years ago. Don't be afraid to try a lot of different things. Keep it simple and enjoy the experience.
Start by decorating and accessorizing around a theme or a season. If you like what someone else is doing, copy it!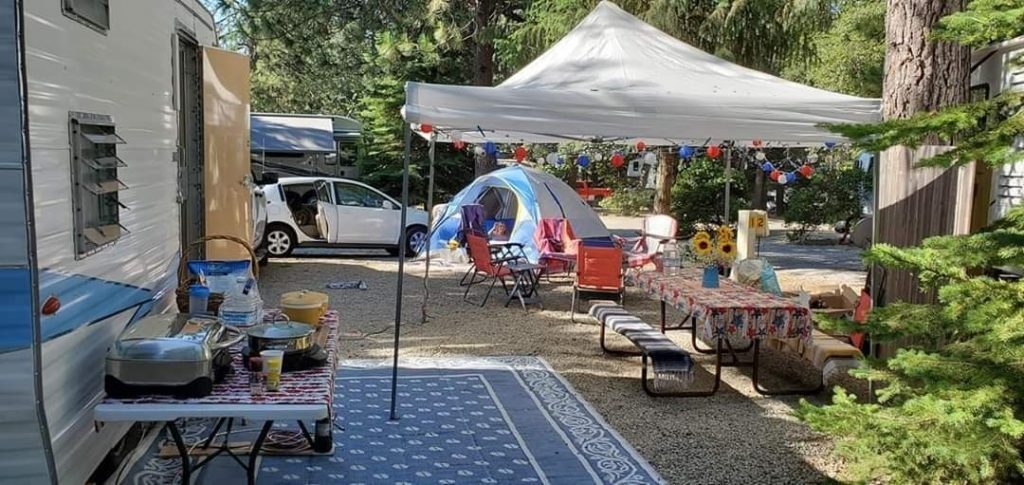 We are excited to share some of what we've learned and what we enjoy about camping!
We thank Laura and David Floyd for submitting their photos and content for this article!
Save your seat at the Girl Camper Virtual Expo in March! https://girlcamper.com/expo/