By Theresa "Resa" Leppert
Ever had a trailer come off the ball?
Have you ever had a trailer come off the ball while traveling? I have, and it was a harrowing experience, one that could have ended very badly. To be honest, I was incredibly lucky. A few years ago, I was on a back road in Wisconsin when my trailer came loose from my tow vehicle, and three things saved it: the fact that I was only going about 35 MPH, the fact that my tow vehicle was a manual, so I could downshift carefully to avoid any sort of fishtail, and most importantly – my crossed chains kept the tongue of my trailer from dropping completely onto the pavement. I still remember the loud clunk that preceded that situation – and every single time I hear the creaking and clunking sounds of a traditional ball hitch assembly connection, my eyelid twitches and certain orifices pucker up.
What is an articulating hitch?
An articulating hitch has 3 axes of movement and 360 degrees of rotation. It allows the trailer to flex one direction and the tow vehicle to flex in the other direction at the same time, while still maintaining a solid, safe connection.
Who usually uses an articulating hitch?
Off-roaders and overlanders are the most common patrons of such things. These are the folks who take their rig (tow vehicle and trailer) off road into potentially rough terrain. If you're going off road to a remote campsite and you're going to be navigating over uneven surfaces and rocky terrain, then you need your trailer to be able to articulate one direction while your tow vehicle flexes the other way to negotiate those uneven surfaces. This allows the wheels on both TV and trailer to stay on the ground…… in theory.
How is an articulating hitch better than my traditional ball hitch assembly?
In my opinion, an articulating hitch has a more solid connection than the little ball-clamp assembly on a traditional hitch coupler. I have used two different articulating hitch brands with two different methods of connection – both VERY solid and virtually silent. You read that right – SILENT. (No more eyelid twitch or pucker!!!)
A couple common brands of articulating hitches:
The Lock N Roll. www.locknroll.com You can see the 3 axes and 360 degrees of rotation in this video:
The Max Coupler. https://www.cuoffroad.com/product-lines/max-coupler-line/ This one also has 3 axes and 360 degrees of rotation as seen in this video:
My Personal Endorsement:
In September 2021, we experienced a trailer rollover accident. Our overlanding trailer had a loose stabilizer jack deploy as we were slowing down to go around a curve – again on a back road in Wisconsin. The jack dropped and dug into the pavement, which completely flipped the trailer.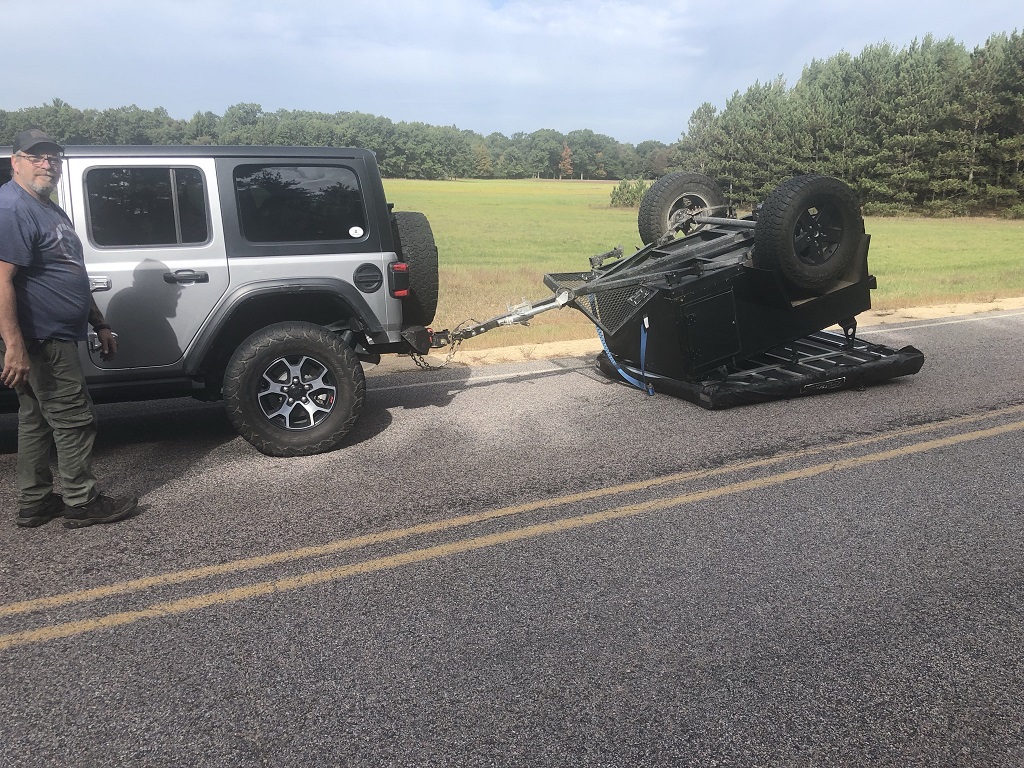 We heard a big bang. I was in the passenger seat. I looked over my left shoulder and the trailer was wheels up BESIDE us on the road – still attached to the Jeep! As we slowed and came to a stop, it eventually slid back around behind us, still upside down.
Our Lock N Roll articulating hitch saved our bacon. It allowed the trailer to roll independently of the Jeep. The Jeep kept all four wheels on the ground. I truly believe that if we had had a traditional ball coupler, we very likely would have rolled the Jeep as well. My husband built this Overlander Trailer. The thing is beefy as heck, built to go off road anywhere the Jeep can go. The roof rack and roof top tent took the brunt of the damage, as you can see in the pics. The trailer itself was not damaged other than a little corner ding and the front spare tire rack was destroyed. In fact, a couple hunters stopped and helped us roll it back over onto its wheels and we towed it all the way home to Iowa.
Every single trailer I pull from now on will have an articulating hitch. It costs $300-500 to upgrade to one of these, but it's worth every penny to me!
Connect with me!
Theresa "Resa" Leppert
Guide Manager
Guide, Iowa & Wisconsin
563.284.2868
Girl Camper Magazine: Subscribe to Girl Camper Magazine here! Girl Camper Magazine
Events: Check out upcoming Girl Camper Events – you can attend events in any chapter! https://girlcamper.com/events/
Main GC Facebook Group – Join over 350,000 like-minded women in our public Facebook group! Girl Camper FB Group
Facebook Page – This is my public Iowa & Wisconsin page, where I'll share Girl Camper news, events and more. Girl Camper – Iowa & Wisconsin
Private FB Group – Where you can interact with others who are interested in camping in Iowa & Wisconsin! Girl Camper Iowa & Wisconsin Group.
Resa's Articles – Click this link to see all of Resa's articles on the website! ARTICLES
resaarticle