By Lisa Dempsey, Southeast Texas Chapter Guide
Preparing meals and enjoying food with my family and friends makes me happy. I enjoy cooking at the campsite too. I learned how to prepare one of my favorite camping meals when I was attending a Becoming an Outdoor Women event through Texas Parks and Wildlife, and it is a staple on my menu rotation when I travel. It is Cedar Planked Salmon. Not only is it easy to prepare and tastes delicious, but it is also easy to pack.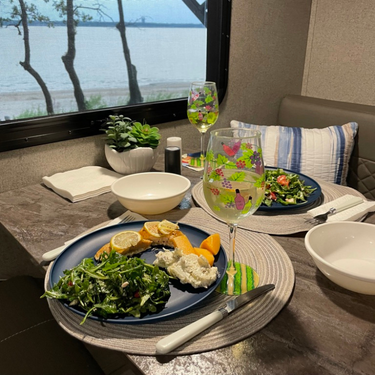 Here is what you will need:
One pound of salmon will feed 3 or 4 people. A typical serving is 4 to 6 ounces. Skin on or off based on your preference.
One Cedar Plank. (Avoid a rookie mistake and know the size of your grilling space and make sure the brand of plank you buy will fit on it.)
One or two lemons.
Fresh or dried dill, Paul Prudhomme's Salmon Seasoning, or your favorite fish seasoning.
A spray bottle with water is nice but not 100% necessary if you have presoaked the cedar plank well.
A grill with a cover – charcoal or propane. I prefer the temperature control I have with a propane grill for this recipe
You can find the food-grade cedar planks precut in the seafood department or the grilling department in your grocery store. You can also find the spray bottle for water here or purchase a simple spray bottle at the dollar store. If you do much outdoor cooking having a spray bottle with water close by will help you control your flames.
I usually plan this meal for my second or third night out on a trip. I buy my salmon in one large piece and freeze it before I leave. A thicker cut of fish works best because it will be on the grill for a little longer to soak up the yummy cedar flavor. I've also used individual sections that came frozen in the grocery store freezer department.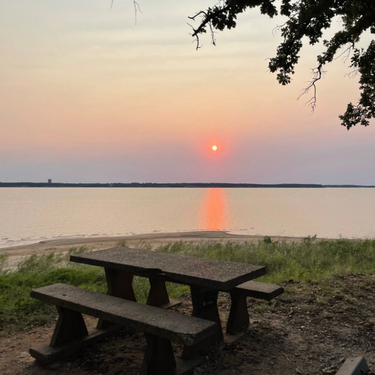 It will be thawed and close to room temperature when you cook your salmon, but you can buy it or pack it frozen for easy travel. If I'm in my trailer, I move the fish to the refrigerator so it can thaw out over the next few days once it is safely chilled. If you are car or tent camping, put the fish on the top portion of the ice chest during your travels. To thaw if frozen, take it out an hour or two before cooking, place it in a zipper-style bag, and put it into a bowl of room temperature water, following safe food handling guidelines.
The day you plan on cooking your fish, presoak your cedar plank in water for at least two hours. Depending on the size of your plank, you may be able to fit it into a large zipper-style bag and fill it with water to cover the plank. You can also use your sink, but place a heavier item on the plank to keep it submerged.
PRO PACKING PREP TIP #1: I typically travel with an ice chest, and I put one cedar plank, removing the plastic wrap from it first, in the bottom of the ice chest so it can soak up the water as the ice melts and it will be ready to go the day I want to make my fish!
Pro Tip #2: Hefty brand and Walmart sell a Jumbo 2.5 gallon sliding closure bag. These are great for your camper and come in handy for all kinds of things. I keep a box in my gear and one will easily fit a cedar plank for soaking or for marinating an entire chicken…but that is another recipe.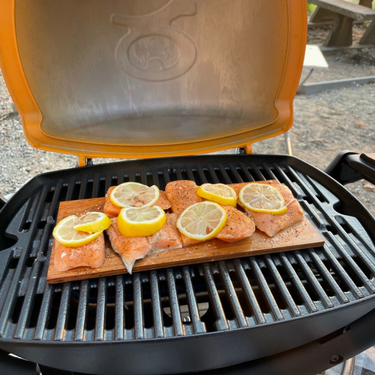 Cooking instructions for a propane grill:
Preheat the grill to 450 degrees
While the grill is preheating, place the salmon on the center of the plank. If you are using Paul Prudhomme's Salmon Seasoning or other seasoning packages, sprinkle it on the fish, then place several slices of lemon on the top. If you are using fresh dill, put the lemons on the top of the fish; then, place the fresh dill across the lemons and down onto the sides.
Place the cedar planked fish directly on the grill grate. Close the lid of the grill. Let the fish cook for about 5 to 7 minutes, then turn the heat down to 325 degrees. Continue to cook for 5 to 7 minutes at 325. Don't open the grill during the first part of cooking. This is when the magic cedar smoke is happening. After the first 15 minutes, check your fish, and if the plank's edges seem to be burning, use your spray bottle to mist the plank. It is normal for the plank to char and be burned on the bottom.
It will take another 5 to 15 minutes to cook your fish, depending on the size and how well-done you like your fish to be prepared. The total cook time for a rare to medium rare is about 20 minutes. I prefer mine closer to medium well, so it is about 30 minutes for my liking.
I serve my salmon with a nice side salad of arugula and feta cheese with a bit of olive oil, lemon, salt, and pepper. In this picture, I tossed in a little watermelon I had around too. Another easy side is couscous because you simply need to boil a little water, which comes together in a few minutes.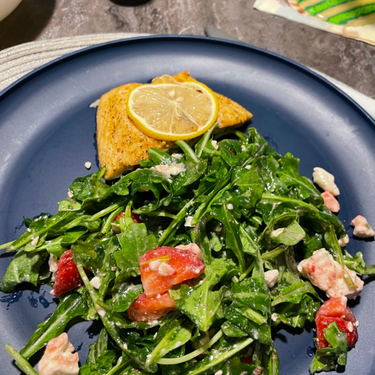 Note for Charcoal Grill Users:
If you are using a covered charcoal grill, place all the coals on one side of the grill. Start your fish directly over the coals, then move the plank to the other side of the grill halfway through the cooking process. You can do this over a park grill if you make a tent with aluminum foil, but it works best in an enclosed grill to capture the cedar smokiness and flavor.
Looking for a fun and easy dessert to go with it? Check out my recipe for homemade ice cream at the campsite! Be sure to follow us @girlcampersoutheasttexas and scroll to the very bottom of this post to sign up for the newsletter!