I absolutely love the RV Resort at Cannon Beach. They are located approximately 75 minutes west of Portland, on the east side of Hwy 101, within walking distance is the charming town of Cannon Beach.
We've hosted many large groups at this campground.
I have hosted camp outs for over 35 women here, attended events for over 60, in addition to just hanging out with my pups while my husband fished all day.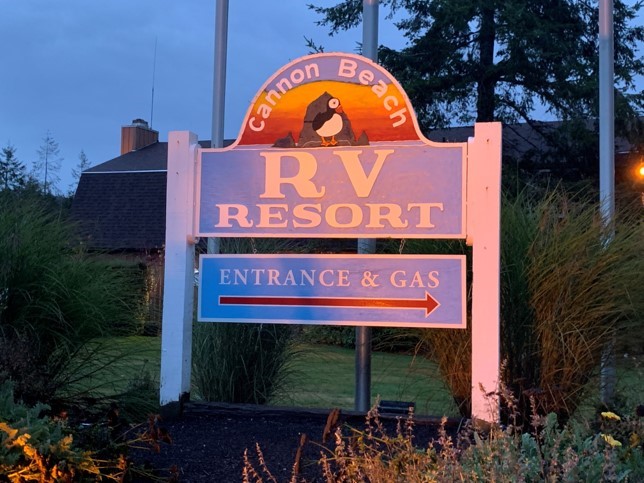 The staff has always been extremely helpful both on the phone and at check in. The check in process always runs smooth and quick with a small store where you can purchase ice, sodas, firewood, gas/diesel/propane, and other essentials you may have forgotten. There is also a clubhouse that has pool tables, games, and laundry facilities. The nice hot showers and clean restrooms are always appreciated.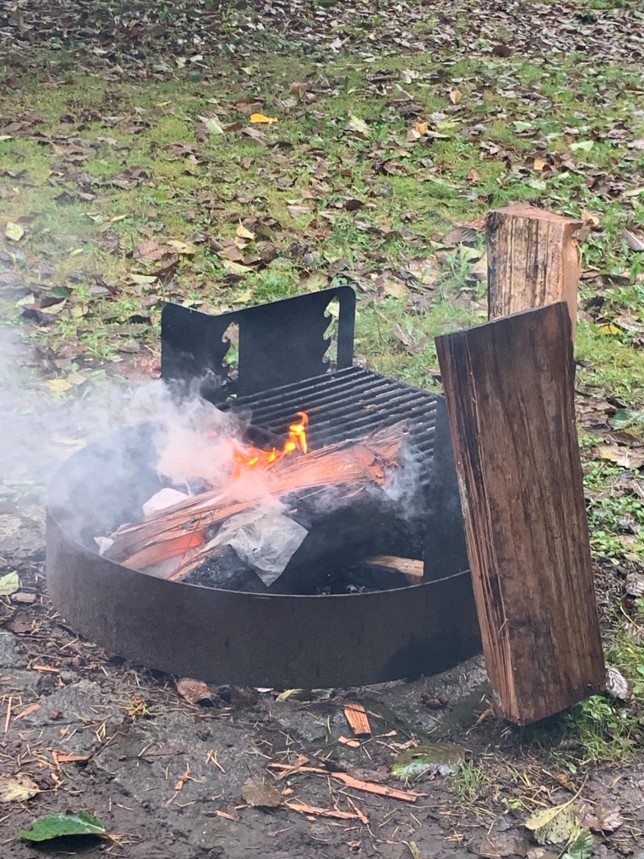 The RV resort has 99 sites including 11 spacious pull throughs. All sites have picnic tables, and fire rings with grates. The sites located to the north and west of the park have lovely grassy areas and a small hill that shields you from the residential houses and road. Sites to the east side back up to a lush green forest. Even though this campground is just off the highway, rarely do you notice the road noise or see traffic. The park is owned by the city of Cannon Beach. It is well maintained and clean, the local police cruise through every once in a while as well.
My favorite campsites.
I think my favorite sites are the ones that are on the east side since they back up to the forest. All sites are good though. There is a small playground and basketball court located at the south end of the park. I tend to note where the playground is at all campgrounds, and then choose a site far away. However, if you are camping with children, it is there for you. An indoor pool and spa are also open year round. I have not used them, but I plan on it at during my next stay.
The city of Cannon Beach is a delightful getaway on the Oregon Coast.
It is such a treat to be so close to the beautiful Oregon coast. Cannon Beach does not have any big box stores or chain fast food restaurants. What it does have is over a dozen art galleries, unique specialty stores including Candy, Yarn, Furry friends, and great eats. From the campground, you can stroll into town on a nice wide sidewalk that takes you under Hwy 101 right into town and beach access. Our favorite place to grab a bite is Screw and Brew, a combination hardware store and eatery. My husband says they make the best fish and chips, and he can be very picky. There are also 2 grocery stores that carry everything you need.
The campground is in about the center of town, so it is a longer walk to reach the North end, but still under a mile and that is where most of the galleries and specialty stores are located. There is a shuttle bus that runs up and down the maid drag as well, it stops at the RV resort during the week.
Have you ever camped at this campground before? If so, tell us YOUR favorite campsite in the comments below. See you down trail!
Connect with me!
Karen Kay Jensen
503-887-5985
Girl Camper Magazine: Subscribe to Girl Camper Magazine here! Girl Camper Magazine!
Events: Check out upcoming Girl Camper Events – you can attend events in any chapter! https://girlcamper.com/events/
Facebook Page – this is the link for where you can tag us and we can tag you! This is where I'll share general Girl Camper news, events and more. Girl Camper – Oregon.
Private FB Group – Where you can interact with others who are interested in camping in Oregon! Girl Camper Oregon Group.